Sweet apples, savory almond butter and a sprinkle of dairy free chocolate chips. That is all it takes to make this 5 min snack that everyone will love. If you have extra picky kids, drizzle some honey over the apple nachos for a touch of sweetness!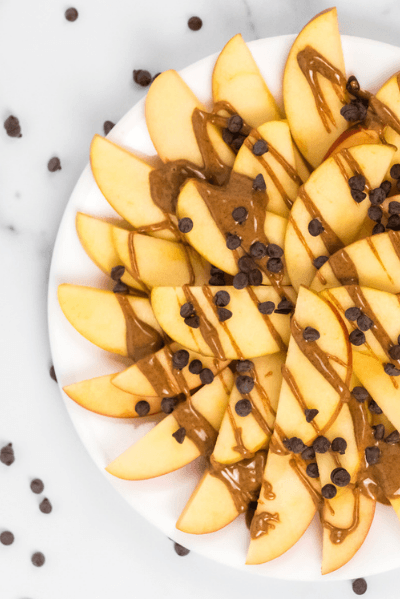 No matter how many healthy snack recipes you have in your back pocket, you can always use one more! Apple Nachos are one of those snacks that I make for my kids and their friends. Most kids like apples and I know that none of the kids are allergic to nuts…if you have nut allergies, just use sun butter instead!
The best part is that you can make this as fancy or plain as you would like. It looks amazing spread out on a platter drizzled with almond butter and sprinkled with chocolate chips or shredded coconut but it also tastes delicious smothered on apple slices and served on a plate.
RATHER WATCH THE VIDEO?:
Fun Cooking Activity For Kids
This is a great recipe to make with kids. It teaches them some basic knife skills and gives them an easy recipe that they can make on their own! Win-win!
Here are just a few ideas for the kids:
Have them slice the apples
Let them experiment with different types of nut and seed butters to see what they like best
Teach them to control the sprinkle toppings and keep in on the plate! The kids love decorating the apples
Always have them help clean up. There's limited dishes with this recipe.
What You'll Need:
Apples – You can use any kind of apples. If you have a small eater, 1 apple with be enough. If you have older kids, I would recommend 1-1/2 – 2 apples each. Trust me – it's that good
Almond Butter – Also try peanut butter, sun butter or cashew butter. Any type of nut or seed butter will work. Whichever option you chose, be sure that there is no added sugar. If your almond butter is hard, microwave it for 10 seconds to make it softer. You want to be able to drizzle it over the apples.
Toppings – These aren't required but it adds to the fun. Try dairy free chocolate chips, shredded coconut, sliced almonds, sunflower seeds or even sprinkles!
Honey – This is completely optional. I don't think it needs honey and we don't add it to our apple nachos, but if your kids aren't used to unsweetened nut butters, this is one way to get them to enjoy it! Just lightly drizzle it over the top.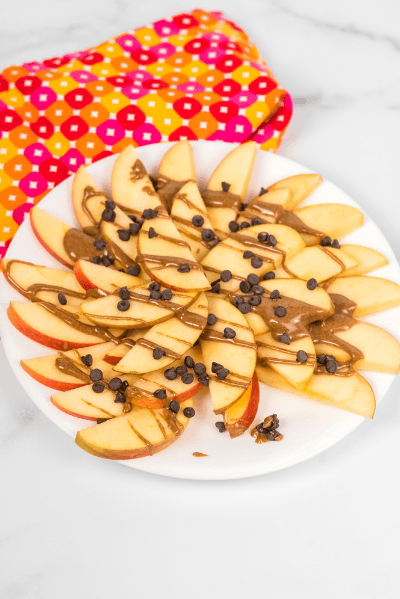 How To Assemble This Healthy Kids Snack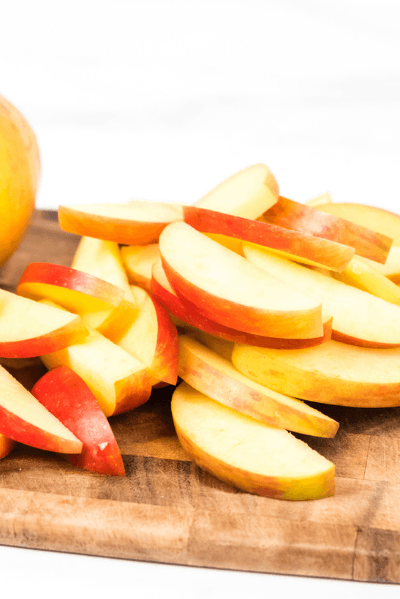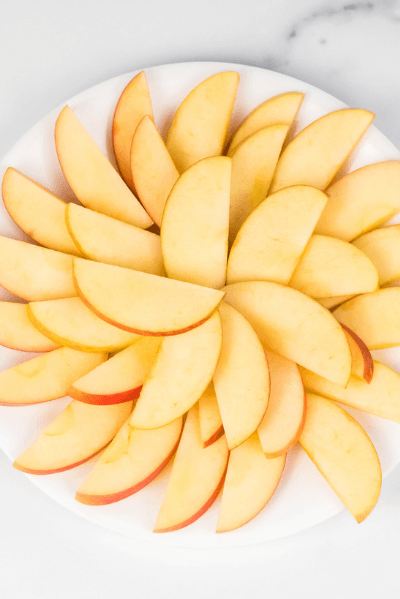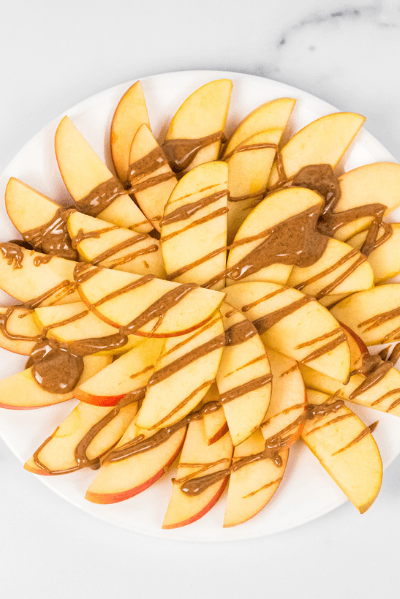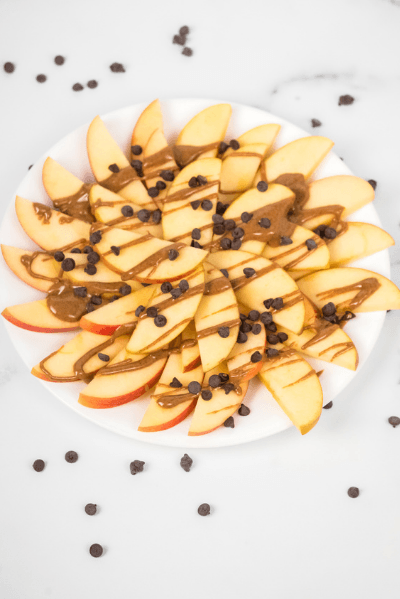 Frequently Asked Questions About Apple Nachos
Can I substitute the apples with something else?
You sure can! This would be delicious with pears as well. You could try other fruits, but I have found apples and pears to be my favorites.
Can I substitute Peanut Butter?
Sure! Any nut or seed butter will work in this recipe.
Is Almond Butter and Apples Healthy?
Yes! We already know that apples are healthy, but so is almond butter. It will fill you up and keep you fuller longer since it is high in monounsaturated fats (healthy fats). It's an easy way to get some nutrition into your picky eaters.
What kind of apples should I use?
I like sweet apples, so I prefer Fuji apples. However, any apples that you have on hand would work. Even Granny Smith apples would be delicious if you like tart apples. It would be great with a sprinkle of cinnamon too…
What if I don't have natural almond butter?
Nut butters are a source of hidden sugar. If you read the ingredients in processed nut butters, you will be surprised with how many added ingredients there are! That being said, if you do chose to use it over the natural stuff, you will find that it won't drizzle as easily. There are a few things you can try. First, try warming it up slightly. If that doesn't work, add a little oil or water to the peanut butter and mix until it is thin enough to drizzle.
Here Are Even More No-Bake Snack Recipes: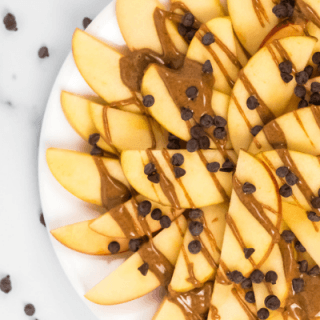 Apple Nachos Recipe
Ingredients
2 Large Apples
1/4 Cup Almond Butter
1 Tablespoon Dairy-free Chocolate Chips
Instructions
Cut the apples into 1/4 inch slices and arrange on a plate
Drizzle with almond butter. If the almond butter is hard, microwave for 10 seconds
Sprinkle dairy-free chocoalte chips over the top
Nutrition Information:

Yield:

2

Serving Size:

1 Amount Per Serving:

Calories:

334

Total Fat:

19g

Saturated Fat:

2g

Trans Fat:

0g

Unsaturated Fat:

15g

Cholesterol:

0mg

Sodium:

5mg

Carbohydrates:

40g

Fiber:

9g

Sugar:

28g

Protein:

7g

Nutritional information was calculated automatically. Please verify accuracy

By