Sweet, tangy, soft and delicious! These balsamic roasted mushrooms take just 30 minutes in the oven and make such an impression on the dinner table.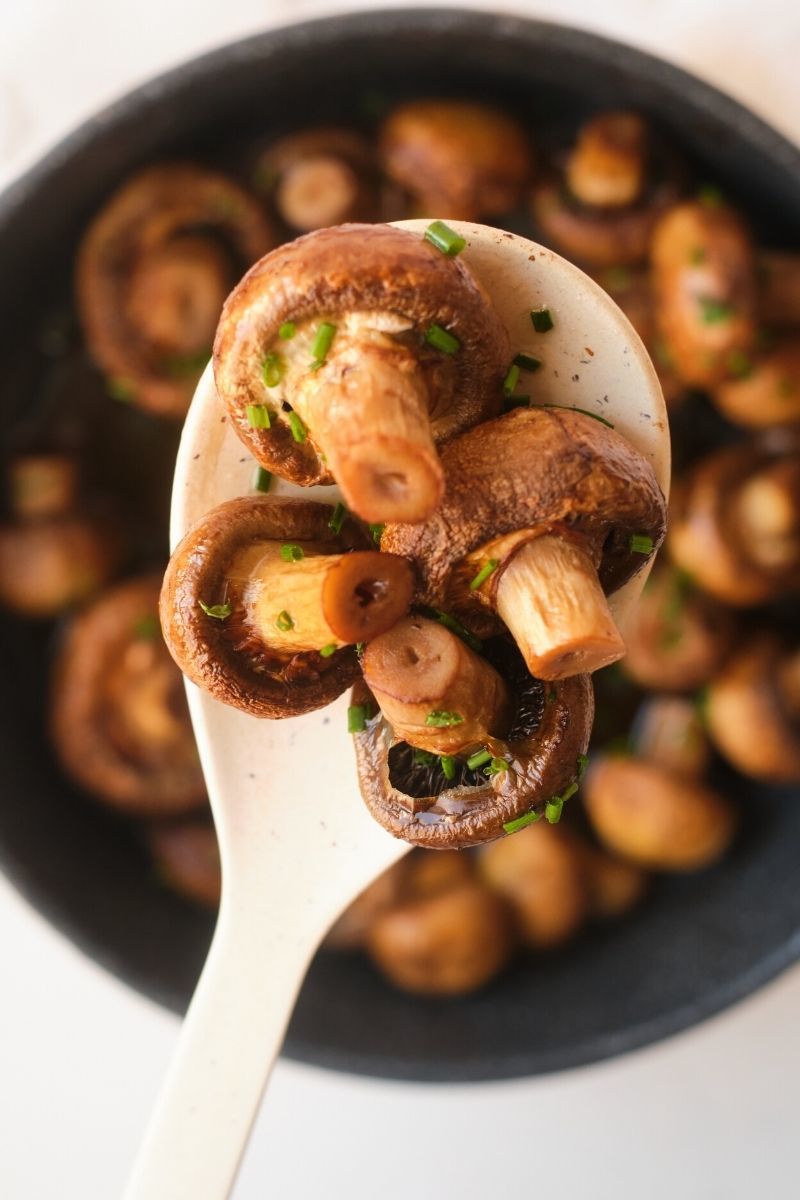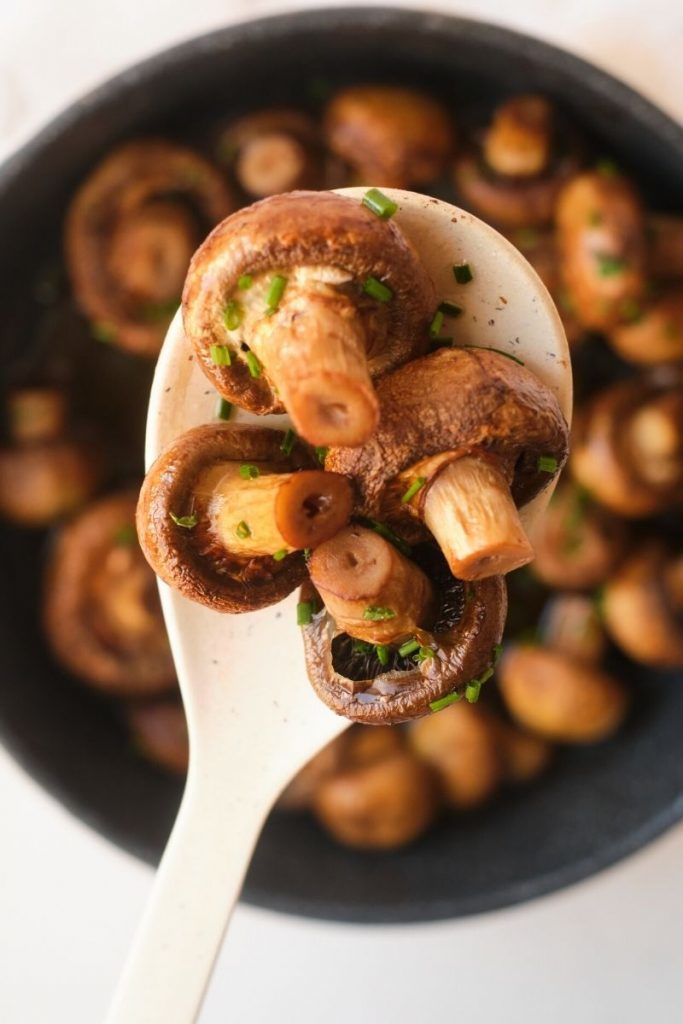 Roasted mushrooms are the only type of mushrooms my family will eat. And these oven-roasted mushrooms are so delicious that I can see why. This is one of those healthy recipes that are so quick and easy to prepare that you will be making them all the time. You can even turn this into an air fryer recipe if you want to (see the FAQ section at the end)!
They make a perfect side dish for gluten free chicken nuggets, ribs, mashed potatoes or even alongside our air fryer potatoes!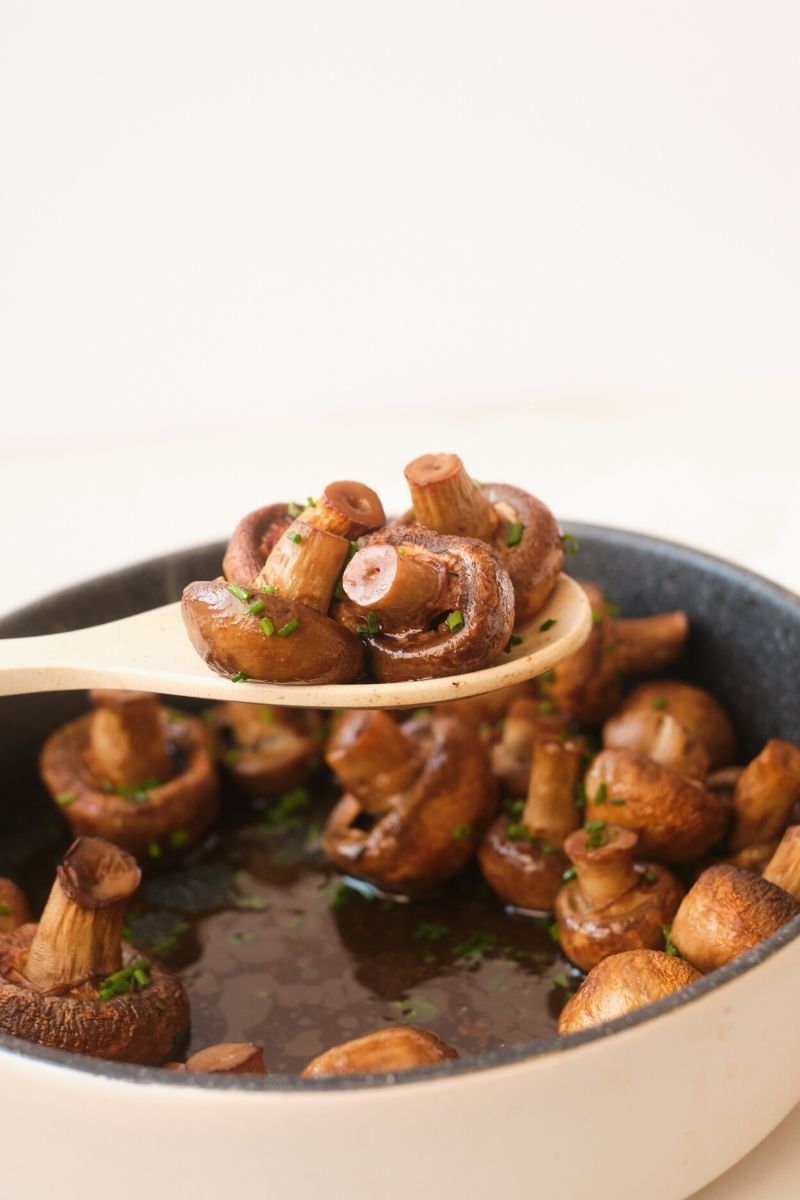 What are the best mushrooms to use for roasted mushrooms?
This roasted mushroom recipe is so easy that any white mushroom will work. When possible I like to buy presliced mushrooms just to save a few minutes. Here are a few different types of roasting mushrooms to try:
White Mushrooms
Crimini Mushrooms
Button Mushrooms
Baby Bella Mushrooms
Almost any type of mushroom will make delicious roasted mushrooms.
INGREDIENTS YOU NEED
Whole Mushrooms- I like to use white mushrooms from Trader Joes, but use any mushroom that you want to! Be sure to wash the mushrooms by rubbing the dirt off with a damp paper towel
Balsamic Vinegar – Use your favorite balsamic vinegar. You'll want to use a good vinegar since this will be the primary flavor for the dish
Garlic Salt – Because we definietly need garlic! You can use garlic powder instead but you will need to add more salt
Green Onions – These add a light onion flavor to the dish. If you don't have them, it is okay to skip.
Oil – I like to use avocado oil, but olive oil or any healthy oil will work. You can also use half oil and half melted butter.
Salt or Soy Sauce
Fresh Herbs – There are no herbs in this recipe becuase I wanted to keep it simple, but you can add fresh herbs like fresh thyme, basil or freshly chopped parsley too.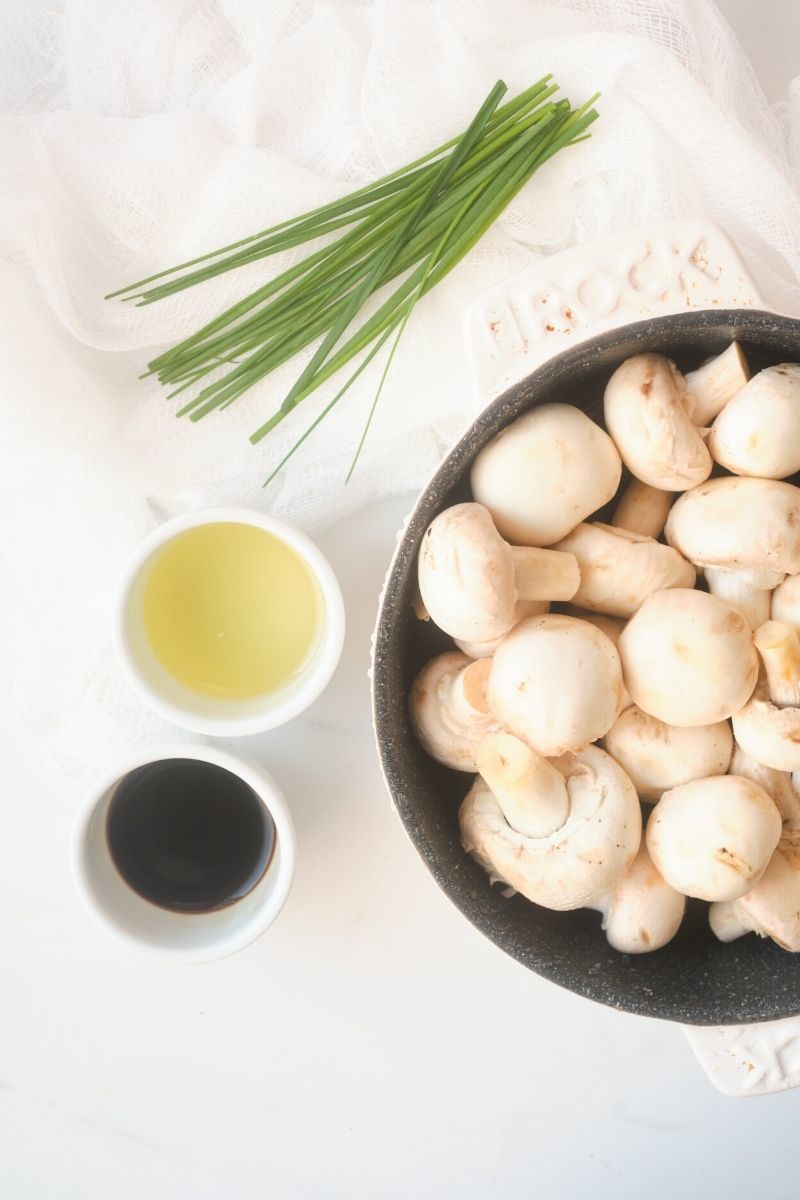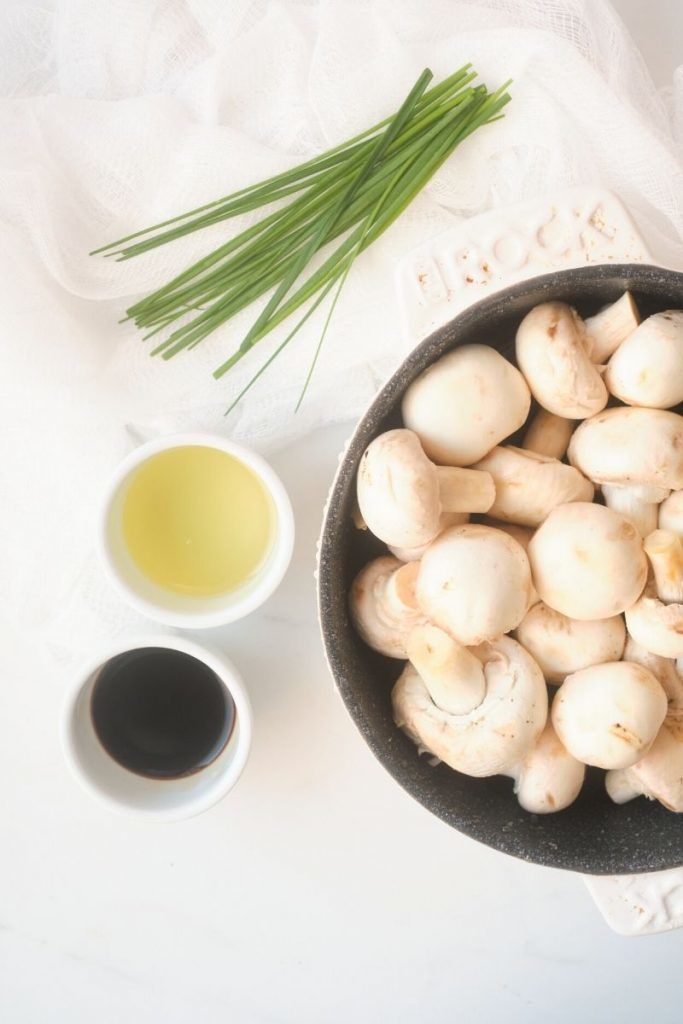 How To Make Roasted Mushrooms with Balsamic
This recipe is meant to be simple, fast and easy! It is also versatile and can go with almost any dish. Many recipes call for brown sugar but we are keeping this one savory. The balsamic vinegar gives the roasted mushrooms a delicious flavor!
Clean mushrooms with a damp paper towel taking care not to tear the mushrooms. Trim off the bottom of the mushrooms.
Arrange mushrooms on a baking dish and add the balsamic vinegar, avocado or olive oil, salt, garlic salt and any herbs or other ingredients you would like to add. Evenly coat the mushrooms.
Roast mushrooms for 30 minutes or until the mushrooms are roasted and bubbling.
Garnish with chopped green onions or fresh parsley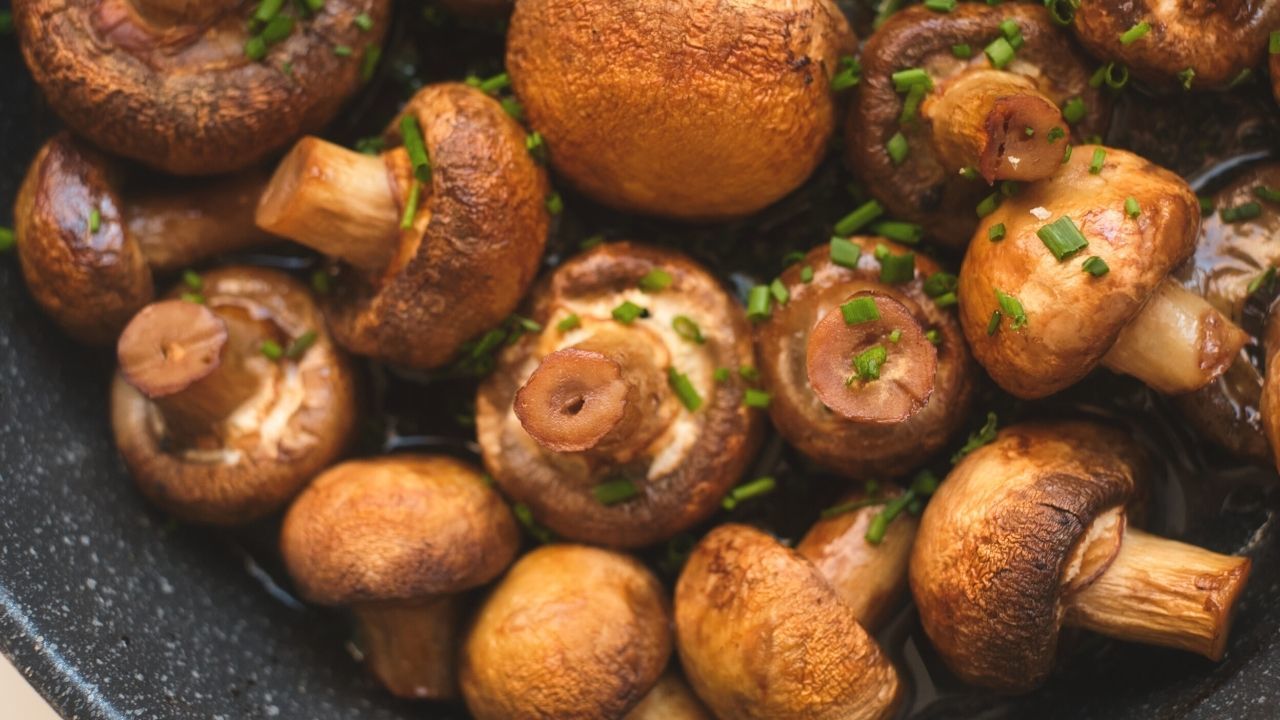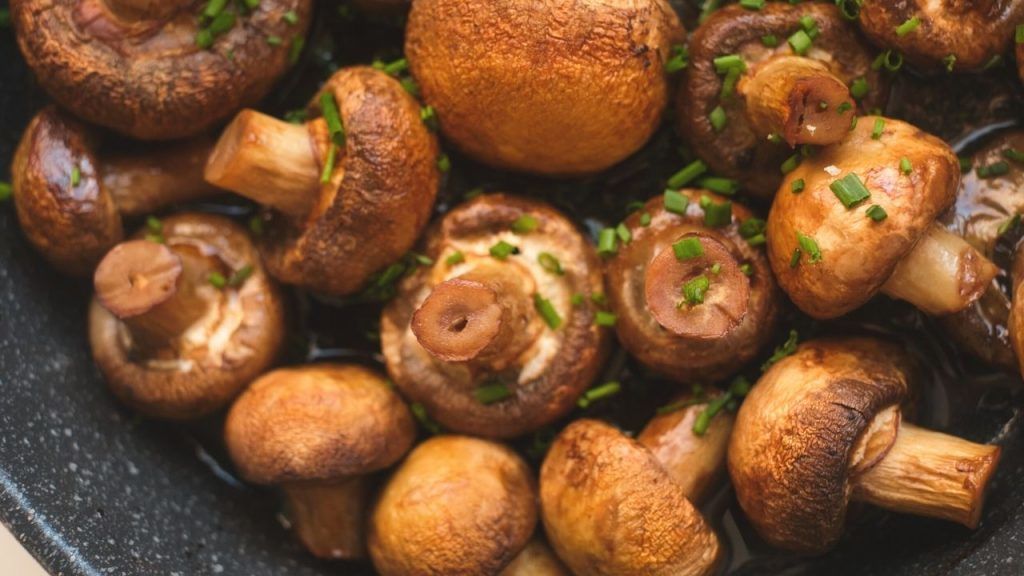 Important Teaching Tips for Balsamic roasted Mushrooms
Washing Mushrooms – Mushrooms should not be washed under water (though I often do it!). To wash mushrooms, you just need a wet papertowel to wipe the dirt off. You'll also want to trim off the ends since they tend to be tough.
Picking Mushrooms – Try to make sure all your mushrooms are roughly the same size. That will ensure that they cook evenly.
Baking Sheet – You can also use a prepared baking sheet that has been evenly coated in cooking spray or line a baking sheet with parchment paper.
Frequently Asked Questions About Balsamic Roasted Mushrooms
Can you make roasted mushrooms in the air fryer?
You can! It is so easy. If you have an air fryer with a convection setting, you'll want to set it to 400 degrees and back for 20-30 minutes or until brown and bubbly. If you are using a traditional air fryer, cook it at 350 degrees for 30 minutes or until brown and roasted.
How do you bake mushrooms without getting soggy?
Mushrooms get soggy when the heat isn't high enough. You'll want to cover these balsamic roasted mushrooms in olive oil and then bake at 400 degrees to keep them hot and to prevent them from steaming, which is what makes them soggy.
What is the most popular mushroom?
White button mushrooms are the most popular mushroom. Probably because they are the easiest ones to find!
Can you freeze roasted mushrooms?
Roasted mushrooms can be frozen but I don't advise it. When they defrost, they tend to be chewy and rubbery. It's best to make these roasted mushrooms right before serving them.
How do I store roasted mushrooms?
These should be stored in an airtight container in the fridge. Just heat them when you are ready to enjoy.
More Healthy Side Dish Recipes You Might Enjoy: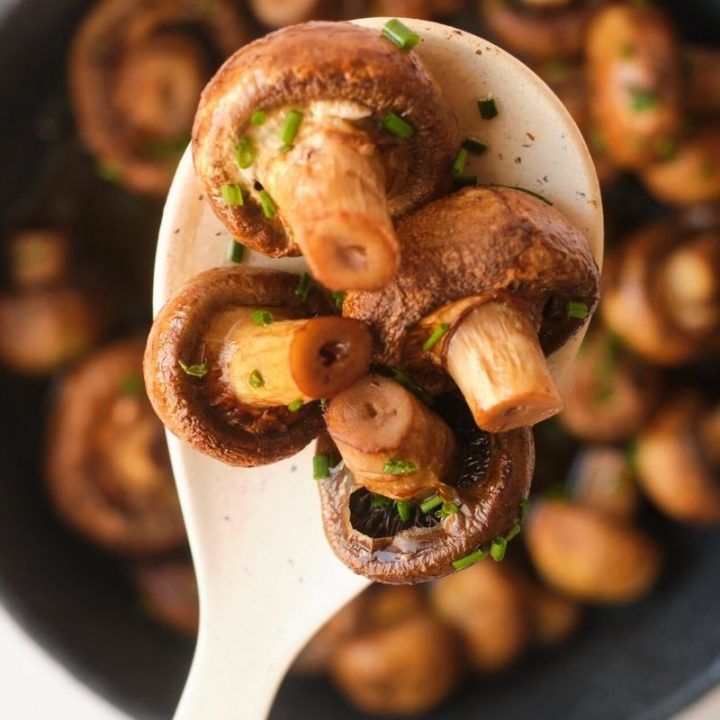 Balsamic Roasted Mushrooms
Sweet, tangy, soft and delicious! These balsamic roasted mushrooms take just 30 minutes in the oven and make such an impression on the dinner table.
Ingredients
3 Cups Whole Mushrooms
2 Tablespoons Balsamic Vinegar
1 Tablespoon Oil
Pinch of Garlic Salt, Optional
1 Tablespoons Green Onions, Chopped
Salt, optional
Instructions
Preheat oven to 350 degrees
Wipe the mushrooms with a damp cloth or paper towel
Place the mushrooms in an oven safe baking sheet or pan
Add the balsamic vinegar, oil, garlic salt and salt (if using garlic powder instead). Toss to evenly coat the mushrooms
Toast in oven for 30 minutes or until the mushrooms are browned and bubbling
Remove from the oven and garnish with green onions
By