This time of year we are so busy as we get back into the school routine and after school activities. Times like these when I worry about whether or not the kids are getting enough nutrition, I turn to smoothies! And this Chocolate banana smoothie is a perfect one for the kiddos!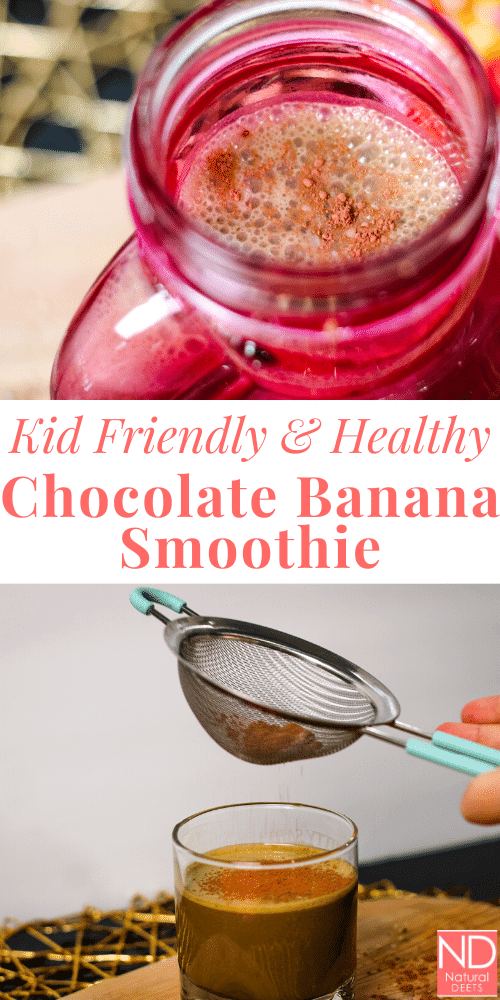 In this recipe we snuck in some spinach and hemp hearts to make sure they get an extra boost of nutrition and immunity!
Is A Chocolate Banana Smoothie Healthy?
Traditional kid friendly smoothies are usually packed with sugar. However, cacao powder is bitter without sugar, so some kind of sugar is a requirement. However, that doesn't mean we need to use processed sugar!
Bananas are the perfect way to add sweetness along with other nutrients that your kids need.
Banana Nutrition
Bananas are packed with nutrition and luckily they are delicious too! Moms love it because they are full of potassium, magnesium, vitamin B6 & vitamin C.
Kids love it because it is sweet and delicious! Adding it to the smoothie is enough sweetness to offset the bitterness of the cacao powder. So it is the perfect natural sweetener!
Do You Make Smoothies With Milk Or Water?
What if I told you that you could use either? Yep, if you want a creamier smoothie, use milk. Clean eating does allow for grass-fed cows milk, but you could use any nut, oat or seed milk.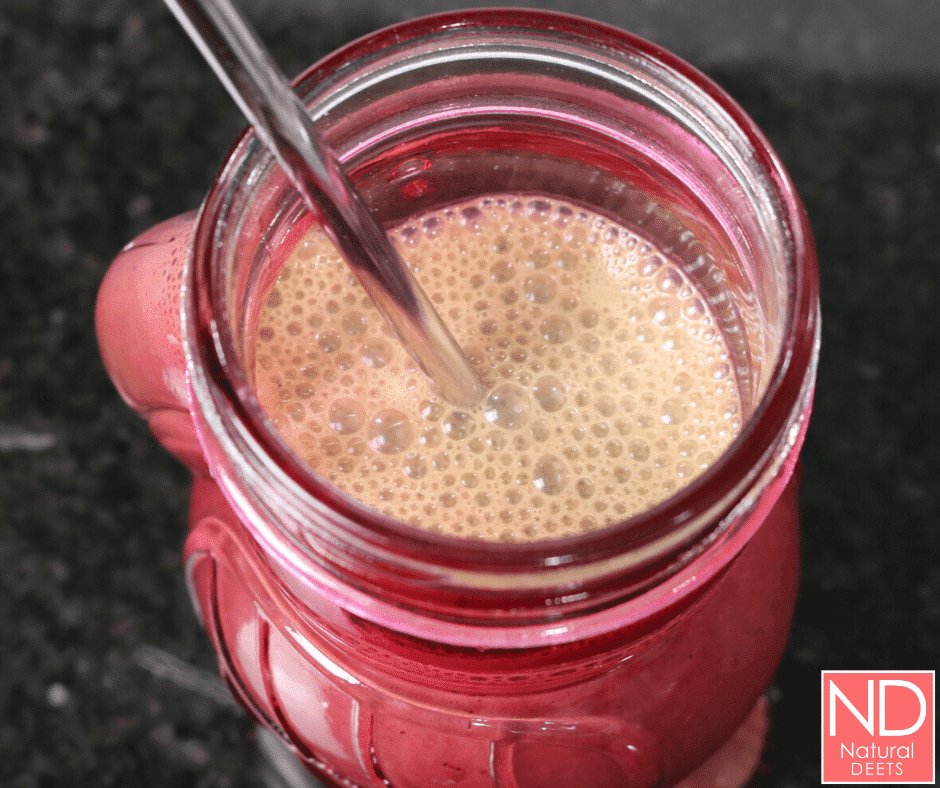 If you are looking for a fruitier flavor, you can use water or coconut water.
This particular recipe is better when it is creamy, because it tastes more like a frappuchino or milk shake! So use milk!
Vegetables For Kids
In a perfect world, our kids would be asking for vegetables. But in reality, they often only eat it because we either force them to or sneak them into their food!
But smoothies are one way to get a variety of vegetables into your kids without fighting. You can start with spinach, since there isn't much taste, but also try cucumbers, carrots, beets, celery and evenutally kale!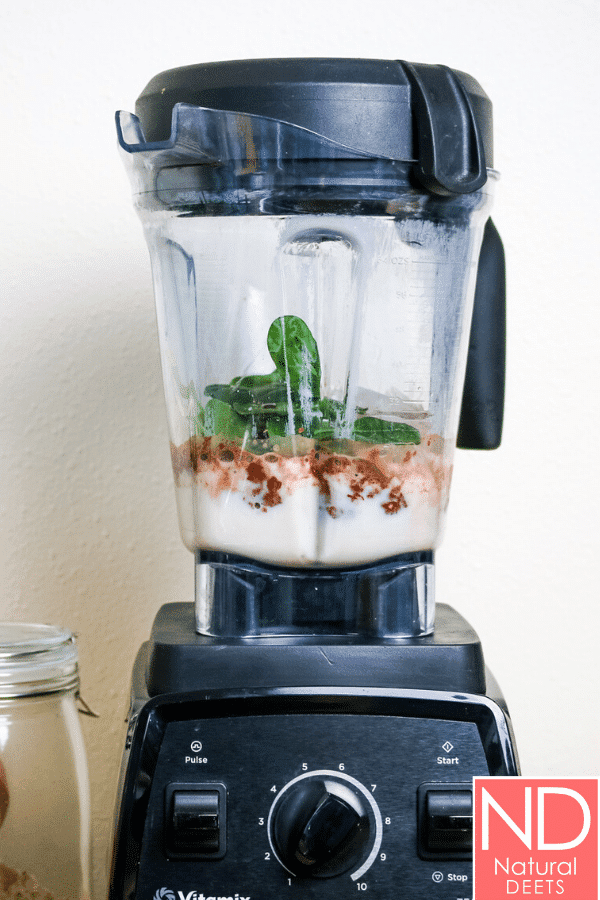 Put it in a cute glass with a straw and the kids will love it even more!
If you are looking to add even more nutrition to your smoothies, be sure to check out my post on YourSuper organic mixes. We add these to every smoothie!
Smoothie Ideas
This recipe is a great one to start with, and if you try it and love it, here are a few other smoothie recipes to try:
Spinach, Strawberry Banana Smoothie Recipe
How To Make a Smoothie For Kids (Picky Eaters!)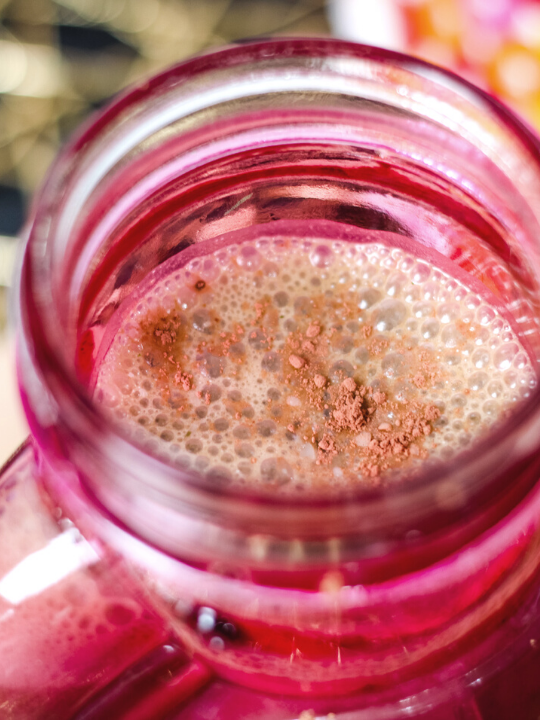 Chocolate Banana Smoothie
This chocolate banana smoothie is a perfect introduction to smoothies with vegetables!
Ingredients
2 Cups Ice Cubes
1 1/4 Cup Almond Milk
1/2 Cup Spinach, Fresh
1 Banana, Frozen
2 Tablespoons Cacao Powder
1 Tablespoon Maple Syrup
1 teaspoon Hemp Hearts
1/8 teaspoon Vanilla Extract
1/8 teaspoon Peppermint Extract
Instructions
Add the Ice Cubes, Almond Milk, Spinach, Banana, Cacao Powder, Maple Syrup, Hemp Hearts, Vanilla Extract and Peppermint Extract
Blend until smooth
Serve and Enjoy!
Nutrition Information:
Yield:

1
Serving Size:

1 Servings
Amount Per Serving:
Calories:

261
Saturated Fat:

1g
Sodium:

425mg
Carbohydrates:

48g
Fiber:

8g
Sugar:

27g
Protein:

7g
Looking for more? Here are some of our recent posts!
If you are looking for more ways to get your kid in the kitchen, check out our Cooking With Kids course with a tropical smoothie recipe!

By