Chocolate, candy canes and marshmallows combine to create a delicious Christmas rice krispie treat that is sure to be a hit this holiday season! They will make a delicious addition to your dessert table!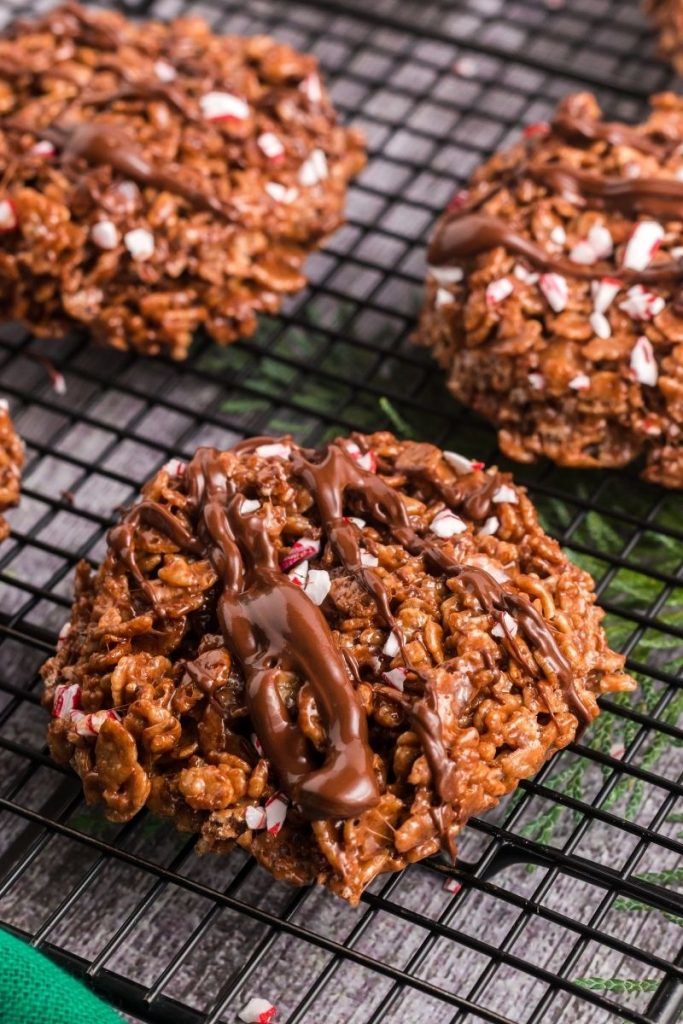 We had so much fun making Halloween Rice Krispie treats this year that we had to make for one Christmas too! These chocolate Christmas rice krispie treats did not disappoint.
These would look amazing next to our Hot Chocolate Spoons, Chocolate Pretzel Bites With Peanut Butter or Dairy Free Peppermint Hot Chocolate.
Fast and Easy Rice Krispie Treat Recipe
Christmas Rice Krispie treats have minimal prep time and only take about 10 minutes to make. You can even customize them to any theme or genre. They have been around so long that they are often overlooked, but add your own twist and make them cool again!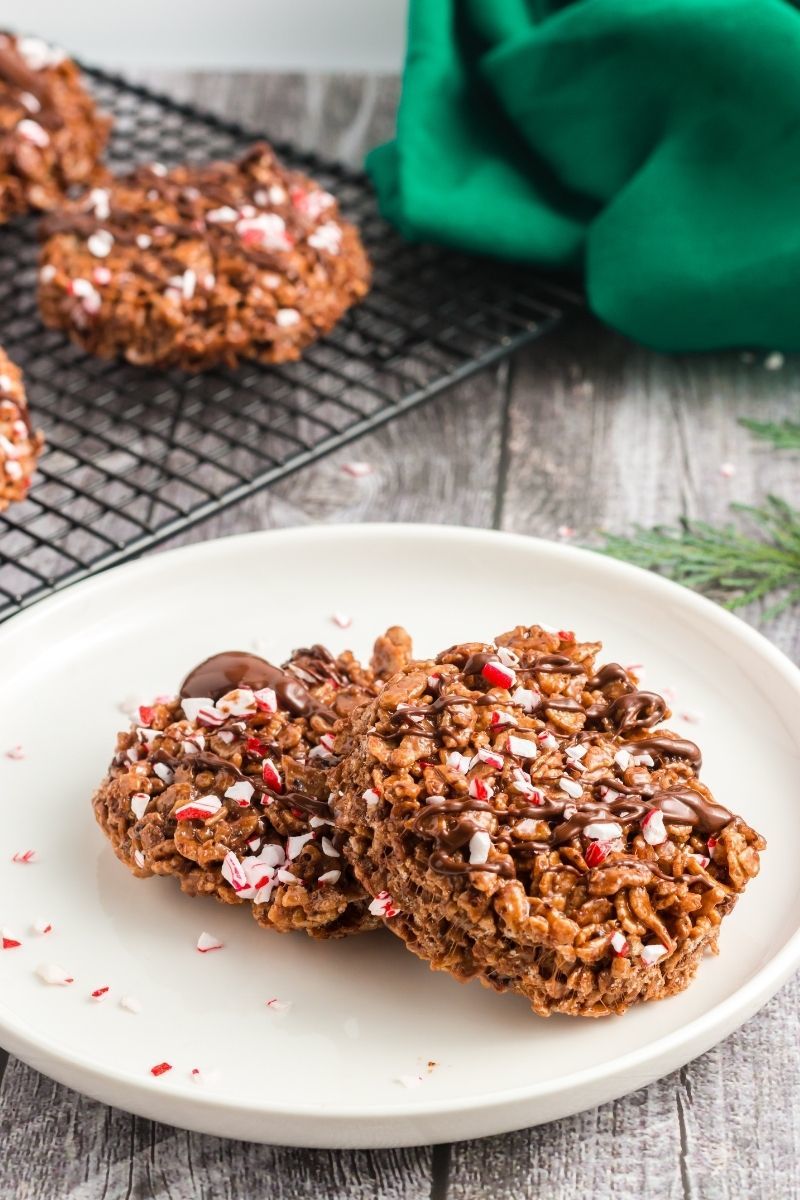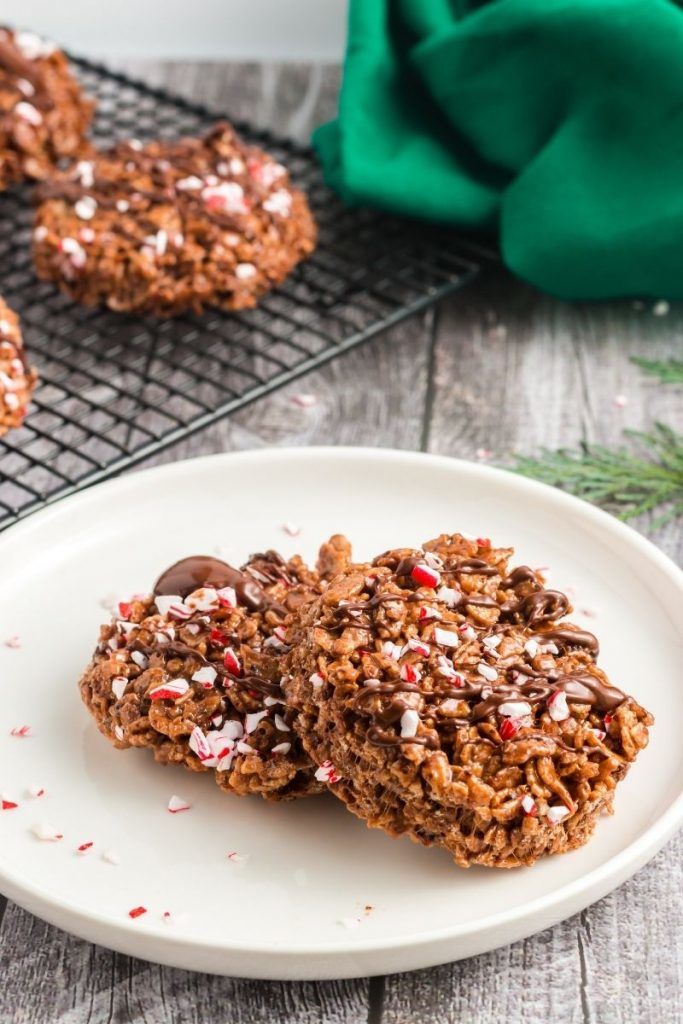 Here are some ideas on how you can make them your own:
Christmas Sprinkles – Top your Christmas rice krispie treats with your favorite Christmas sprinkles! The only ones that I would avoid are the small round ones. I had trouble with getting them to stay on the rice krispie treats and they rolled off all over the floor! At least the dog was happy.
Mini Marshmallows – Add some mini marshmallows to the top of the rice krispie treats. You could also add some nuts and chocolate chunks and make a Rocky Road flavor!
Red or Green Food Coloring – I like to use India Tree natural food coloring, but use your favorite.
Different Cereals – Try using different types of cereal. Just keep in mind that the sweetened cereal will make for a very sweet rice krispie treat!
Cookie Cutter – These Christmas rice krispie treats would be really cute as Christmas trees or reindeer too!
VIDEO TUTORIAL – Coming Very Soon!
What you need to make Christmas Rice Krispie treats
Even though Christmas rice krispie treats are very easy to make, I wanted to talk about the ingredients because there were a few issues when I was shopping this weekend.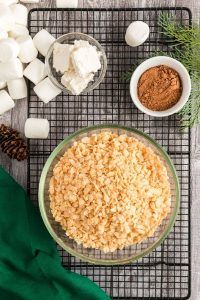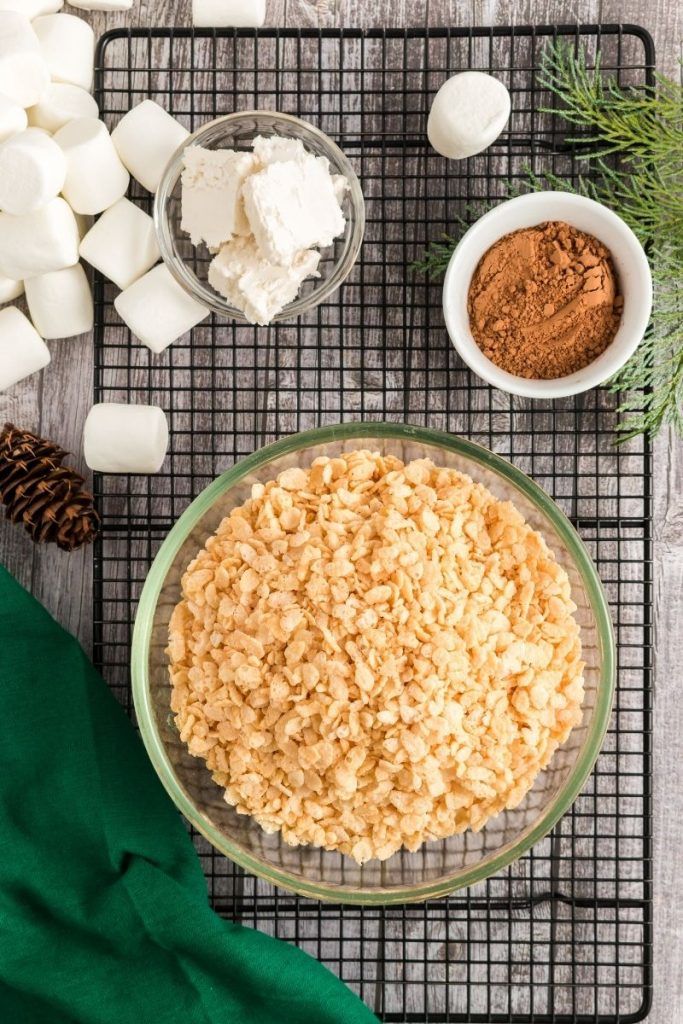 Crispy Rice Cereal – The grocery store shelves were bare! They were out of rice krispies cereal and there were only 3 boxes of a generic puffed rice cereal on the shelf, so I went with that. It was cheaper and it worked out just fine. If you are really in a pinch, grab a different cereal to substitute.
Marshmallows – Again, these were almost sold out but there was a display in the baking section. Look around the store if the shelves are sold out. It seems they sprinkle them around the baking section. I like mini marshmallows for rice krispie treats but they were sold out. The regular ones still work, they just require a little more patience as they melt.
Salted Butter – I use dairy free butter (I like Miyokos) but feel free to use a butter of your choice. We want salted and not unsalted.
Cocoa Powder – The cocoa powder adds the chocolate flavor. Cocoa powder is bitter but there is enough sugar in the marshmallows so it isn't necessary to add any additional sugar.
Crushed Candy Canes – Of course Christmas rice krispie treats need candy canes! If you are up for it, you can crush your own candy canes. I have tried it before and it makes a sticky mess. The candy canes are hard to sprinkle because they stick to each other. I prefer pre-crushed candy canes.
Chocolate Chips – These will melted and drizzled over the top but it is completely optional.
How to make Chocolate Rice Krispie Treats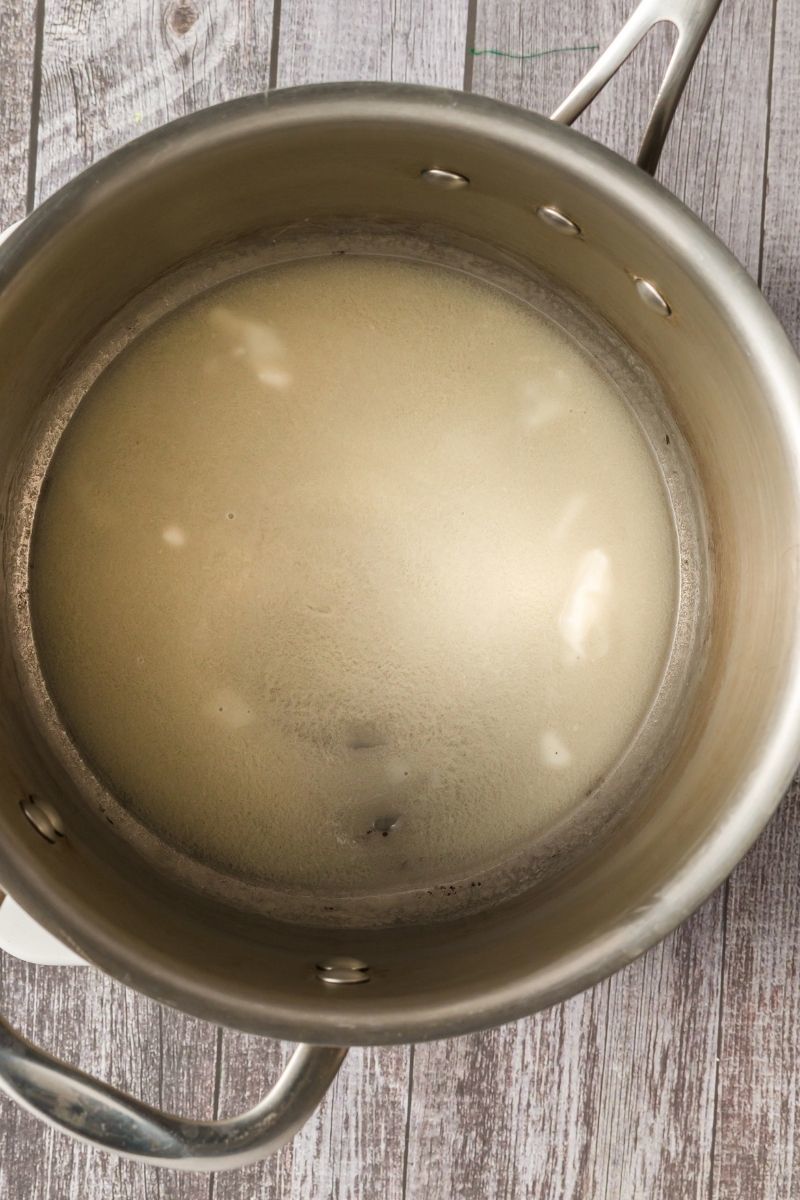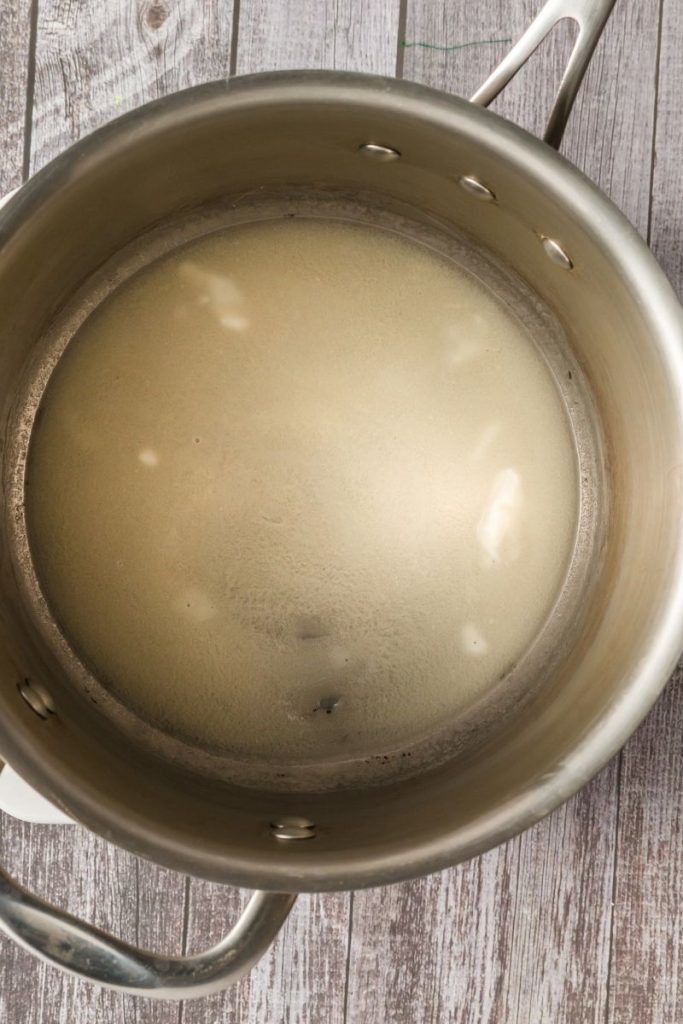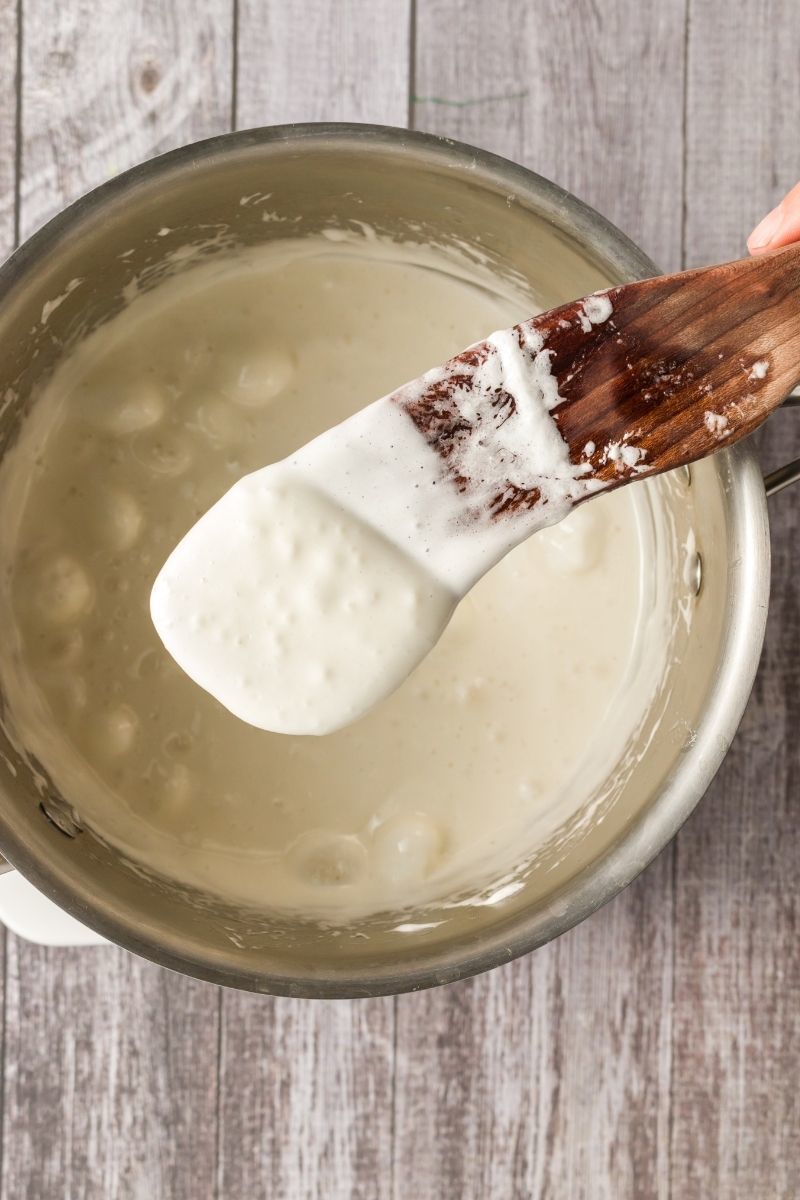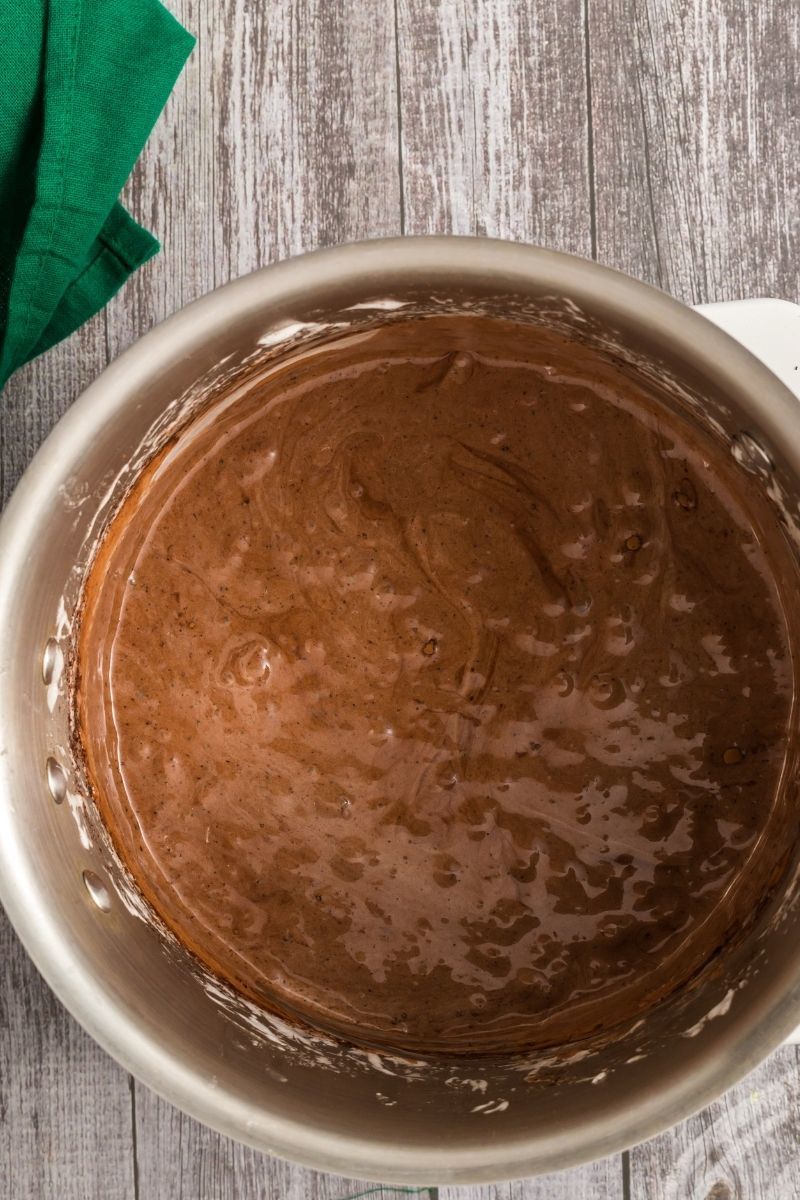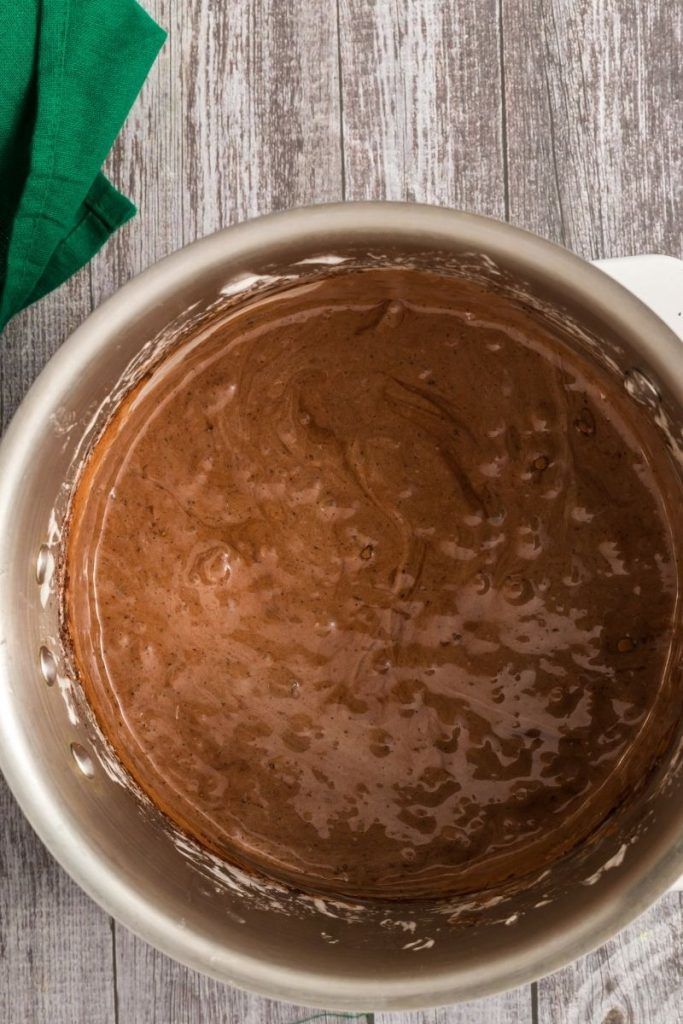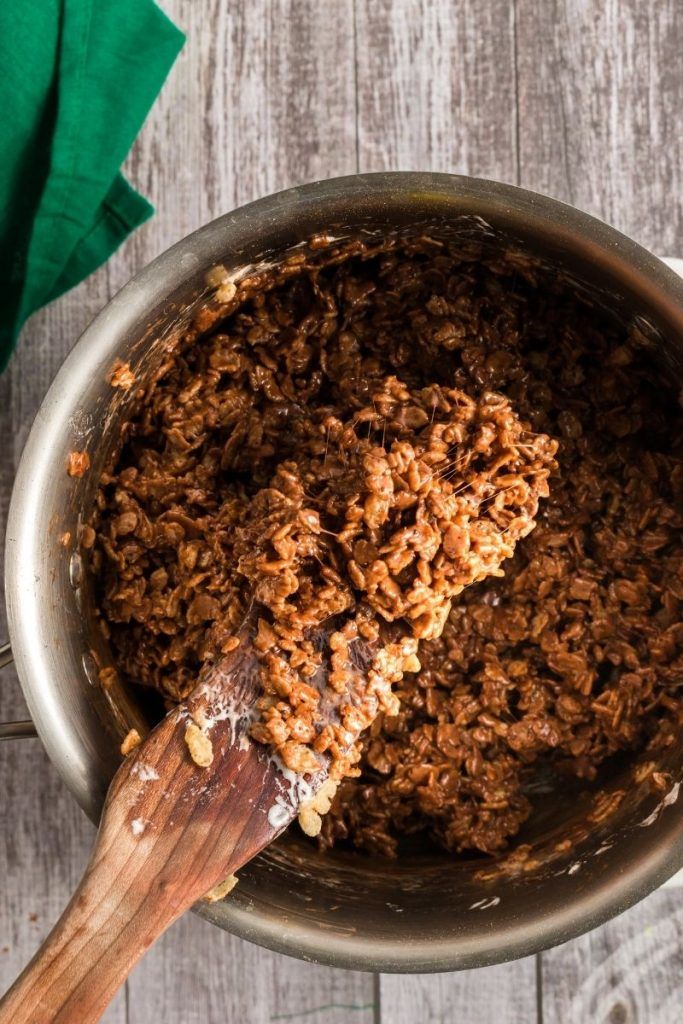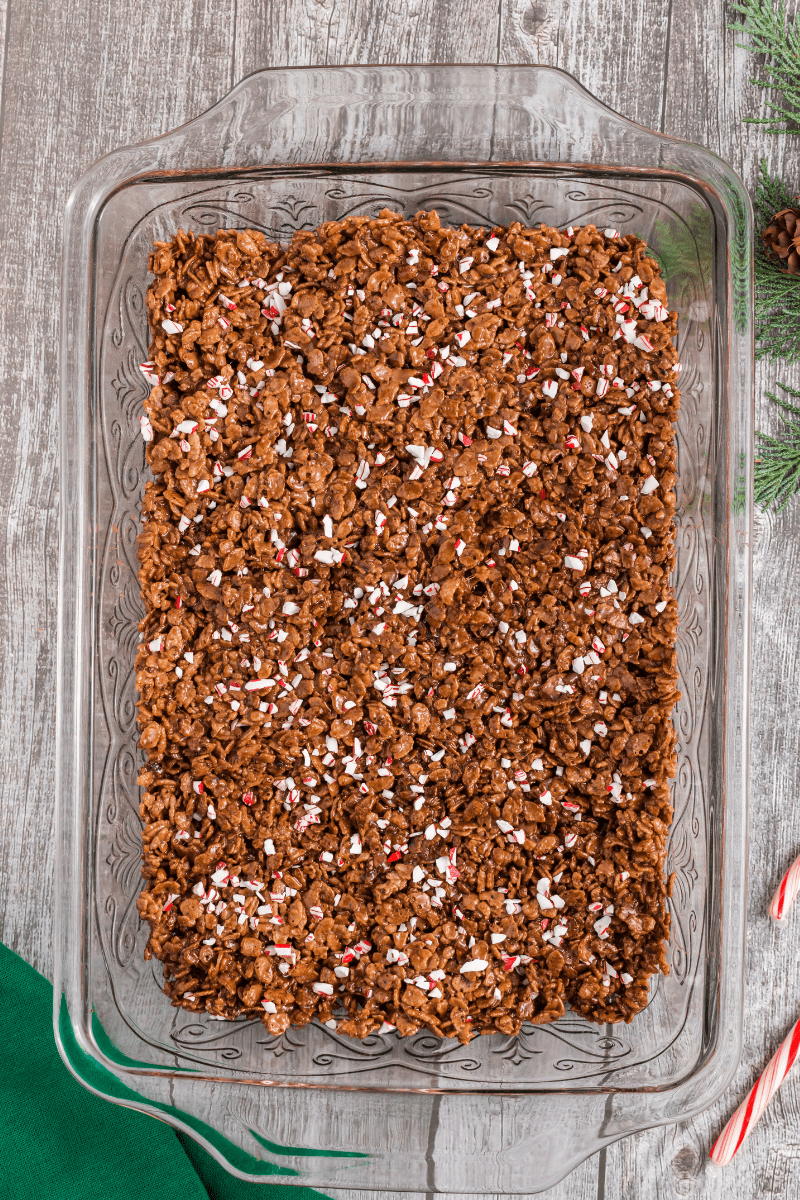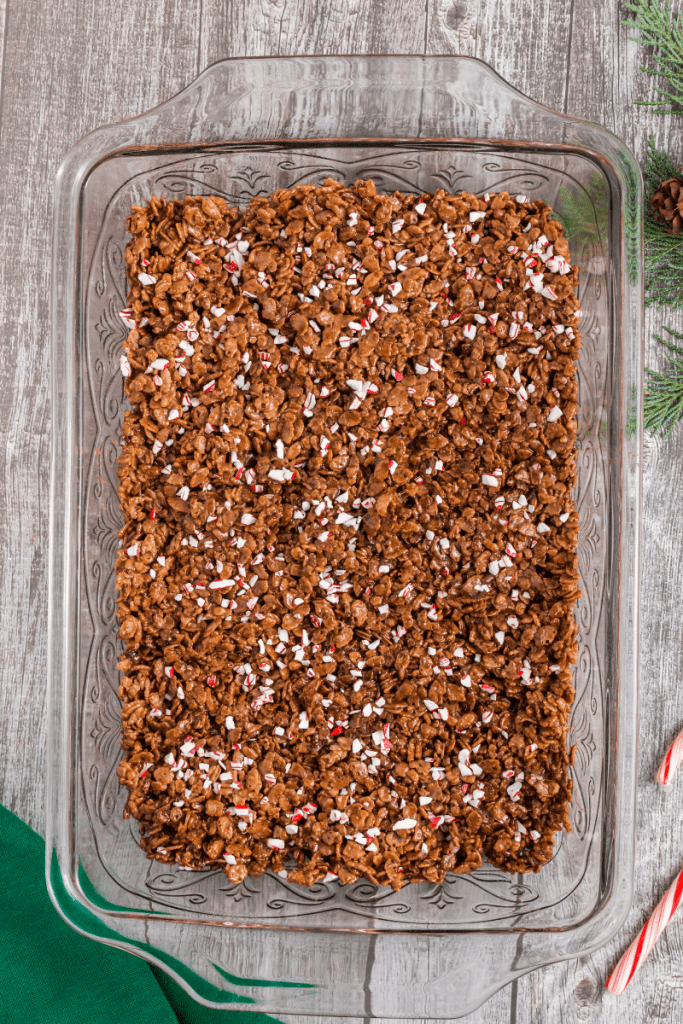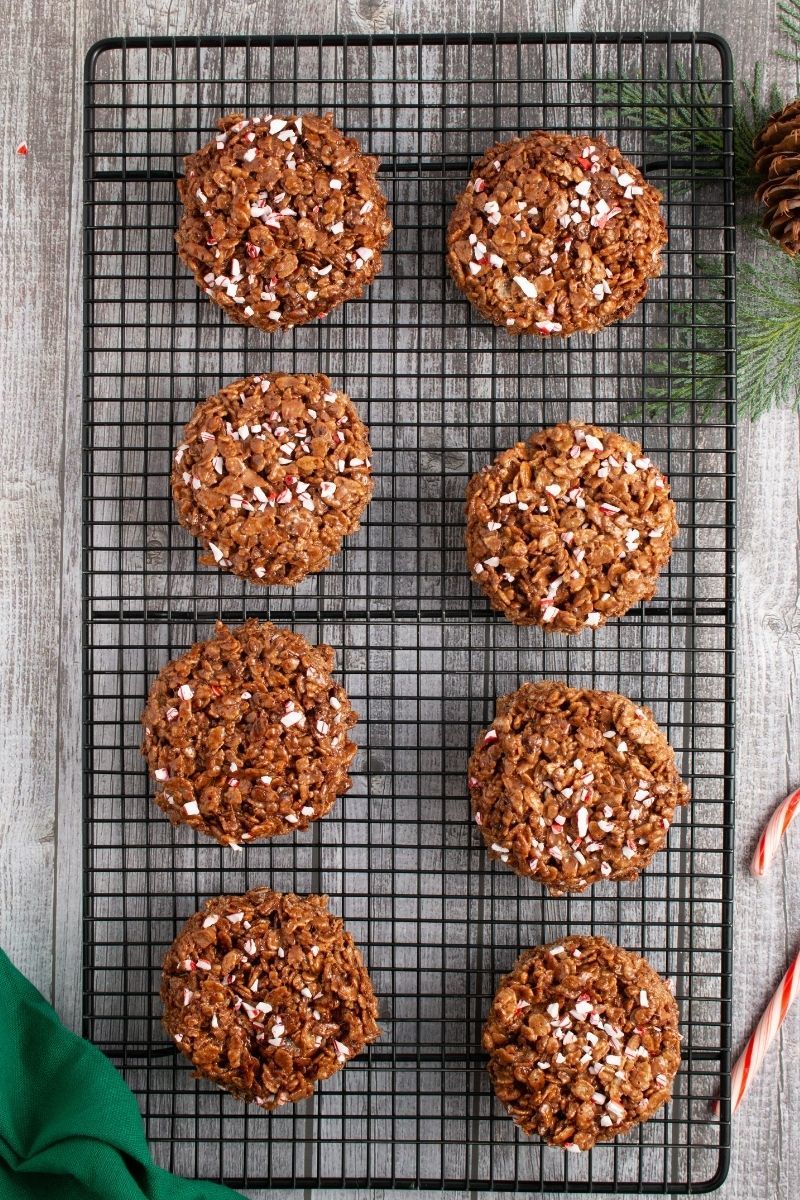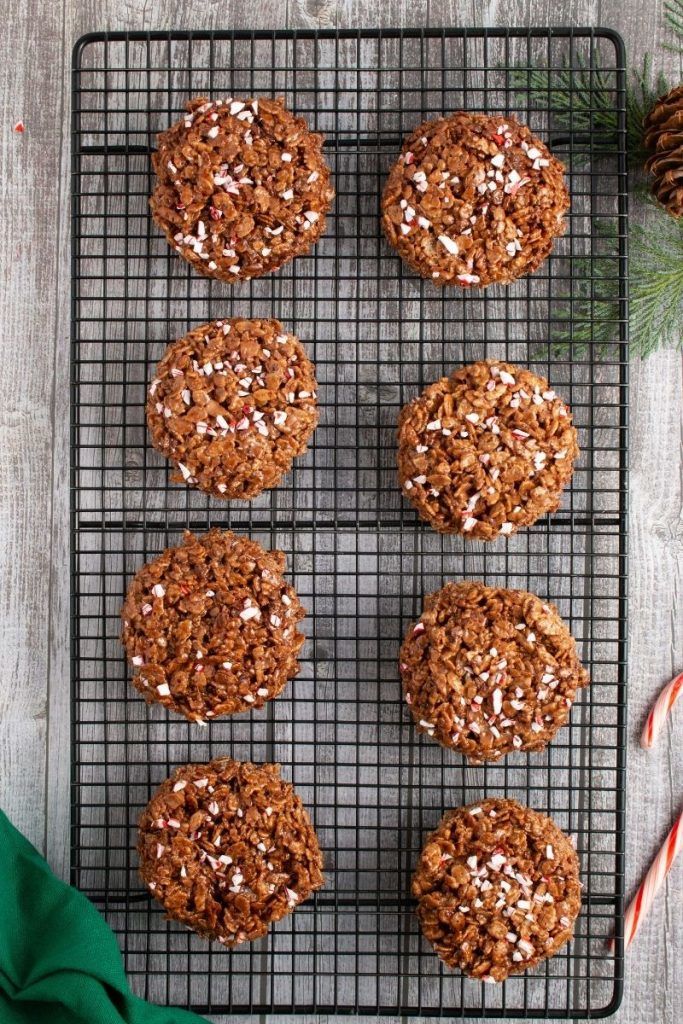 Important Teaching Tips
Melting Marshmallows – Melt the marshmallows over medium low heat. You will be tempted to make it hotter, but don't go hotter than medium heat or the marshmallows may burn. Heating them over high heat also results in hard rice krispie treats. So be patient!
Melting the Chocolate Chips – The trick to melting the chocolate chips in the microwave is to only melt them until they are half melted. Then stir them and let the heat melt them the rest of the way. Put them in a mirowave safe bowl and place in the microwave for 30 seconds then stir. Microwave for another 10 seconds and stir. If the chocolate chips start to melt, continue stirring until smooth.
Cookie Cutters – I used a large round cookie cutter and was able to get about 7 treats the first time. One you cut as many as you can, gently push the remaining rice krispie treat pieces together and cut out more.
Sweetness – These Christmas rice krispie treats are very sweet. I made large pieces and the kids loved it but next time I will use a smaller cookie cutter. If you love sweet things, this probably won't be an issue!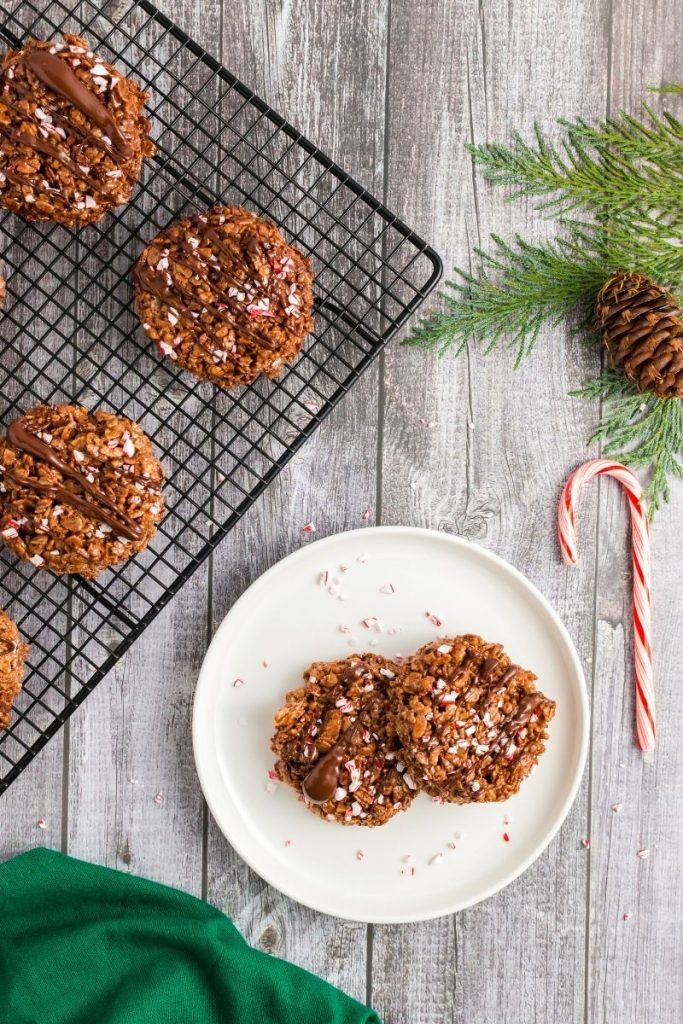 Frequently Asked Questions About Rice Krispie Treats
Why are my homemade rice krispie treats so hard?
Hard rice krispie treats are usually the result of one of two things – melting the marshmallow over too high of a heat, or pressing the rice krispies in to the prepared pan too hard. Be gentle when pressing them into the pan. Remember that they will harden as they cool, so they don't need to be packed in.
Can rice krispie treats be made ahead of time?
They sure can. I think they taste best the same day, but you can make these Christmas rice krispie treats a day ahead of time. I wouldn't recommend making them earlier than the day before. You can store them in an airtight container to keep them fresh.
Why are my rice krispie treats so sticky?
Keep in mind that rice krispie treats are naturally sticky, but if you find that they are so sticky you can't work with them, you may need to add more rice krispie cereal. If your melted marshmallow mixture is still warm, add a little more cereal until you are happy with the consistency. Remember that they should be sticky.
Can you freeze rice krispie treats?
This recipe does not freeze well. I would not recommend freezing these!
More Dairy Free Dessert Recipes You Might Enjoy: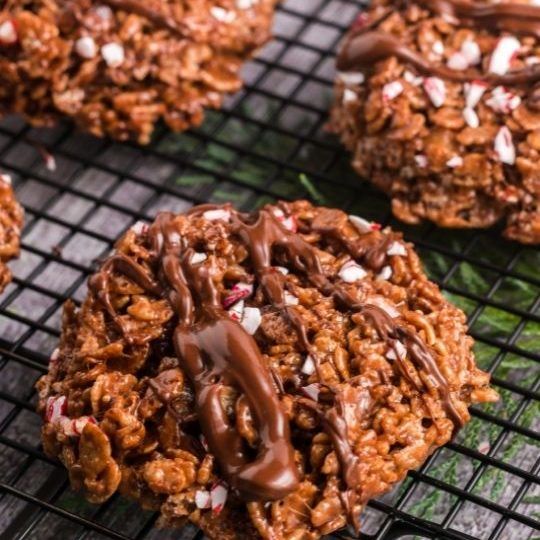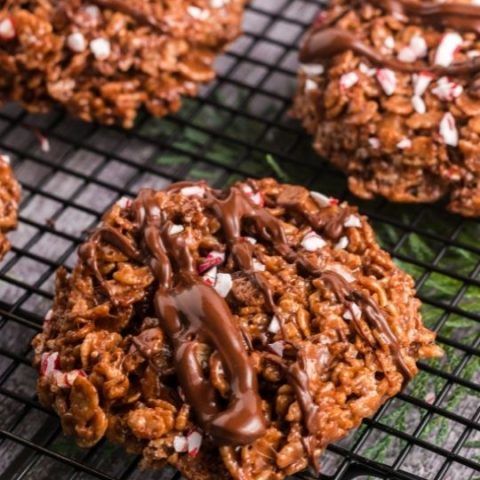 Christmas Rice Krispie Treats
Additional Time:
10 minutes
Chocolate, candy canes and marshmallows combine to create a delicious
Christmas rice krispie treat that is sure to be a hit this holiday
season! They will make a delicious addition to your dessert table!
Ingredients
6 Cups Rice Krispies Cereal
1 12oz bag Marshmallows
6 Tablespoons Butter, Dairy Free
1/4 teaspoon Cocoa Powder
2 Tablespoons of Crushed Candy Canes
1/4 cup Chocolate Chips, Dairy Free
Instructions
Grease a 9x13 baking pan with butter or non stick cooking spray and set aside
Melt the butter in a large pot over medium low heat.
Add the marshmallows to the butter and stir frequently to keep it from burning.
Once the marshmallows are melted, mix in the cocoa powder until fully incorproated.
Add the the rice krispie cereal and stir until it is evenly coated.
Pour the rice krispie mixture into the greased pan and use waxed paper, parchment paper or plastic wrap to gently press down the rice krispie mixture.
Sprinkle the crushed candy canes over the rice krispie treats
Use a cookie cutter to cut the rice krispies into shapes
Place the chocolate chips in a microwave safe bowl. Melt in the microwave for 30 seconds then stir. Continue microwaving in 10 second intervals until melted
Drizzle the melted chocolate over the rice krispie treats
Serve and enjoy!
Nutrition Information:

Yield:

12

Serving Size:

1 Amount Per Serving:

Calories:

221

Total Fat:

7g

Saturated Fat:

4g

Trans Fat:

0g

Unsaturated Fat:

2g

Cholesterol:

15mg

Sodium:

143mg

Carbohydrates:

39g

Fiber:

0g

Sugar:

21g

Protein:

2g

Nutritional information was calculated automatically. Please verify accuracy

By