When it comes to Christmas breakfast ideas, they need to be fast, easy and fun! After all, there are presents to be opened!
These Christmas tree pancakes are fluffy, delicious and wrapped in white coconut flakes that resemble peaceful white snow on a tree (amongst the chaos probably happening around the real tree!) All the Christmas feels without any artificial food coloring.
Just use your favorite pancake recipe, or use one of my favorite clean eating pancake recipes and grab a cookie cutter and let's get started! If you need syrup, try this Instant pot gingerbread syrup!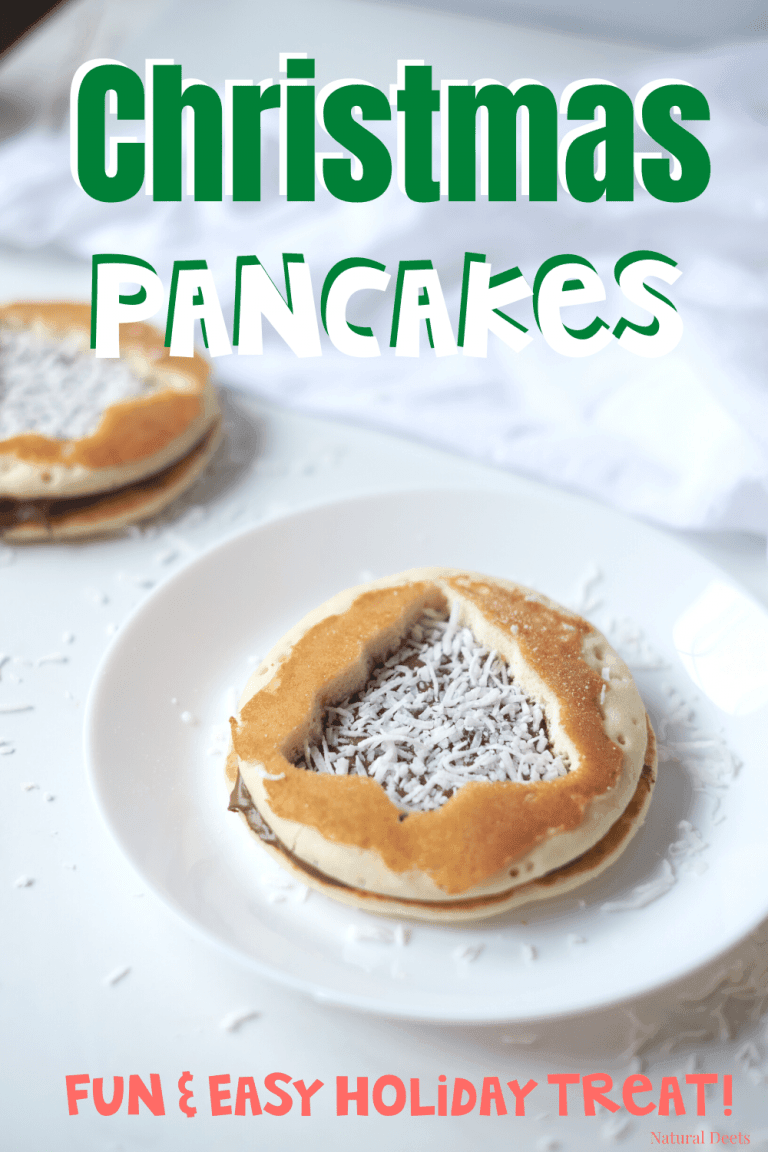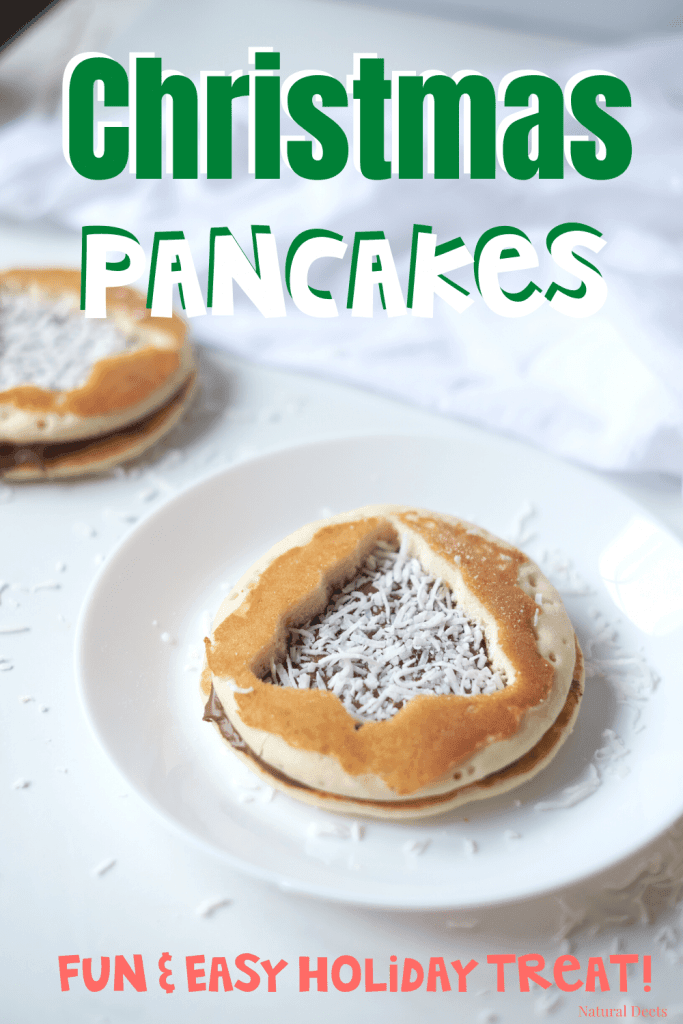 We love to crank up the holiday music and cook these bad boys on the weekends leading up to Christmas. It makes an excellent weekend morning activity. It keeps the kids busy and fills the kitchen with giggles!
IMO Christmas morning recipes for kids should include dishes that that be made in bulk, like scrambled eggs…or toast! Chances are that you were up late wrapping presents and up early with kids jumping on your bed.
I see you making Christmas magical, mama…
How Do You Make Christmas Tree Pancakes?
All you have to do is search Pinterest for so many cute and creative ideas for Christmas tree pancakes! There are so many options and honestly, you can't go wrong!
This is one of those fun recipes to make with kids. The mess is minimal and there is no skill required…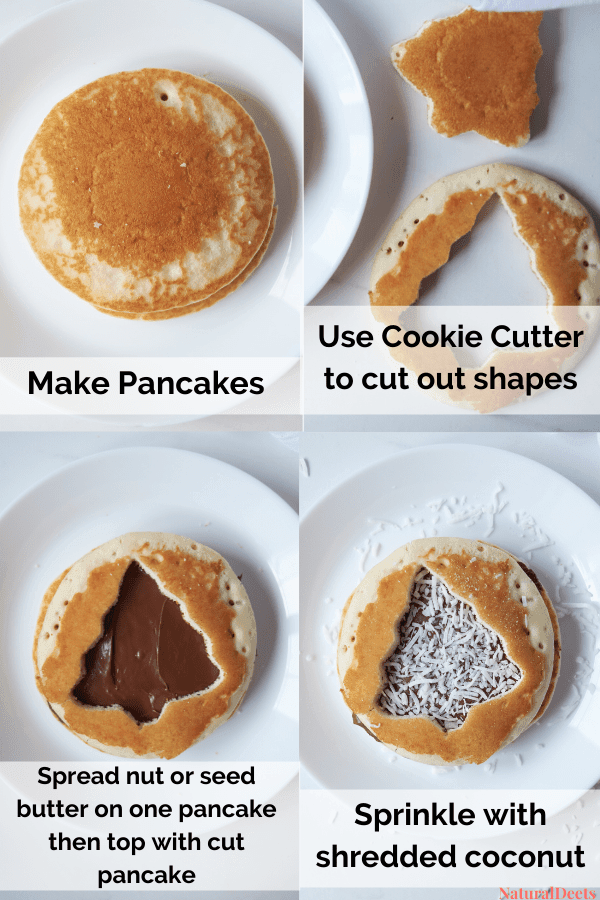 Grab your favorite cookie cutter (it doesn't even need to be a tree) and let the kids go at it!
Tips for Fluffy Pancakes
Fluffy pancakes are not required for this recipe, but it sure does make them extra delicious! Since we are adding nut butter to the pancake, it helps if the consistency is fluffier and bread-like. Again, it is not required.
If you are looking for a fluffier pancake, there are only a few things you need to do.
Sour your milk with Vinegar. Just pour about 1 Tablespoon of vinegar into 1 cup milk and let it sit for 5-10 minutes. It sounds odd but you are essentially making buttermilk…and yes I do this to almond milk all the time!
Be sure to use Baking soda. The vinegar in the milk will react with the baking soda to give you light and fluffy pancakes!
Let the batter sit for at least 10 minutes before cooking. Again, we are giving the baking soda and vinegar time to react!
These steps can be used in almost any pancake recipe and will result in amazing pancakes!
Nut Butter or Seed Butter?
To make the pancakes more substantial (and cute!) we are adding a layer of nut or seed butter between the two pancakes. This also helps the shredded coconut stick.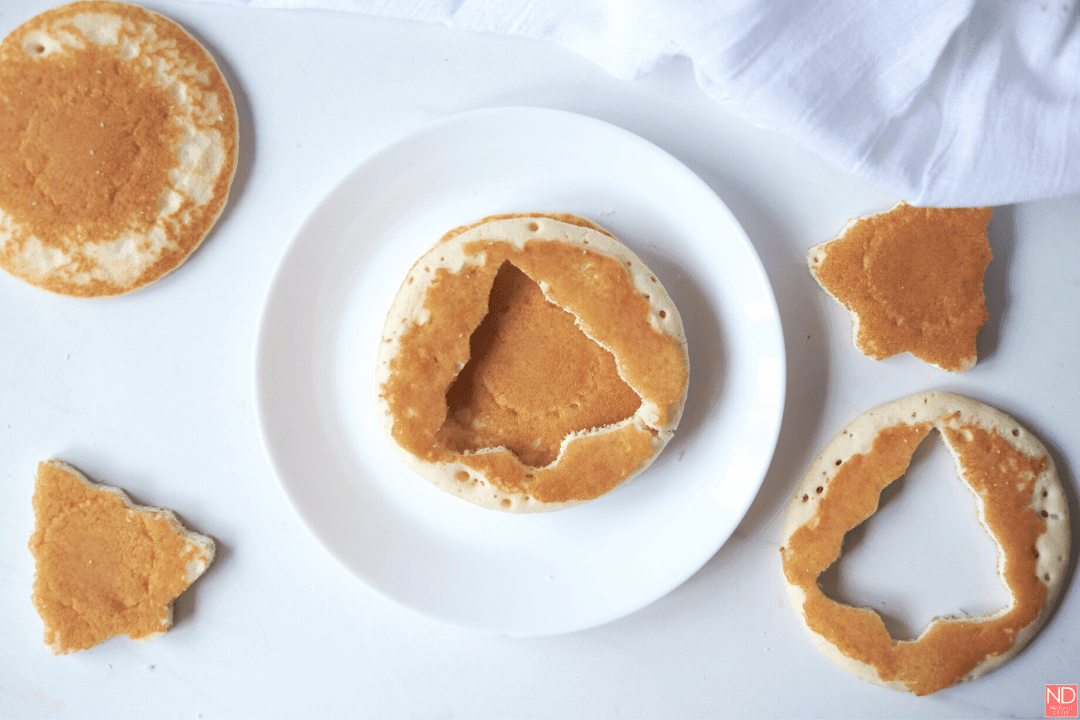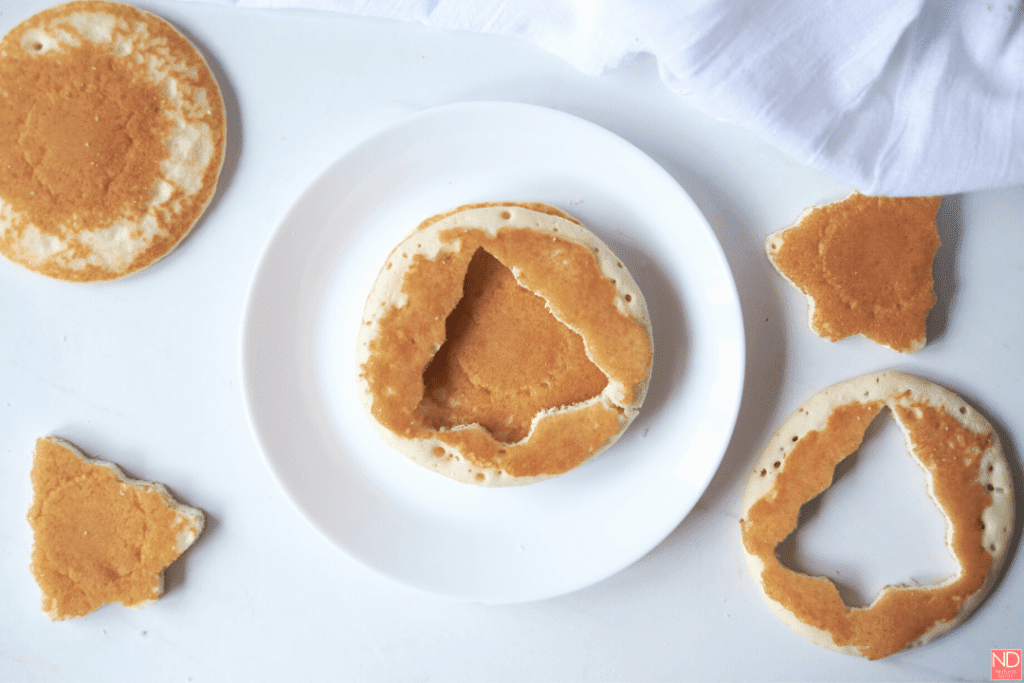 Some butter options include:
Almond butter
Peanut butter
Sunflower seed butter
Homemade Hazelnut spread – Nutella has all kinds of ingredients that are not considered clean
Sesame seed butter
Pro Tip: Before you run out and buy a new "butter" make sure your kids like shredded coconut!
Nut butters and seed butters are expensive. If your child isn't adventurous, I would save money and stick to peanut butter.
To be honest…my kids hate shredded coconut. So we made a few of these for fun and they just ended up eating regular pancakes while my husband and I finished these off!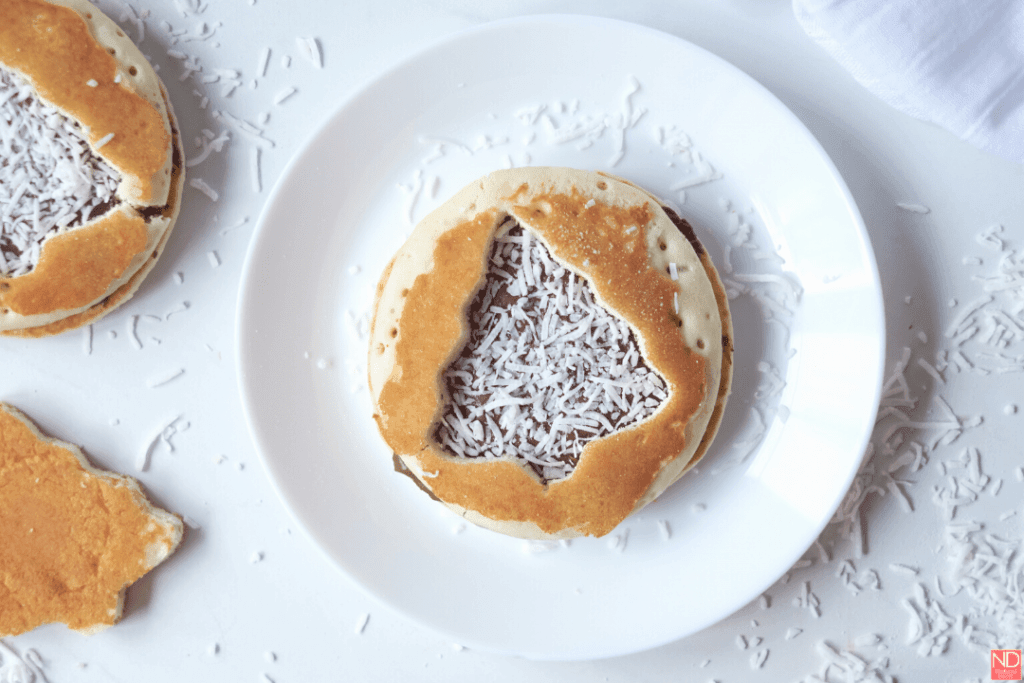 Christmas Morning Breakfast
If you are making these on Christmas morning, just grab your favorite recipe and get started! Your kids are waiting to open presents! 🙂
Just in case, let's get to the recipe!
Be sure to join us in the Facebook group for more fun kid-friendly ideas and have a Merry Christmas!
Christmas Tree Pancakes
Additional Time:
10 minutes
These delightful Christmas tree pancakes will add a little more excitement to the Christmas season! Easy to make and fun for kids of all ages!
Ingredients
2 Pancakes
2 Tbsp. Nut Butter
1/4 Cup Shredded Coconut
Instructions
1. Take one pancake and use a cookie cutter to punch out a shape in the middle
2. Take 1 pancake and spread nut butter evenly on the pancake.
3. Place the pancake with the hole on top of the nut butter
4. Sprinkle with shredded coconut
5. Serve and enjoy all the giggles!
By