Of course you have heard of banana muffins, and blueberry muffins, but have you heard of banana blueberry muffins?
Well, my friend, let me tell you about them!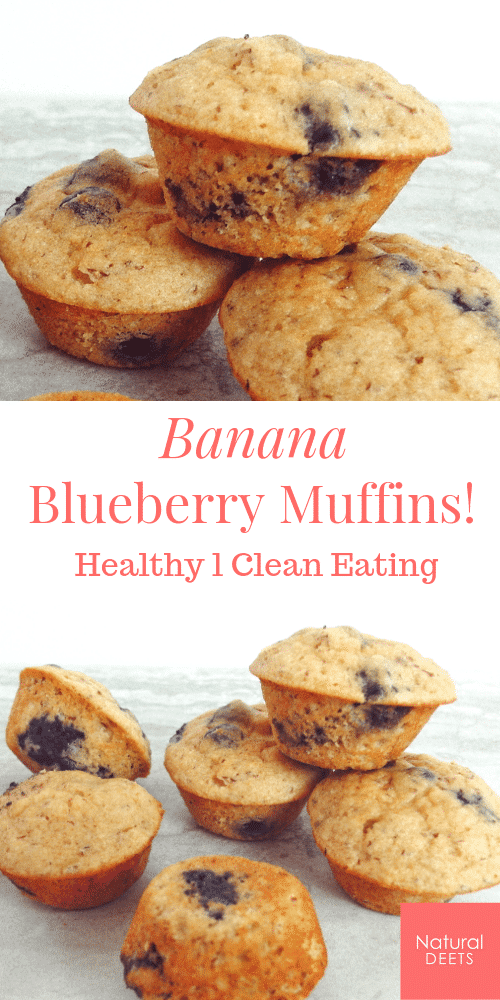 These healthy Banana Blueberry Muffins are perfect for lunchboxes or mid morning snacks. They are sweetened with bananas and maple syrup, so you can feel good about feeding them to your kids! And it's Vegan…if that's your kind of thing!
The kids enjoy making these too…but they like mashing the bananas and eating the blueberries while we are baking. If your kids are the same way, just add a few more blueberries to the shopping list in preparation of the blueberries lost along the way.
Banana Blueberry Muffins Vegan Style
A few weeks ago, my cousin brought her sweet little toddler to a blueberry farm where they picked berries. They had so many blueberries that they brought a whole bag to share! Yum! I put it in the freezer to use another time.
Fast forward to today and we are ready to use them! We were trying to figure out what to make for breakfast when I looked over and saw a bunch of ripe bananas just begging to be used!
That is when the idea for blueberry banana muffins was born!
clean blueberry muffins
Because there was no added honey, I'd be lying if I said I wasn't surprised that the kids liked these mini muffins so much. They are usually picky with new muffins, but once they tried one mini muffin, I had to stop them from eating the whole pan! We seriously made a second batch just because there wouldn't be enough left over for the next morning…and that was the whole point of making them.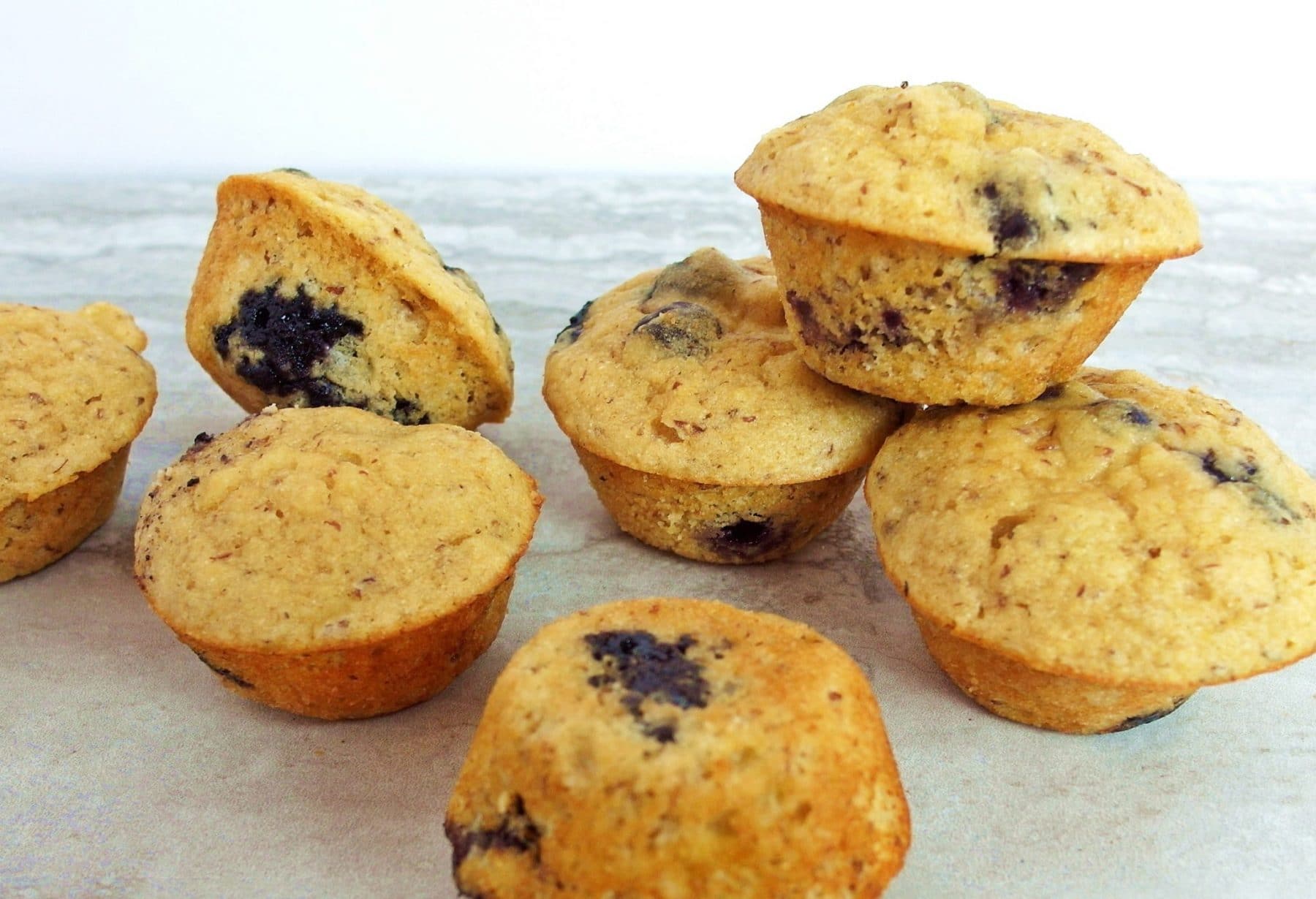 I am also very picky when it comes to blueberry muffins. If the blueberries are too large, I can only taste the blueberries and I don't like how they pop in my mouth. This healthy muffin recipe had the perfect ratio of muffin to blueberries! I made one batch where I blended the blueberries before adding them to the batter. It was delicious too but the blueberry flavor wasn't as strong. So I recommend folding them in whole.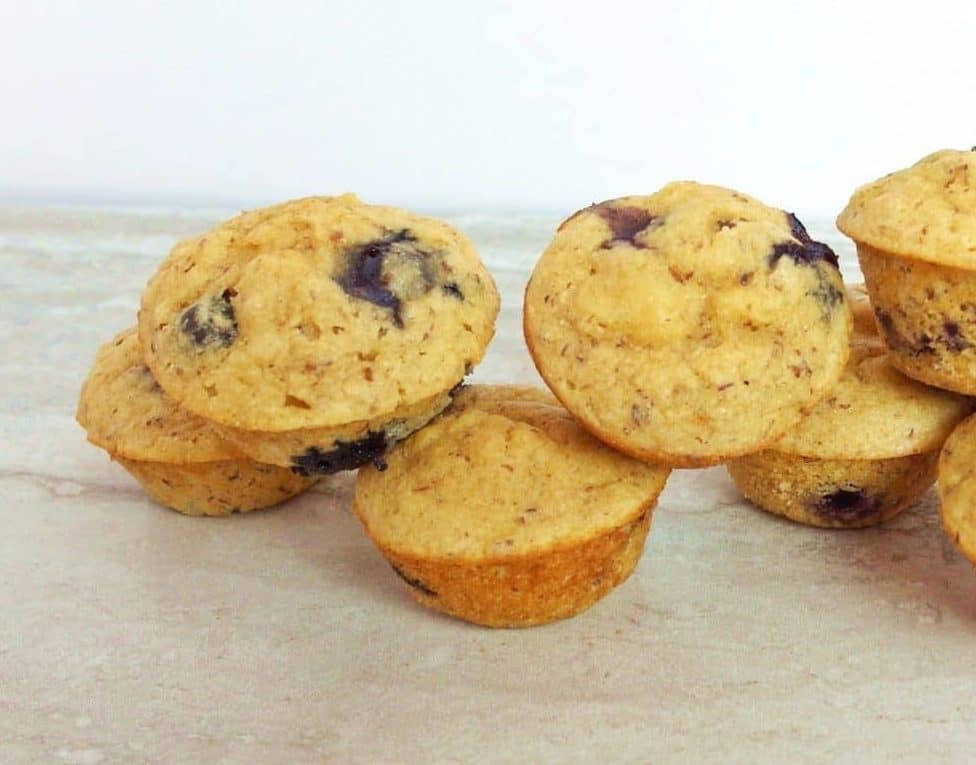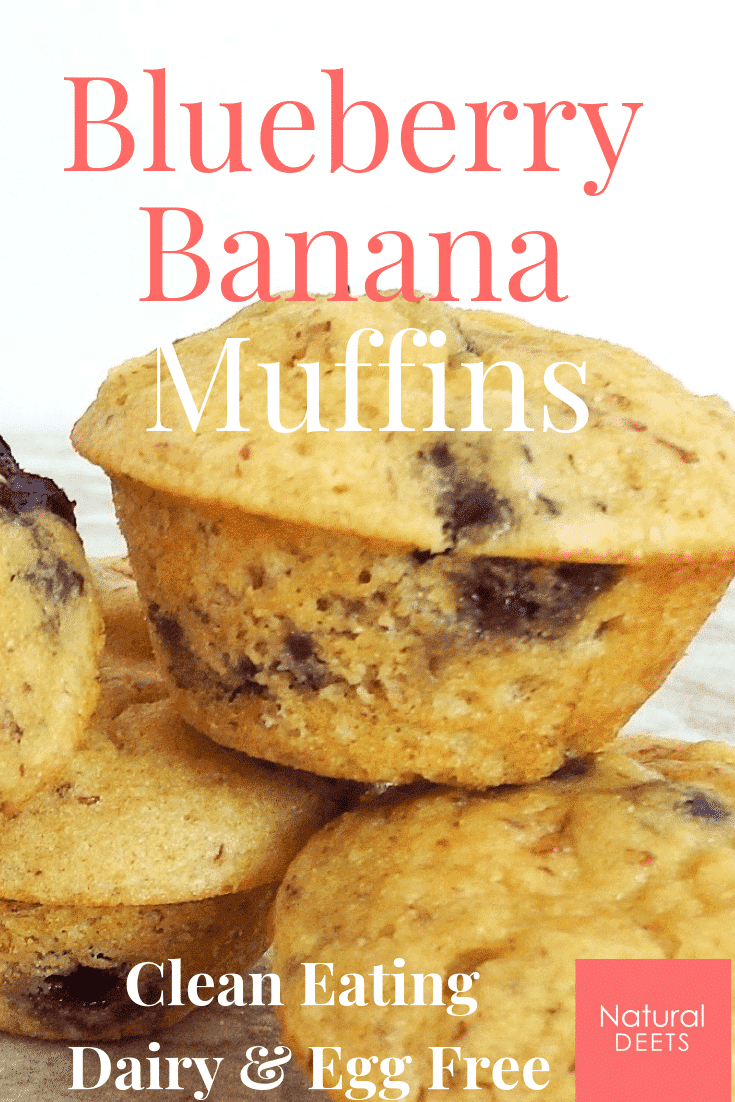 You will be pleasantly surprised by how good these muffins are. This is a clean eating recipe and it is dairy and egg free. Perfect for anyone with allergies. The kids really enjoyed making these and we all enjoyed eating them!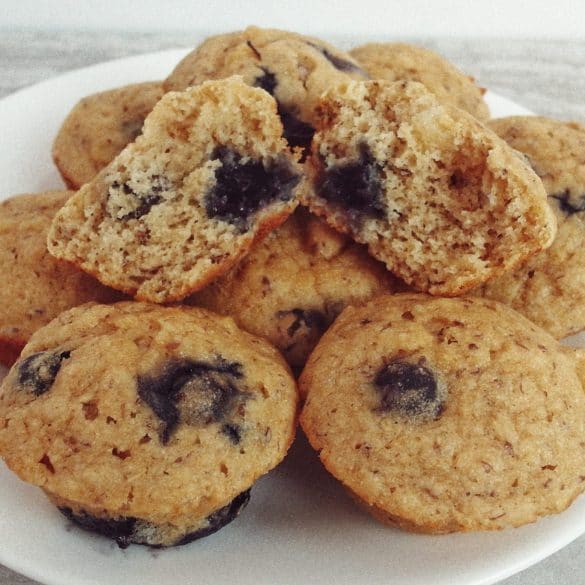 Blueberry Banana Muffins
Blueberry Banana Muffins are a delicious combination of blueberry muffins and banana muffins. These clean eating, vegan muffins are perfect for lunchboxes or early morning snacks.

Ingredients
1

Cup

Whole Wheat Flour

1/2

Cup

Garbanzo Bean Flour

1

Cup

Blueberries

1

Banana

Ripe

1/3

Cup

Olive Oil

1

Flax Egg

(1 Tbsp ground flax + 3 Tbsp Water

2

tsp

Baking Powder

3/4

Cup

Almond Milk

1/3

Cup

Maple Syrup

1/2

tsp

Salt
Instructions
Preheat oven to 400 Degrees


Mix 1 Tbsp Ground Flax and 3 Tbsp Water. Set aside


In a medium bowl, mash 1 banana. Then add the almond milk, olive oil, flax egg and maple syrup.


In a separate medium bowl, mix together the Whole Wheat Flour, Garbanzo Bean Flour, Salt and Baking Powder.


Add the dry ingredients to the wet ingredients and mix just until blended. Do not overmix or the muffins will be tough and dry.


Gently stir in the blueberries


Fill muffin tin with batter and bake for 15 minutes or until cooked through. This recipe will make 12 regular muffins or 24 mini muffins

Recipe Notes
This recipe will make 12 regular muffins or 24 mini muffins

By