Crunchy edges and a soft ooey, gooey center make these chocolate chip cookies a delectable treat that you will make over and over again! Inspired by the official Doubletree hotel chocolate chip cookie recipe, these cookies are free of processed sugar and dairy!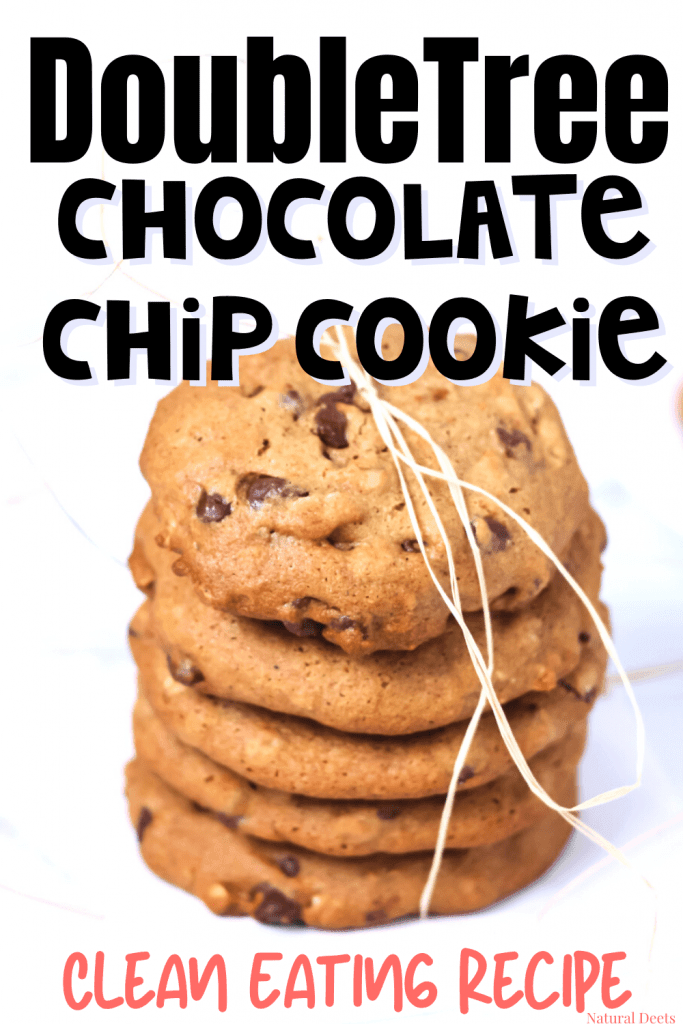 Everyone loves a good chocolate chip cookie and we are not an exception! But when you are dairy-free, it is so hard to find one that is soft and chocolatey like traditional recipes. We have been loving these Pumpkin Chocolate Chip cookies but sometimes you just want a traditional cookie!
When DoubleTree hotel released its exclusive chocolate chip cookie I knew I had to try it! I made one batch per the recipe so we had something to compare it to and then gave those away (to happy friends!) I then worked on making a dairy-free and clean eating version and succeeded. That means no processed sugars!
What Are DoubleTree Chocolate Chip Cookies?
For as long as I can remember, DoubleTree Hotels would leave fresh-baked chocolate chip cookies on your pillow every night. And they were often still warm!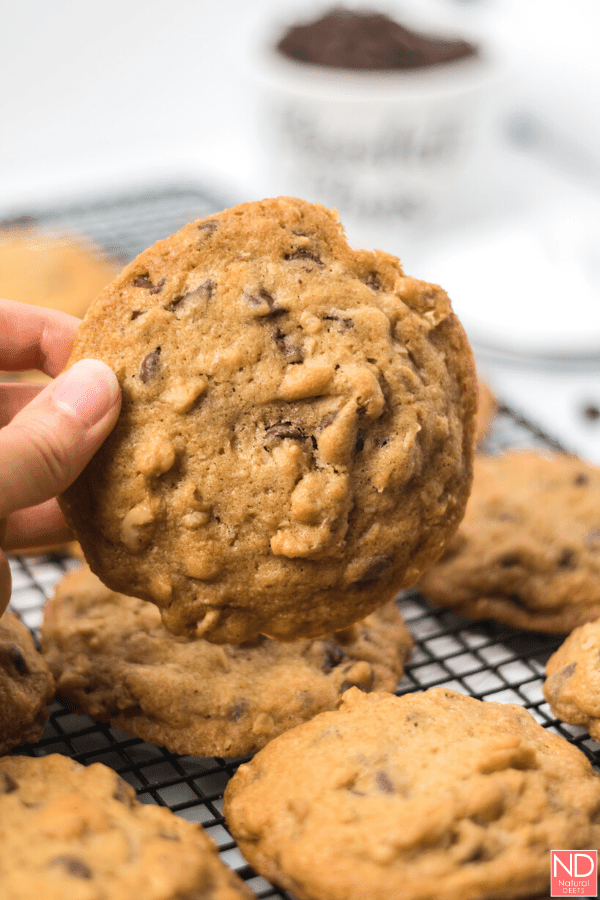 They have walnuts and melty chocolate chip and they are huge! They come in a cute little paper bag and they are delicious! Nowadays when we go, they give them to you at check-in. It isn't as exciting, but still fun and they will give you enough for each person rather than just one per bed.
With the Covid-19 pandemic and everyone cooking and baking, they decided to release their recipe. And here we are!
Watch a video on how to make them!:
How To Make Chocolate Chip Cookies From Scratch
Chocolate chip cookies take a little longer to prepare than other cookies because there are a lot of ingredients. But it is well worth it. To make things easier, pull everything you will need from the cabinets and place them on your counter. As you measure and add ingredients, put them away. It will feel much less overwhelming when you don't have everything sitting on the counter!
The best part of baking cookies is that even if they don't turn out exactly as expected, they still taste amazing! That said, there are a few tips and tricks on how to make perfect cookies!
Follow the recipe exactly. In this recipe, we made several substitutions and each one plays a role in the final texture of the cookie. Follow the recipe as written then you can try experimenting!
Make uniform cookies to ensure they cook evenly – A great way to do this is to use a muffin scoop. I like this one because it comes in three different sizes. DoubleTree cookies are huge so I used the largest scoop, but you can make them any size you want. Just make sure that all the cookies are the same size.
You do not need to use a greased pan – The cookies have enough fat in them to not stick to the pan. If you do grease the pan, the cookies will spread and you will end up with a wide, thin cookie. If you are concerned about sticking, use parchment paper or a silicone mat.
Preheat your oven – If you don't preheat the oven, the cookies will warm up slowly with the oven and the butter will melt and again your cookie will be wide and thin.
Don't open the oven door – It is so hard, I know! But when you open the oven door, you let the hot air out. Instead, use the light on your oven and look at your cookies through the window. Trust your recipe and check the cookies when the timer beeps!
Use a cooling rack – If you haven't used one before, cooling racks may seem unnecessary. But once you use one, there is no going back. The cooling rack allows the cookies to cool without making the bottom soggy. After coming out of the oven, let the cookies cool for 2-3 minutes then transfer them to the cooling rack.
What Is The Best Dairy Free Chocolate Chips?
Hands down, Enjoy Life is our favorite dairy-free chocolate. It melts like regular chocolate and tastes the same too! It is free of all the common allergens making it great for kid parties too. My only issue with it is that it has cane sugar which is not clean. But I have to overlook this since my kids are dairy-free.
There are several Paleo chocolate chips that are amazing too. Costco used to carry one but I haven't seen it in a while and I can't remember the name! If you can find dark chocolate chips, those are often dairy-free too. However, it is typically the very dark and bitter ones so my kids won't eat it.
How To Make Dairy-Free Chocolate Chip Cookies: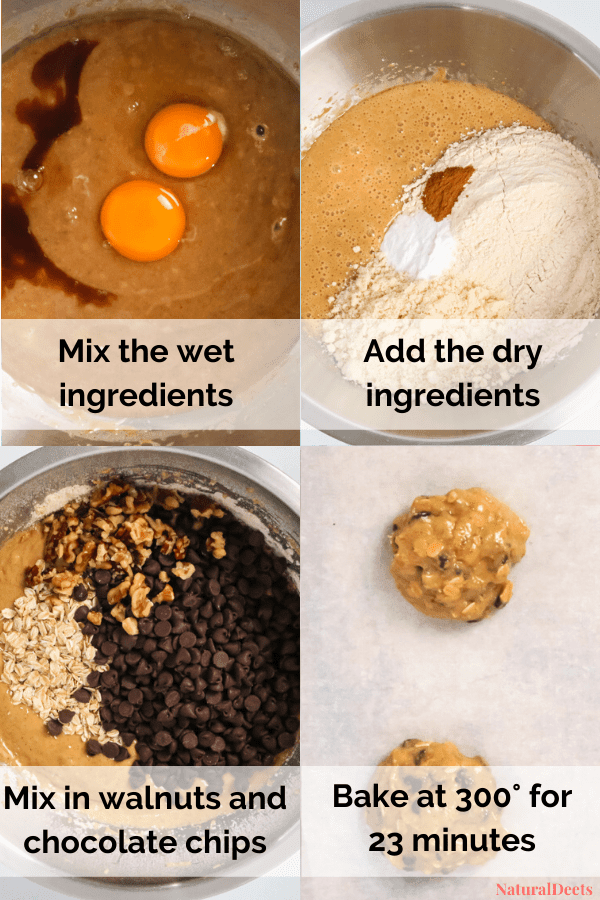 You'll notice in the picture above that I added the oats with the walnuts and chocolate chips. After several batches, I discovered that it tastes better if the oats are mixed in with the rest of the dry ingredients. I suspect that the blender lightly chops them and helps them bake into the cookie.
Both ways are delicious, it's just a matter of preference!
These cookies are a crowd-pleaser, but if you are looking for some other cookies, you might love these too: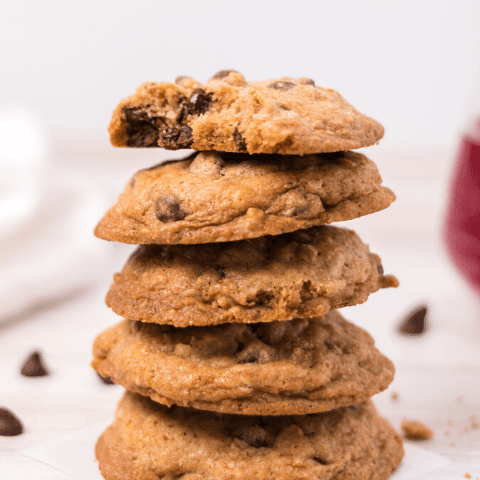 DoubleTree Chocolate Chip Cookies Clean Eating Version
Inspired by the official Doubletree hotel chocolate chip cookie recipe, these cookies are free of processed sugar and dairy!
Ingredients
1/2 Cup Almond Butter
1/2 Cup Avocado, Coconut or Olive OIl
3/4 Cup Honey
1/4 Cup Maple Syrup
2 Eggs
1 1/4 tsp Vanilla
1/4 tsp Lemon Juice
1/2 Cup Almond Flour
1 3/4 Cup White Whole Wheat Flour
1/2 Cup Oats
1 1/4 tsp Baking Soda
1 tsp. Salt
Pinch Cinnamon
2 2/3 Cup Dairy Free Chocolate Chips
1 3/4 Cup Walnuts
Instructions
In a large bowl, mix the almond butter and avocado oil
Add the honey and maple syrup. Beat well with hand mixer for about 2 minutes
Add eggs, vanilla and lemon juice and blend for 2 minutes or until light and fluffy.
Add the white whole wheat flour, almond flour, oats, baking soda, salt and cinnamon. Beat on low for 45 seconds. Do not overmix.
Mix in chocolate chips and walnuts
Scoop the dough into large balls (approximately 3 tablespoons) and place on cookie sheet about 2 inches apart
Bake at 300° for 20-23 minutes
Remove from oven and cool for 1 hour
By