Pancakes, fresh fruits and crispy bacon are just a taste of what you and your guests will be enjoying when you bring this breakfast charcuterie board to the table!
Even though a brunch board makes a fun party idea, guests aren't required – you can also put this together for an exciting Sunday morning breakfast!
shaar·koo·tr·ee – I'm going to be honest here, I can barely spell "Charcuterie" and it took me a long time to get the pronunciation correct! My daughter picked it up quickly and had to keep reminding me but we had many laughs over that! If you are going to serve this to guests, you'll need to know how to pronounce it and fortunately, google can help with that!
What is a Charcuterie Board?
The charcuterie board originated in France and is translated to "processed meats". It is traditionally made with an assortment of meats like salami and prosciutto with several varieties of cheeses. It also includes bread or crackers and sides like olives or artichoke hearts.
A breakfast grazing board is often served at parties and are a lot of fun for the guests. For those of use who are dairy free, they can be difficult to assemble since dairy free cheeses do not go well with salami and crackers.
These boards are so popular right now and we didn't want to miss out on the fun, so we came up with some dairy free charcuterie boards, starting with this pancake board. This ended up being a gluten free charcuterie board too!
These boards are so popular right now and we didn't want to miss out on the fun, so we came up with a dairy free charcuterie board, starting with this pancake board. I would call it a really exciting breakfast platter or brunch charcuterie board! I used gluten free pancakes to make it a gluten free charcuterie board too!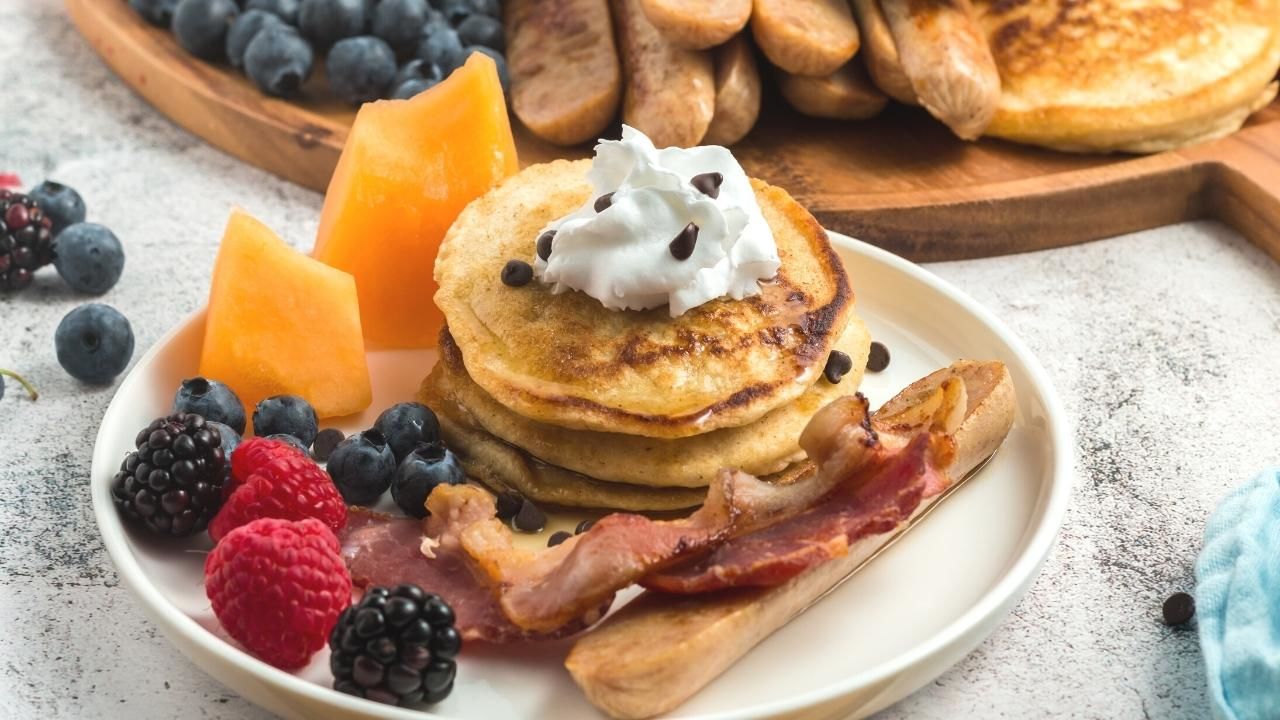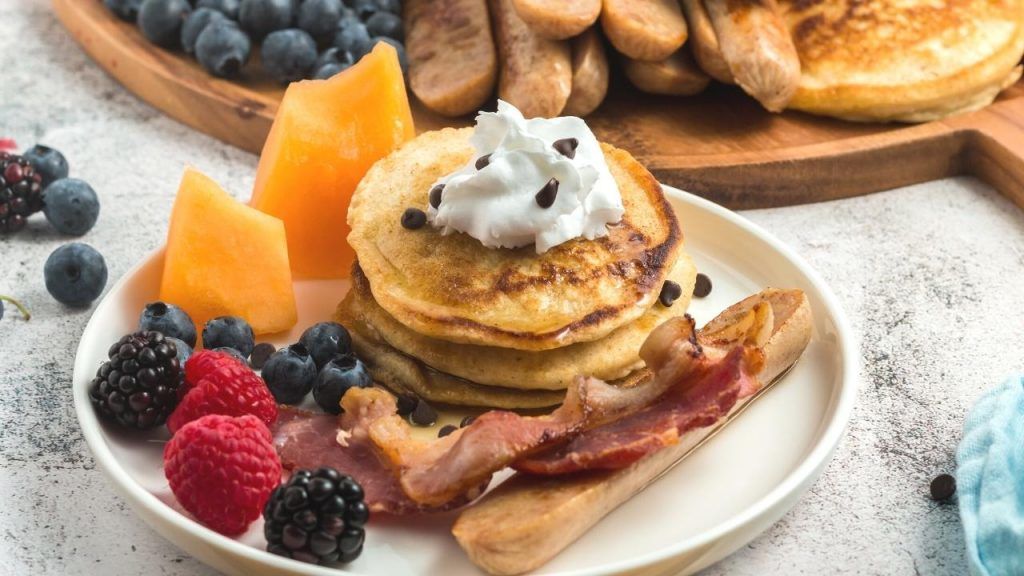 My site has a lot of healthy breakfast ideas like Instant pot egg bites and Sauteed Kale and Prosciutto which would also work well on this board, but it just makes it so much more fun when served like this!
How To Make A Charcuterie Board For Breakfast
When you first try to make a breakfast board or brunch board, it can seem intimidating. If you break it down to one category at a time, it makes it much more manageable!
Even though I like to make delicious foods from scratch, when it comes to a breakfast charcuterie board, store bought will help to keep if from feeling overwhelming.
You'll want to select at least one main dish, then the sides. Here are a few dairy free breakfast ideas that you can include on the breakfast charcuterie board. Be sure to have sweet and savory options:
Breakfast main dishes (Pick 1 or 2 at the most so they stand out)- Mini pancakes, waffles, french toast, mini bagels, fluffy scrambled eggs, egg bites, hard boiled eggs, oatmeal (you can make a big batch in the instant pot) or even donuts! I love pancakes so I always have those on the board. Make them small so you they don't take up too much room on the board. You can look up brunch recipes for more ideas.
Side dishes – Crispy bacon, sausage links, cured meats, dairy free yogurt, hard boiled eggs, smoked salmon, nuts, hash browns. Anything goes when it comes to side dishes! You could argue that they are even better than the main dishes. If you make bacon, be sure to make a lot because that always goes first!
Fresh Fruits – Fresh berries like strawberries, blueberries, raspberries, blackberries. Fruits like orange slices, apple slices, cantaloupes, melon balls, bananas, grapes. Fruits are delicious for breakfast and most people with food allergies can eat them. Serve up an assortment so guests have lots of choices.
Cheese – This recipe is for a dairy free board because most of our readers (including me) are dairy free. But if you have guests who eat dairy, you can add cheese to your board like Stilton cheese, cream cheese, goat cheese and any soft cheese. I wouldn't bother with dairy free cheese.
Condiments – Syrup, dairy free butter,peanut butter, jellies and jams, sausage gravy, dairy free chocolate chips, honey, dairy free whipped cream or marshmallows (kids favorite). Some people like to add these to the board in cute bowls. If your tray is big enough, I say go for it! My tray is too small, so I serve the condiments on the side.
Decorations – If you have room on your board, add in some decorations! Edible flowers and dried fruits are always beautiful and pine leaves would be gorgeous for a breakfast board served on Christmas morning.
Step By Step Photos on Building A Pancake Board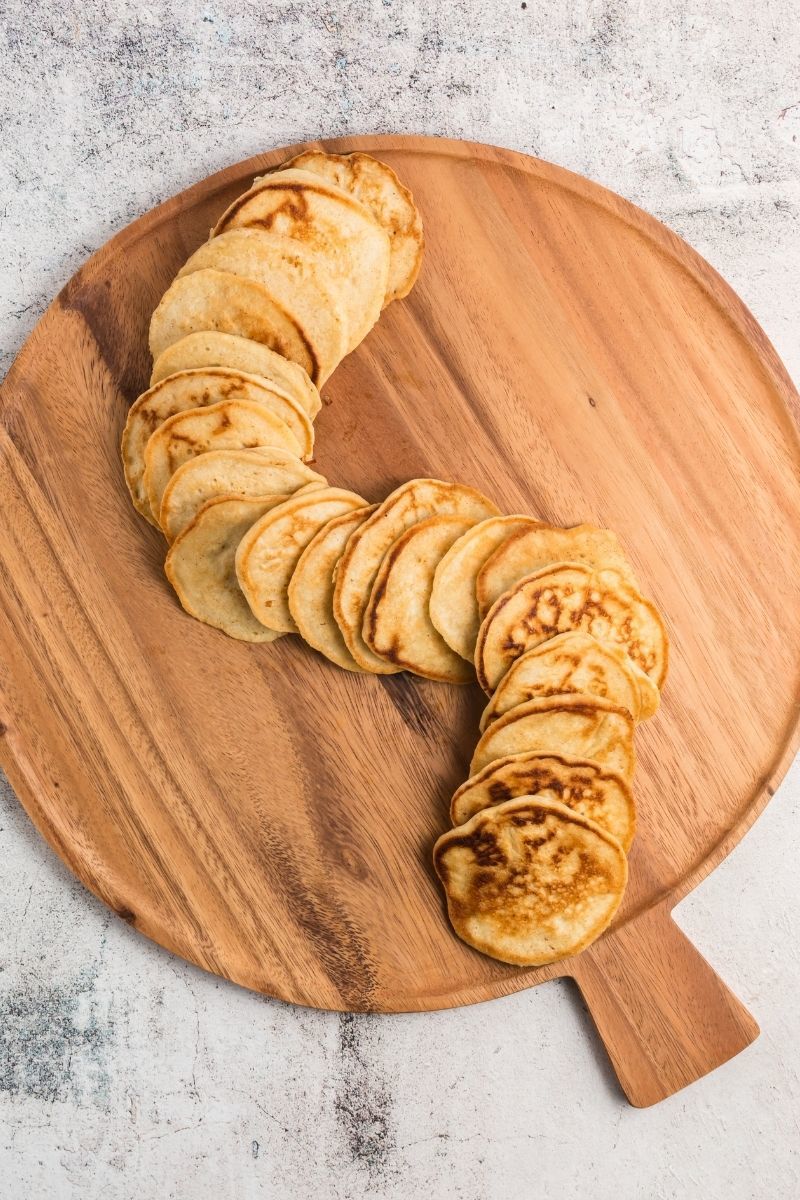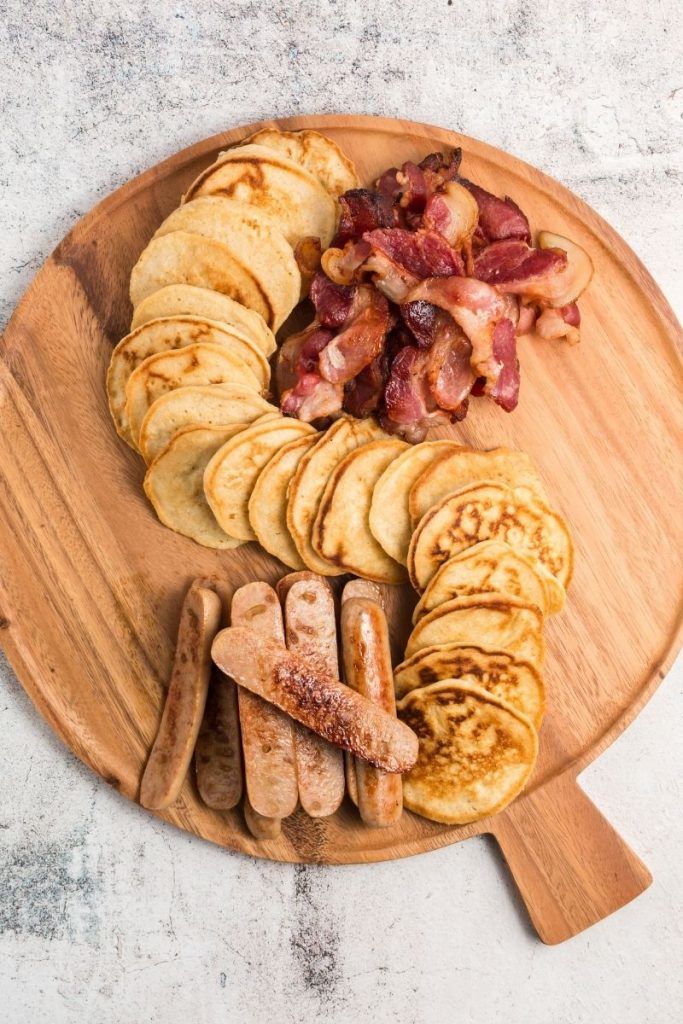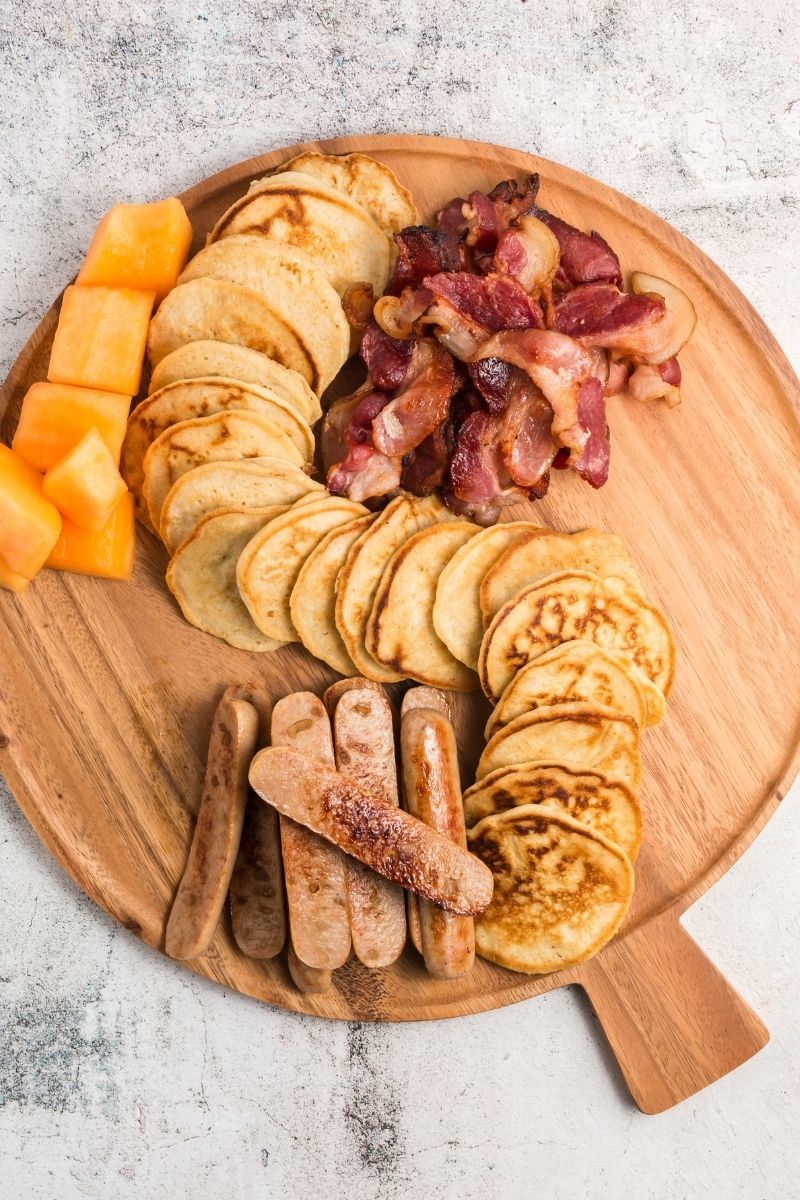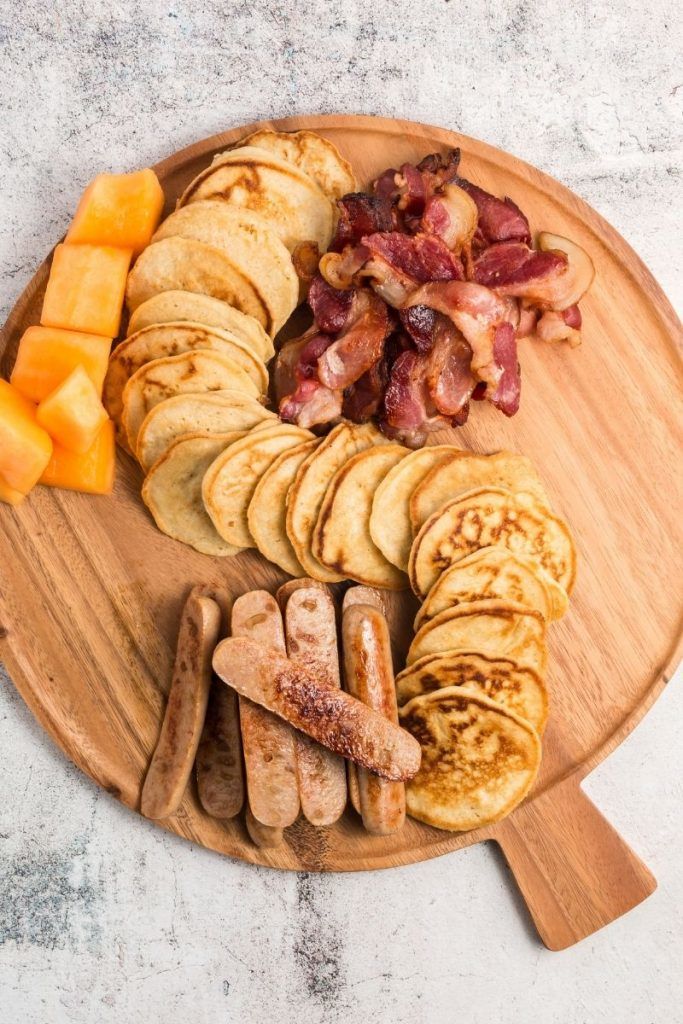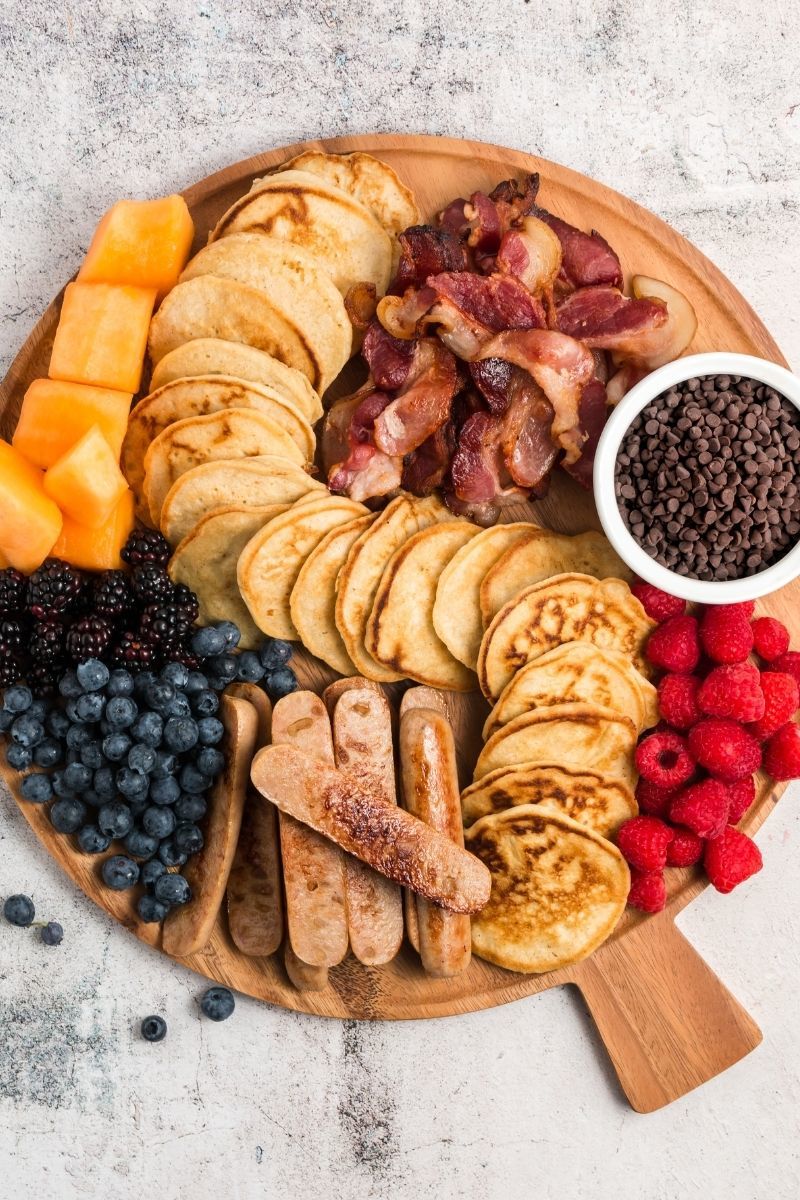 Simple Charcuterie Board
There are a few tools that you will need to make a breakfast charcuterie board. These aren't required, so just use what you have on hand.
Flat board that can be used as the base – I wanted a round charcuterie board and I was able to find one at Home Goods. You can buy a round board from Amazon but you can also use something you already have on hand. Here are a few items that you might have in a cabinet somewhere!
Large cutting board
Flat serving platter
Large cookie tray
Cookie plate
2. Smaller bowls for the sides – Use a small bowl for syrup, jams, jellies, yogurt or any sides that you don't want touching the other foods on the tray. These are optional so get creative!
3. Plates and utensils – Sometimes we get so caught up in making the board that we forget that guests will needs a way to eat the food! You'll also need utensils on the breakfast charcuterie.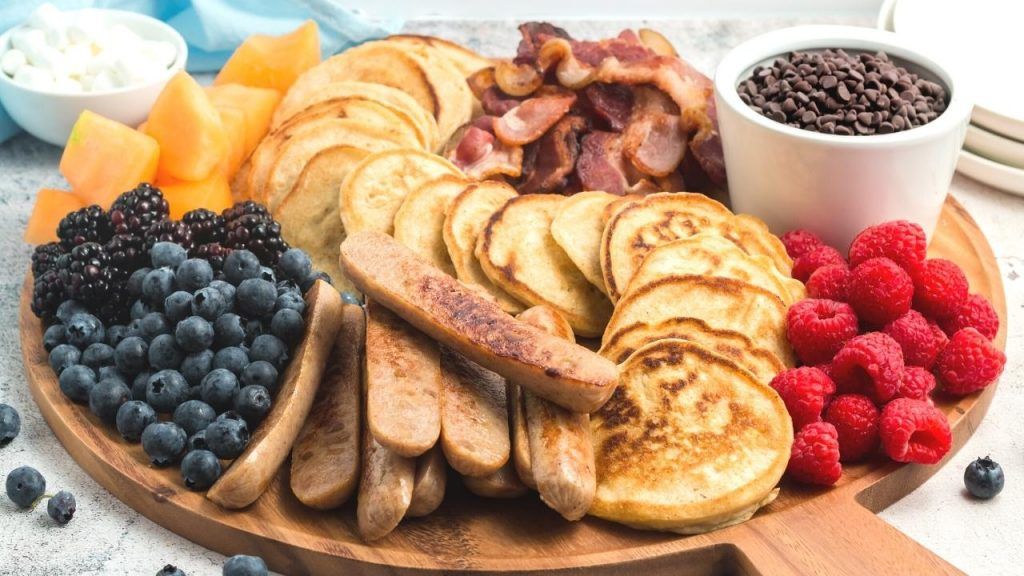 Tips And Tricks For An Easy Charcuterie Board
Always start with the largest items first. Things like pancakes, waffles and muffins will take up a lot of room so add those to the tray first. End with the smallest items, like berries, because they can be used to fill in space around the board.
The best breakfast board will have an assortment of flavors (sweet vs savory), textures and temperatures (hot food vs cold foods). Not only do these make for an interesting board, but they will also help your guests feel satisfied.
Keep dietary restrictions in mind. We are making a dairy free and possibly gluten free board, but maybe you have guests that need a low carb breakfast. In that case, add some hard boiled eggs.
Do as much as you can ahead of time. This includes washing and cutting the fruits, making your pancake batter, baking muffins or breads ahead of time and preparing the jelly or jam.
Use easy recipes. I have a favorite pancake recipe from scratch but when I'm making this board, I use a pre-made gluten free pancake mix where I just add nut milk and eggs. It will keep you sane!
Don't forget to put on a pot of coffee or tea too!
Frequently Asked Questions About Pancake Charcuterie Board
Do charcuterie boards have to be wood?
A charcuterie board doesn't have to be wood but there are many benefits to using wood. The look and color of wood makes almost any food look amazing!
What size are charcuterie boards?
Personally, I like to go as large as possible! The larger it is, the more impressive it will be and the more people you can feed. If a board is too large, you can fill some of the space with small bowls of different toppings like jelly, jams, chocolate chips or marshmallows (a kid favorite).
What can you eat for breakfast if you can't eat eggs or dairy?
Dairy free breakfast ideas can be hard when you are first starting out but there are so many ideas and many work well on a breakfast charcuterie board. Try dairy free and egg free pancakes, dairy free yogurt, vegan muffins, hash browns, sausage, bacon, toast and avocado toast. You could even do an oatmeal board with oatmeal as your main dish and all kinds of nuts, seeds and fruits for toppings.
How long can you leave a charcuterie board out?
The food danger zone is 40 degrees to 140 degrees. This means food can only be left between those temperatures for 2 hours before it needs to be put away. I would recommend cooking the meat last so it isn't sitting out while you are making the pancakes.
Can I make a breakfast charcuterie board ahead of time?
It really depends on what you are making. Things like muffins, breads, hard boiled eggs and pancake or waffle batter can be made ahead of time and stored in the fridge. Other items like breakfast meats and cooking the pancakes or waffles will need to be done right before serving to keep them warm.
Can you have a charcuterie board for breakfast?
Of course you can! This makes a great idea for breakfast when feeding a crowd. But I will say that our family ate this board over just 3 days! Of course the bacon was the first to go.
Can you serve charcuterie for brunch?
Just like this makes a great breakfast idea, it is even better as a brunch because it gives you more time to get everything together. I like to keep it out as a grazing board for guests, just be sure to put it away after 2 hours for food safety reasons. I mean, you could even eat it for dinner!
More Breakfast Recipe Ideas You Might Enjoy: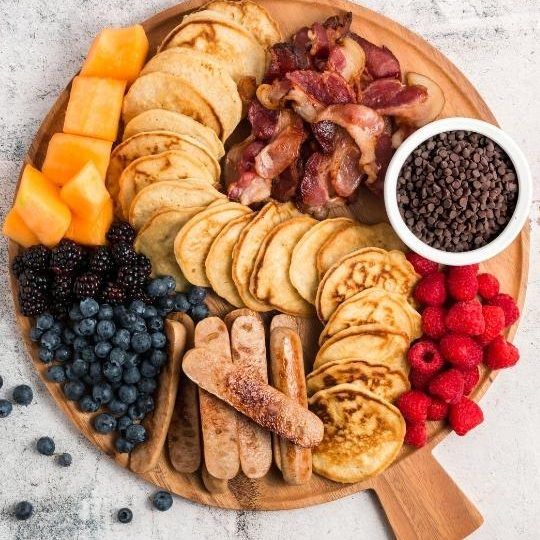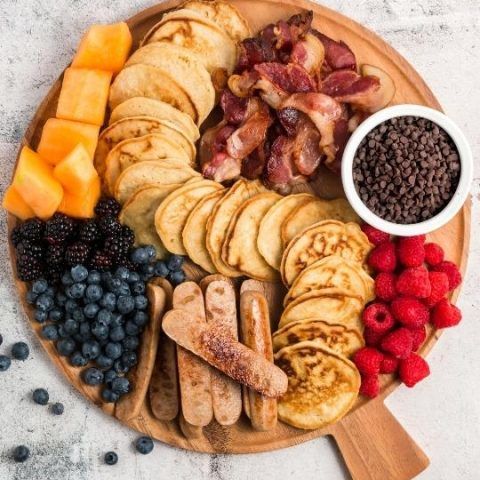 Easy Breakfast Charcuterie Board
Total Time:
1 hour
30 minutes
Pancakes, fresh fruits and bacon are just a taste of what you and your
guests will be enjoying when you bring this breakfast charcuterie board
to the table!
Ingredients
1 Package of Bacon
1 Package of Breakfast Sausages
1 Pint Blueberries
1 Pint Raspberries
1 Pint Blackberries
1 Cantaloupe, chopped into bite sized pieces
Chocolate chips for toppings
Maple Syrup for pancakes
Gluten Free Pancakes
2 Cups Bob's Gluten Free Pancake Mix
4 Eggs
2 Cups Nut Milk
Instructions
Pancakes
In a large bowl, add the pancake mix, eggs and nut milk.
Mix well
Heat a griddle over medium heat
Melt a small amount of dairy free butter on the griddle and pour about 1/4 cup of pancake batter onto the hot griddle.
Once the pancake starts bubbling, flip and cook for another minute.
Remove from heat and keep warm in the oven.
Repeat until all batter is used
Assembling the Charcuterie Board
Place the pancakes in an "S" shape on the board. Try to stack them high to add some height to the board
Cook the bacon and sausage and add them to the board on either side of the pancakes.
Add the cut cantaloupe to the board.
Fill any small bowls with desired toppings and add them to the board
Fill in the rest of the board with the berries
Serve and enjoy!
By