Bright, fun and colorful, these flavored ice cubes are an easy way to spice up any party drink! We made them red and green for the holiday season but I will share many more ways to serve them!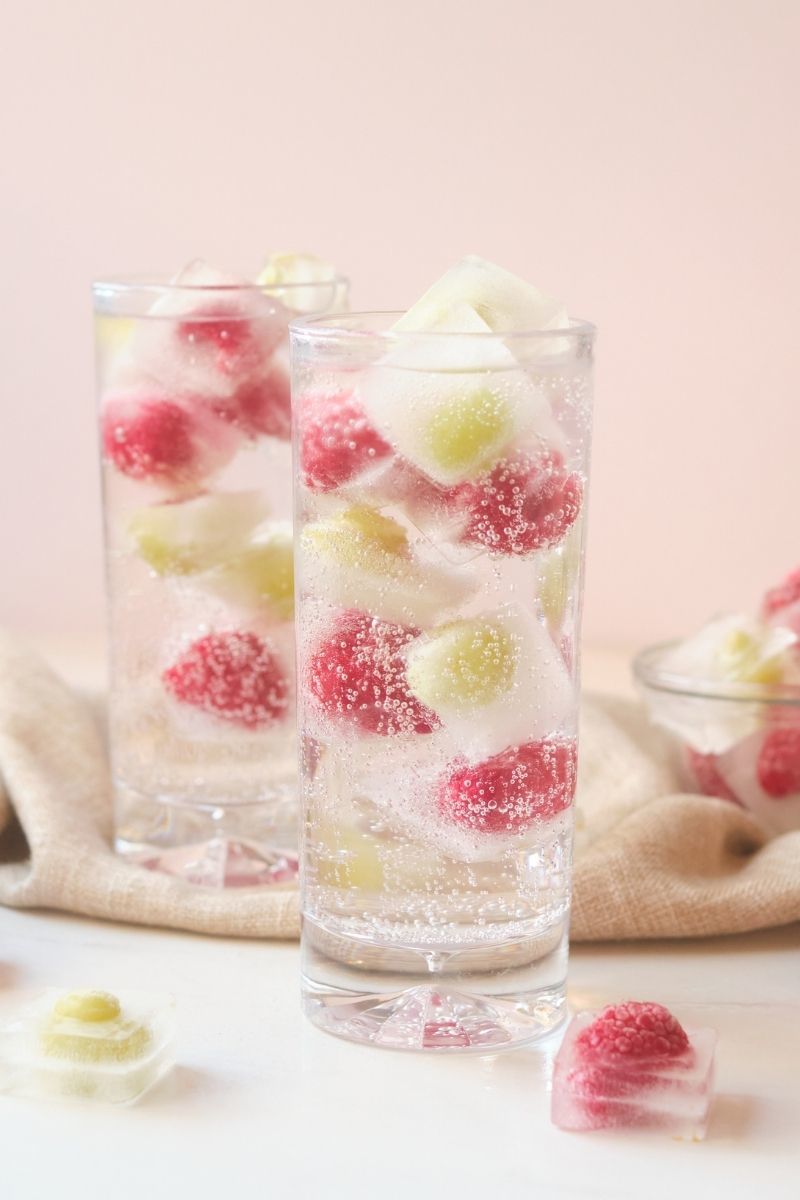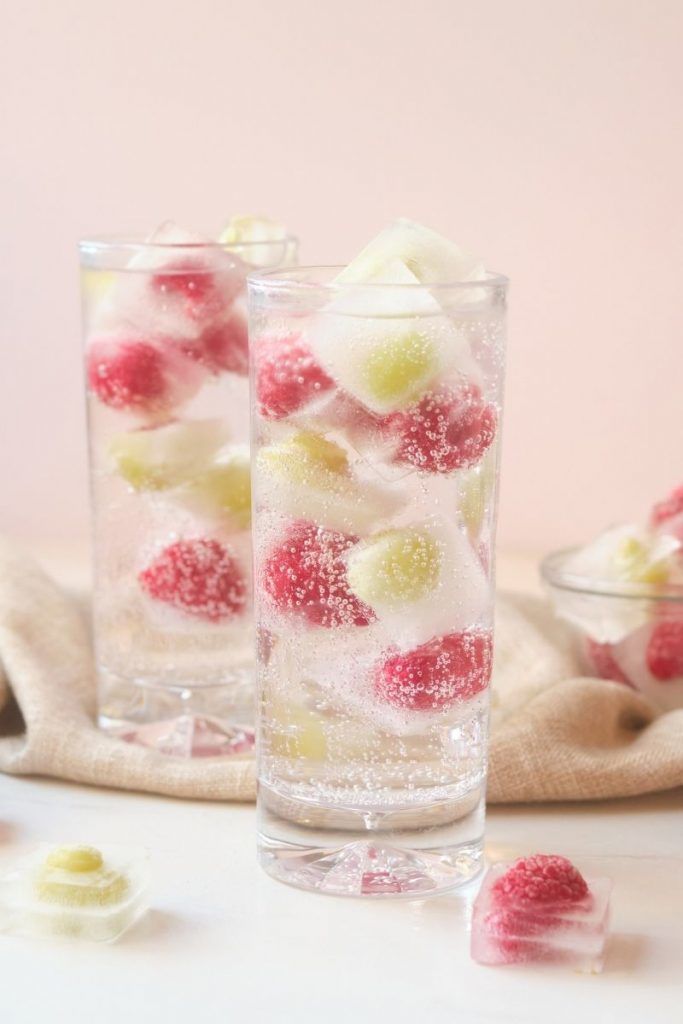 Flavored ice cubes have been around for a while but I never thought to try them. I will say that once we started experimenting with different fruit juices and fresh herbs in our ice cube tray, the ideas just started flowing!
These are perfect for some of our favorite drinks like tall glass of Rosehip and Hibiscus tea, a summer Sangria and a refreshing glass of Cucumber infused water.
How To Use Flavored Ice Cubes
There is nothing more refreshing than a cool glass of ice water but just imaging how refreshing it would be with a few of these ice cubes! These are perfect for family friendly parties or popping in a cocktail on a girls night out.
The kids just love these in their drinks. Because the ice melts, it is best that the ice cubes be kept in the freezer and are added to cups when ready to use. If you toss them in a punch bowl, they will melt and you'll just have fruit at the bottom of the punch. Not a bad thing, but not the look we are going for!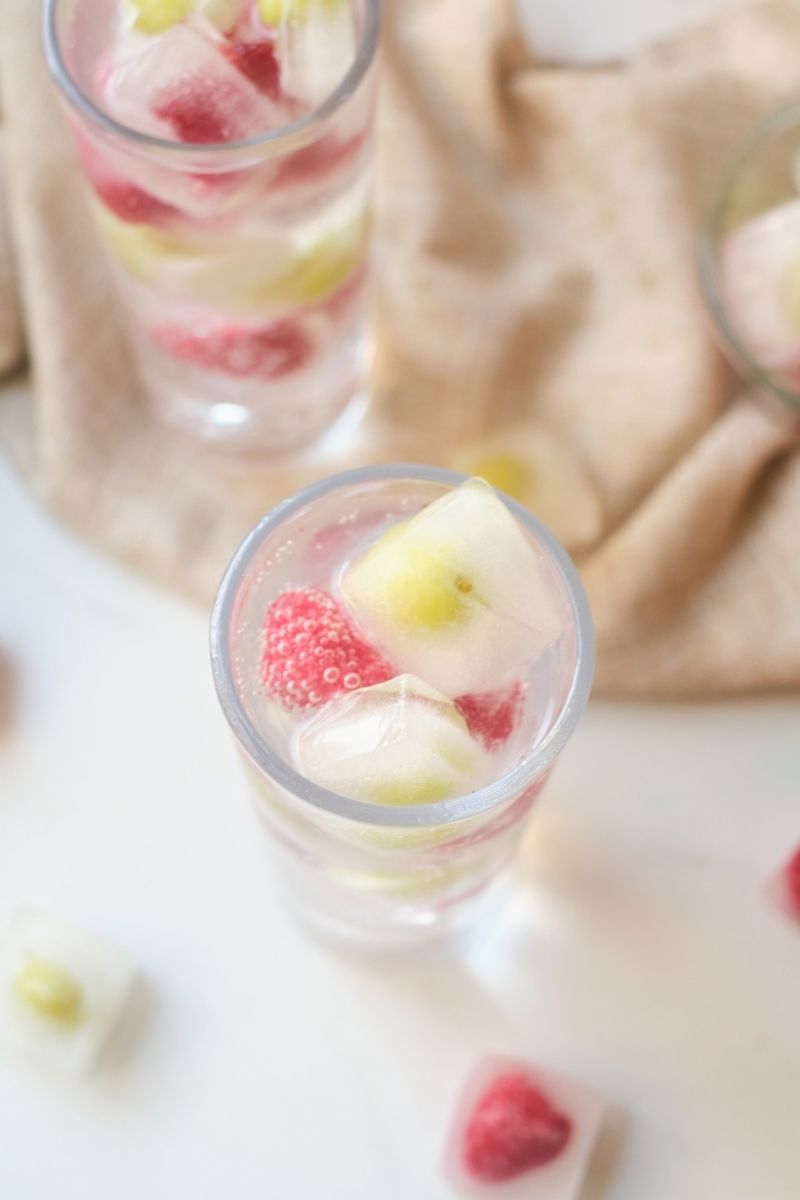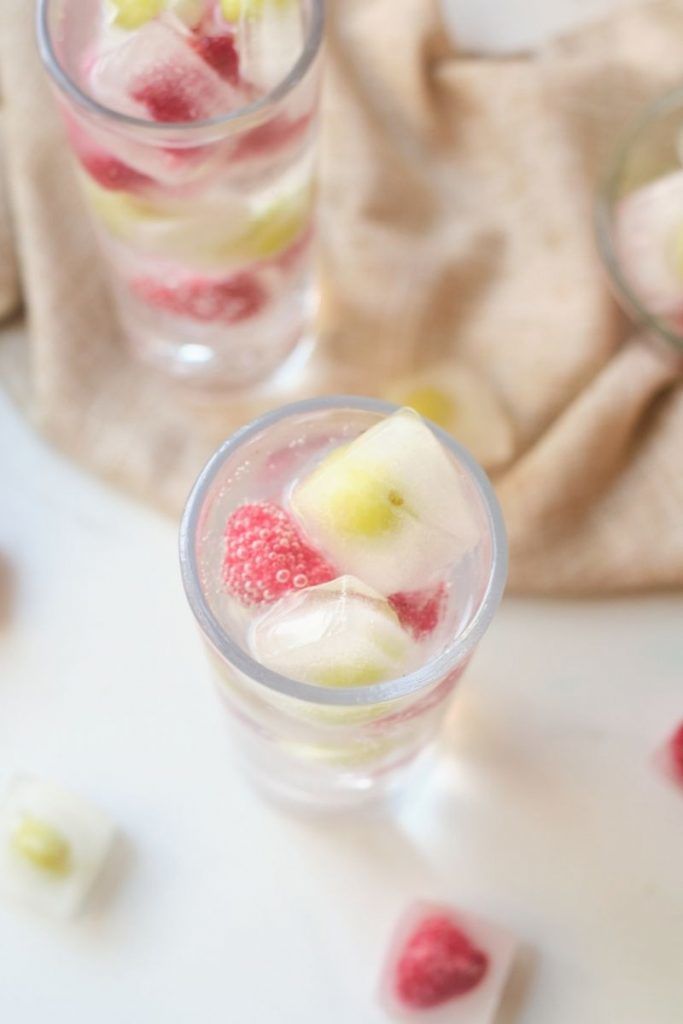 Ingredients you will need for Red and Green Ice Cubes Recipe
We made these in December, so of course we had to go with red and green! But just look at how gorgeous they turned out!
I'm going to walk you through the basic recipe and then we will talk about modifications.
Green Grapes – You could also use slices of kiwi fruit
Red Raspberries – If you can't find fresh raspberries at your local store, you can use frozen raspberries
Lemon – This is optional but we are going to flavor our soda water with lemon juice
Sparkling Water – Do not substitute Club Soda for kids. They will hate it!
Alternative Ice Cube Ingredients:
You can add almost anything to an ice cube to make it complement the drink that you are serving. A nice glass of lemonade would be great with a strawberry ice cube!
Here are just a few ideas to get you started. Add one of each to your ice cube trays:
Fruits – Any fruit, fresh or frozen, will work here! Try berries, lime slices, lime juice, orange slices, cut watermelon, cantaloupe, grapefruit or even lemon zest.
Herbs – For adult cocktails, you can try adding fresh herbs. A few of my favorites are thyme, mint, rosemary and basil. If you can get your hands on edible flowers, add some of those too!
What to use in place of sparkling water – Lemonade, fruit juice, tomato juice, coffee, vodka (warn your guests!),
Here are a few of our favorite ways to use these ice cubes. Add a few ice cubes to your favorite drink:
Iced Coffee – The ice cubes could be made of creamer with peppermint extract or just coffee ice cubes!
Lemonade – Lemonade is perfect for ice cubes made with thyme, raspberries or strawberries and delicious on a warm summer afternoon. We use them in our Strawberry Lemonade recipe
Honey – This is optional because it will depend on the drink you are serving it with. If you are using these in a cocktail, leave the honey out. I love the taste of honey but it doesn't work with everything!
Iced Tea – Almost any ice cube could work in iced tea, but I would recommend lemon slices or lemon zest. Lemonade ice cubes would be amazing.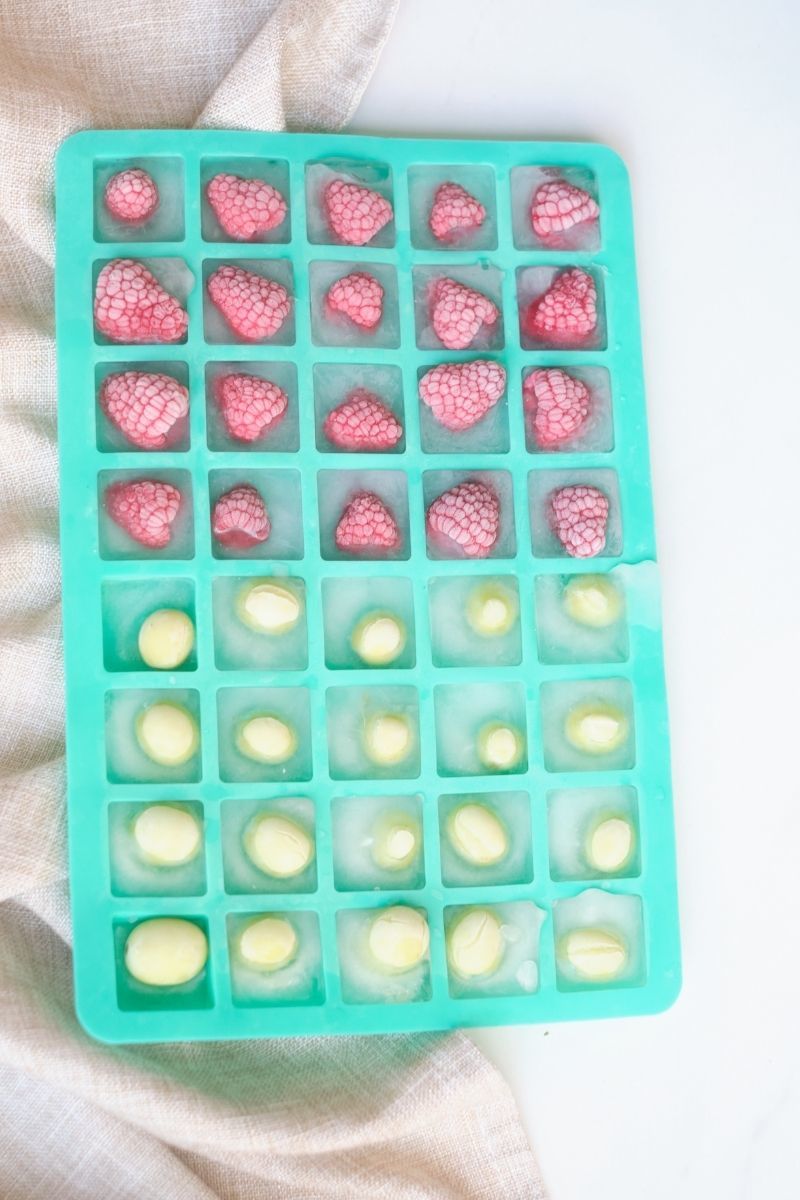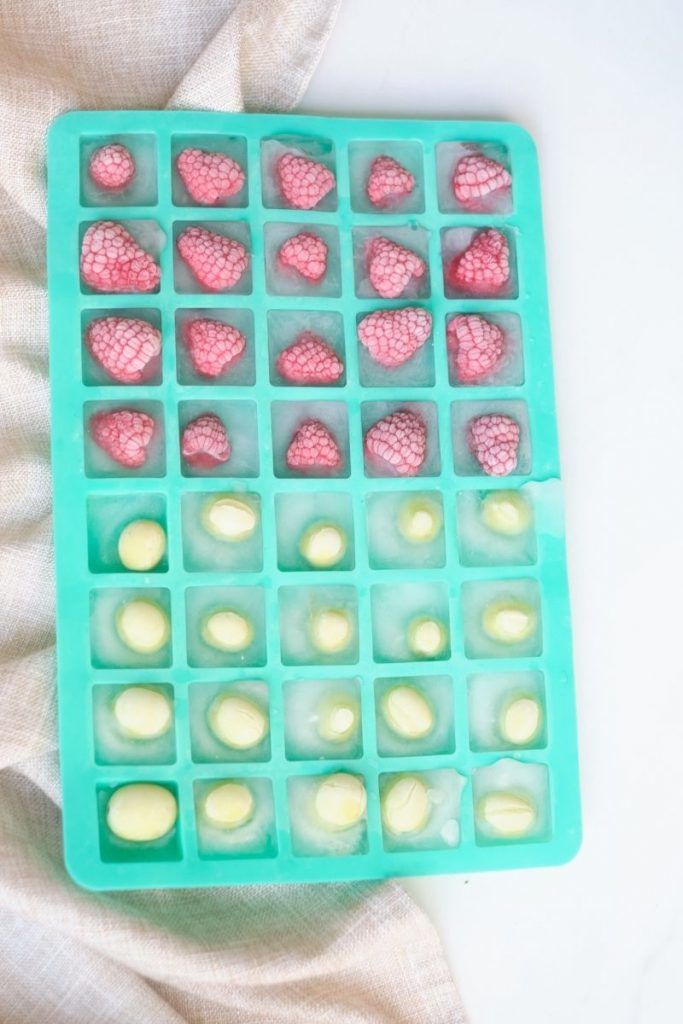 Add one piece of fruit to each ice cube
Mix the water, honey (if using) and juice from one lemon. Add more water if it is too sour.
Pour the water mixture over the fruits in the ice tray. Fill the ice cubes about 3/4 full leaving room for the ice cube to expand as it freezes.
Place the ice cube trays in the freezer overnight or freeze until the ice cubes are solid. Pop the ice cubes out of the ice cube trays and store them in freezer bags.
A Fun Dessert For Kids
In the summer, we will take the flavored ice cubes that we have in the freezer, pop them in a blender and turn it into a frozen shaved ice treat. If you are making ice cubes just for this purpose, use juice as your liquid to give the ice more flavor.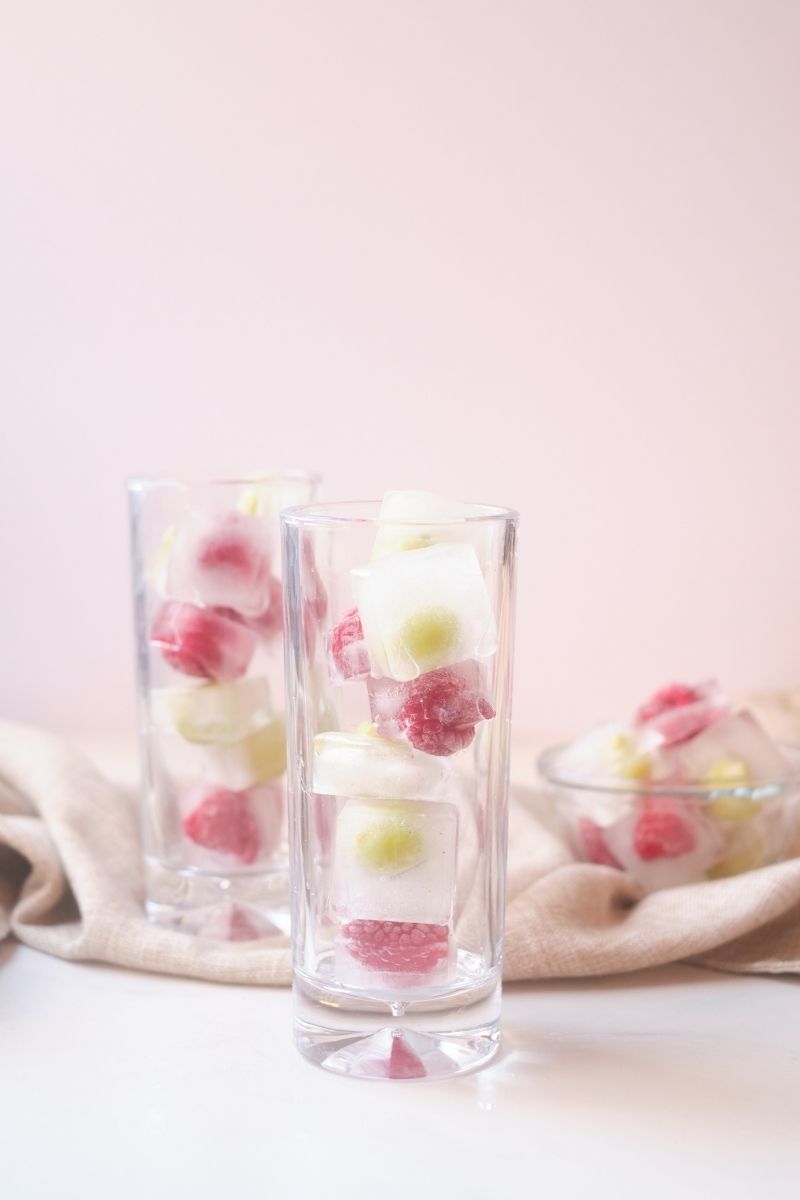 Tools Needed For Flavored Ice Cubes
An ice cube tray. I like to use silicone ice cube trays since they are easier to pop out the ice cubes.
Freezer bags- I like to use reusable freezer bags and so far they work great for storing ice cubes.
Cocktail glasses – Make sure to have a few nice cocktail glasses that will display your beautiful ice cubes! Even the kids can appreciate it since they get excited about the cubes in their drink!
Frequently Asked Questions About Flavored Ice Cubes
Can you flavor ice cubes?
Absolutely! Just see the post above. If you are looking for more inspiration, check out our Halloween punch. You can switch out the mold and make it work for any occasion!
How long does it take to freeze juice ice cubes?
We recommend that you freeze these ice cubes overnight just to be safe but it takes about 3 hours for the ice cubes to freeze.
More Ways To Use Flavored Ice Cubes: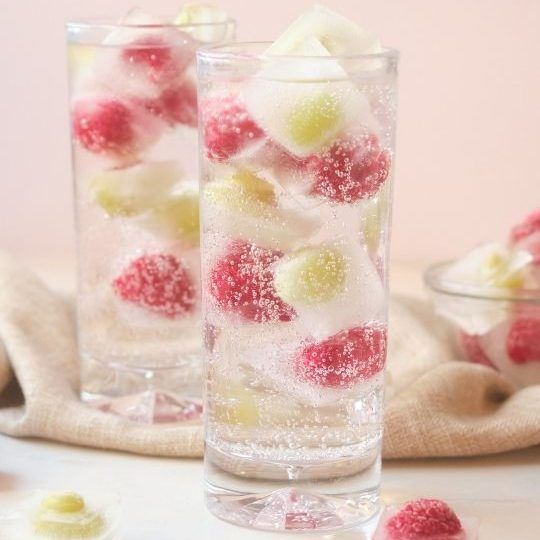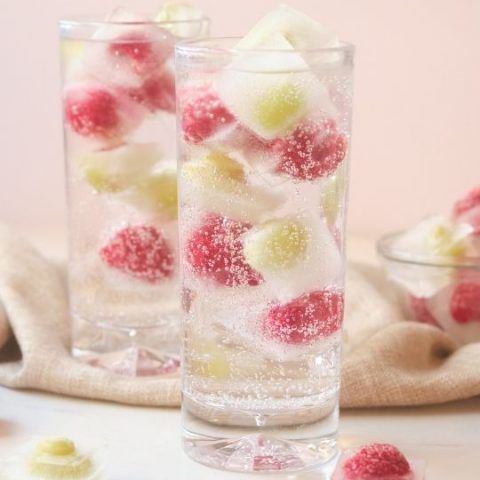 Easy Flavored Ice Cubes
Total Time:
8 hours
5 minutes
Bright, fun and colorful, these flavored ice cubes are an easy way to
spice up any party drink! We made them red and green for the holiday
season but I will share many more ways to serve them!
Ingredients
Green Grapes
Raspberries
1 teaspoon lemon juice
2 Tablespoons of Honey (Optional)
1 1/2 cups of Water
Instructions
1. Place 1 piece of fruit into each mold
2. Mix water, honey (optional) and lemon juice
3. Pour the water mixture into the ice cube tray. FIll each ice cube about 2/3 full
4. Freeze overnight or for a minimum of 8 hours
5. Pop the ice cubes out of the tray and serve immediatley, or store in a freeer bag.
5. Serve with sparkling water and enjoy!
Nutrition Information:

Yield:

7

Serving Size:

1 Amount Per Serving:

Calories:

23

Total Fat:

0g

Saturated Fat:

0g

Trans Fat:

0g

Unsaturated Fat:

0g

Cholesterol:

0mg

Sodium:

3mg

Carbohydrates:

6g

Fiber:

0g

Sugar:

6g

Protein:

0g

Nutritional information was calculated automatically. Please verify accuracy

By