This 6-ingredient homemade beefaroni recipe is a one-dish meal that is ready in just 20 minutes! It's a simple recipe for busy school nights or as a freezer meal. Leftovers can also be taken for lunch the next day.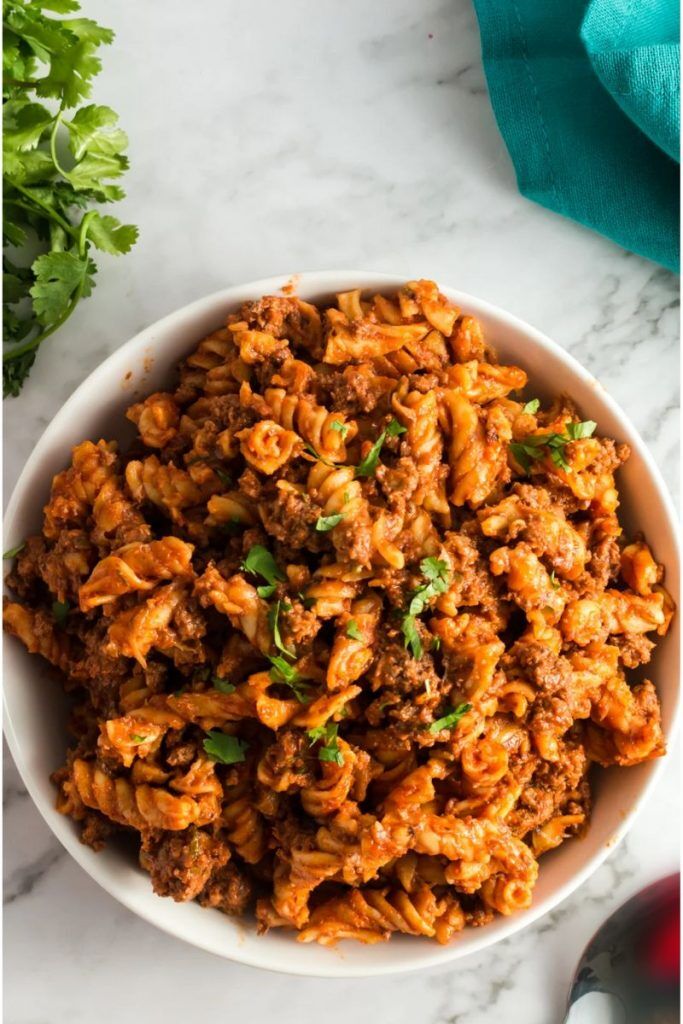 Beefaroni is a classic recipe that is so easy to make that it has become my go-to recipe that the whole family enjoys. I'm able to brown the meat, add everything to the pot, and walk away for 20 minutes.
This is one of those fast dinner ideas that are great when trying to get everything else done!
Serve it with a Simple Pear Salad With Pomegranate And Walnuts or Honey Glazed Carrots for a full meal!
What Is Another Name For Beefaroni?
Another name for beefaroni is American Goulash. American Goulash is very similar but it often has more tomato sauce, and more vegetables and usually includes beef broth to give it a soupier consistency.
With this homemade beefaroni recipe, we add the uncooked noodles to the ground beef mixture and let it cook in the sauce. With goulash, you typically add already cooked elbow noodles to the dish.
Easy Beefaroni Recipe
Beefaroni is a dish that the entire family will enjoy! This homemade version is so much healthier than the canned stuff that we all loved as kids, but it is still quick and easy to make.
The best part about this dish (aside from the fact that the kids will eat it) is that you can make it as simple or as fancy as you desire. Add some chili powder and dairy-free shredded cheese to really dress it up. Here are some other ideas that you can try to make this beefaroni recipe your own!
Switch up the protein – Try ground beef, ground turkey, or even ground bison
Add some dairy free cheddar cheese – You can sprinkle some df shredded cheese over the top of macaroni noodles and cover it until the cheddar cheese is melted
Try a different pasta – From chickpea pasta to gluten-free pasta, any type of pasta will work in this dish
Use a variety of noodle shapes – The noodle should be able to hold a sauce. Some good options are elbow macaroni noodles, cavatappi, spirals and gemelli.
Add Spices and Herbs – Garlic powder, crushed red pepper flakes, chili powder, oregano, basil or even thyme. Fresh garlic would be good as well.
Use any vegetables you have on hand – zucchini, bell pepper, onions, shredded carrots or even
Add Fresh Garlic – Saute the garlic with the onions
INGREDIENTS YOU NEED FOR HOMEMADE BEEFARONI
Ground Beef – lean ground beef is preferred
Plain Tomato Sauce – I use the Costco cans. If you can't find 15-ounce cans, you can substitute 2 – 8oz cans. Crushed tomatoes or canned tomatoes will also work but the sauce may not be as thick.
Shredded Zucchini – This is a good way to use up all that zucchini!
Water
Chickpea noodles – or noodles of your choice
Worcestershire – I won't admit how many times it took to spell that correctly! This is optional but highly recommended.
Salt and Pepper
How to Make Homemade Beefaroni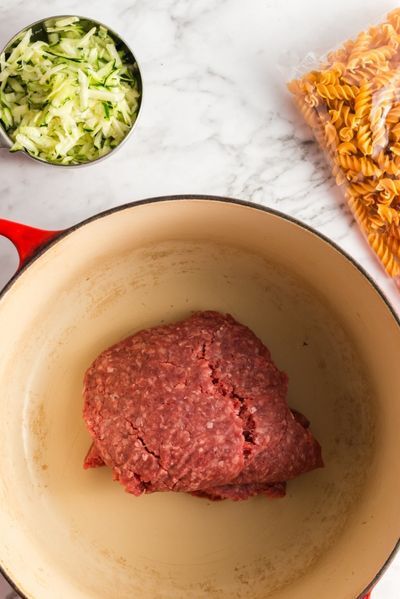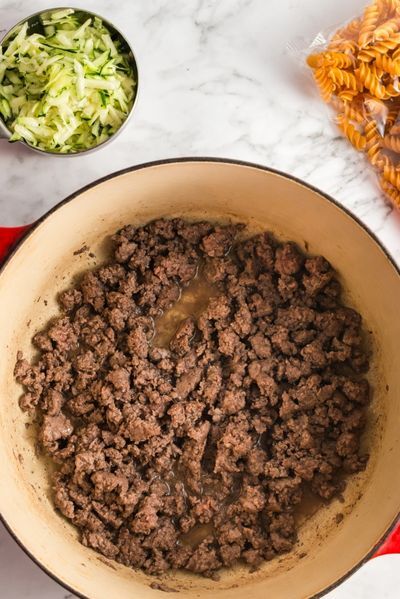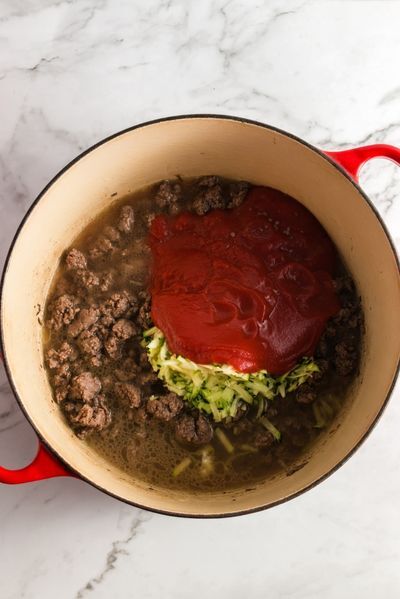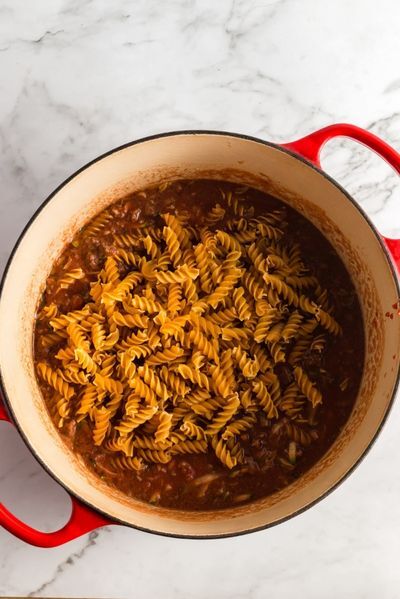 Tips and Tricks
As the noodles are cooking, stir occasionally to ensure the bottom isn't burning. If needed, add more water while cooking.
Tomato sauce has more salt that tomato paste or canned tomatoes. If you choose to substitue the tomato sauce, we sure to taste the dish before serving. You may need to add more salt that expected.
If you have leftover meat sauce from a previous dinner, you can add a can of tomato sauce and then add the noodles. Cook per the instructions int his recipe.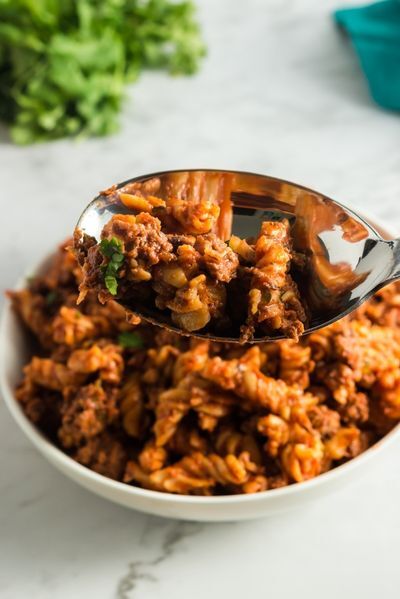 Frequently Asked Questions About Homemade Beefaroni
Can you freeze beefaroni?
Yes you can! Let it cool completely before freezing and store it in an air tight container. When you are ready to eat it, defrost it in the fridge or microwave and heat it up until warm.
Can I bake it instead?
This recipe is best done on the stovetop since it will save you time and will cut back on dishes. If you want to serve it to a crowd, you can place the cooked beefaroni in a casserole dish and top it with dairy free shredded cheddar cheese. Then put it in the oven under the broiler, just until the cheese is melted. Yum!
Will the kids eat homemade beefaroni?
They sure will! This is a comfort food that everyone in the family will enjoy – kids included.
Are chickpea noodles healthy?
They are a great alternative to wheat pasta since they have more fiber and protein. I like that even a small bowl will fill you up alot more than regular pasta will.
More Easy Dinner Recipes You Might Enjoy:
Easy Homemade Beefaroni
This 6-ingredient homemade beefaroni recipe is a one-dish meal that is ready in just 20 minutes! It's perfect for busy school nights or prepping as a freezer meal for another day! Leftovers can also be taken for lunch the next day.
Ingredients
1 Pound Ground Beef
8 Ounces Chickpea Noodles, uncooked
15 Ounce can Tomato Sauce
1 Cup Shredded Zucchini
1 Cup Water
3 Tablespoons Worcestershire Sauce
Salt and Pepper, to taste
Instructions
Brown ground beef in a medium pot or large skillet
Add the Worcestershire sauce and mix well
Add the tomato sauce, shredded zucchini, and water and mix well
Pour in the uncooked noodles and mix well.
Cover the pot and bring it to a boil. Reduce the heat to a simmer and let cook, covered, for 20 minutes, stirring occasionally.
If needed, add a little more water as it is cooking.
Nutrition Information:

Yield:

6

Serving Size:

1 Amount Per Serving:

Calories:

331

Total Fat:

15g

Saturated Fat:

5g

Trans Fat:

1g

Unsaturated Fat:

7g

Cholesterol:

67mg

Sodium:

570mg

Carbohydrates:

23g

Fiber:

5g

Sugar:

6g

Protein:

26g

Nutritional information was calculated automatically. Please verify accuracy

By