So cool and refreshing, I could eat one every day…and I do! These delicious popsicles feature your favorite fresh summer fruits and the crip and cool coconut water steals the show as a natural source of electrolytes. Kids and adults agree that these homemade fruit popsicles are the perfect summer treat!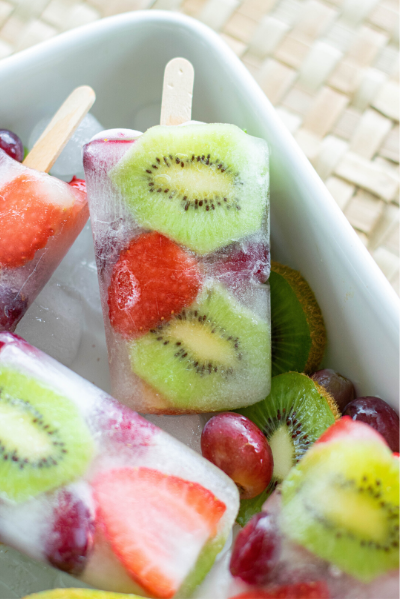 All kids love popsicles! But not all moms like to make them. That's why I kept this as a simple recipe that kids can make themselves. No blender involved and minimal chopping!
If they can slice fruits, they can make popsicles. Honestly, it really doesn't matter whether they make even slices either. Once the fruits are frozen, they all taste the same.
Our spring was hot so we have been making lots of frozen treats this year, like frozen grapes and Strawberry Nice Cream.
What is the Best Popsicle Mold?
There are so many options when it comes to popsicle molds that it can be overwhelming! I have a favorite popsicle mold, but it is plastic so I have been researching other options that I will share below!
First, if you have never made homemade popsicles, know that you can never have enough molds. The fact that they typically only come with 6 pops drives me crazy, but keep in mind that if you go with a bigger mold, you will need to have room in your freezer.
Here are a few of the molds I've been researching. From stainless steel to silicone, the options are endless!
This is the stainless steel popsicle mold that I will be buying next: Stainless Steel Popsicle Mold
A silicone mold with great reviews. I'm always skeptical about silicone because it is easy to squish which would cause the popsicle to overflow if not yet frozen: Silicone Popsicle Mold
The plastic, BPA free one that I have right now. This one has been good to us through the years! I bought them because they have a drip catcher in the handle: BPA Free Popsicle Mold
No Popsicle Molds? What Can I Use To Make Popsicles?
No molds? No problem! While molds definitely have their benefits, you can still make delicious popsicles without them. When we were small, we would use dixie cups…remember those?? Just fill them up, or any cup, then place foil over the top. Cut a small hole in the center and push in a popsicle stick.
Place it in the freezer until frozen. If using a dixie cup, you can just tear it off. If you used a regular cup, run it under some warm water to melt the sides and help the popsicle slide out.
How Do You Make Homemade Popsicles?
Making popsicles is actually very easy and i'm going to show you how!
First, just a note: You do need to have a popsicle mold that will be large enough to hold fruits. Narrow popsicle molds are popular, so if you have one of those, just be sure to chop the fruit into small enough pieces that they can fit into the mold.
Start by grabbing your favorite fruits. Here are just a few that work well in this recipe:
Kiwis
Grapes
Strawberries
Blueberries
Pineapples
Raspberries
Coconut Shreds
Slice the fruits into thin slices. If you are using grapes, you can leave them whole or cut them in half.
How Long Do Homemade Popsicles Last?
Homemade popsicles are so delicious that they probably won't last long! However, it can stay in the freezer for 6-8 months.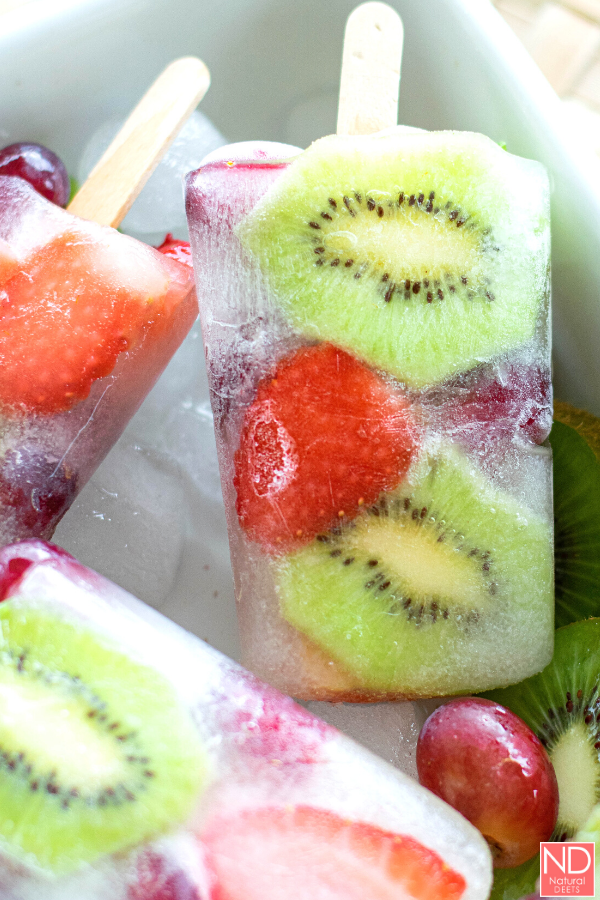 Don't forget that coconut water is a natural source of electrolytes!
I know the importance of electrolytes to the body, but I hate feeding my kids Gatorade or other sugar laden drinks. Coconut water is a natural source of electrolytes when you and your kids are spending time in the great outdoors, or just when they are sick and need a soothing pick me up!
Enjoy these delicious frozen treats!! Be sure to let me know what you think in the comments!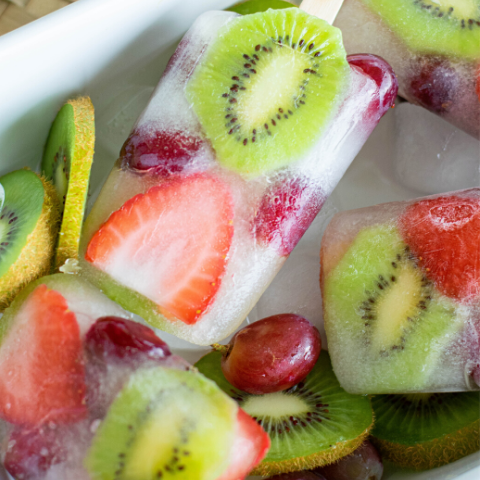 Coconut Water Fruit Popsicles
Total Time:
8 hours
10 minutes
Nothing says summer like refreshing fruit popsicles! These delicious coconut water popsicles have no added sugar and are a perfect treat for kids and adults!
Ingredients
2 cups fresh coconut water
24 grapes
3 kiwis, sliced and peeled
8 strawberries, slices
Instructions
Place kiwi and strawberries in mold by pressing them against the 'wall' with your fingers.
Add grapes in each mold then pour coconut water until top.
Place popsicle sticks in the middle of each mold.
Freeze for 8 hours.
Store in the freezer for up to one week
Notes
I used 2x4 popsicle molds, with sticks. However, any large popsicle mold that can fit the fruit should do!

By