This creamy peppermint schnapps cocktail is entirely dairy free and perfect for getting you in the holiday spirit! Excellent enjoyed while you're wrapping your presents or decorating the tree.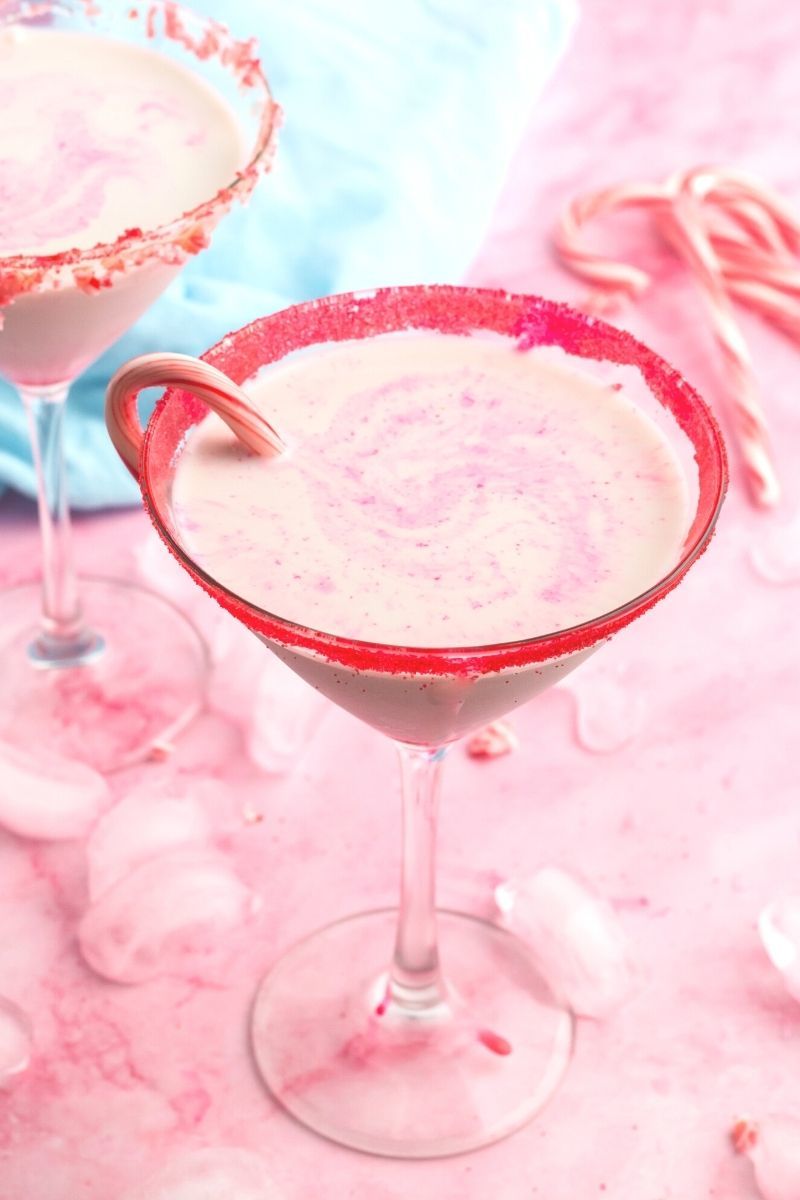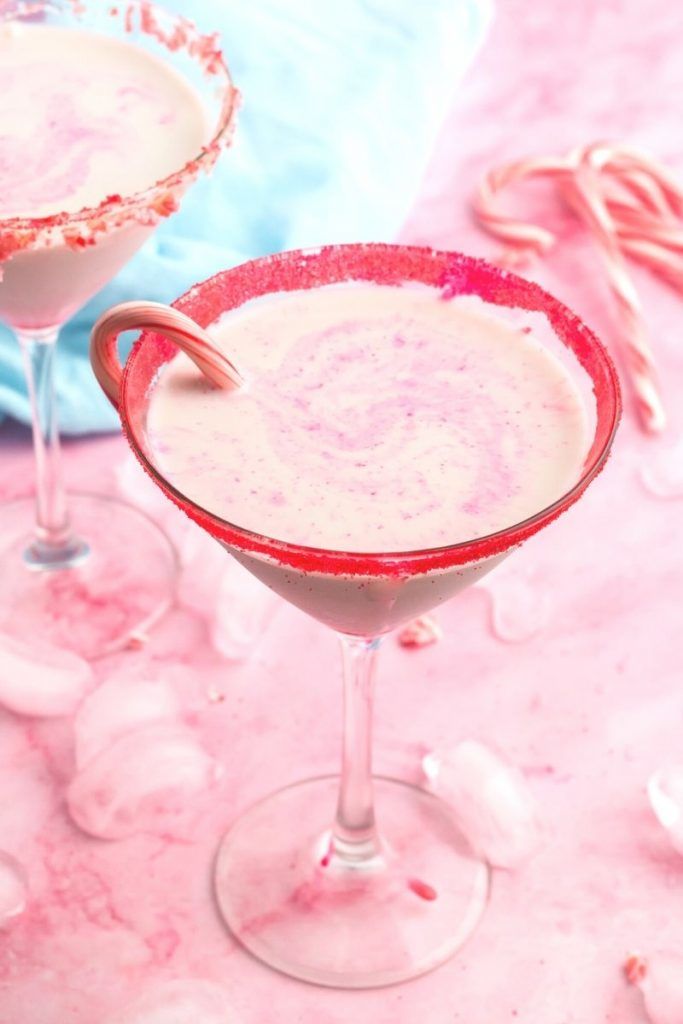 My favorite thing about the holiday season is enjoying all of the festive food and drinks! There's something magical about those recipes that only come out at this time of year. This peppermint schnapps cocktail is one of those things that tells me the holidays are around the corner.
If you're looking for more ideas for festive drinks, try this dairy free peppermint hot chocolate, which can be alcoholic or non-alcoholic. This New Years Eve drinks guide also has some great inspiration for easy cocktails (and mocktails!)
Dairy Free Peppermint Martini
This variation on a peppermint martini is one of my favorite cocktail recipes. It's so simple to make and absolutely delicious every time. It's perfect for impressing guests, who will feel like they've wandered into a cocktail bar rather than your living room!
One of my favorite things about this recipe is that anyone can enjoy it. It's completely dairy-free, and it can also be made alcohol free.
INGREDIENTS YOU NEED
Dairy Free Half and Half – Yes, it is a thing! I recently discovered this and now I am hooked. I love the Ripple brand.
Peppermint Schnapps – Don't be tempted to buy cheaper brands as this will affect the taste. Our favorite type of schnapps for this recipe is Rumple Minze.
Vodka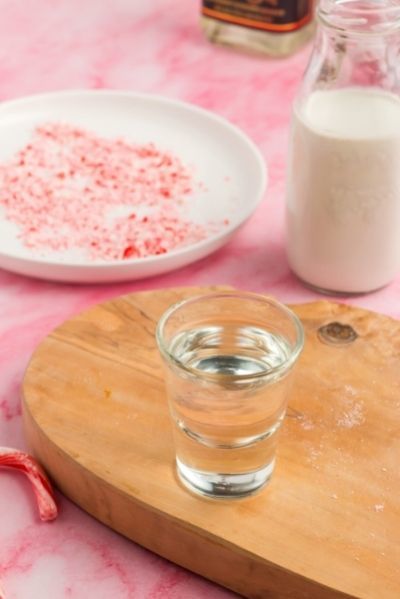 Step By Step How To Make Peppermint Martini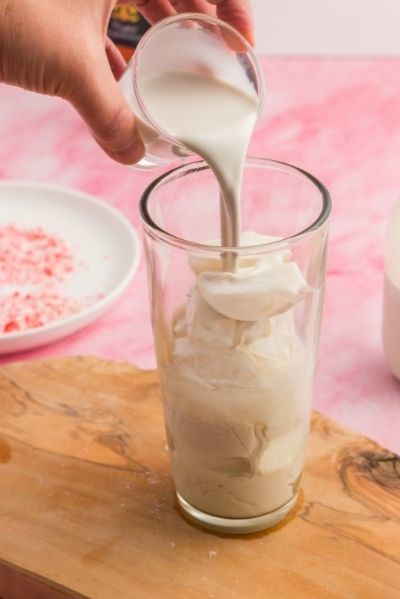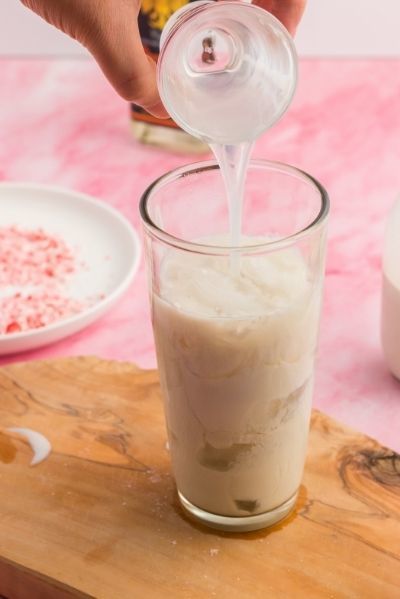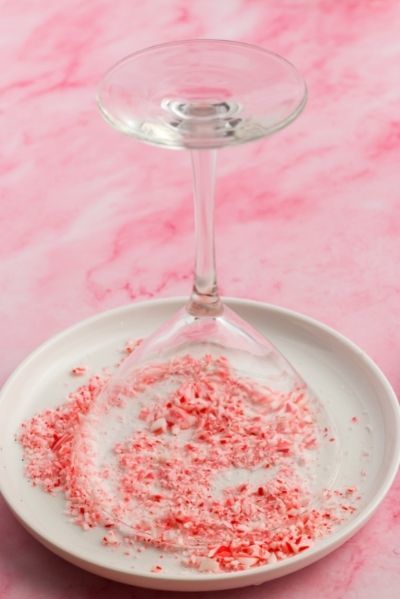 How To Make Peppermint Schnapps Cocktail
To make your simple peppermint vodka cocktail, all you will need is about one minute and a cocktail shaker!
Add your peppermint schnapps, dairy-free half and half and vodka to a cocktail shaker with crushed ice. Shake vigorously for at least ten seconds, then strain into a glass. I like to use a martini glass to make it that little bit more special.
Enjoy as a reward for getting all of your shopping done!
Important Teaching Tips
Half and half – If you'd like to turn your cocktail into a chocolate and peppermint flavored dream, then you can switch out the half and half for dairy free chocolate milk. Oatly chocolate milk is perfect for this!
Vodka – Fancy a richer flavor? Switch out the vodka for brandy.
Alcohol free? You can make this cocktail alcohol free by switching out the schnapps for ⅛ tsp of peppermint extract.
Decorating the glass – I rubbed honey on the rim of the glass to stick crushed candy canes and sprinkles to it. A festive version of the salt on a martini glass! You could also sprinkle crushed candy cane pieces into the drink or use candy cane vodka to add that something special.
Red Sprinkles on Rim – The crushed candy canes and sprinkles on the rim look amazing and add a festive touch! If you are having a fancy party, I would recommend using white sprinkles or skipping the sprinkles on the rim. The red sprinkles turned everyone's mouth red! Not too fun if you are trying to look sophisticated!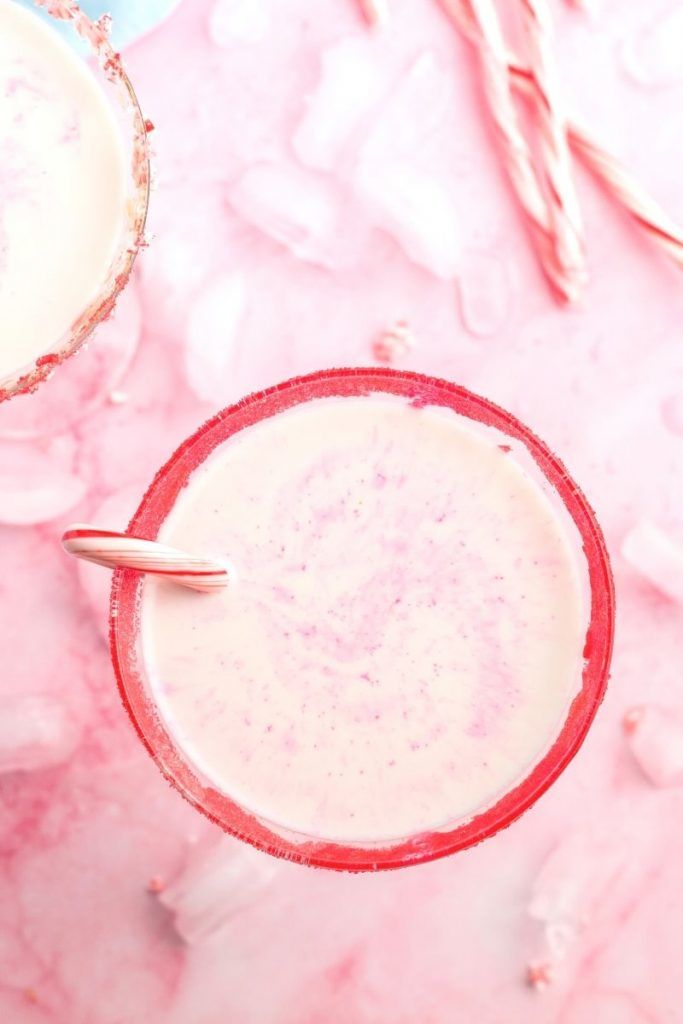 What You Need To Make This Peppermint Schnapps Cocktail
A Cocktail Shaker – This is a must have but you don't need a fancy one and I prefer glass and stainless steel because it doesn't impact the flavor and it easier to clean. Try a Simple one like this: Glass Cocktail Shaker
Martini Glasses – Any glass will do but there's something magical about martini glasses!
Frequently Asked Questions About Peppermint Schnapps Cocktail
How much does a shot glass hold?
A standard shot glass holds 1.5 ounces.
Do you really need a cocktail shaker?
Short answer – Yes! It sounds like something you don't need, but believe me when I say it really makes a difference in the flavor of the drink. It is especially true with this one. Creamy drinks taste so much better when poured out of a shaker. I prefer a simple glass cocktail shaker. I feel glass gives it a cleaner flavor.
How strong is Peppermint Schnapps?
It depends on which brand you buy. One popular brand, and the one I recommend, is Rumple Minze. It is 100 proof so it is relatively strong. In addition, we are adding vodka so this drink should be enjoyed slowly.
What is good with peppermint?
Peppermint goes with almost anything (but definitely not egg nog…we tried to make that one work!). It's delicious with cream, chocolate, cocoa or coffee.
More Festive Drink Recipes You Might Enjoy: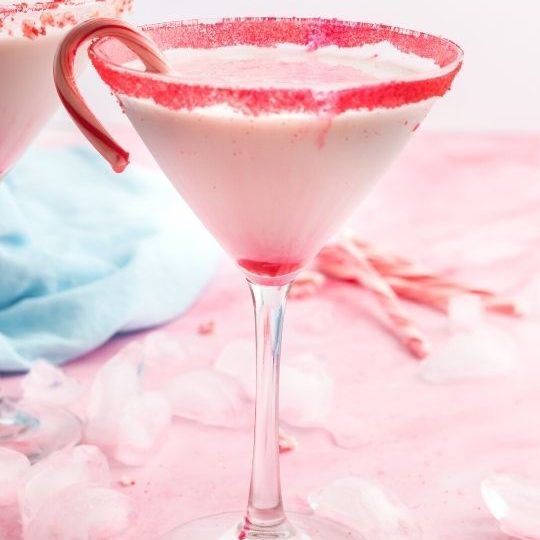 Easy Peppermint Schnapps Cocktail
This creamy peppermint schnapps cocktail is entirely dairy free and perfect for getting you in the holiday spirit! Excellent enjoyed while you're wrapping your presents or decorating the tree.
Ingredients
1.5 Ounces Peppermint Schnapps
1.5 Ounces Vodka
3 Ounces Dairy Free Half and Half
Instructions
Fill a cocktail shaker with ice.
Add 1.5 ounces of Vodka to the cocktail shaker
Add 1.5 ounces of peppermint schnapps to the cocktail shaker
Add 3 ounces of dairy free half and half to the shaker
Place the second cup on the cocktail shaker and shake at least 20-30 times
Strain the ice and pour into glasses
Enjoy!
Notes
One standard shot glass = 1.5 ounces
Nutrition Information:

Yield:

1

Serving Size:

1 Amount Per Serving:

Calories:

358

Total Fat:

9g

Saturated Fat:

6g

Trans Fat:

0g

Unsaturated Fat:

4g

Cholesterol:

32mg

Sodium:

56mg

Carbohydrates:

16g

Fiber:

0g

Sugar:

16g

Protein:

3g

Nutrition information is automatically generated and isn't always accurate

By