Turmeric and ginger have a lot of anti-inflammatory properties making them the perfect base for a wellness shot! These ginger and turmeric shots provide a boost of energy and have numerous health benefits.
It only takes about 5 minutes to make this turmeric shot recipe and I like to quadruple the recipe and freeze them in batches. When we need a new batch, it just thaws overnight in the fridge.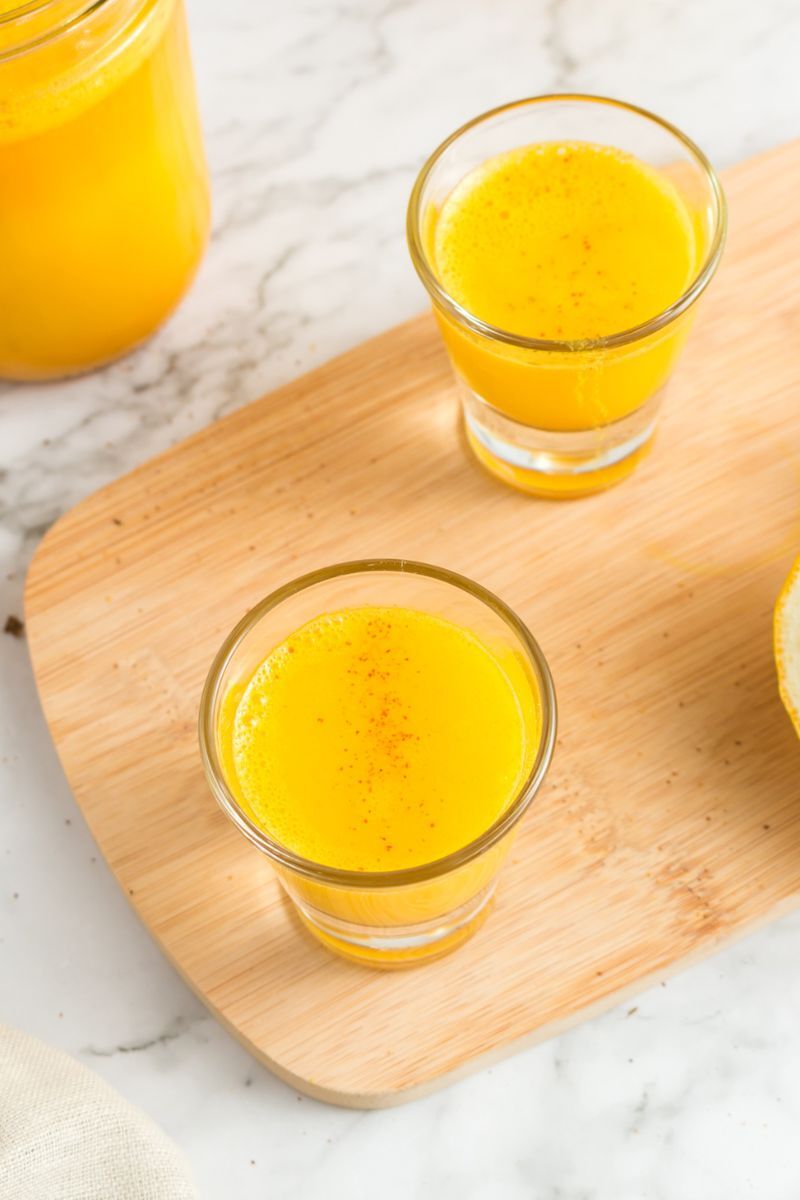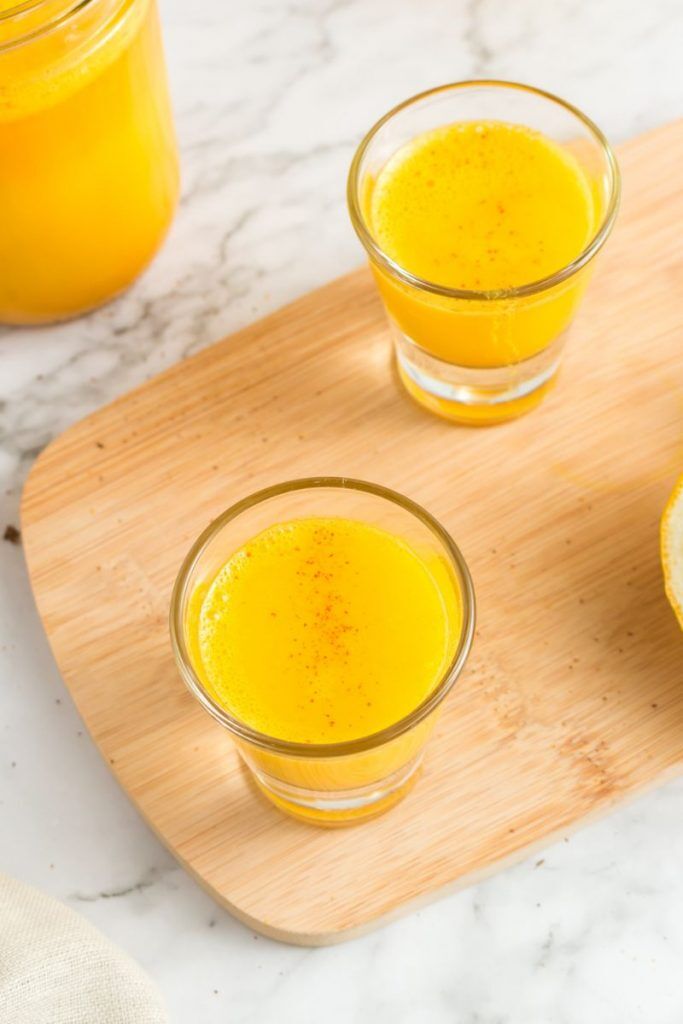 I love wellness shots but not the $4 price tag. Every winter Costco brings in bags of fresh turmeric (it's in the refrigerated section next to the ginger). Pick up a few bags and freeze them for the year! They don't typically restock them once it sells out.
How do I drink it?
There is no wrong way to take a turmeric and ginger shot but here are a few ideas:
Pour the ginger shot into a shot glass. Take it as a shot. If you are using lots of cayenne, I would recommend this method unless you enjoy spice
Pour approximately 3 Tablespoons into a glass and drink it. This doesn't need to be an exact measurement.
If you enjoy the taste of the turmeric shots and prefer to sip it, you could pour 3 tablespoons into a glass and then add water
Can Ginger Turmeric Shots be Made in a Juicer?
Absolutely! These ginger turmeric shots can be made in a cold press juicer as well. When made in a juicer, there won't be any pulp and you won't need to strain it. The lemon will be more prevalent in a juiced version, so you have the option of decreasing the amount of lemon.
The leftover pulp can be added to smoothies or energy balls.
When making turmeric and ginger shots with a juicer, I have found that it works best when you do it in this order:
Ginger
Turmeric
Peeled lemon cut into 1/2 inch pieces – it can be juiced with the skin but will be bitter
Pour the juice into a large container and then add the coconut water and cayenne pepper
INGREDIENTS YOU NEED
Coconut Water – Coconut water has natural electrolytes and a light flavor so I love adding it to wellness shots. Regular water will work well too if you don't have coconut water. This recipe uses a 1-liter box which is about 4 cups. With 2 people taking one shot a day, that will last you 4 weeks.
Turmeric – Fresh turmeric works best but if you can't find it, you can also substitute 1 Tbsp powdered turmeric. Fresh turmeric can be expensive, but you only need a small amount. When Costco has it in the spring, you can buy it and freeze it for later.
Ginger Root – Fresh ginger is easy to find in the grocery store. The ginger must be fresh in this ginger turmeric shot recipe.
Lemon Juice – Freshly squeezed lemon juice aids in digestion and gives a quick burst of energy. It also has some vitamin C too! Lemons are also thought to have anti inflamitory properties. Be sure to peel the lemon first!
Cayenne Pepper – Cayenne can jump-start digestion and give you a pop of energy. Even if you don't like spice, give it a try in the turmeric ginger shot. You can decrease the amount to just a sprinkle or substitute a pinch of black pepper.
Optional – Orange Juice – Add a squeeze of orange juice if you want to add a little sweetness to the ginger turmeric shot. This is beneficial when you are looking to add even more Vitamin C.
Step by step photos/process (SEO this H2 heading)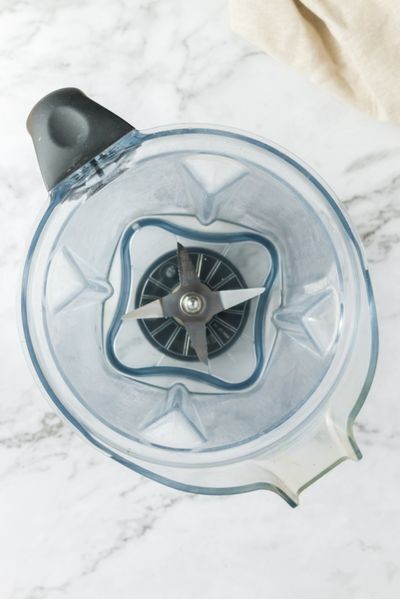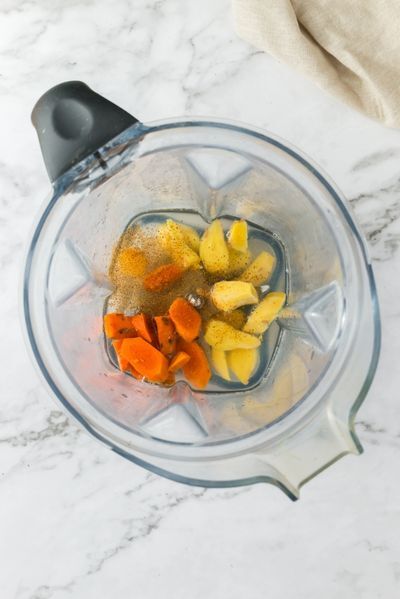 How To Make Ginger and Turmeric Shots
Add the coconut water to a high-speed blender.
Use the back of a spoon to peel the ginger and turmeric then add it to the coconut water
Add the peeled lemon
Add the cayenne pepper
Blend until smooth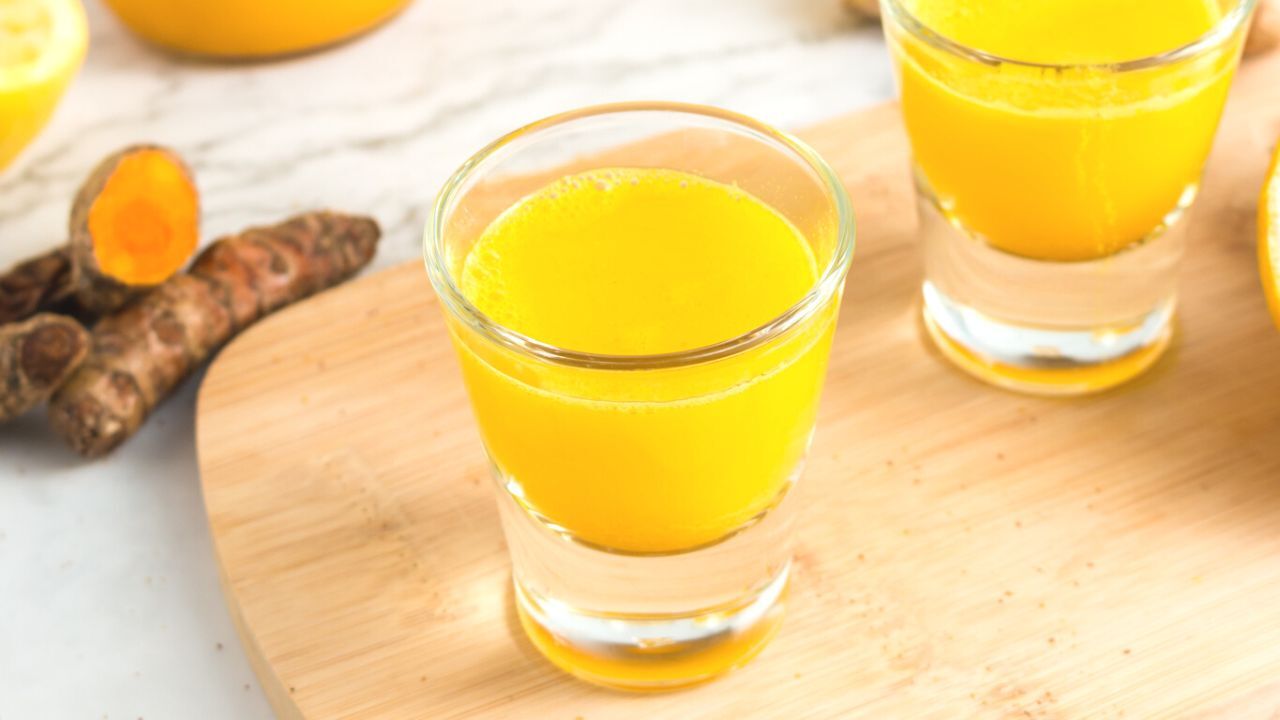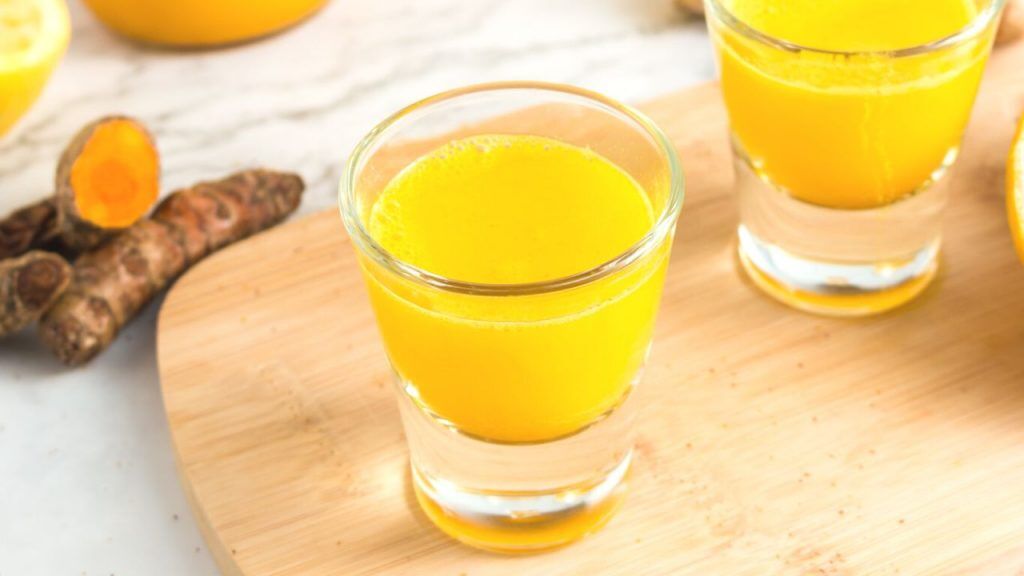 Important Tips For Ginger and Turmeric Shots
1 Liter of coconut water will make a little over 4 cups. I like to evenly pour it into 4 – 16oz mason jars. One goes in the fridge for the week and the other three are labeled and frozen for later.
Some people prefer to strain the liquid before adding it to the mason jar. I prefer to drink it with the pulp as it adds depth to the shot. If you will be straining it, you'll want to add the cayenne after straining it.
The turmeric will stain the blender. To clean the blender, I have found that washing it immediately with soap and a scrub brush will get most of it off. If it is still stained, it will eventually go away as you use the blender.
Frequently Asked Questions About Ginger Turmeric Shots
Do I need to peel the ginger and turmeric first?
When the ginger and turmeric are peeled first, you will end up with a smoother shot. The turmeric does stain everything it touches, so I prefer to throw it in without peeling it. If you don't mind a little pulp, I would suggest doing the same to save time.
Can you freeze ginger turmeric shots?
Ginger turmeric shots can be frozen with no issue. Be sure to leave 1 inch at the top of the jar to keep the jar from cracking when it freezes. To defrost, leave it the jar in the fridge overnight.
How long do ginger turmeric shots last?
As the shots sit in the fridge, they will start to lose nutrition. I recommend consuming it within one week of making it or defrosting it.
When should I take a ginger and turmeric shot?
This will depend on the individual so you will want to try it at different times of the day to see what works for you. Taking it on an empty stomach may cause upset in some.
More Drink Recipes You Might Enjoy: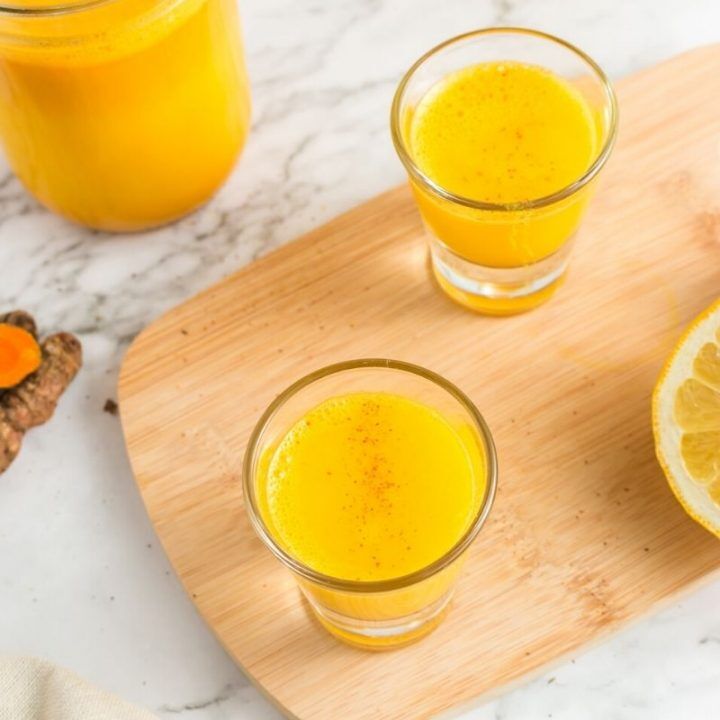 Turmeric and Ginger Shots
Turmeric and ginger have a lot of anti-inflammatory properties making them the perfect base for a wellness shot! These ginger and turmeric shots provide a boost of energy and have numerous health benefits.
Ingredients
1 Liter Coconut Water
3/4 Cups Fresh Ginger
3/4 Cups Fresh Turmeric
2 Lemons, juiced
Cayenne, to taste
Instructions
Add the coconut water, fresh ginger, turmeric, lemon juice, and cayenne pepper to a high-speed blender
Blend until smooth
Pour into a large glass and refrigerate
Nutrition Information:

Yield:

56

Serving Size:

1 Amount Per Serving:

Calories:

12

Total Fat:

0g

Saturated Fat:

0g

Trans Fat:

0g

Unsaturated Fat:

0g

Cholesterol:

0mg

Sodium:

20mg

Carbohydrates:

3g

Fiber:

1g

Sugar:

1g

Protein:

0g

Nutritional information was calculated automatically. Please verify accuracy

By