This is a new twist on an old classic! Crunchy squares of marshmallow goodness are a hit at any party, so we decided to take some natural food coloring and fun sprinkles and make these Halloween Rice Krispie treats!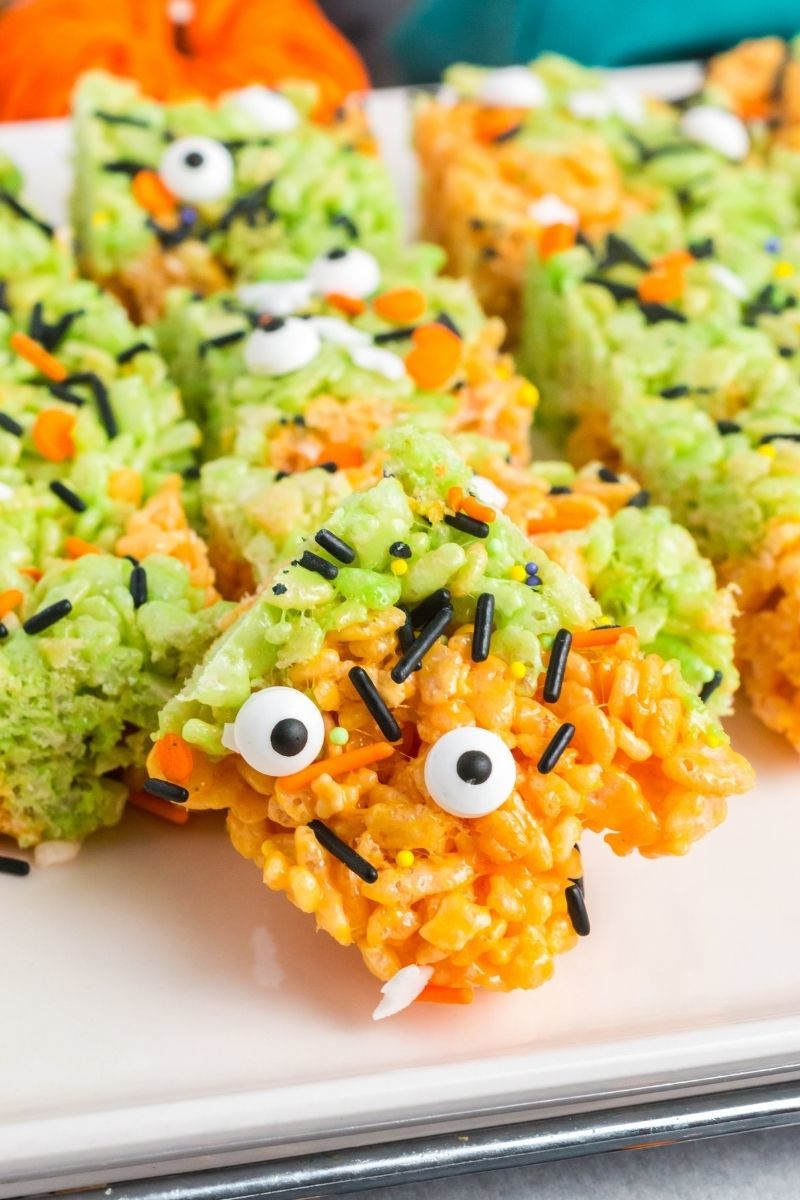 There are so many different kinds of cereal treats with marshmallows but Rice Krispies are still my go-to. When serving these at parties or school, I like to use Rice Krispies because they are gluten free and are generally an allergy safe cereal.
But I encourage you to get creative and use your favorite cereal! Keep in mind that when using food coloring, light colored cereals do best.
Why Are My Rice Krispie Treats Hard?
Before we get started on how to make this marshmallow treat, lets talk about the most common question people ask when it comes to making these! How do I keep them from getting hard?
There are two ways to keep Rice Krispie cereal treats from getting hard:
Melt the marshmallows on medium-low heat. If you are anything like me, you are going to want to crank up the heat and melt the marshmallows as quickly as possible. But don't do it! Increasing the heat causes the marshmallows to melt too quickly which causes them to get hard and lose elasticity. There is also a high chance that they will burn.
Gently press them into the pan – When pressing them in to the pan, resist the urge to pack it down. In this recipe we are mixing two different colors, so it is especially important not to press them hard into the pan. They will harden as they cool, so realize that they will look a little "fluffy" when you gently pat it into the pan.
If you try both these tips and it is still hard, try adding more marshmallows. More marshmallows will add some moisture and keep them soft.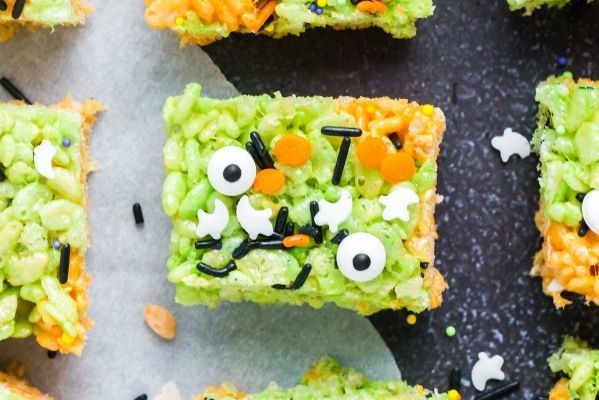 Watch Us Make It!
Halloween Party Ideas
Halloween parties are so much fun for everyone but with Thanksgiving right behind it, I prefer to keep it simple. I whip up our favorite Halloween Punch, make a few mini cheesecakes and put out a snack bar!
At the snack bar, we have several types of Rice Krispie snacks, including some on sticks (just for fun!). We turn on the chocolate fountain and have a bunch of different sprinkles, fruits and mini marshmallows that the kids can add to their Rice Krispie treats. It is always the hit of the party.
INGREDIENTS YOU NEED
Marshmallows – Mini marshmallows will melt the fastest. If you are buying marshmallows just for this recipe, get the mini ones. I am usually using up the leftover marshmallows from smores. So the larger ones work too, they just require a little more patience.
Butter – I use dairy free butter and it turns out perfectly! Miyoko's is my favorite brand since they use all natural ingredients, but any butter should work. I have tried it without butter before, but it needs the oil to make it easier to mix and to keep it from sticking too badly to the pan.
Crispy Rice Cereal – I like Rice Krispies but generic brands will work too. If you prefer, swap in a different cereal and see how it turns out!
Food coloring – We use natural food coloring from India Tree but again, any food coloring will work. Natural food coloring is great because it is free of all those artificial color dyes, but it won't be as vibrant as some other food coloring options.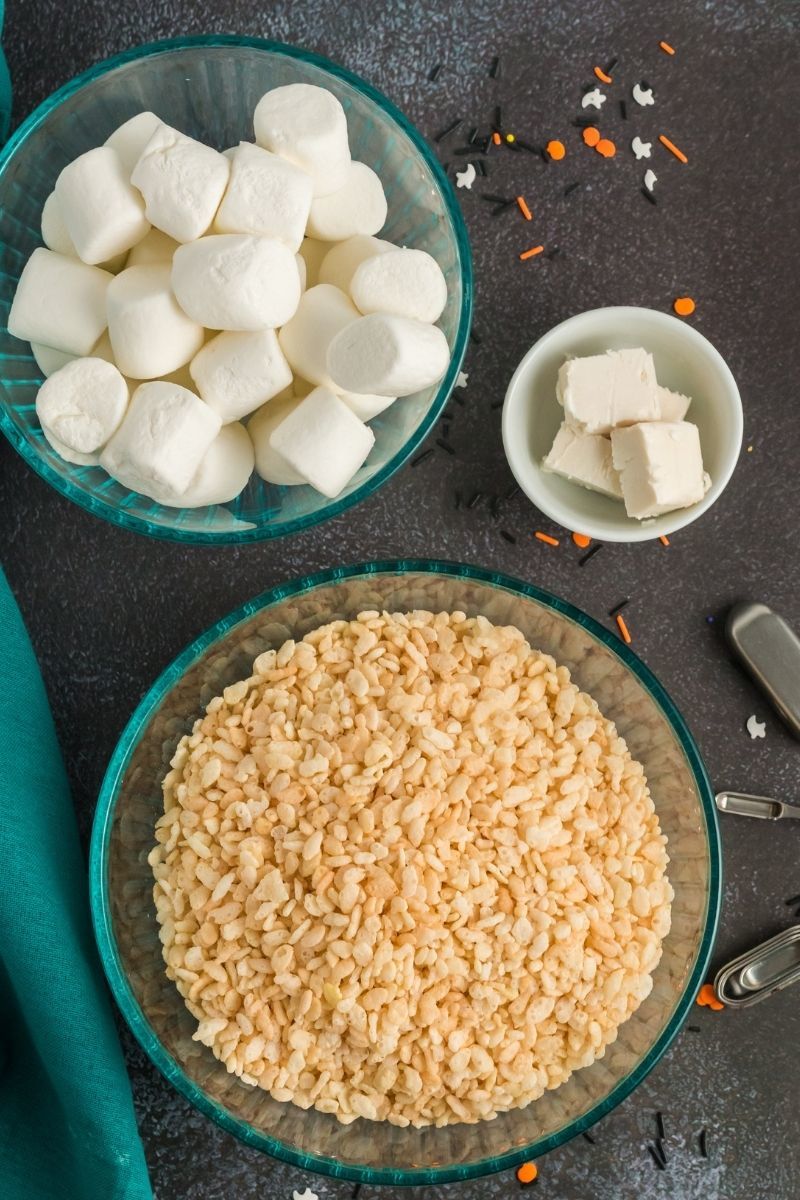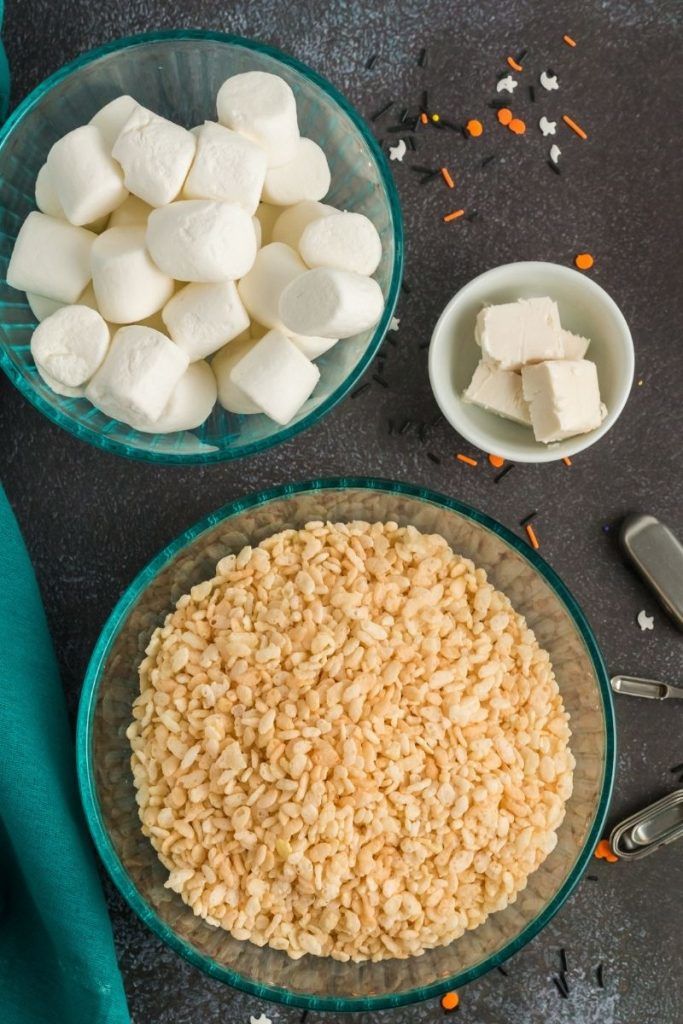 Halloween Rice Krispie Treats
With this recipe, we will need two different colors of rice krispie treats. To do this, I divide the ingredients in half and make two separate batches.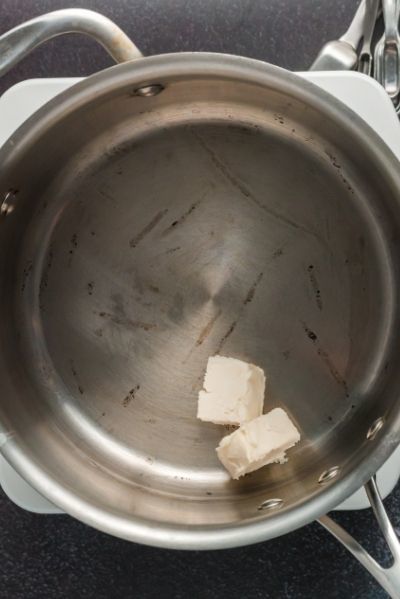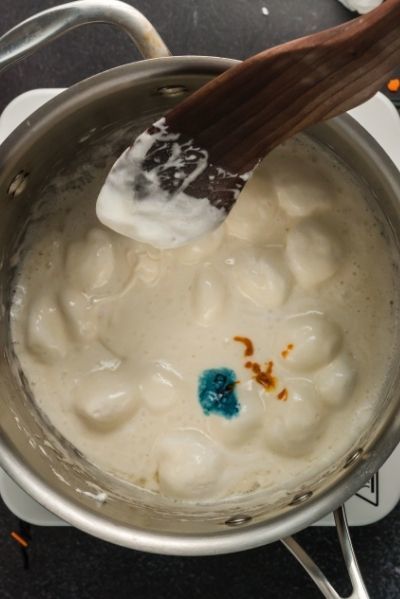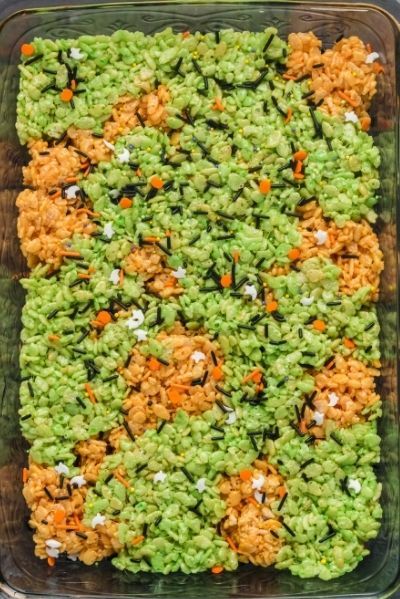 Marshmallow Treat MixIn's
This kid friendly snack recipe is delicious as is, but if you want to really mix things up, try some of these variations:
Flavor extracts – Vanilla extract, almond extract, banana extract, mint extract (maybe?). Give any extract a try!
Spices – Pumpkin pie spice would be delicious in this recipe. You could also try a lemon/thyme combination or even lavender!
Candy – I'm not a fan of candy for my kids, but this is Halloween, so try adding M&M's, candy corn, chopped up peanut butter cups or Snickers…the possibilities are endless!
Mix in another cereal – Replace 1/2 cup of Rice Krispies with another cereal for a flavor combination!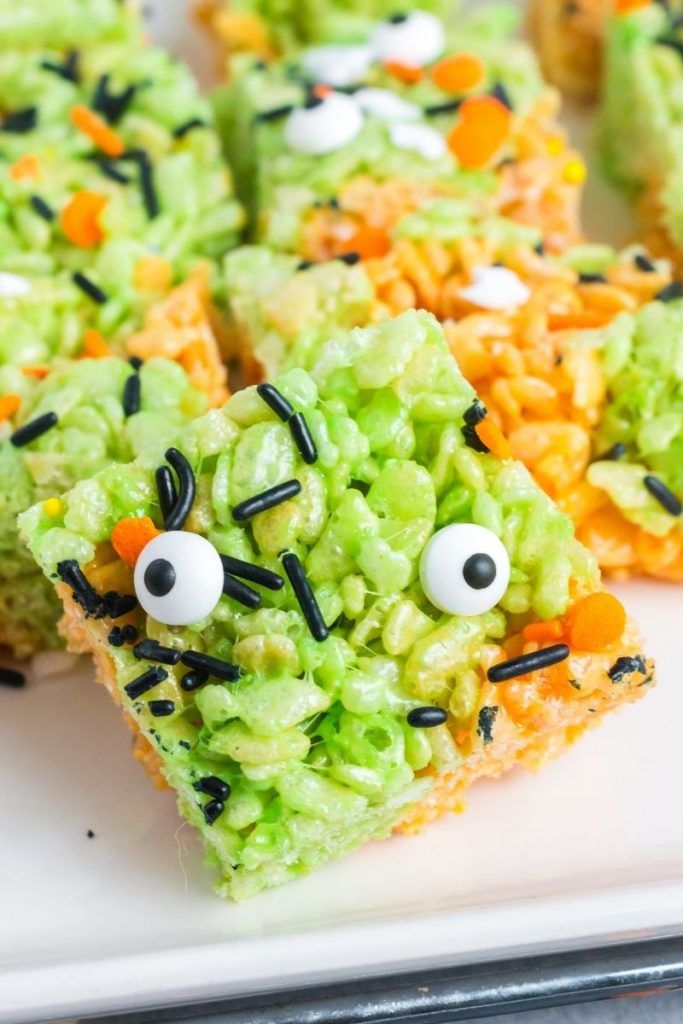 Important Teaching Tips
How To Melt Marshmallows – Melt the marshmallows over medium-low heat, stirring constantly. Stirring will keep the marshmallows from burning and will help distribute the heat so they melt faster.
Make it easier to press into the pan – The marshmallows are going to be very sticky. Either use wet hands to press the marshmallow treats into the pan, or place a piece of plastic wrap over the top and gently press the top. Remove the plastic wrap and throw it away.
Cut the squares before adding sprinkles – If you add the sprinkles first, you might accidentally cut them while cutting out the squares.
Frequently Asked Questions About Rice Krispie Treats
What are marshmallows made of?
Most are made of sugar, high fructose corn syrup, modified corn starch and few other ingredients. We have been using Dandy brand of marshmallows which still contains sugar, but less of the other processed ingredients.
Can I substitute the marshmallows?
In this recipe, the marshmallows bind the dish and hold the Rice Krispies together. You could replace them with peanut butter or another nut butter and honey, but it would take some practice.
Can I make Cereal Treats ahead of time?
They really taste best when eaten right away. I would recommend making them the day before but no earlier to keep them soft. Not to mention…they tend to disappear when sitting on the counter!
How do you store rice krispie treats?
These can be tricky to store because they need just a tiny bit of air flow to keep them from getting too soft. As much as my zero waste self hates to admit it, plastic wrap works best. Either keep them in the baking dish and cover it with plastic wrap, or wrap individual portions in plastic wrap. It will keep it from getting stale.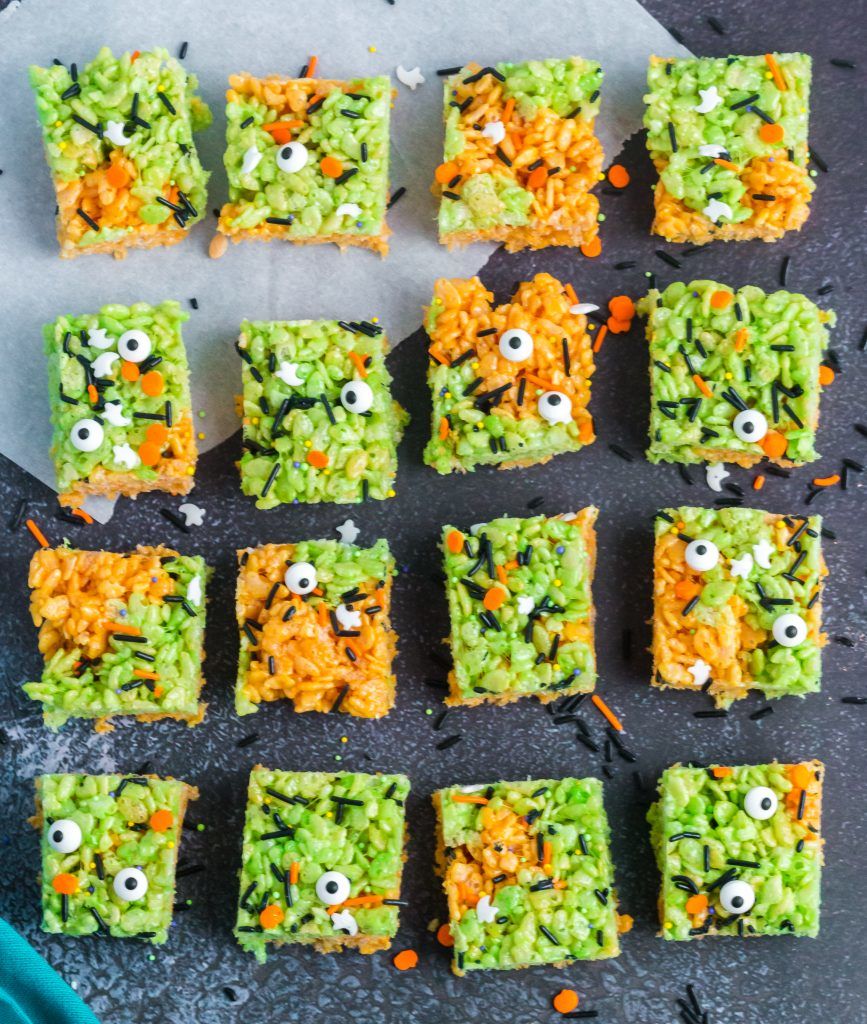 More Halloween Party Recipes You Might Enjoy: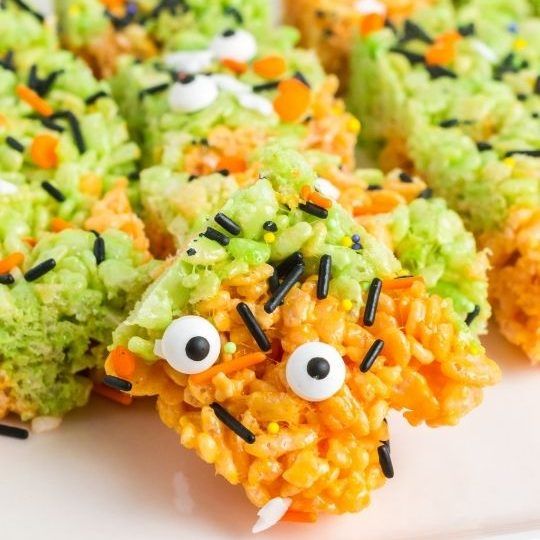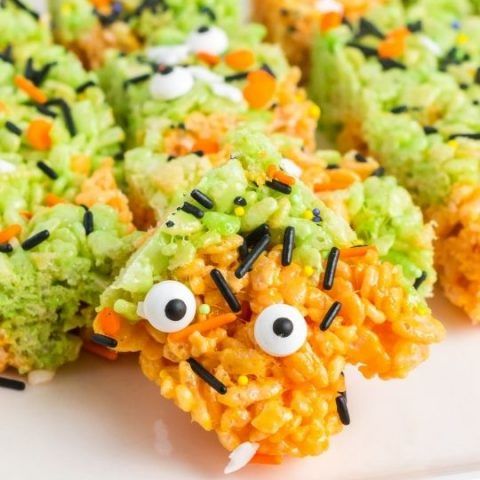 Halloween Rice Krispie Treats
Additional Time:
10 minutes
This is a new twist on an old classic! Crunchy squares of marshmallow
goodness are a hit at any party, so we decided to take some natural food
coloring and fun sprinkles and make these Halloween Rice Krispie
treats!
Ingredients
3 Tablespoons Butter - Divided
1 1oz bag of Marshmallows - Divided
6 Cups Rice Krispies Cereal - Divided
Food coloring - 2 different colors
Instructions
Grease an 8x11 baking dish
Melt 1 1/2 Tablespoons of butter in a medium pot over medium-low heat
Add half the marshmallows (about 2 cups) and stir constantly until melted
When the marshmallows are almost melted, add the food coloring and continue stirring
Once the marshmallows are melted, add 3 cups of cereal and stir well
Place handfuls of cereal mix in random spots in the greased baking dish
Repeat steps 2-6 above for the second color
Once both colors have been added to the baking dish, use plastic wrap or wet hands to gently press the rice krispie mixture into the pan
Cut into squares, then add sprinkles or any other desired toppings!
Notes
Add the spirnkles after cutting the squares to prevent accidentally cutting the sprinkles.
Nutrition Information:

Yield:

12

Serving Size:

1 Amount Per Serving:

Calories:

86

Total Fat:

3g

Saturated Fat:

2g

Trans Fat:

0g

Unsaturated Fat:

1g

Cholesterol:

8mg

Sodium:

98mg

Carbohydrates:

14g

Fiber:

0g

Sugar:

3g

Protein:

1g

Nutritional information was calculated automatically. Please verify accuracy

By