Ooey, gooey and full of flavor! Homemade pizza pockets have been a favorite of many, and now you can make them at home as a game day appetizer or for any get together. Whether you prefer pizza sauce or ranch, these tasty little treats are perfect to serve your hungry guests!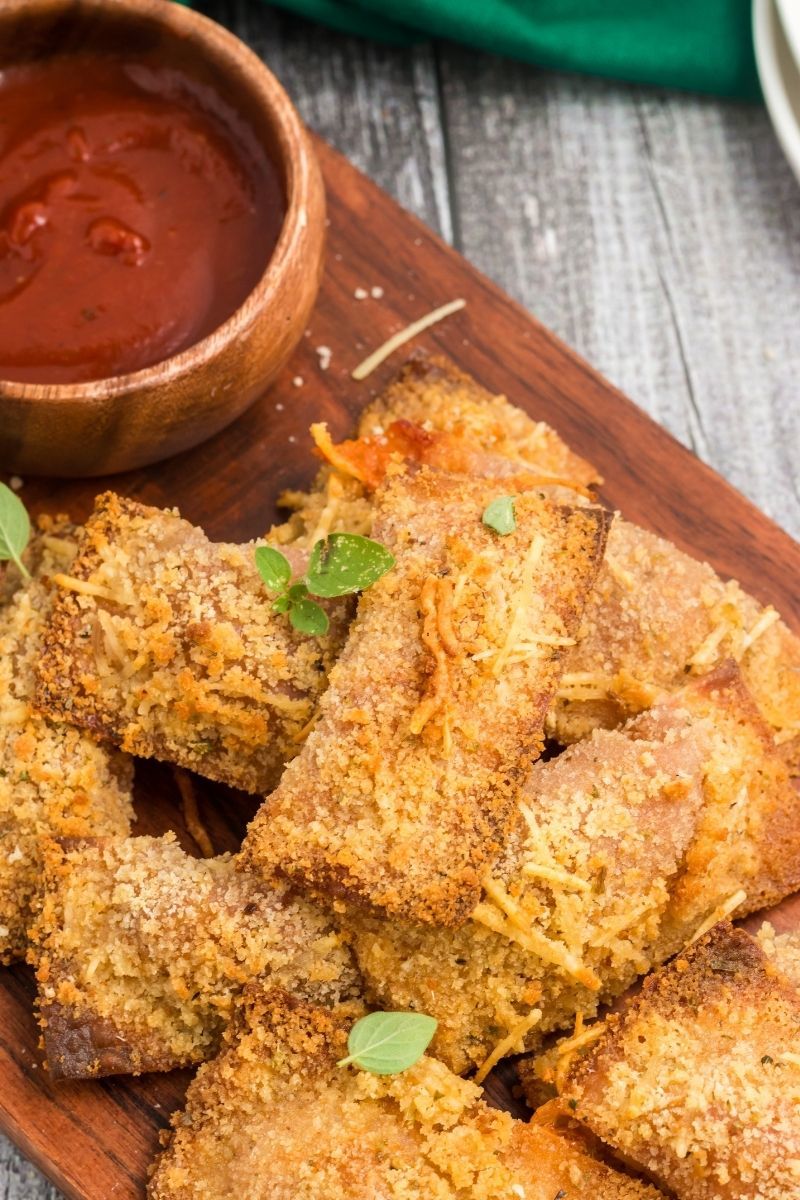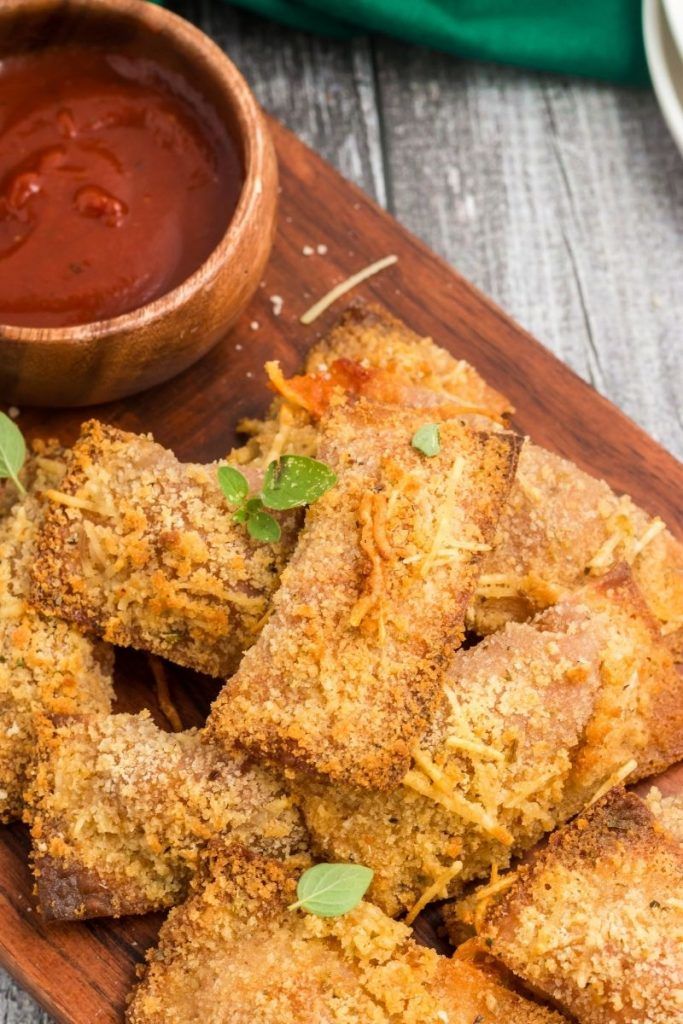 I wanted to make a tiny bite sized pizza that could be eaten in one or two bites. With this simple pizza bite recipe, the crust will be thin and crispy, the cheese will be bubbling but not burned, and the sauce & fillings options are endless!
Pizza bites are amazing alone, but can also be served with Oven Baked Chicken Wings, Fall Off The Bone Ribs or Smashed Potatoes!
Easy To Make For Any Occasion, But Amazing As A Game Day Appetizer
These homemade pizza pockets do require some assembly time but it is really easy to put together. Pop them in the convection oven to make them crispy. The amount that you make is only limited to your ingredients and space on your cookie sheet!
We used non dairy cheese to make this a dairy free recipe, but you can definitely use regular mozzarella if you aren't avoiding dairy.
The best part of this recipe is how versatile it is. We used uncured pepperoni, but here are some other things to try:
Salami, Chicken, Bacon, Canadian Bacon or Ham
Diced bell peppers and onions
Olives
Mushrooms
Sun dried tomatoes
Different kinds of cheeses: Cheddar, Gouda, Parmesan, Provolone
These pizza bites are amazing on their own but they really shine with a dipping sauce. Serve it with a side of pizza sauce, marinara sauce or ranch dressing.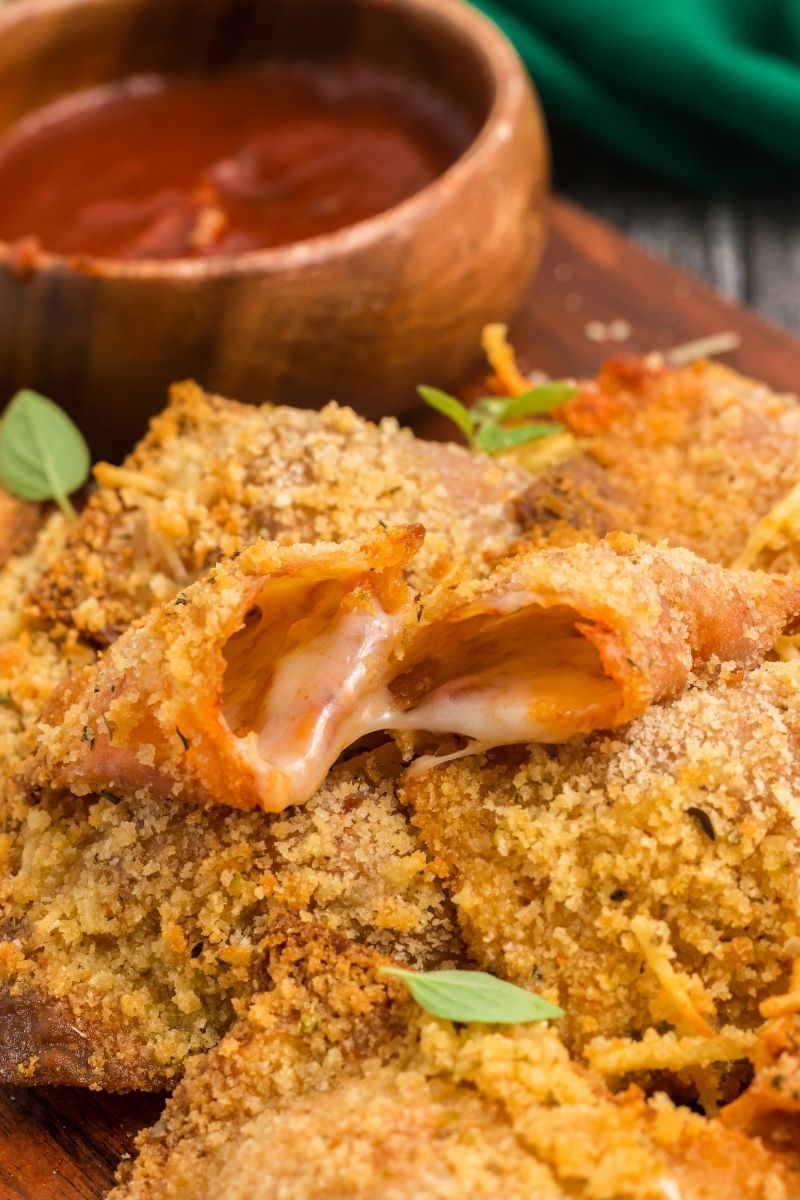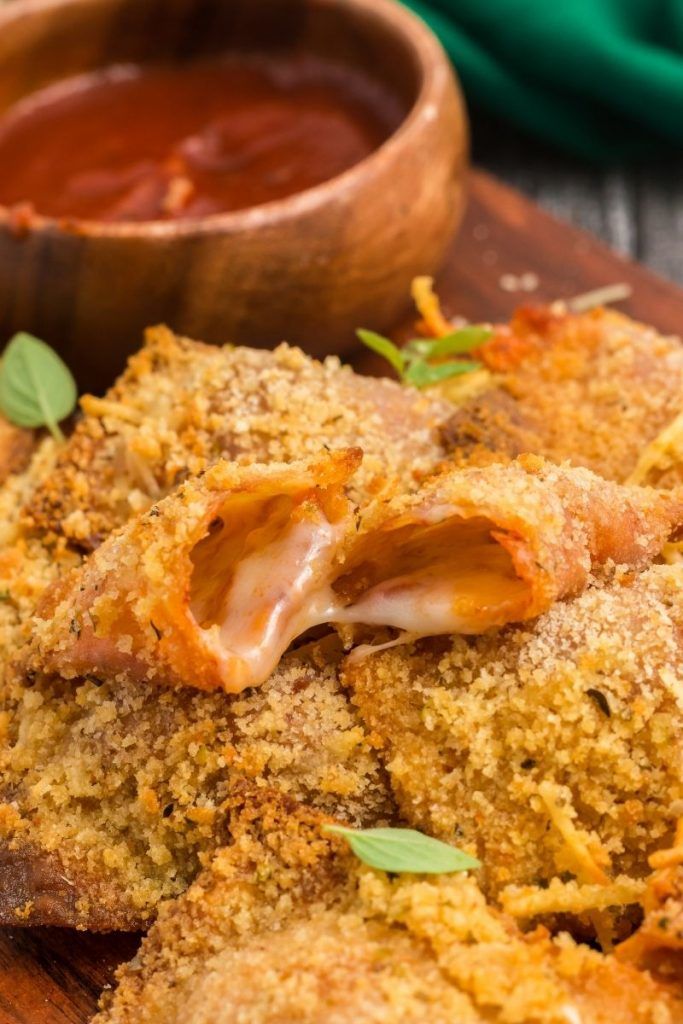 INGREDIENTS YOU NEED
Wonton Wrappers – These can be founds in the grocery store refrigerated section next to the fresh herbs and noodles
Pizza Sauce – You can make a homemade pizza sauce or use a good canned sauce with no high fructose corn syrup.
Cheese – Honestly, cheese is optional in this recipe. But if you are feeding it to guests, they will expect it to have some sort of cheese. We used Violife mozzarella and dairy free parmesan from Trader Joes.
Butter – Dairy free butter works great (I like Miyokos). Water can also be substituted for the garlic butter.
Garlic Powder – We will use this to make garlic butter. For this recipe I think it is easier to use garlic powder over minced garlic to help evenly distribute the garlic flavor.
Bread Crumbs – Gluten free breadcrumbs will work but the wonton wrappers have gluten, so save the expensive stuff for another recipe!
Dried Oregano – We will mix this into the breadcrumbs
Parmesan Cheese – Trader Joes has a dairy free parmesan cheese that is really good. If you can't find a good one, you can skip it.
Bowl of Water – Water is used to seal the edges of the wonton wrapper. You can use a pastry brush to brush it on or just use your fingers!
How To Make Homemade Pizza Pockets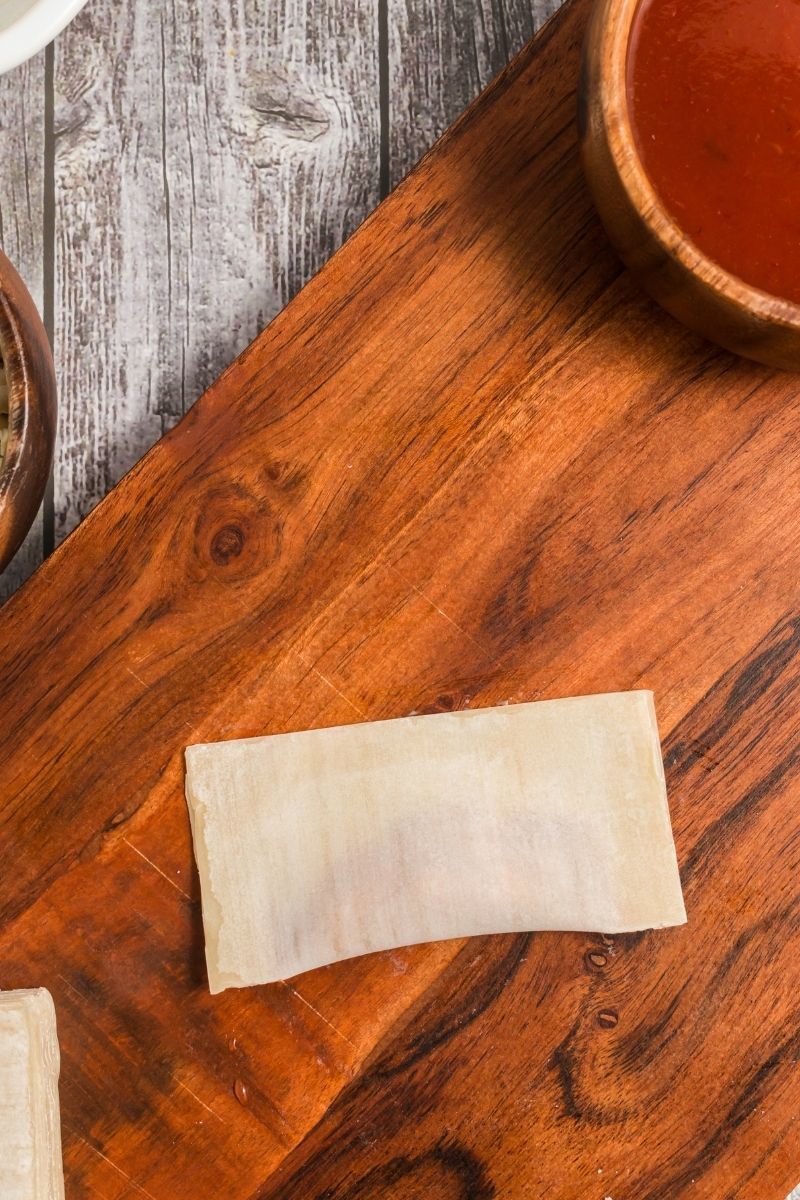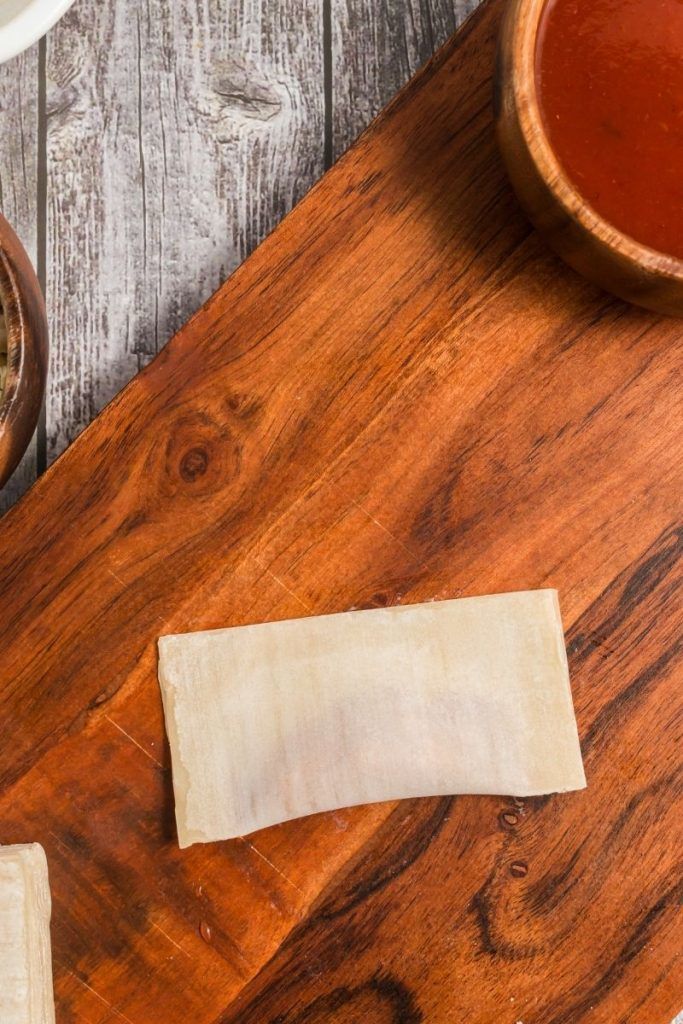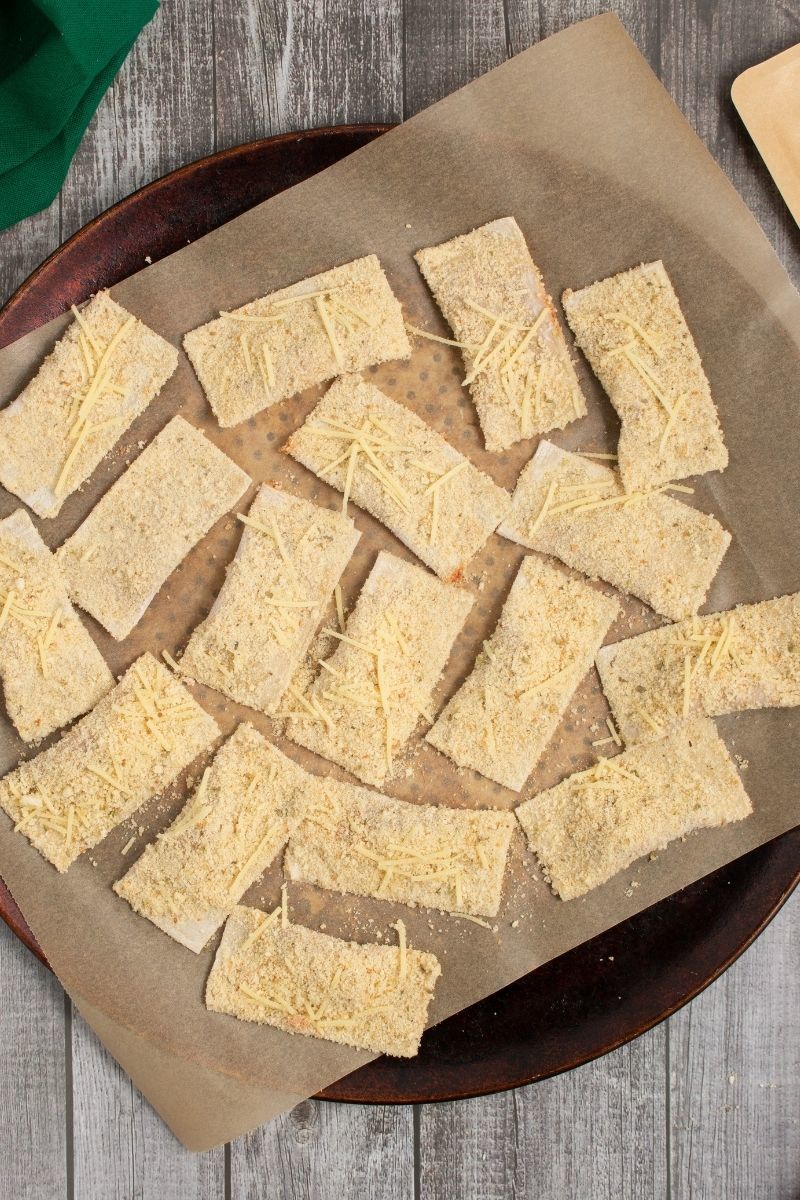 How To Make Homemade Pizza Pockets
These pizza pockets are very easy to make, but feel free to grab some extra hands to make it go faster! I usually promise the helpers that they can taste test the first few and it works!
Place a wonton wrapper on a cutting board and add the sauce, cheese and toppings to the middle of the wonton.
Brush the edges of the wonton with water and fold the wonton in half. If it doesn't stay closed, add more water. The water will help seal the edges
Brush the top and bottom of the wonton with water and dip it in the breadcrumb mixture. Shake off any excess breadcrumbs and place it on a lined cookie sheet
Bake until crispy and serve warm with dipping sauce!
Important Teaching Tips
Dipping the wonton in breadcrumbs – When it comes to the breadcrumbs, more isn't necessarily better. The garlic butter adds a delicious flavor, so we just need the breadcrumbs to add a little crunch. Dip the pizza bites in the breadcrumbs but don't add more once it is on the tray. They won't stick and it will just be messy when eating.
Garlic Butter – The garlic butter is so good and I highly recommend using it over water. If you choose to use fresh garlic over garlic powder, do your best to mince it as small as possible. then mix into the butter. You can also microwave the butter and garlic until the butter melts so help release some of the garlic oils into the butter.
Convection Oven – This is the perfect convection oven recipe because they don't take long to cook and it adds a beautiful brown color and crunch to the pizza pockets.
Serving the Pizza Pockets – These pizza pockets are delicious on their own, but they would be an amazing addition to a charcuterie board or a spread of appetizers!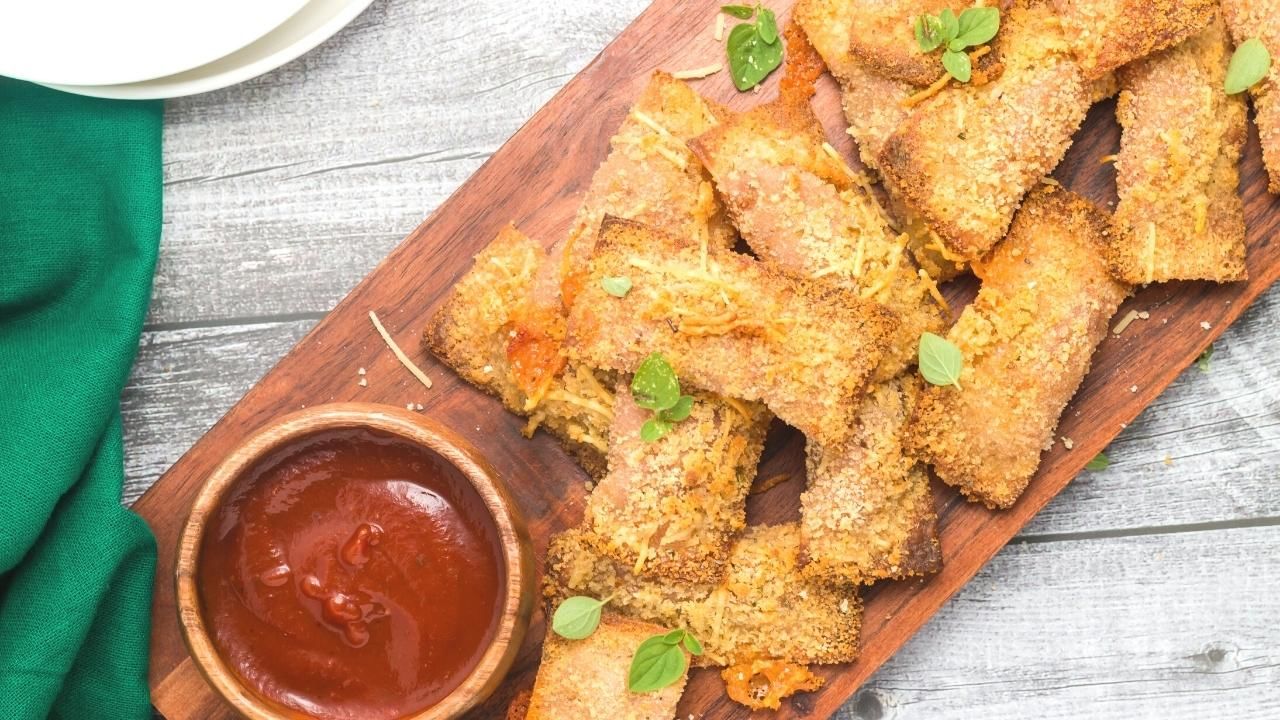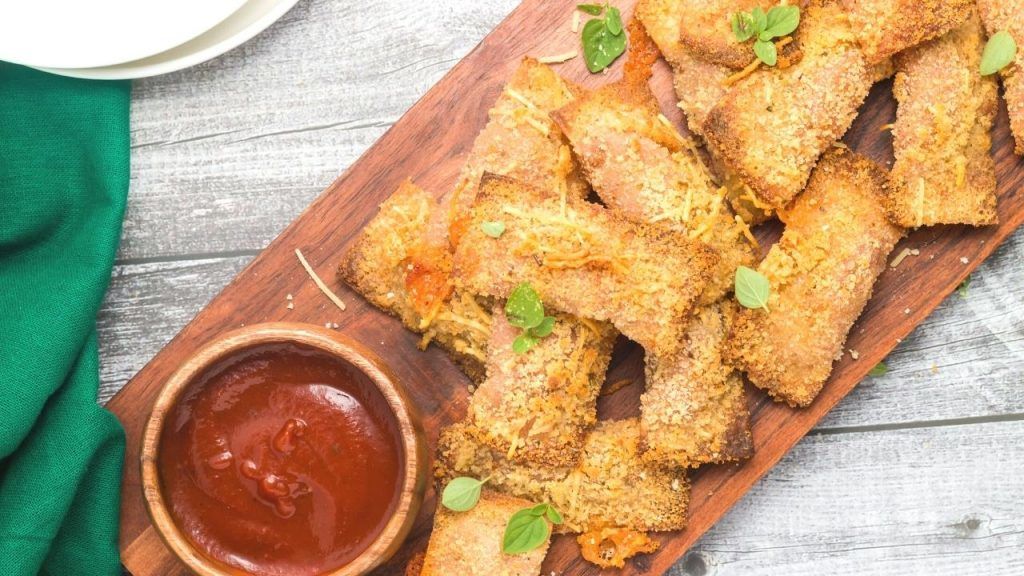 Frequently Asked Questions About Pizza Pockets
Are Wonton Wrappers Gluten Free?
Wonton wrappers are not gluten free and I haven't come across any that are. If you are looking for a gluten free pizza pocket, use a gluten free pizza pocket, use a gluten free pizza crust in place of the wontons. That will still be delicious!
Can you freeze pizza pockets?
These actually freeze very well! To freeze it, add the fillings, fold over and seal the wonton and then freeze it on a cookie sheet. Once frozen, store them in an airtight container in the freezer. When ready to use, let them defrost and then brush them with garlic powder, dip them in breadcrumbs and bake.
How long do you bake a pizza pocket?
These will take about 10-12 minutes to bake. If you use the convection oven, it can take as little as 7 minutes. The key is to keep a close eye on them. They will take a few minutes to start browning, but once they do it will quickly burn. Stay close to the oven and check on it every few minutes.
Is Vegan mozzarella dairy free?
Yes it is. Vegan means no animal products which includes dairy. This means vegan cheeses are dairy free. Keep in mind that vegan doesn't mean healthy, so be sure to read the ingredients.
More Party Appetizers You Might Enjoy: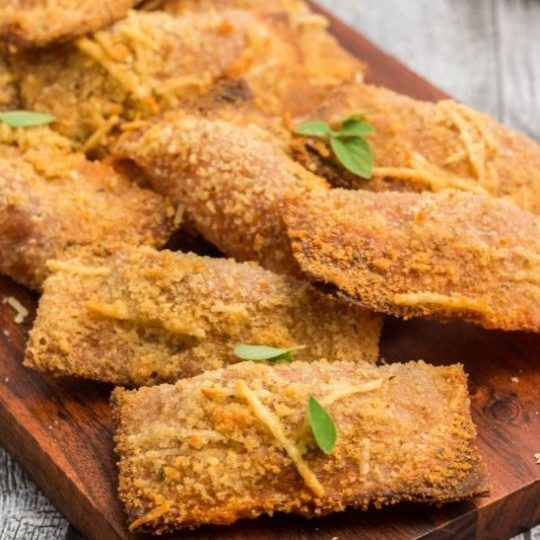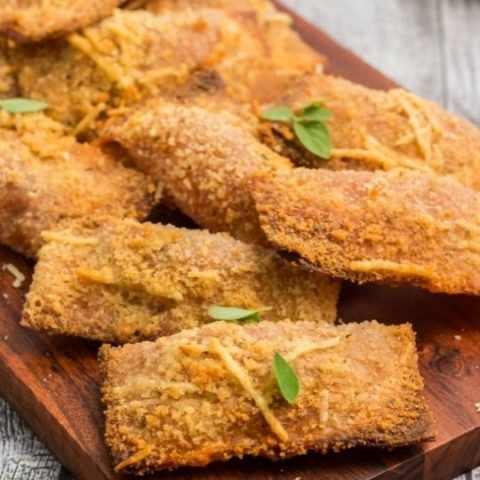 Homemade Pizza Pockets Recipe
Total Time:
1 hour
3 minutes
Ooey, gooey and full of flavor! Homemade pizza pockets have been a
favorite of many, and now you can make them at home as a game day
appetizer or for any get together.
Ingredients
24 Wonton Wrappers
16 Ounce Pizza Sauce
1/2 Cup Mozzarella Cheese - Dairy Free
24 Pepperoni Slices
Breading
1 Cup Breadcrumbs, Fine
1/4 Cup Parmesan Cheese - Dairy Free
1 teaspoon Oregano, Dried
Garlic Butter
1/2 Cup Butter - Dairy Free
1/2 teaspoon Garlic Powder
Instructions
Make the breading:
In a small bowl, mix the breadcrums, oregano, salt and pepper. Set aside
Make the Garlic Butter:
Add the butter to a wide, microwave safe bowl.
Place in the microwave for10 seconds or until the butter is melted.
Carefully remove from the microwave (it will be hot)
Mix the garlic powder into the melted butter
Make the Pizza Pockets:
Preheat oven to 350 degrees
Place one wonton wrapper on a cutting board
Add some pizza sauce to the middle of the wrapper
Add some cheese, pepperoni and any desired toppings on top of the sauce
Brush the edges of the wonton with water
Fold the wonton in half. If it doesn't stay closed, add more water. The water will help seal the edges
Brush the top and bottom of the wonton with the garlic butter
Dip the pizza pocket in the breadcrumb mixture. Shake off any excess breadcrumbs and place it on a lined cookie sheet
Sprinkle with parmesan
Bake at 350 degrees for 10-13 minutes on the convection setting until crispy
By