Thinly sliced meat, leafy greens, and an aromatic boiling broth are all you need to make a hot pot at home. You may be used to going out to hot pot restaurants to enjoy this dish, but with the right ingredients, you can do it yourself!
Chinese hot pot is a traditional dish in China. It is meant to be a social event where you gather with friends and family to enjoy some time together!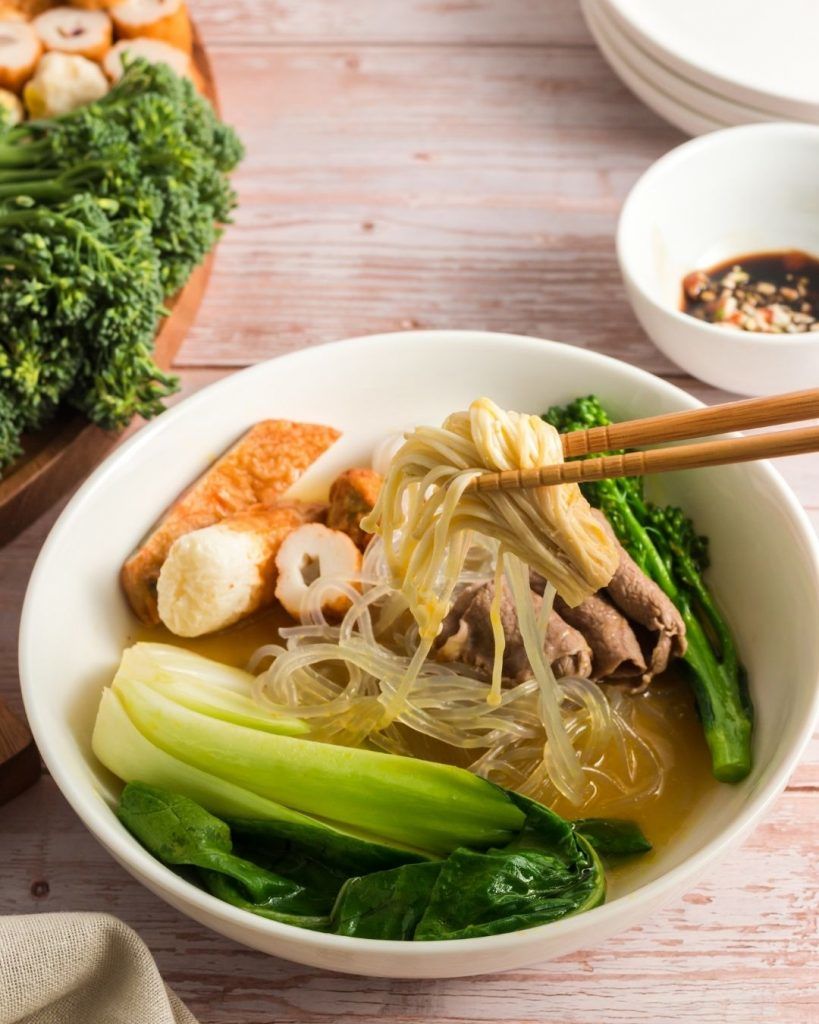 Chinese hot pot restaurants are such a fun experience because it is different from any other type of dining. A big pot – or two – of hot pot soup bases are placed in the middle of the table along with an assortment of noodles, leafy vegetables, fish cake, seafood and more!
The idea is that each person cooks the raw ingredients in the broth before eating it with a delicious hot pot dipping sauce. Usually, you can choose between a spicy broth or a mild broth. Even though the experience at hot pot retaurants is a lot of fun, you can also make a hot pot at home!
You can also serve your hot pot with wine or some fun cocktails like our Peppermint Schnapps Cocktail (creamy drinks are a perfect complement to a spicy hot pot meal), Delicious Fall Cocktail or Cucumber Infused water!
What is usually in hot pot?
The best part about a hot pot is that you can use what you have on hand. We usually make it after a trip to a few of our favorite Asian grocery stores where we will pick up produce and add-ins that are on sale. Here are a few ideas to get you started: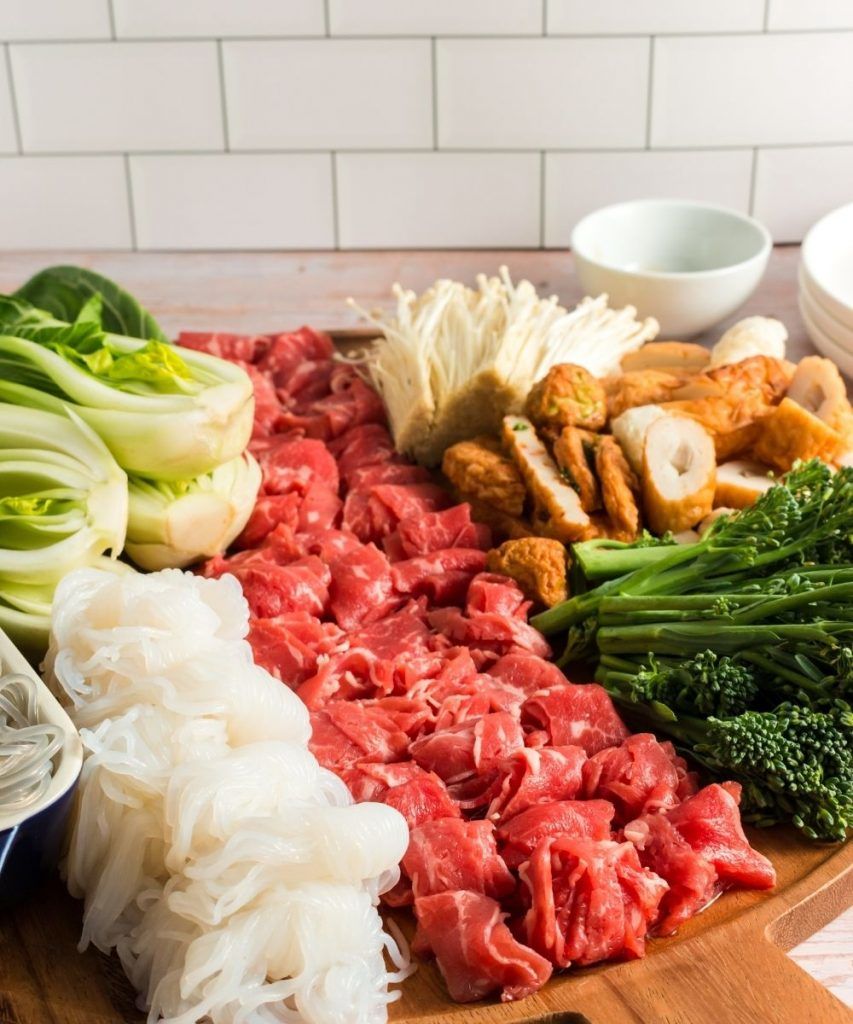 Protein: Thin slices of Beef, Pork or Lamb is best. You can also use thinly sliced chicken, meatballs or tofu.
Seafood: Seafood adds a lot of flavor to the broth! But it doesn't stop at just slices of fish. Try fish cakes, fish balls, shrimp balls, imitation crab and shrimp too.
Leafy Greens: Baby bok choy, napa cabbage, spinach or Mizuna
Root Vegetables: Sweet potato, Parsnips, Carrots
Noodles: Sweet potato noodles, yam noodles, shirataki noodles, rice noodles or any Asian noodle. My kids like Udon which is Japanese, but it works!
Mushrooms: Enoki mushrooms (our favorite), king oyster mushrooms, shitake mushrooms, oyster mushrooms, button mushrooms
Miscellaneous items: Tofu puffs, lotus root, broccoli, cauliflower, radishes, frozen dumplings
When it comes to hot pot, you should not be afraid to add different ingredients. Different foods combine to make a deliciously flavored broth!
Can You Use Any Pot For Hot Pot?
There are several different hot pot options that range in prices from $30 and up. If you are going to be having a hot pot party, it may be worth investing in a few hot pots that have electric heating elements so you can put out a few for your guests to enjoy.
If it is just you and your family at home, there are several other options that work just as well. Remember that you will need a heat source. I like to keep it on the stove and everyone cooks their own. But you can also use a camping stove, butane burner or induction stove.
Hot Pot – When I had a hot pot, I used one like this electric hot pot but I also came accross this 2-in-1 hot pot and grill that could be fun for parties! It's easiest to find one with a built in burner.
Instant Pot – Add hot pot to the list of things that an Instant Pot can be used for! I put it on the Simmer function and put it in the middle of the table. Kids will need help since you have to stick your hand into the pot without getting burned. But it works great for adults! I have this type of Instant Pot.
Le Creuset or Dutch Oven – My absolute favorite is using my Le Creuset dutch oven. This pot heats evenly and keeps a steady boil while the food is cooking. when I use this pot, I keep it on the stove to keep the hot pot broth hot and let the family make their own. The kids put their raw ingredients in a bowl and I cook it for them.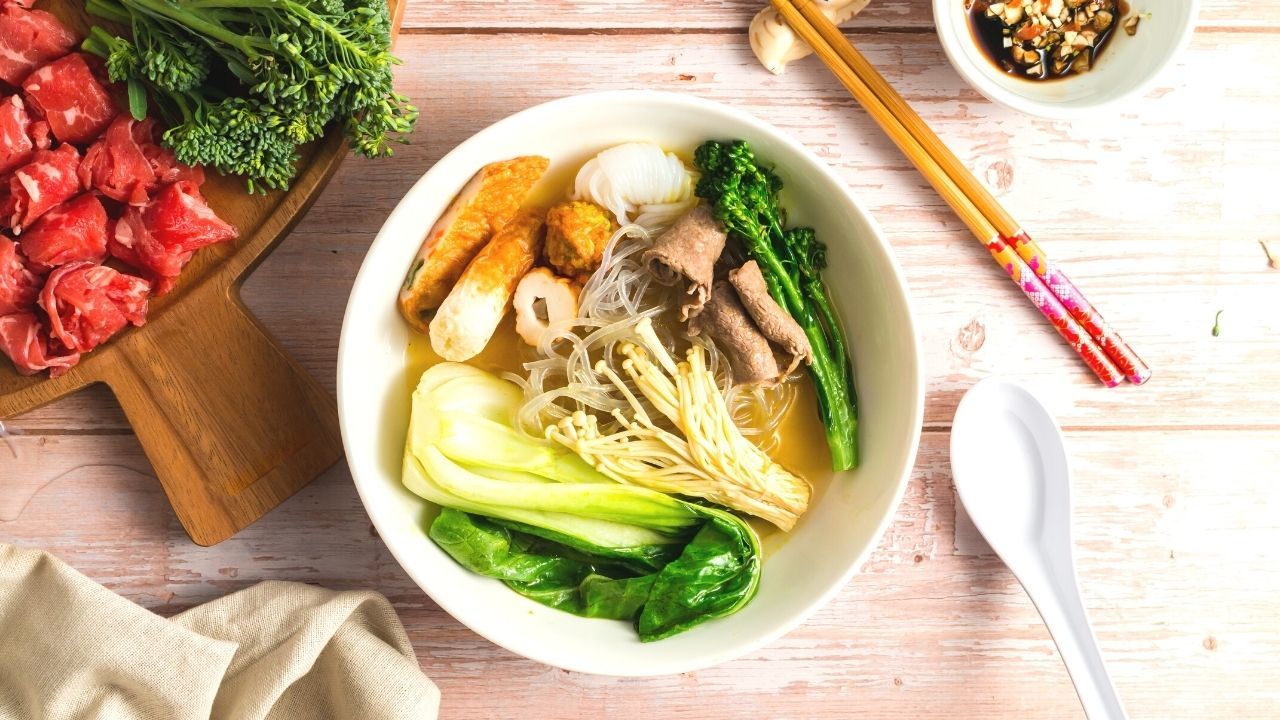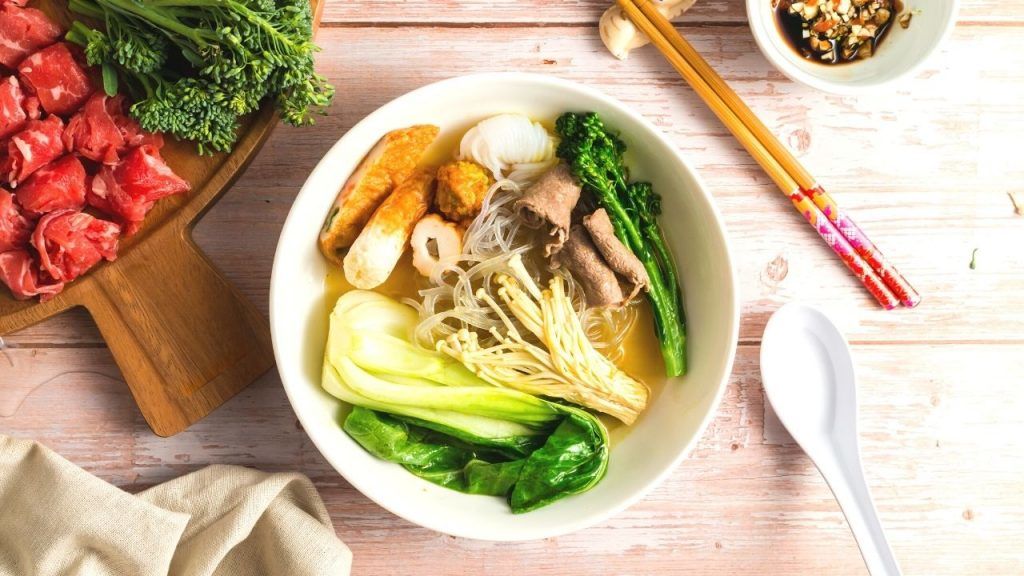 How To Do Hot Pot At Home:
Prepare hot pot broth: You can use your favorite packaged hot pot broth. I love the Little Sheep broth even though it isn't quite as good as the restaurant. There are two options: spicy hot pot broth or Mild. You can also make your own hot pot soup base with a nice bone broth or chicken broth, ginger, garlic, fish sauce and chili peppers. The bone marrow in bone broth is what give it the milky appearance.
Prepare your raw ingredients: Meat should be sliced thinly – you can buy Sukiyaki beef in Asian markets that are presliced. We want it to cook quickly. Wash and chop your vegetables into large bite sized pieces. Some greens can be kept large since they will wilt in the hot broth.
Set up the table and invite your guests – The hot pot should go in the center of the table where all guests can reach it comfortably. Keep babies and small children at the ends of the table where they can't reach. We don't want them pulling the boiling broth onto themselves. Each person will need chopsticks (or forks), a bowl and lots of napkins!
Show everyone how to make their own dipping sauces – You can by prepared hot pot sauces, but the best part about the dipping sauce is that each person can make it their own. A dipping sauce station will usually have the following options:

Traditional Chinese hot pot dipping sauce is Shacha sauce (chinese barbecue sauce) and a raw egg. For the Americanized version, try different mixtures of the following:
Green Onion
Minced garlic
Minced ginger
Chili oil
Soy sauce or light soy sauce
Sesame oil
Oyster sauce
Shacha sauce (Chinese barbecue sauce)
How To Assemble Hot Pot Charcuterie Board – Making Hot Pot At Home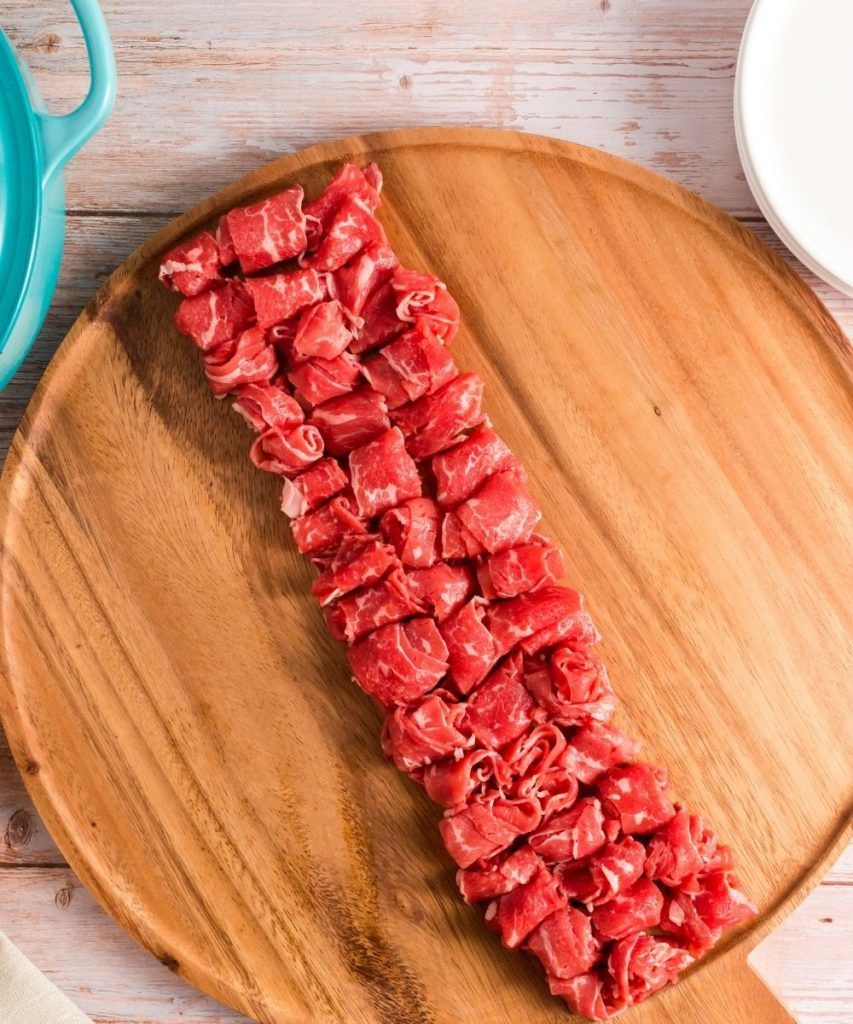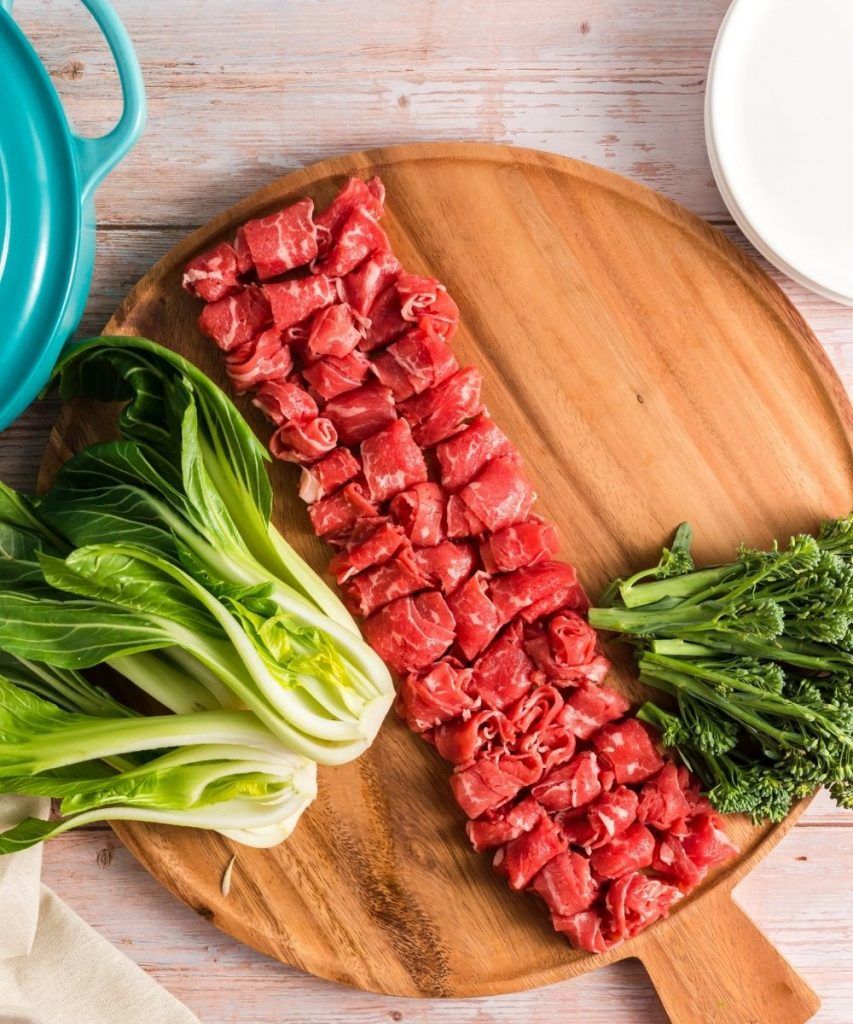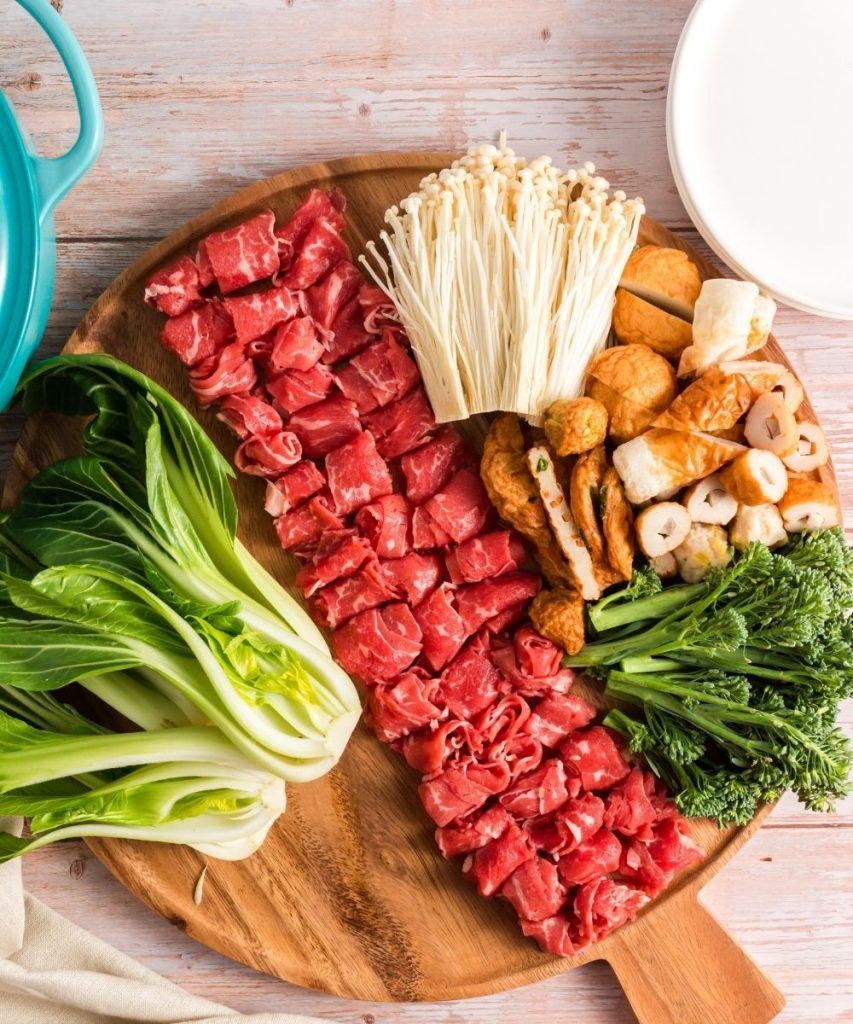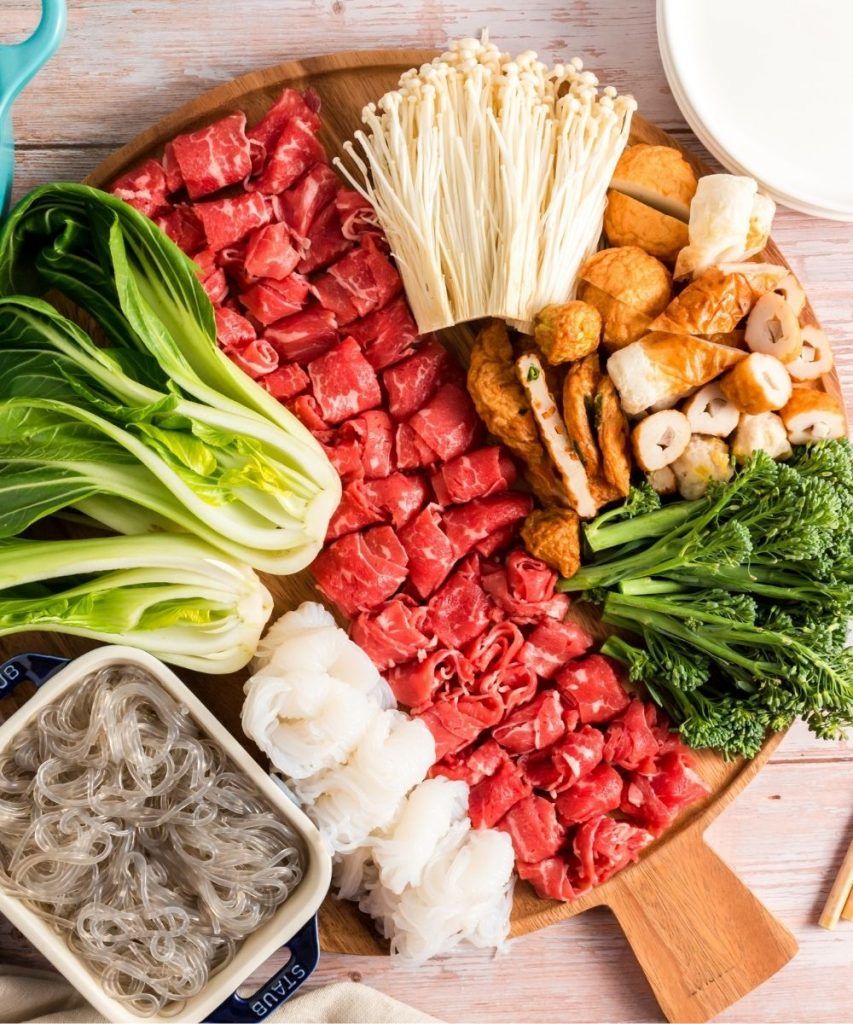 How To Serve Hot Pot at Home
Cook the raw hot pot ingredients – Each person will cook their own food. Have a simmering pot of hot pot broth in an easily accessible place. You don't want people reaching too far for it or they may tip it over. Place the desired hot pot ingredients into the boiling hot pot and leave it for just a few minutes until they are cooked. Then scoop them out with a ladel into your bowl.
Hot Pot Dipping Sauce – Everyone should have their own dipping sauce. Dip the cooked meat and vegetables into your own dipping sauce and enjoy!
Hot pot is supposed to be a leisurly activity where families gather, talk, laugh, and just enjoy each other's company. Once you are done eating, you can put some of the broth into your bowl and sip on it while hanging out with your friends and family. The broth is delicious once everything has been cooked in it!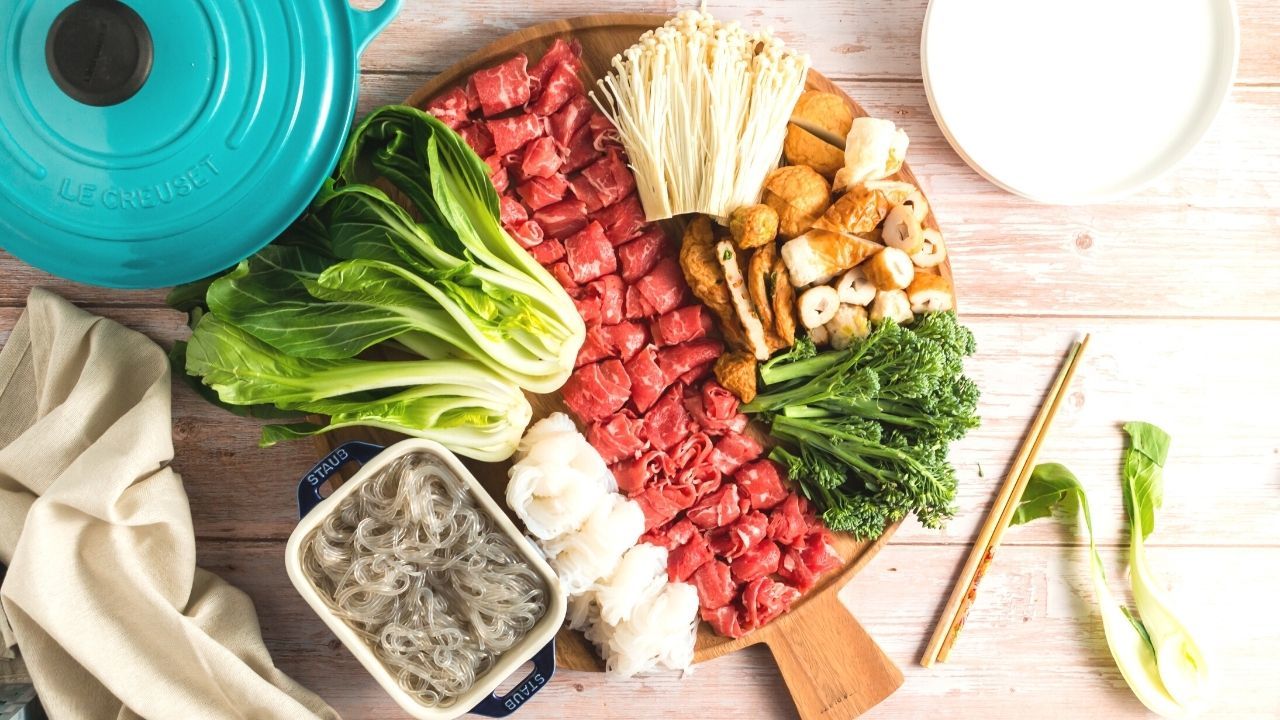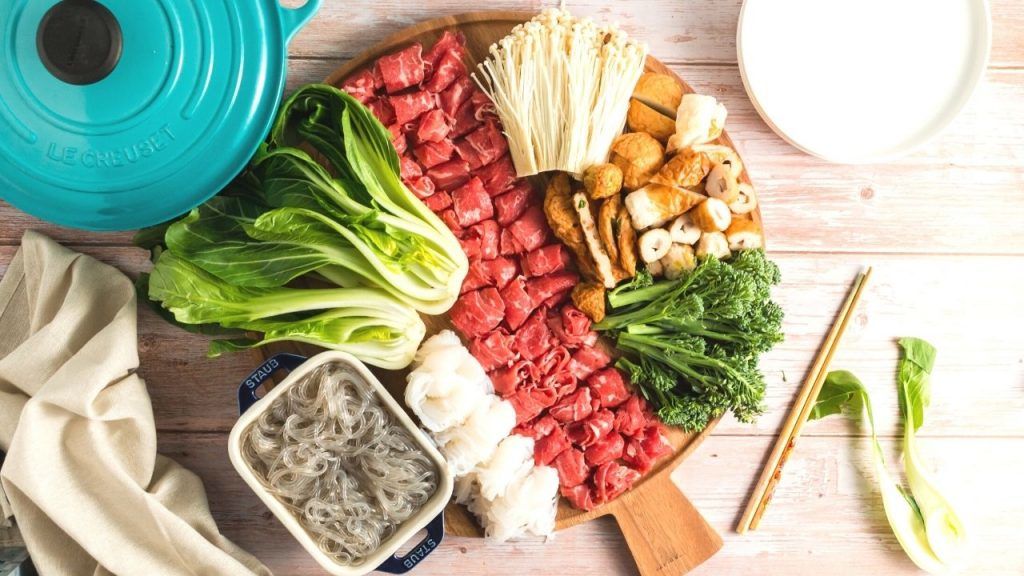 What Can You Do With Leftover Hot Pot?
There are so many things you can do with leftover hot pot ingredients. We like to just put all the leftovers into the broth and store it for the next day. The hot pot broth can be heated up the next day and enjoyed. IF you used a good bone broth, there are several nutritional benefits to sipping on it too!
Another option is to chop the remaining veggies and make a stir fry or use it in another dish.
Frequently Asked Questions About Hot Pot At Home
What type of meat is used for hot pot?
The best meat for hot pot is thinly sliced fatty meat. Since the meat cooks so quickly, a fatty cut will keep it from overcooking. The good news is that these are usually the cheap cuts such as brisket, rib eye or beef belly. With pork, you want the fattier cuts as well. I don't like to use chicken because it tends to be rubbery. If you do use chicken, try thighs.
Do you drink hot pot broth?
Heck ya! You used so many quality ingredients to make the broth, you don't want it to go to waste. If you made your own broth from scratch, you likely used a nice bone broth. In that case, I would sip on it over several days since the benefits are so great!
Is homemade hot pot healthy?
It certainly can be! We make our own hot pot broth with bone marrow broth, garlic, ginger, and fish sauce. So it is definitely healthy. You'll want to watch out for packages of hot pot soup base which may have MSG or additives. Also, be aware of what is in the fish cakes, imitation crab and other packaged ingredients that you may be using. A hot pot meal is so versatile that it can be low carb and Paleo compliant too.
How long does hot pot take to cook?
It really depends on the ingredients. Most meats and veggies are going to take about a minute. Thicker vegetables like broccoli and sweet potatoes might take 2 minutes. With noodles, you are just heating them up so they take a minute or two.
More Dinner Recipes You Might Enjoy:
By