Crispy, tasty and delicious! This broccolini recipe is fast and easy to make and uses simple ingredients that you probably have on hand!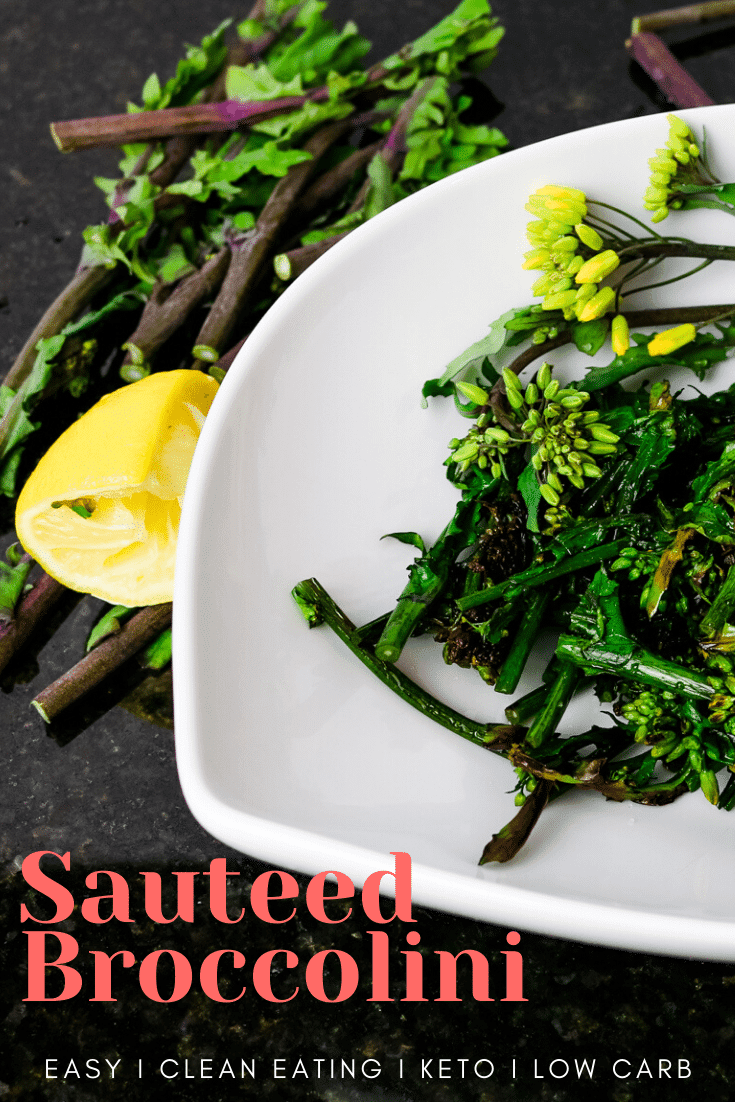 This is one of those recipes that is so easy, I'm almost embarrassed to post a recipe for it…similar to my tuna recipe! Give it a try and you will see what I mean! Serve it with Homemade Chicken Nuggets or Moghrabieh.
It also gets bonus points for being both clean eating and Paleo compliant too! It's also a fast low carb side dish if that's your thing.
Can Dogs Eat Broccolini?
OK, I had to throw this one in here. As you know, bloggers need to do some keyword research when writing a post (just to make sure the post gets included in search results!) and the number 1 question related to broccolini was "Can dogs eat broccolini?"
I thought this was hilarious, so I had to use it! Who is feeding their dog broccolini anyway? And who the heck is Googling it….ok, 95,000 people!
Well, I am not a vet so I don't want to answer this question. Though I will say, I tried to feed my dog some broccolini and he looked up at me with a sad and pitiful face…
What Is Broccolini?
Let's get back to the vegetable. Broccolini is a hybrid between kale and broccoli. It has the stalky part of the kale and the florets of the broccoli.
Because of the thick stalks and tender florets, it can be tricky to cook broccolini evenly. One technique invovles blanching the broccolini before sauteing it. I have also seen recipes where you saute it, then add some water at the end to steam the stalks.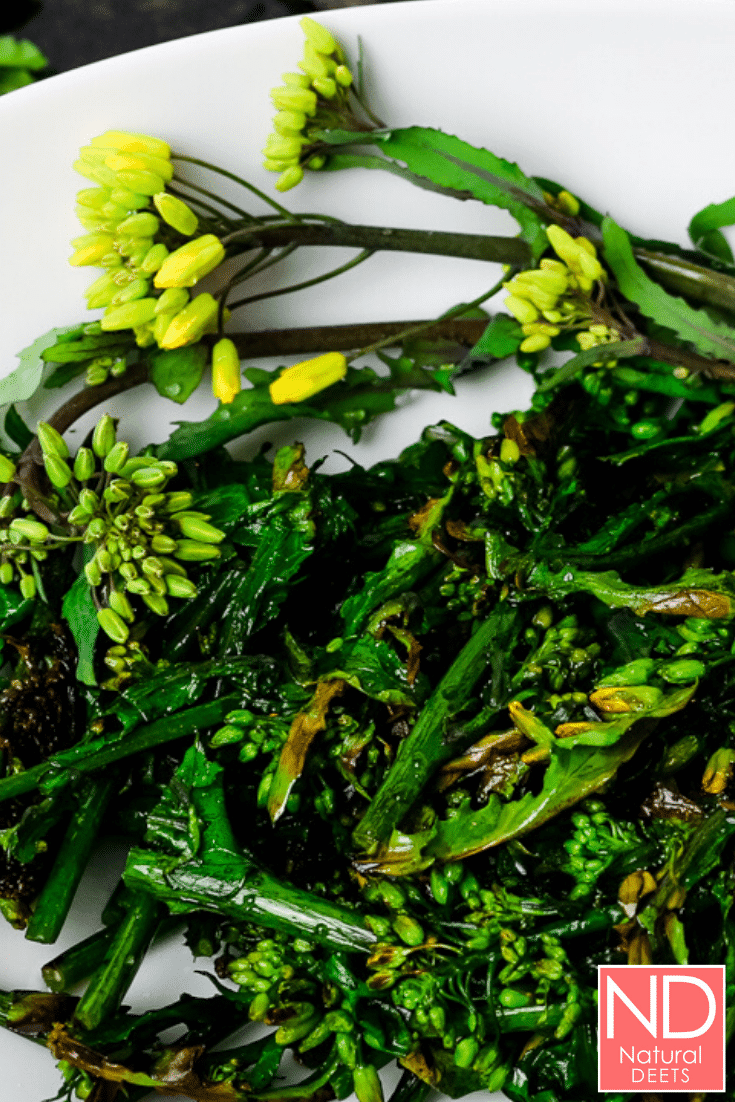 In this recipe, we will only saute the broccolini. It is easier when you are in a rush, and it still gives it a nice crunch without overcooking the florets
What part of broccolini do you eat?
The entire vegetable is edible but I recommend cutting off the very ends, like you would do with broccoli. It tends to try out in storage.
It often comes with leaves attached, and I like to pull them off because of their texture. However, you can eat them (I do when I'm lazy).
If your kids are skeptical about broccolini, you can cut off the florets and serve those "little trees" to the kids, without letting them see the stalks. I make my kids try both the stalks and the florets and they eat it without thinking twice.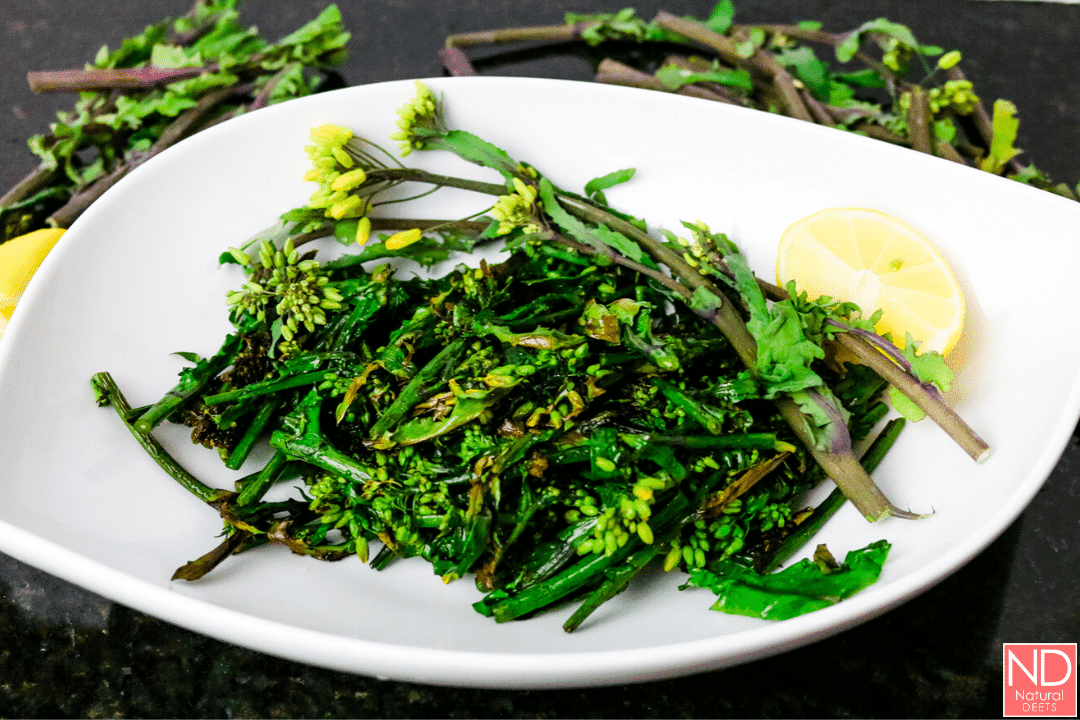 I encourage you to have your kids try this low carb vegetable, not only because it can be fun to try new foods, but also because the different textures between the stalk and florets can help to fill them up and keep them satisfied!
Other Options to try: clean eating broccolini
Broccolini is surprisingly easy to make and this recipe is no exception. I added some lemon juice and garlic to fancy it up, but feel free to experiment with different flavors. When it comes to seasoning, you really can't go wrong.
Here are a few of my favorites:
Avocado oil, chili pepper flakes and salt
Avocado oil, garlic, salt and oregano
Avocado oil, salt and orange zest
Avocado oil, onions and salt
Toss it into a stir fry
Chop it small and add to an omelet
Chop it small and add to soups or stews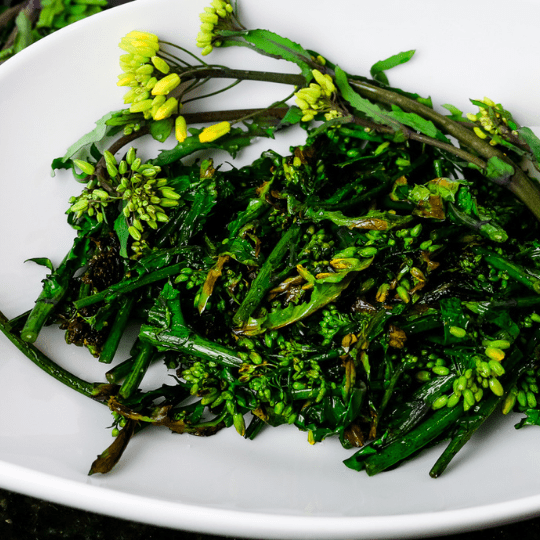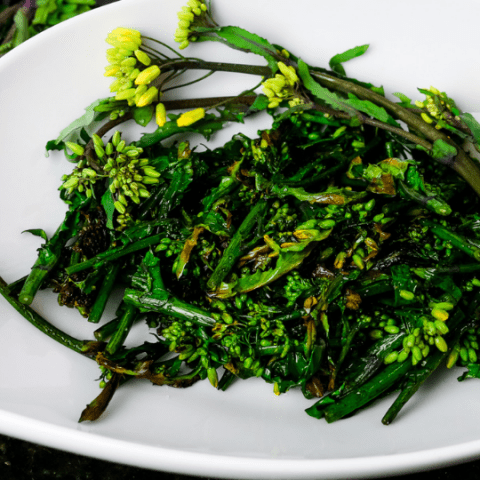 Sauteed Broccolini with Garlic and Lemon Juice
If you are lucky enough to get your hands on broccolini, you want to keep it simple so the delicious delicate flavor can come through. This recipe with just garlic and lemon is the perfect pairing!
Ingredients
1 Bunch Broccolini
2 Tablespoons Avocado Oil
2 Cloves Garlic, minced
4 Tablespoons Water
1/2 Lemon
Salt and Pepper, to taste
Instructions
Rinse the broccolini and try to dry it as much as possible. If it is too wet, it will splash when you add it to the pan
Heat the Avocado oil in a saute pan over medium heat
Add the minced garlic and saute for about 10 seconds
Carefully add the broccolini and 4 Tablespoons of water. Cover the pan
Cook for 8 minutes, stirring frequently to keep it from burning
If it starts to burn, add 2 more tablespoons of water and put the lid back on.
After 8 minutes, turn off the heat. Add the salt and pepper and stir well.
Right before serving, squeeze fresh lemon juice over the broccolini
Serve and enjoy!
Nutrition Information:
Yield:

4
Serving Size:

4 people
Amount Per Serving:
Calories:

120
Saturated Fat:

1g
Sodium:

51mg
Carbohydrates:

12g
Fiber:

4g
Sugar:

3g
Protein:

5g
Looking for more? Here are some of our recent posts!
By