How do I make a smoothie? This is a common question from readers, but it is so broad that I never know where to start!
So, instead, lets talk about some tips and tricks that will help you master the smoothie making process.Soon, you will be explaining how to make a smoothie to others!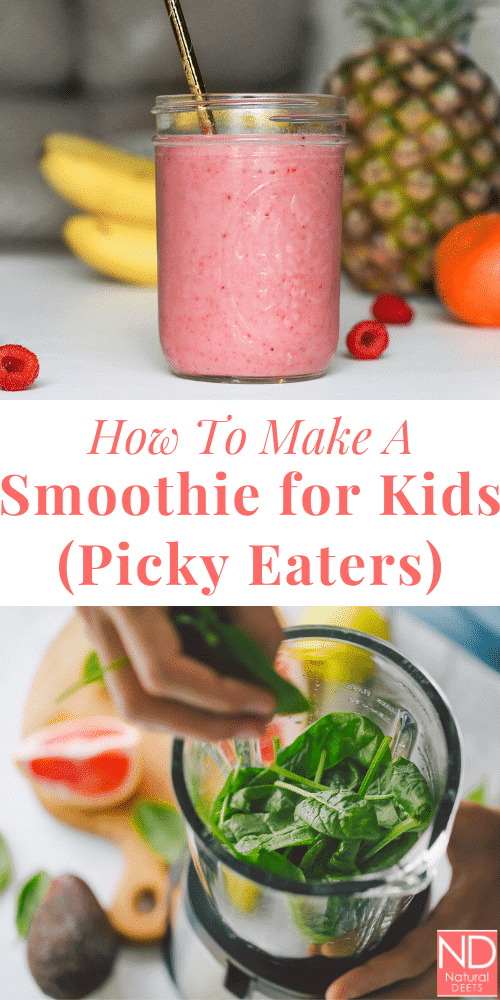 There are so many components to making a smoothie, and everyone has their own take on it. Since I primarily focus on making smoothies for my kids, we will focus on how to get kids (who can be the pickiest of eaters!) to drink green smoothies.
We have a popular chunky monkey recipe that kids love, and a Green Smoothie adult favorite around here, but if you are looking to add more greens to your kids, read on!
What Makes A Smoothie Thick?
If your kids are anything like mine, they love Jamba Juice! Or really, anything from a smoothie store. The problem with those smoothies is that even though they say it is real fruit, it is often so sweet that I find it hard to believe that there is no sweetener added (they can say no added sugar but still use stevia or something similar).
So I was on a mission to replicate Jamba Juice smoothies at home…with a few healthy modifications. I had to figure out what made their smoothies so appealing, and eventually I decided it was the texture.
We have a Vitamix at home which is what they use so we were half way there. Here is what I have learned over the years that has been successful in making our smoothies thicker:
Frozen Bananas – You know those brown bananas that the kids refuse to eat? Peel them, break them in half and freeze them in a freezer bag! Because they are turning brown, they will be sweeter. And frozen bananas make smoothies creamy and delicious!
Avocados – Did you know that avocados can actually thicken a smoothie? But a little bit goes a long way. Start with about 1/4th of an avocado and test the thickness. If you add too much, it turns into pudding…not bad, but not a smoothie.
Frozen Mango – Fresh mangoes have a thicker texture, so it makes sense that frozen mangoes would help to thicken a smoothie. It adds a creamy texture and it goes well with almost any other fruit. It naturally sweetens and you can buy it already frozen.
Frozen fruit – Along the same lines, adding frozen fruit will help to thicken any smoothie. Just remember that the more frozen fruit you add, the more liquid will be needed, If you end up with too much smoothie, it does last in the fridge for a few days!
Chia Seeds and Flax Seeds- In addition to adding more protein to your smoothie, these seeds can also thicken a smoothie as it sits. Again, don't add more than 1/4-1/2 teaspoon until you let it sit for 10 minutes to see how it thickens up. Too much chia seeds can irritate your stomach.
Do You Have To Add Ice To Make A Smoothie?
Adding ice to your smoothie will make it frothy and slightly thicker. However, adding too much, and letting it sit, will water it down.
That is just one reason why I prefer to use forzen fruit to make a smoothie.
There are a few smoothies that will benefit from ice, such as a coffee or mocha smoothie, green smoothie with no fruits or slushies in the summer! Because you can't use frozen fruits in those, ice is a great substitute. It also takes your smoothie from an any time of year drink, to a spring or summer drink!
What Goes First In A Smoothie?
When adding ingredients to a smoothie, you want to add the liquid first, then the fresh ingredients and then the frozen ingredients. If you add frozen ingredients first, it will get stuck in your blender and will just be a headache!
How To Make a Smoothie For Kids
So here we go! Making a smoothie is so simple and not knowing how to make one should not hold you back! Especially if you have a picky eater in your house!
It is an easy way to get more nutrition in to your kids and will benefit your family greatly! I'm going to make this super easy for you by giving you a smoothie ratio:
Magic smoothie ratio
1 part liquid : 1 part fruits/veggies
The magic ratio is the easiest way to start with smoothies. When you first start out, add 1 cup of liquid (milk or water) and then start with about 1/3 cup of vegetables and 2/3 cup of fruits.
As you get used to it, start adding more vegetables and less fruits.
That's all there is to it! Once you become comfortable with smoothies, the ratio isn't as important, as you'll learn to adjust based on the texture you are looking for. But for starters, this makes it easy!
Smoothie Prep
There are a few steps you can take to make the smoothie process even smoother, but they are not required.
Freeze Bananas – We have a bag of frozen bananas at all times! We buy a Costco pack for under $5 and leave them on our counter until they start to brown. Then we peel them, break them in half and freeze them in a freezer bag.
Keep Frozen Fruit on Hand – Fruits are not required in smoothies, but for kids, they kind of are! Most kids require fruits in their smoothies…and it's hard to blame them!
Pick one or two favorite smoothies recipe for the week – Instead of spending time looking for new smoothie recipes every day, Just pick one or two recipes and rotate between them during the week. That way you can be sure to have all ingredients on hand.
Double the recipe – You can double the recipe when you make a smoothie and store half in the fridge for the next day. That's one day where you don't have to wash the blender…win!
Some Smoothie Recipes You Might Enjoy:
By