Baked Tofu Cubes will forever change the way you look at tofu!
Tofu is one of those foods that you either love or you hate. And I know there are a lot of haters! But trust me when I say, the only reason you hate it is because you haven't tried it baked! Did you know you can make baked tofu in the oven?
I grew up eating tofu so I know that it needs to be eaten with sauce or prepared with other meats and vegetables to be delicious. When I talk to people who hate it, often times it's because it wasn't prepared correctly. Unless you are a die-hard fan, you aren't going to want to eat it directly out of the container!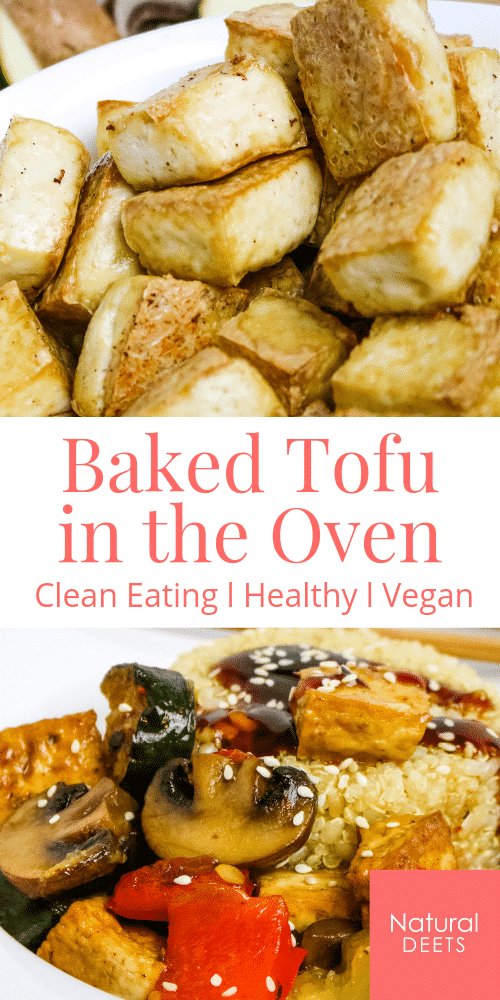 Is Tofu Good For You?
Short answer, Yes! Tofu contains essential vitamins and minerals, Omega 3 fatty acids, and it only has 94 calories per half cup. The chart below was created based on the information (and a graph) from The Worlds Healthiest Foods and shows the vitamins and minerals in tofu based on daily requirements:
Tofu Health Benefits
As you can see, tofu is VERY good for you! So try it again!
Do You Have To Cook Tofu?
No, you don't! There are many delicious ways to enjoy tofu straight from the container. Just be sure to add a sauce first. Don't believe me? Try just a few of these suggestions:
First, cut the tofu into squares, then top it with:
Liquid Aminos (or Soy Sauce) and Bonito (shrimp flakes)
Liquid Aminos (or Soy Sauce) and Furikake (nori strips)
Oyster Sauce
A 1:1 mixture of Soy Sauce and Mayonaise. I know it sounds disgusting, but it is so delicious!
Liquid Aminos (or Soy Sauce) and thin sliced, sauteed green beans
Is Tofu Good For Weight Loss?
Now, I really don't like to talk about weight loss because you will naturally lose weight with Clean Eating, simply because you are removing processed foods. But this is such a common question that I get, so I had to address it.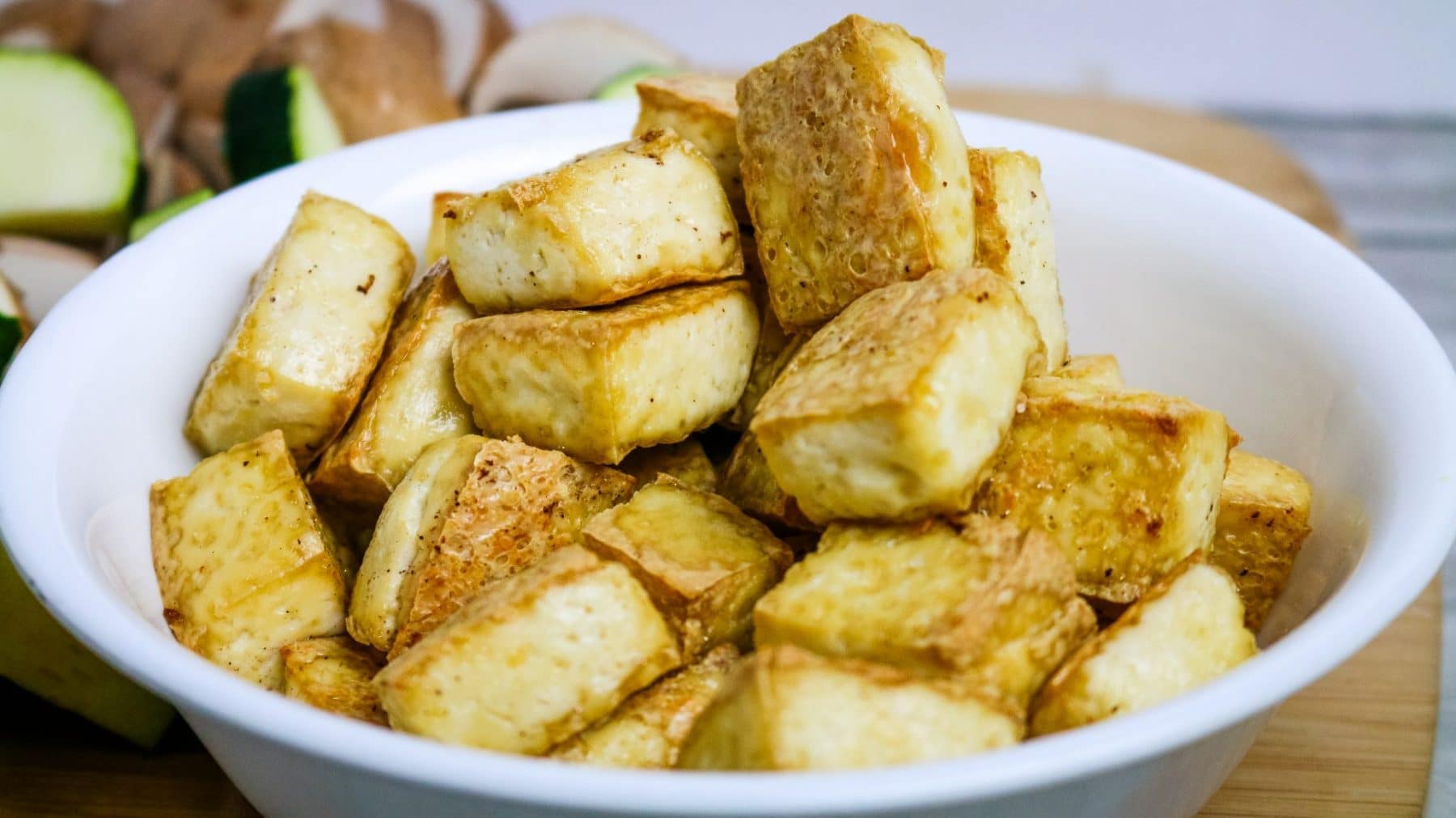 How to Make Baked Tofu
The answer is, it all depends on how you are eating prior to eating tofu. Are you currently eating high saturated fat red meats and processed proteins? Then yes, tofu will help you lose weight.
However, if you are already Clean Eating or eating lean, grass-fed, pasture raised poultry, then you likely won't lose weight from tofu. Tofu is low in calories but it does not speed up your metabolism. So its weight loss benefits will come from a decrease in calories.
Can You Reheat Tofu?
Yes, you can! It's very easy too. If you microwave it, the baked tofu cubes will lose it's crunchy outside. So as long as it isn't covered in sauce, it is best to place it back in the oven at 400° for 20 minutes or until crunchy again.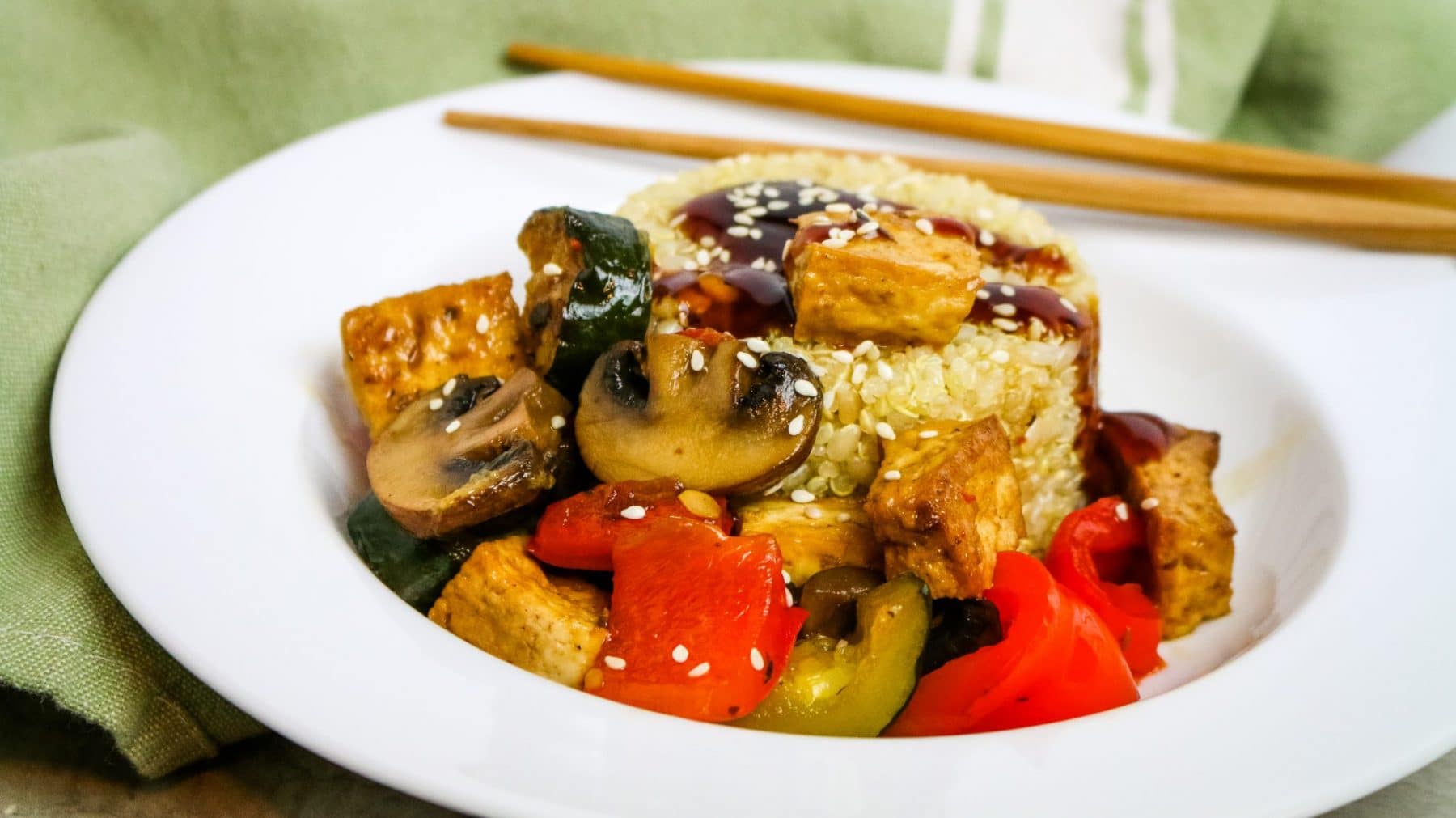 Tofu Stir Fry
However, I typically just microwave it with the sauce and it is still delicious!
How to Make Baked Tofu in the Oven
Now, what you've been waiting for! Making baked tofu in the oven is very simple. However, in order to get the crunchy outside, you first need to remove the liquid from the tofu. There are many ways to remove the water and may require several hours. I am impatient like that, so I have a faster way of doing it.
First, cut the tofu into 1-inch bite-size cubes (remember to use firm tofu). then place them on a thick dish towel. Press it gently then let it sit while you prepare the rest of the dish. Give it at least 10 minutes.
Place the tofu cubes on a lined cookie sheet. Sprinkle the tofu with Avocado or Olive oil and toss the tofu. The easiest way to toss the tofu is to use your hands. The tofu is still fragile and you want to be sure to cover all sides.
Place the tofu into a preheated oven at 400° for 40 minutes. Flip the tofu halfway through. And that's it! You will be surprised at how delicious it turns out.
It is now ready to toss into your favorite dishes, like this 15 Minute Tofu Stir Fry Recipe!
Looking for a sweet treat after tofu? Try some of these for dessert:
Delicious and Healthy Sugar Cookies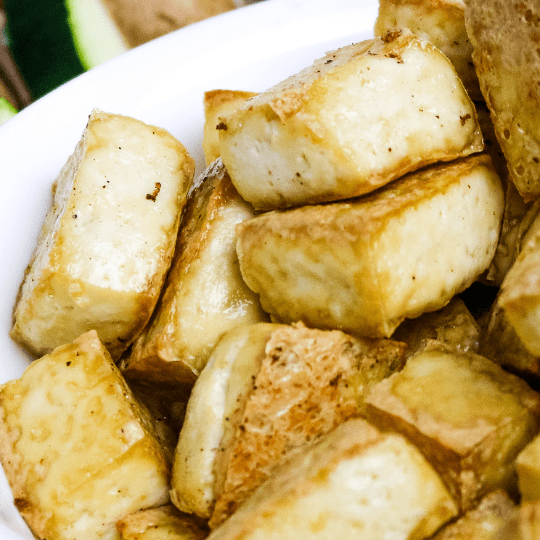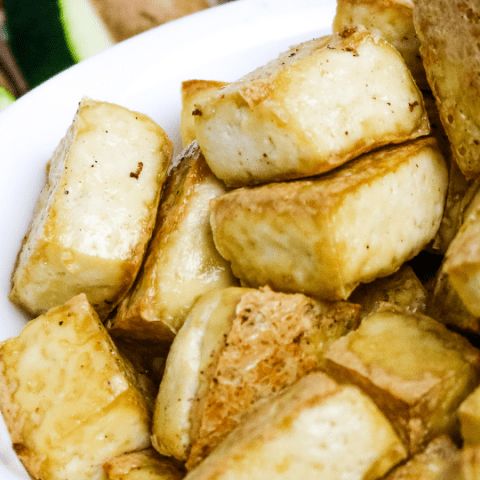 Baked Tofu in the Oven
How to make baked tofu in the oven! It is easier than you think and it keeps the tofu from falling apart, which is awesome! Baked tofu is a great substitute for chicken in almost any recipe!
Ingredients
16 Ounces Tofu, 1 Container
1/4 Cup Olive Oil, or Avocado Oil
Instructions
Preheat the oven to 400°
Cut the tofu into 1 inch cubes
Place the tofu on a thick dish towel. Gently press it down and let it sit for at least 10 minutes
Transfer the tofu to a lined cookie sheet. Pour Olive oil over the tofu and toss gently to cover all sides
Bake tofu for 20 minutes. Flip the tofu and bake an additional 20 minutes
Enjoy!
Nutrition Information:
Yield:

6
Serving Size:

6 people
Amount Per Serving:
Calories:

143
Saturated Fat:

1g
Sodium:

3mg
Carbohydrates:

1g
Protein:

6g
Looking for more? Here are some of our recent posts!
By