Wondering how to make berry puree? Well, start with the berry trifecta – Strawberries, Blueberries, and Raspberries! It doesn't get much better than that!
Now here's a secret – Want to sound extra fancy? Call it mixed berry Coulis! I honestly didn't even know what a Coulis was until I started working on this post. I'm not even 100% sure how to pronounce it. I imagine the "s" is silent…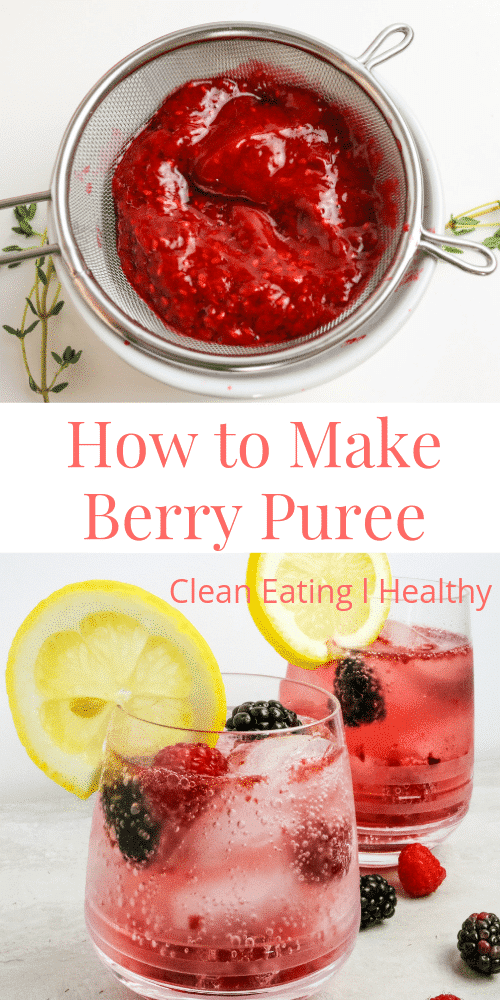 So what is the difference between a puree and coulis?
A puree generally refers to steamed and mashed vegetables where a coulis refers to steamed and mashed fruits. Huh, who knew?? I'll explain more below, and I'll continue referring to it as fruit puree just because I think that is what most of us call it!
But now we can look like we know what the chef is talking about when they mention a coulis!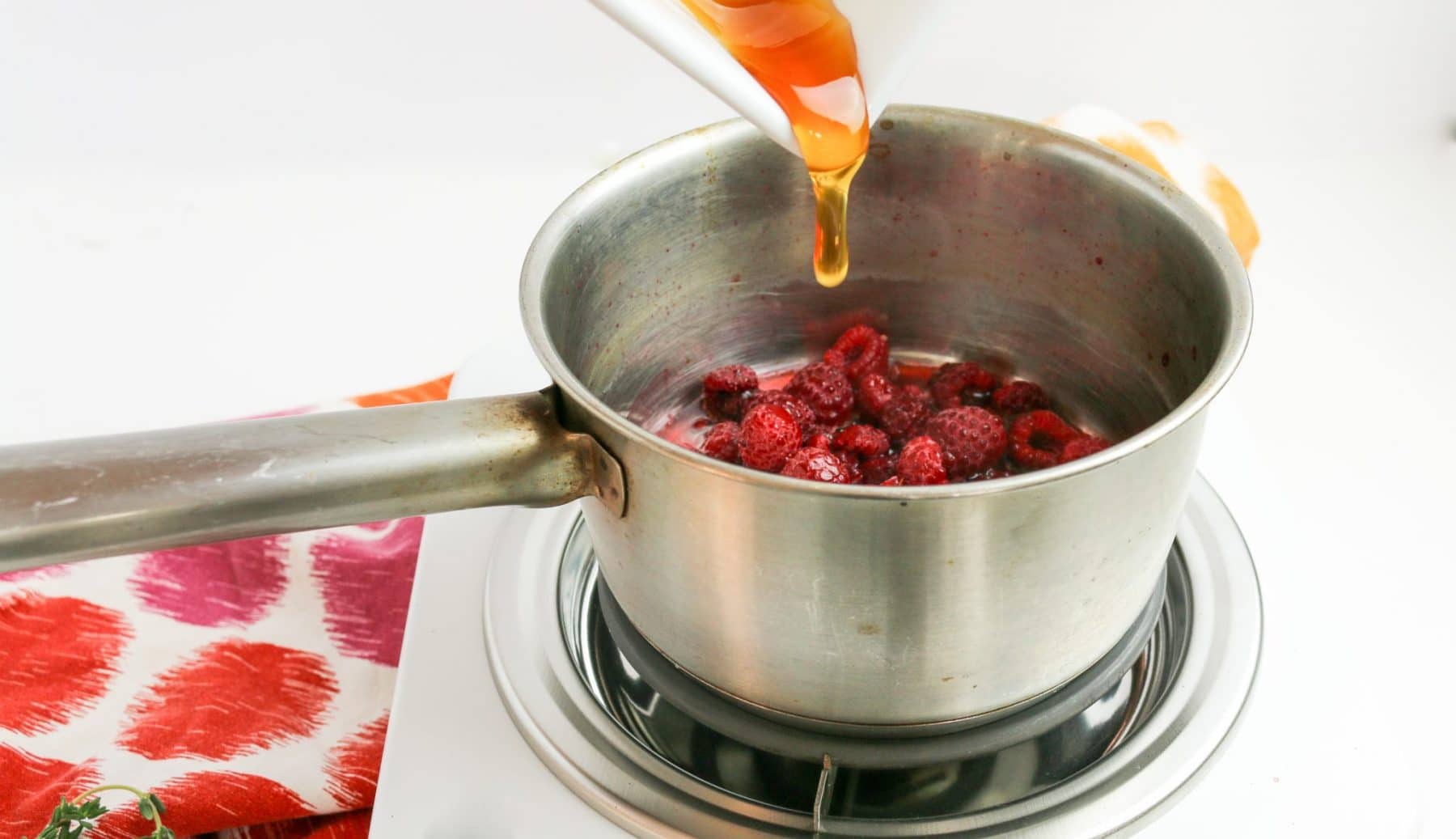 All of our berry favorites start with a base of berry puree. At first, it seems intimidating, but once you try it, you might be addicted too. We use frozen berries which makes it affordable and sometimes we will add Thyme to give it a little something special!
The best part? This healthy fruit puree can be made in less than 15 minutes!
Curious about when berries are in season? Read more HERE
What is Fruit Puree?
Fruit puree is simply a blend of fruits and some kind of sweeteners. Once softened, the fruits are smashed into a mushy puree. We made this recipe healthy by replacing sugar with Honey.
We also added a small amount of honey to keep the sweetness from overpowering the berries.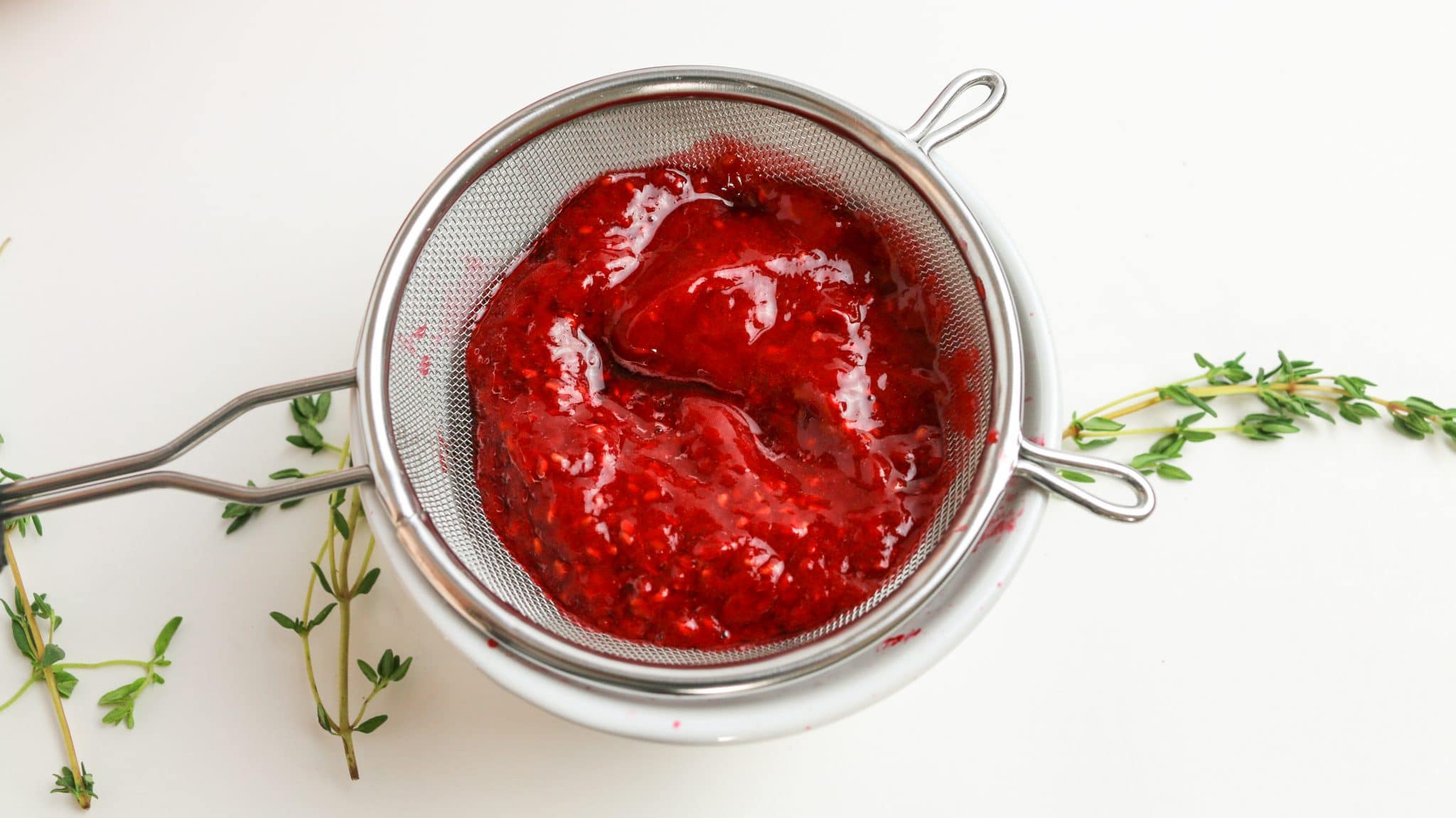 Simple, right? Now I'll show you exactly how to make it!
Can You Freeze Fruit Puree?
Yes, you can. And in fact, we do it all the time! Just put the prepared puree into Ice Cube trays and freeze. Then defrost them as needed.
NOTE: This recipe makes just enough for about 4 drinks. If you would like to have enough to freeze, double, or triple the recipe
How to Make Berry Puree
I made this with my daughter since I love cooking with kids, but I had to watch her carefully! When this mixture is hot, it can really burn. So be careful! Ok, back to the recipe…
The first step is to cook the berries with honey. You may be able to find a frozen bag of mixed berries in the freezer section at the store. If you do, you can definitely use that.
If you can't find mixed berries, use 1/3 cup each of strawberries, blueberries, and raspberries. Add 1 Tablespoon Water, 1 Tablespoon Honey and 1/2 teaspoon fresh thyme leaves. Simmer over medium-low heat for about 5 minutes.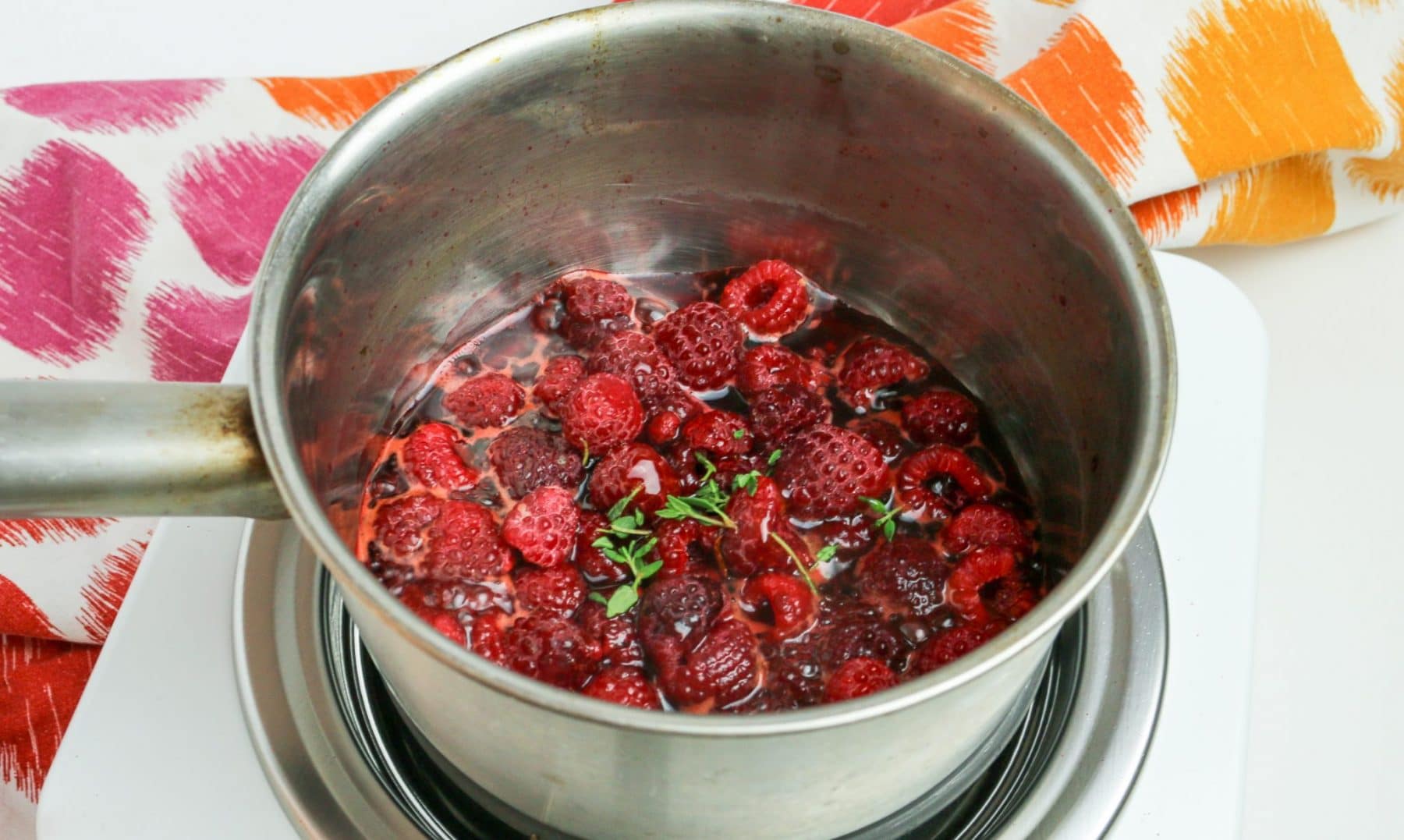 You can use fresh berries, but they cost more and frozen berries taste just as good in this recipe.
Also, keep a close eye on the berries as they cook. They can burn easily. Add more water, 1 tablespoon at a time, if necessary to keep it from burning.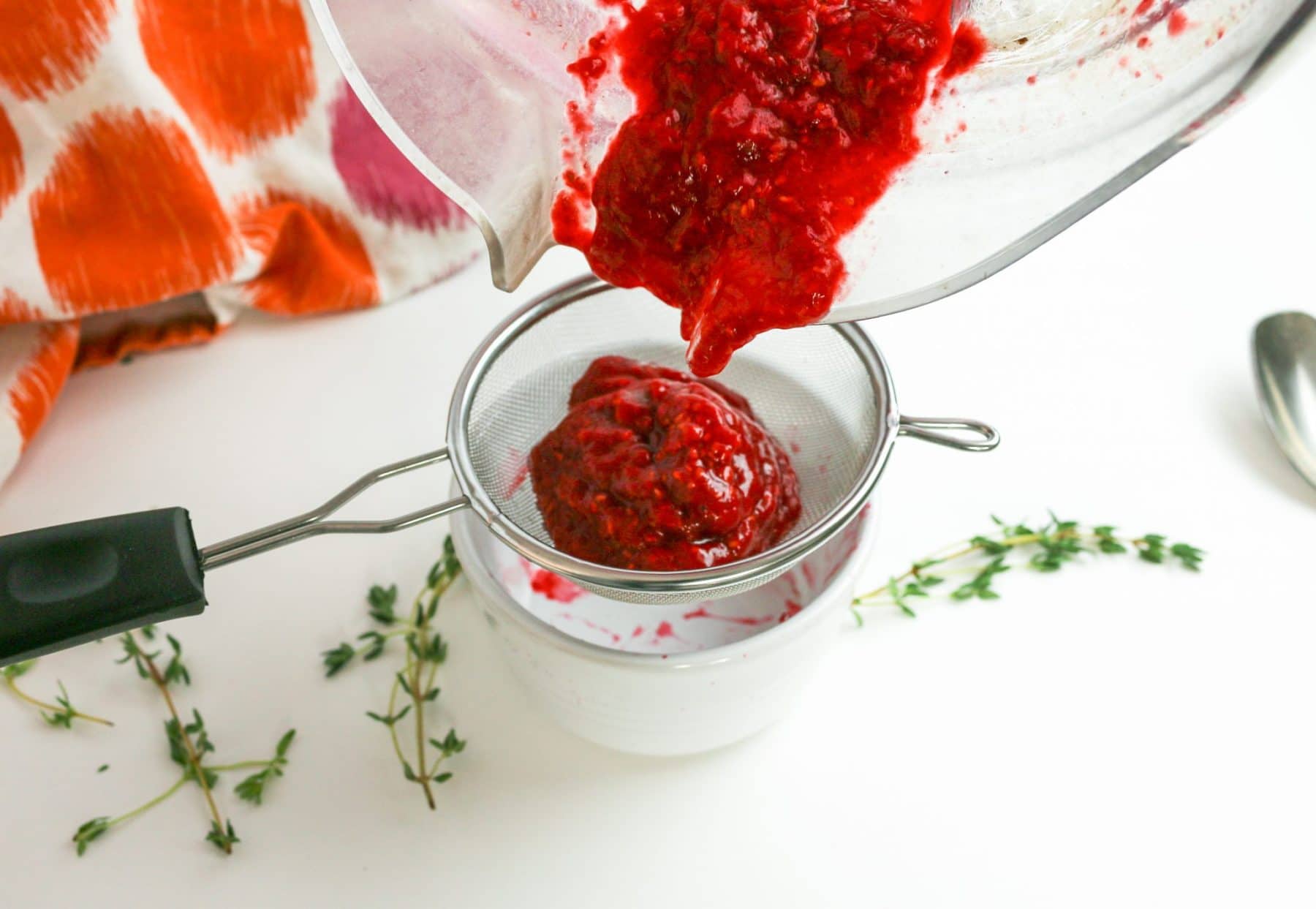 Once the berries break down, pour everything into a blender. Add an additional 3 Tablespoons of water and blend until smooth.
Using a spoon, gently push the puree through a sieve. If you don't mind raspberry seeds in your drink, you can skip this step. Personally, I think the seeds make the drink look pretty!
How to Use Berry Puree
There are so many uses for berry puree. Here are just some of our favorites:
With seltzer water and ice
In a Berry Champagne drink
In mixed drinks – It pairs especially well with Vodka
As a topping on Ice Cream
Mixed into butter for a berry butter
Mixed into cakes and muffins
As jelly on toast or a PB&J sandwich
Here are more berry recipes to try!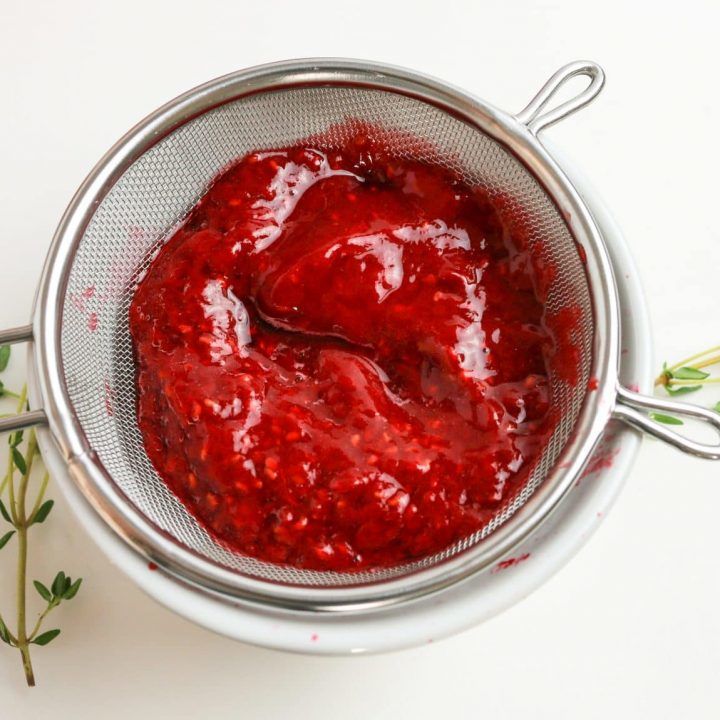 Berry Puree Recipe
Ever wondered how to make berry puree? It can be used in so many dishes from impressive drinks to delicious muffins! Try it today!
Ingredients
1 Cup Mixed Berries, Frozen
4 Cups Water, Divided
1 Tablespoon Honey
1 teaspoon Fresh Thyme, Optional
Instructions
In a small pot add the Mixed Berries, 1 Tablespoon of Water, Honey, and Thyme, if using
Simmer over medium for 5 minutes or until the berries are soft. Watch closely and make sure it doesn't burn. Add more water 1 Tablespoon at a time, as needed
Pour the berries into a blender. Add an additional 3 Tablespoons Water. Blend until smooth
Optional: Gently press the mixture through a sieve using the back of a spoon. Discard the seeds.
It is now ready to be used any way you desire!
Nutrition Information:
Serving Size:

1 Servings
Amount Per Serving:
Calories:

144
Sodium:

52mg
Carbohydrates:

36g
Fiber:

4g
Sugar:

30g
Looking for more? Here are some of our recent posts!
By