As a lover of all things Subscription boxes, I have a critical eye for which boxes are worth my money. With a discount on our Green Chef first order, I had nothing to lose. I chose the Paleo plan and gave it a week. Here's what I thought…
When Blue Apron first came out, I jumped on the opportunity to have dinner delivered directly to the house. I have since tried Hello Fresh, Blue Apron, Sun Basket (my favorite) and now Green Chef.
We went to a holiday show a few weeks ago (yes it was still October!) but one of the vendors was Hello Fresh. As I walked by and tried not to make eye contact, my daughter took one of the flyers they were handing out. That led to a short conversation about why we didn't like Hello Fresh. I chatted with them a few minutes and told them that I was looking for more organic options (which is why I like Sun Basket). I found out that they had recently purchased Green Chef, but the sites weren't yet integrated. When I got home that night I hopped on line and set up my first order…I told you I can't resist a subscription box!
My 3 dinners arrived last night and today we had our first dinner. I will do a review of all three of our dinners and give you my final opinion.
Day 1: Green Chef Southern Cobb Salad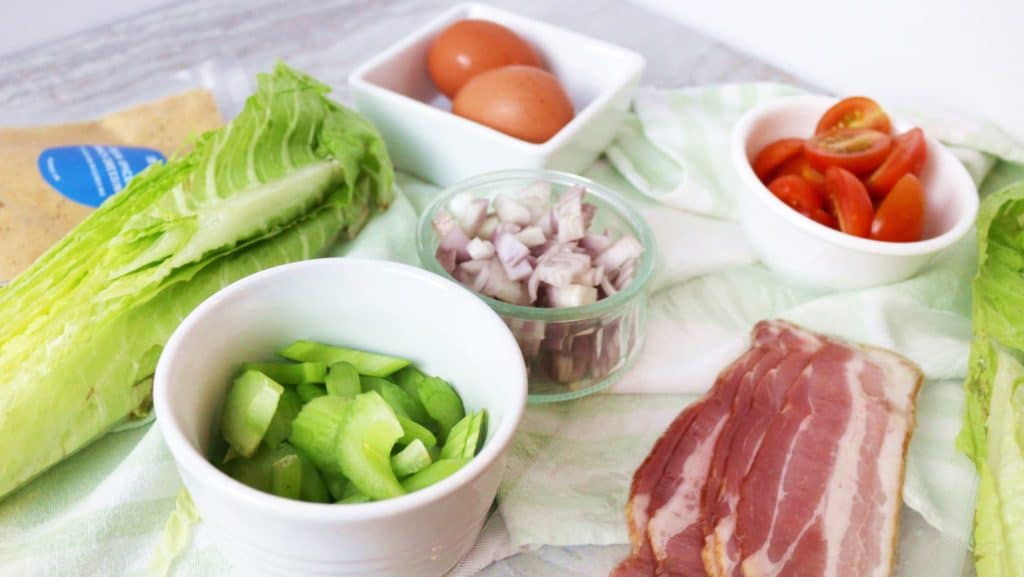 The end product was delicious. The salad dressing had a hint of spice which went well with the bacon, eggs, tomatoes, toasted pecans and celery. The dish took about 30 minutes to prepare and aside from a few bruised lettuce leaves, the produce was in good shape.
This was a true Paleo dish. In other words, you cook the bacon first, then cook the onions, celery and pecans in the bacon grease. I know this is Paleo but it's not how I normally cook for myself.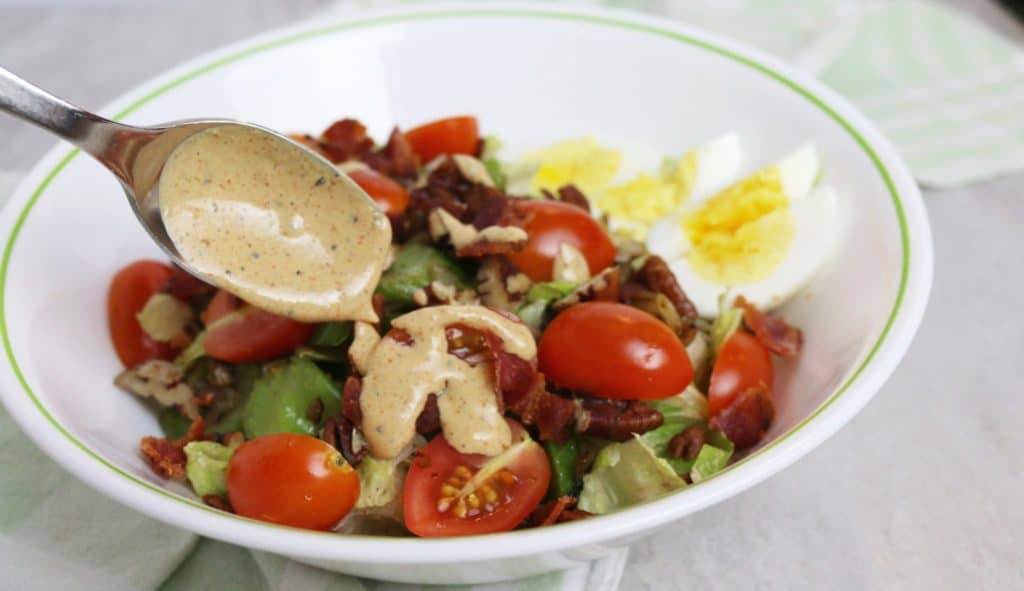 I only had two issues with this dish:
The dressing packages didn't have a tab for easy opening and must be opened with scissors. This is a small issue but still annoying.
The salad was just enough for 2. With other services the two serving plan can also feed 2 small kids. Salad in general isn't filling so we actually ate a little more after dinner.
Overall Score: 8 out of 10
Day 2: Green Chef Beef Patties with Spiced Aioli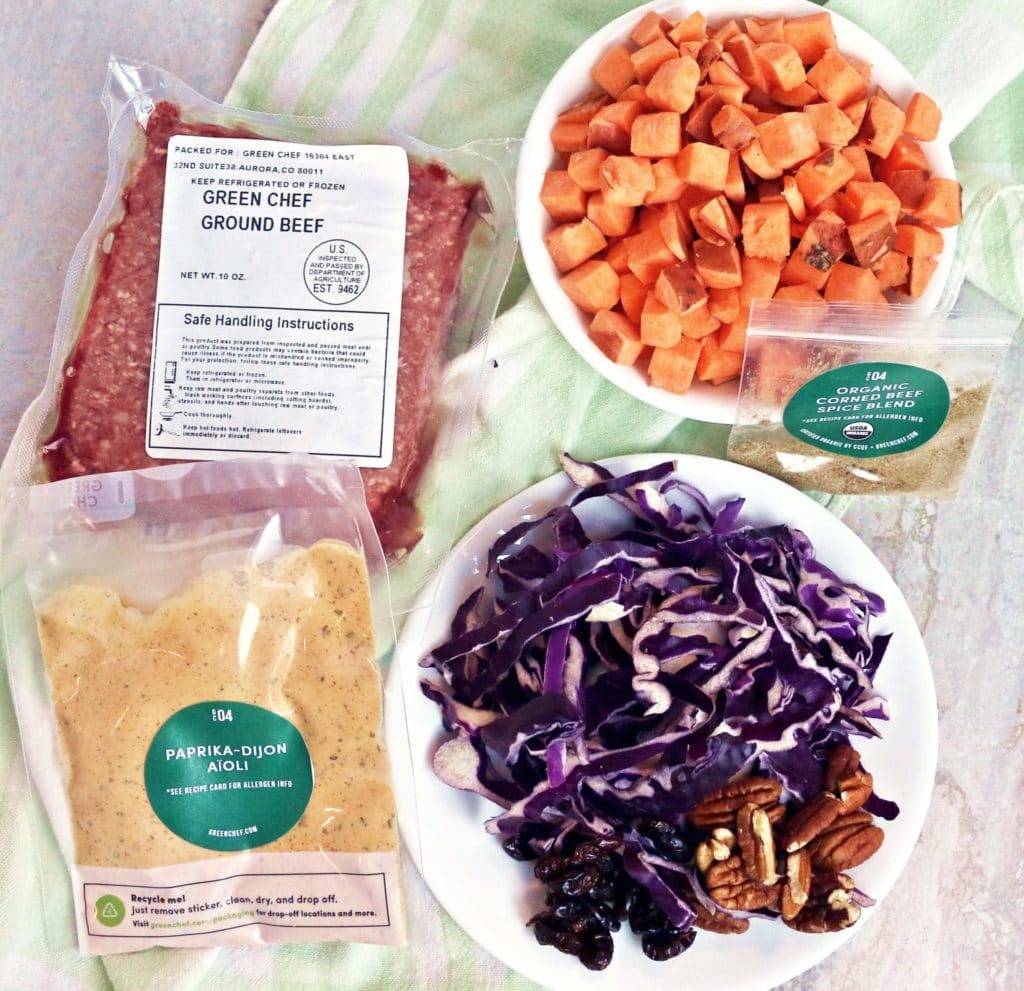 This dinner was pretty good but a little different. I didn't even bother trying to have the kids taste it because it would have just been a waste of food! Instead, I made them another dinner on the side.
This dinner was just enough for 2 adults. It was definitely more filling than the salad which was nice. Once I finished it, I didn't feel like eating anything more and I was satisfied! The Aioli sauce made the dish. It had a lot of flavor and added a lot to the dish.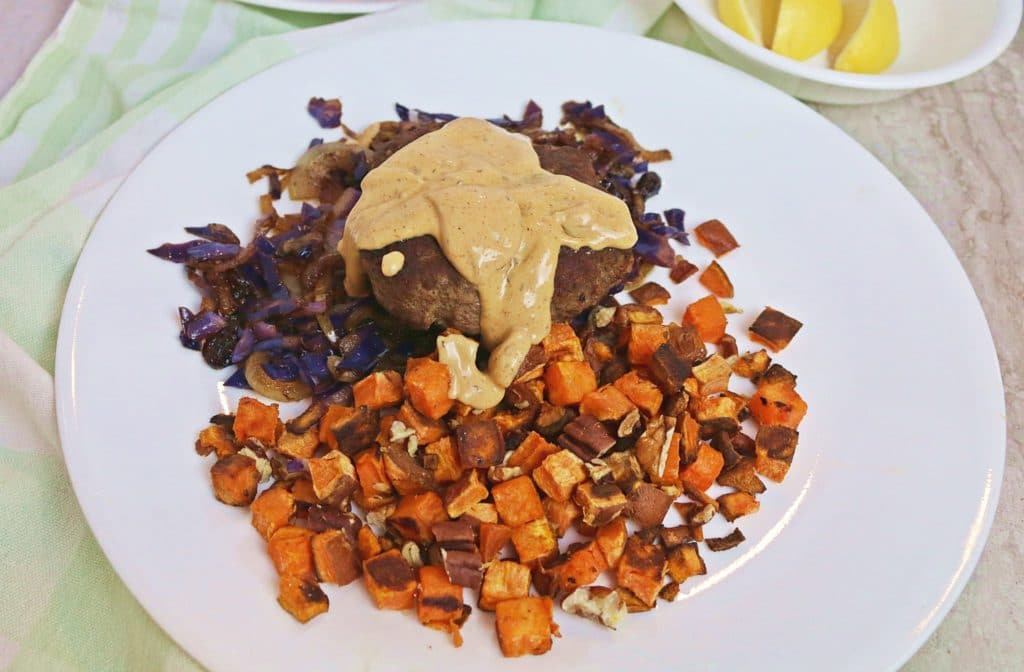 I didn't have any issues with this dish. My only concern was that the meat didn't appear to be grass fed. With an organic box, I had assumed that the meat and poultry would be free ranged and grass fed. I would be willing to pay more for that option.
Overall Score: 6 of 10
Day 3: Coconut Chicken Curry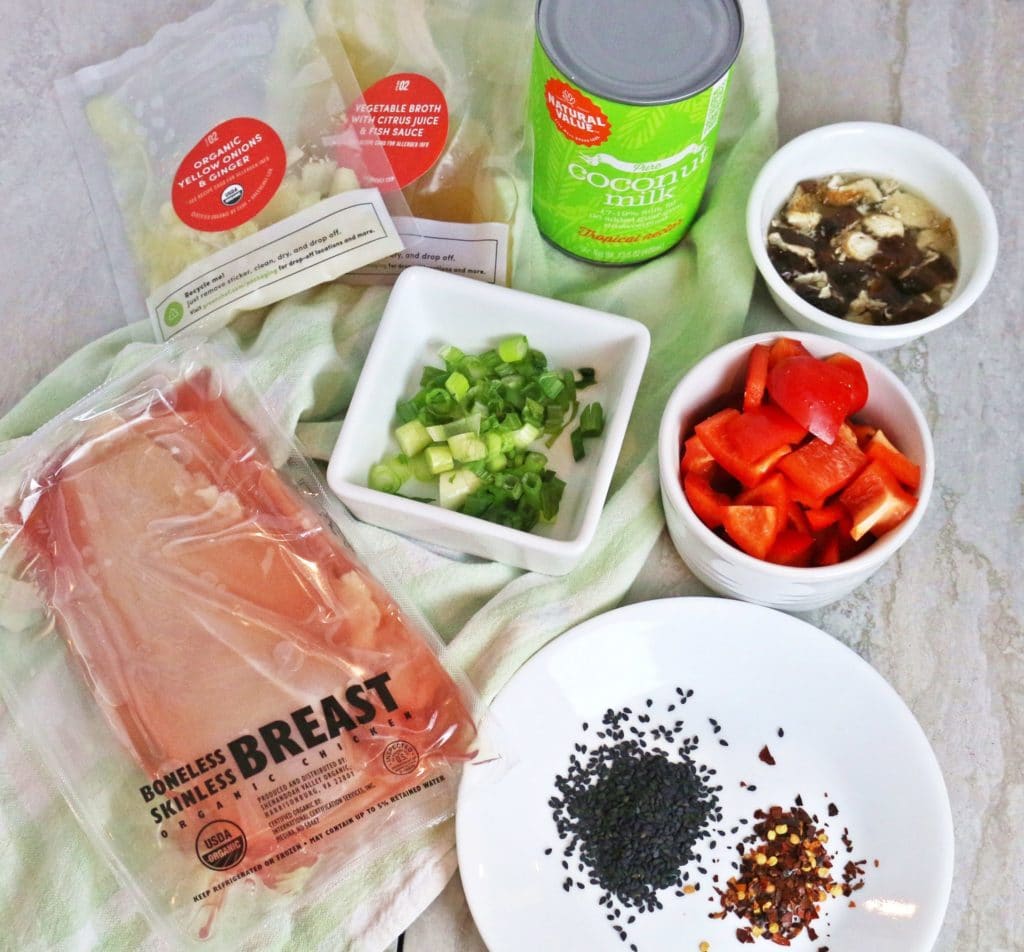 We were torn on this dinner. My husband loved it and I just thought it was OK. We did have to laugh though because they really do give you just enough food for two. There will be no leftovers. Just look at the pieces of bell pepper they gave us!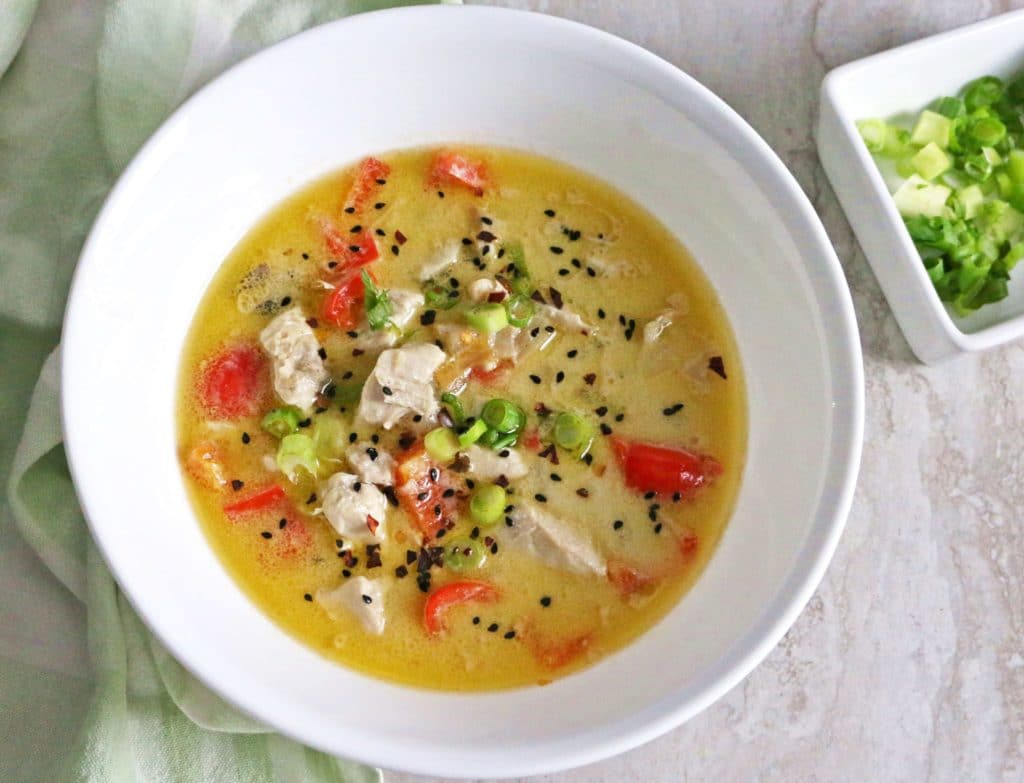 The pro to this dish is that it was actually fast and easy. The other dishes weren't difficult but they did take longer than expected. This dish only had about 10 minutes of prep work. First you cook the chicken then add everything else and boil it. Easy. I also liked that they precut the ginger and onions.
Again my complaint will be that the bags did not have tear tabs. I had to use my scissors to open them. It's not a big deal but just inconvenient.
Overall Score: 6 of 10
Final Green Chef Review
Like I mentioned in the beginning, I have tried numerous boxes. This one was great but it is one of my least favorites and I probably won't be ordering a second week. Here is an overview:
Pros:
The food was good and tasty. Each dish was surprisingly delicious
The produce was in good shape. Some boxes don't properly package the produce so it's not uncommon to receive bruised or browned produce. Everything in this box was great.
The dishes were easy to prepare. There was some chopping but even a novice should be able to handle it!
The vegetables are all organic. Even the chicken breast was organic. But I couldn't confirm whether the beef was grass fed
There are lots of options. They have Omnivore, Paleo, Keto, Pescatarian, Vegan, Vegetarian and Gluten Free options.
Cons:
The portions were small. There were exactly 2 servings.
These were not kid friendly recipes (which they claim). My kids are not as picky as others but even they wouldn't eat it. This meant I was cooking 2 dinners each night.
You cannot choose your dishes. They have just 3 meals each week and you are not able to substitute like you can with other companies
The packages do not have tear tabs for easy opening
Overall, Green Chef was not for us. But I do see the value in the dishes. If you are a family of 2 and you are living the Paleo or Keto lifestyle, Green Chef may be for you. They are one of the few subscription meal boxes that offer organic, Paleo and Keto meals!
Try it – Green Chef Promo Code
If you are interested in Trying Green Chef, use this link for a Free Week. You can see whether it works for you! I may get a credit for each person that gives it a try, but that means I just may give it another try!

By