With just a hint of pumpkin spice, and a kick of cayenne, this vegetarian pumpkin chili is a delicious meal that will keep you cozy on those cold fall nights! Just one taste and this clean eating dinner recipe will become a regular on the dinner rotation!
Even better, we are going to make it in the instant pot so the delicious fall fragrance can fill your home while dinner is cooking! New to the Instant Pot? Check out this post for tips: How to use an Instant Pot
Then try a few other Instant Pot recipes like our IP Mashed Potatoes and this delicious Instant Pot lentil soup.
Can Chili Be Vegetarian?
I think most of us grew up on chili with ground beef. For a while, it was the healthy thing to use ground turkey instead, but the taste and texture never really measured up to the real thing.
It sounds crazy but vegetarian chili is delicious and comparable to traditional chili. In fact, it is even better than chili with turkey.
I know many families (ours included) are doing meatless Mondays, so add this pumpkin chili to your weekly meal plan and see how much you love it. If the kids don't like spicy, leave out the Cayenne.
What We Will Be Using
I won't list all the ingredients, but here are the main ingredients!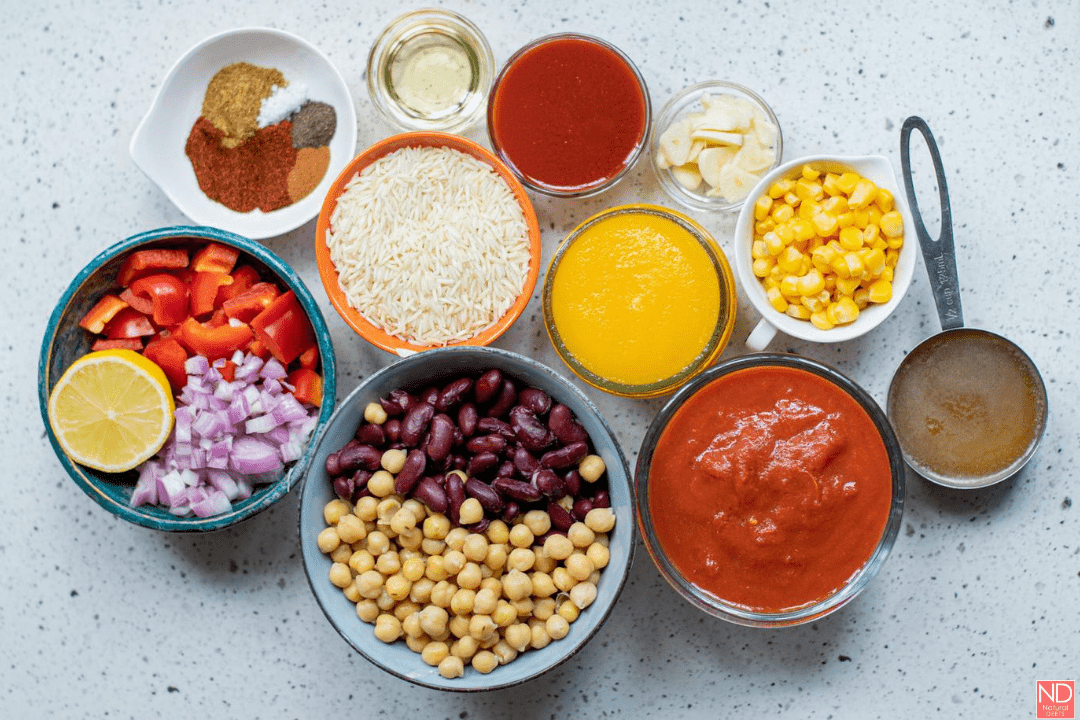 Pumpkin puree – Always keep 2-3 cans of pumpkin puree on hand! Or you can make your own. See how here: How to make pumpkin puree
Kidney Beans – A chili staple!
Chickpeas – Since we aren't adding meat, we are going to add more protein with beans
Diced Tomates
Corn Kernels – For a tiny bit of sweetness to offset the spice
Pumpkin Pie Spice – Sounds strange, but it is so delicious in this recipe and really compliments the flavor of the pumpkin
Cumin – The classic chili flavor
Vegetable Broth – If you are not vegetarian, you can use any broth that you have on hand
Cayenne Pepper – If your family is not a fan of spicy, you can leave this out. It will still be delicious.
Rice- We serve this with chili with rice. You can make the rice right before serving (follow the instructions on the bag of rice)
How To Make Pumpkin Chili
The best part about this recipe is its simplicity. If you are really in a rush, you can skip sauteing the vegetables and just add all the ingredients to the pot.
Personally, I like the added dimension that the sauteed veggies add to the dish.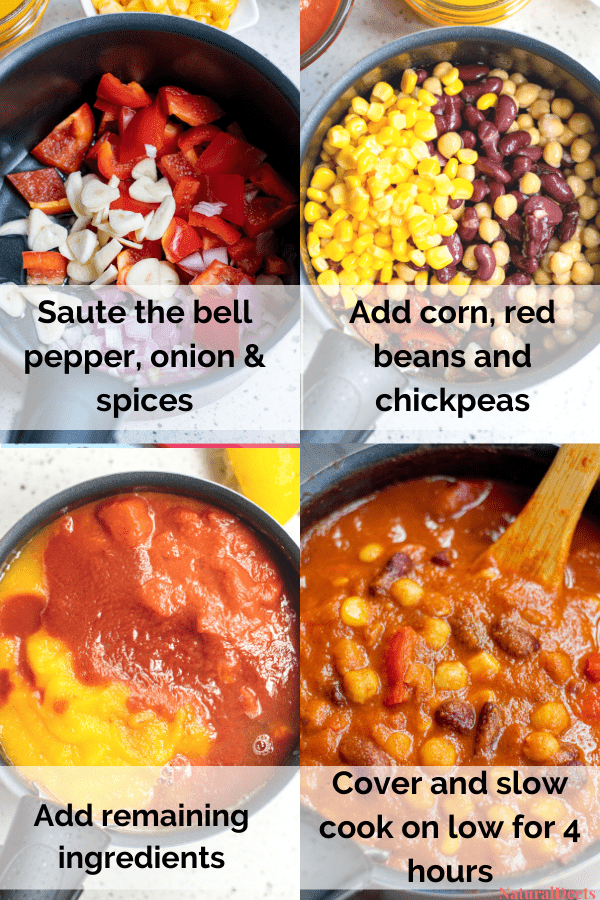 Step 1: With your instant pot set to sautee, add some olive oil and saute the onions, bell peppers and garlic until the garlic is fragrant. Add in the spices and stir.
Step 2: Next, add the corn, kidney beans and chickpeas and mix well. Your kitchen should already smell delicious! Press the cancel button on your Instant pot to turn off the saute.
Step 3: Add all the remaining ingredients and mix well. Place the cover on the instant pot and make sure the vent on the lid is set to Open.
Step 4: Set the Instant Pot to slow cook for 4 hours on low.
Step 5: About 20 minutes before your 4 hours are up, I like to make the rice. This will give it enough time to cook before the chili is ready.
Step 6: Taste the chili and add salt and pepper to taste. Serve over rice and enjoy!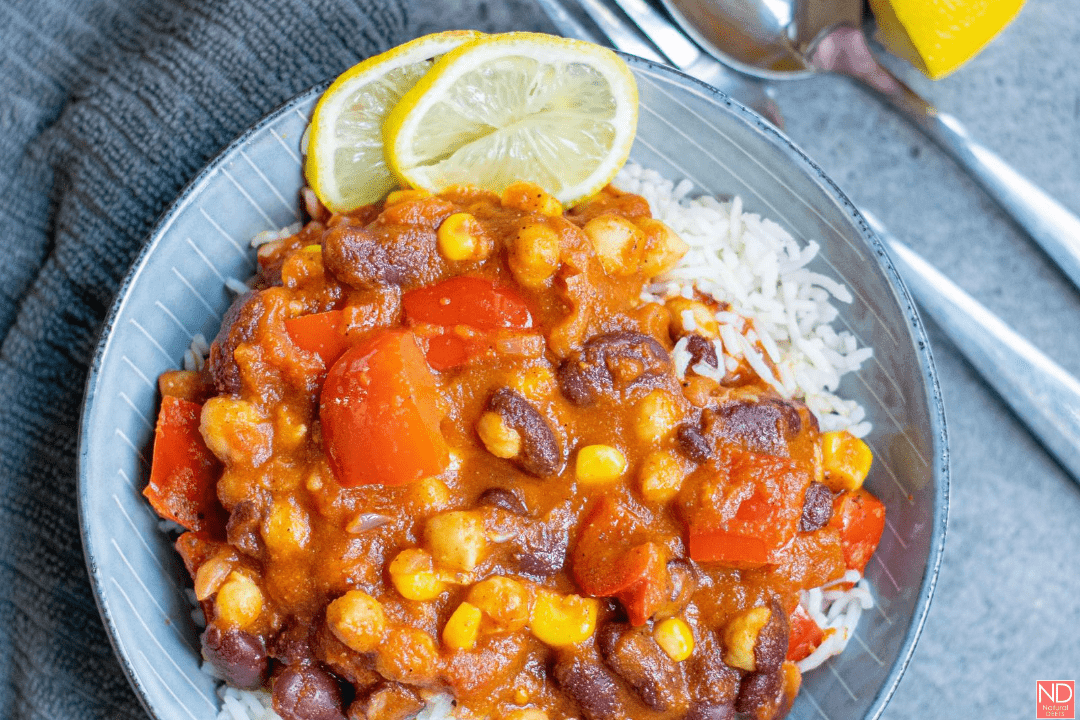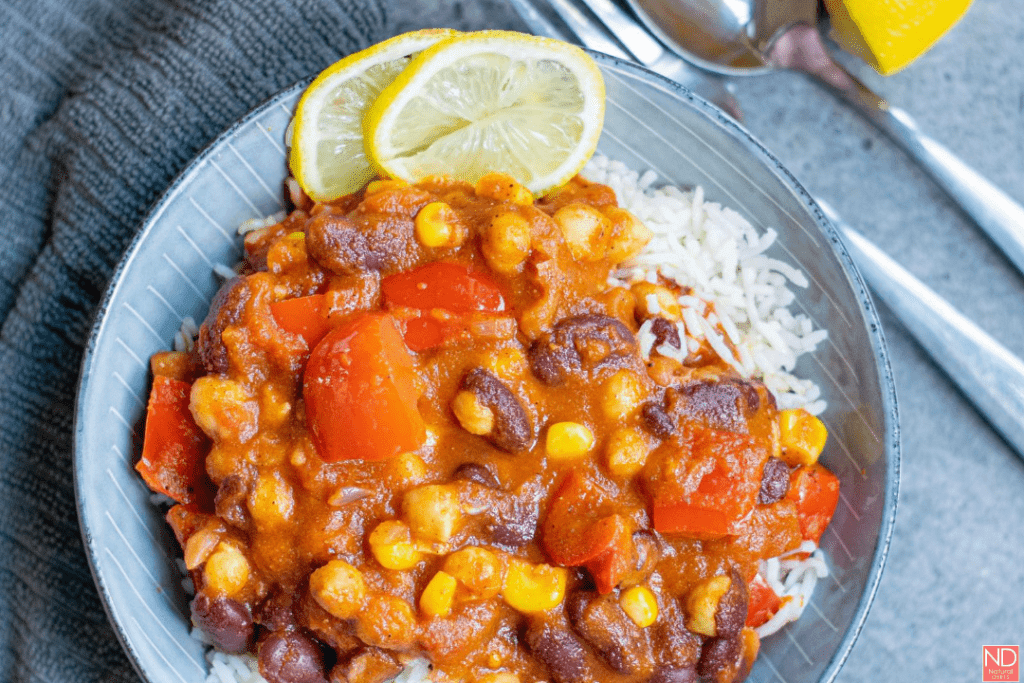 Clean Eating Tips For Making Chili
White rice is not considered clean: The only rice that is truly clean is brown rice. We typically eat brown rice, however, I made this recipe during the Corona virus pandemic and the stores were sold out of brown rice. So we had to use what we could get!
Double the recipe: One of the biggest tricks to clean eating is preparation. I like to double this recipe and freeze half of it for another night. It's perfect for busy nights when you don't have time to cook and it will keep you from picking up take out. The same goes for the rice. Before freezing the rice, make sure it is cool. Then wrap it in saran wrap and store in an airtight container in the freezer.
Buy dried beans to save $$$: Dried beans are so much cheaper than canned. You can buy in bulk and save it for emergencies too. Just soak the beans overnight before using. If you forget, you can add the dried beans to the chili, but instead of slow cooking, you will want to pressure cook it on high for 1.5 hours and let it decompress naturally (no quick release).
Use frozen veggies to save $$$: You can use frozen corn, bell peppers and onions if you have them. Also, if you ever have an onion or bell pepper that is going bad, dice and freeze it for times like these!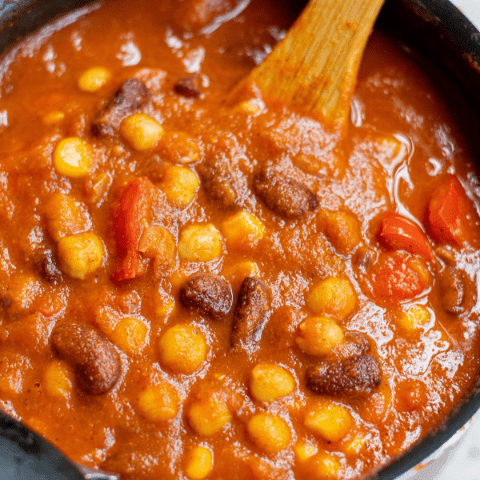 Instant Pot Vegetarian Pumpkin Chili
Total Time:
4 hours
10 minutes
Ingredients
3 tablespoons Olive Oil
1 (60 g) Onion, chopped
4 Garlic Cloves, chopped
1 (143 g) medium Red Bell Pepper, diced
1 can (240 g) Pumpkin Purée
1 can (250 g) Kidney Beans, drain and rinse
1 can (250 g) Chickpea, drain and rinse
1 can (240 g) diced Tomatoes
1/2 can (125 g) Corn Kernels, drain
1/3 cup (80 ml / 76 g) Tomato Purée
1/4 teaspoon Pumpkin Pie Spice
1 teaspoon Ground Cumin
1 tablespoon Cayenne Pepper
1/2 cup Vegetable Broth
Juice of half a Lemon
Salt and Pepper to taste
Cooked Rice
Instructions
Press the Saute button on the instant pot. Add the olive oil to the pot.
Add the Bell Pepper, Onion and Garlic and saute until tender. Add the Pumpkin Pie Spice, Cuminand Cayenne Pepper and stir.
Press cancel on the Instant Pot to turn off the saute function.
Add the Corn, Kidney Beans, Chickpeas, Pumpkin Purée, Tomato Purée, Diced Tomatoes, Lemon Juice and Vegetable Broth. Stir well.
Place the lid on the Instant Pot. Verify that the vent is set to open. Turn on the slow cooker function and set it for 4 hours.
After 4 hours, season to taste with salt and pepper.
Serve hot with rice and enjoy!


Nutrition Information:

Yield:

4

Serving Size:

1 Amount Per Serving:

Calories:

262

Total Fat:

11g

Saturated Fat:

2g

Trans Fat:

0g

Unsaturated Fat:

9g

Cholesterol:

0mg

Sodium:

416mg

Carbohydrates:

39g

Fiber:

4g

Sugar:

15g

Protein:

5g

Nutritional information was calculated automatically. Please verify accuracy

By