If you've been to a Korean restaurant, or a Hawaii BBQ, you have probably had Kalbi. These delicious spareribs are marinated in soy sauce and handful of other ingredients, and then grilled to perfection on the BBQ. The result is a tender and delicious dinner that is always a crowd pleaser!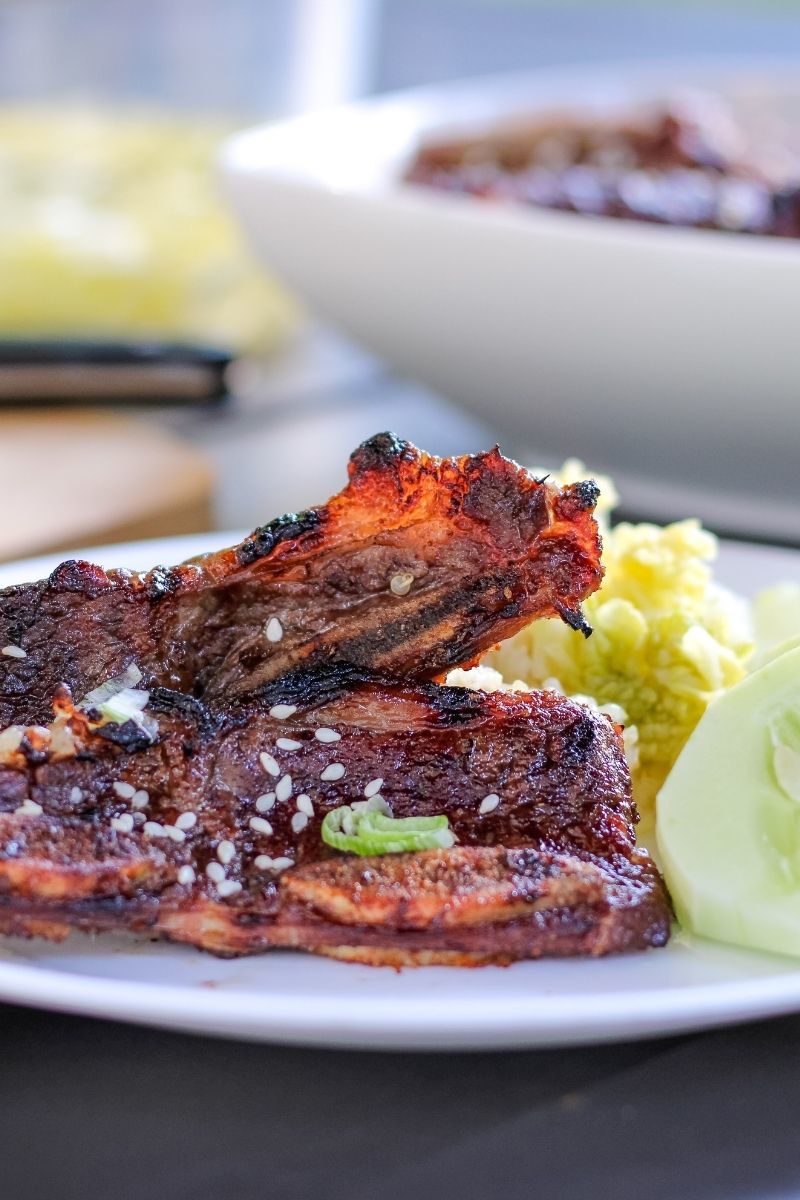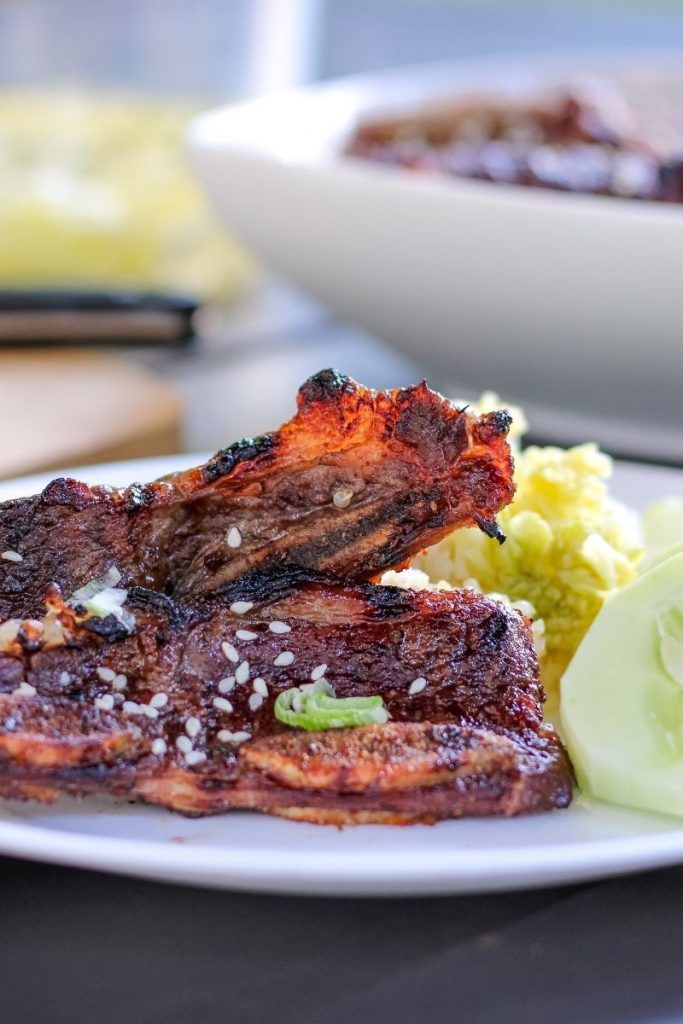 This weekend was one of those that reminds me why we put up with the gloomy Seattle weather 9 months out of the year. The sun was out and it was warm – it was perfect weather for grilling some Korean short ribs and having dinner outside!
Traditional Kalbi is made with white sugar which we no longer use. In this Korean short ribs recipe, I replaced the sugar with honey which adds a touch of sweetness to this fast and easy dinner.
When we BBQ, we like to make a lot so we can have leftovers for lunch. While you are making this summer bbq recipe it's the perfect time to also thrown on some grilled bread skewers as a side dish and marinated beef to make a bulgogi bowl!
Is Kalbi Beef or Pork?
Kalbi is beef short ribs. Short ribs are the lower ribs of the cow and they are often cut into long thin strips with sections of bone still attached. It is near the brisket and chuck areas so it can be tough and fatty.
For Kalbi, the short ribs are cut into thin strips and then marinated to help infuse the meat with flavor and allow for quick cooking. Shortribs are a fatty cut of meat but you don't want to remove the fat when prepping because it keeps the meat from drying out on the grill.
What Is Kalbi Sauce Made Of?
Kalbi sauce is a simple sauce, and if you have made any sort of Asian food in the past, you likely have the ingredients on hand!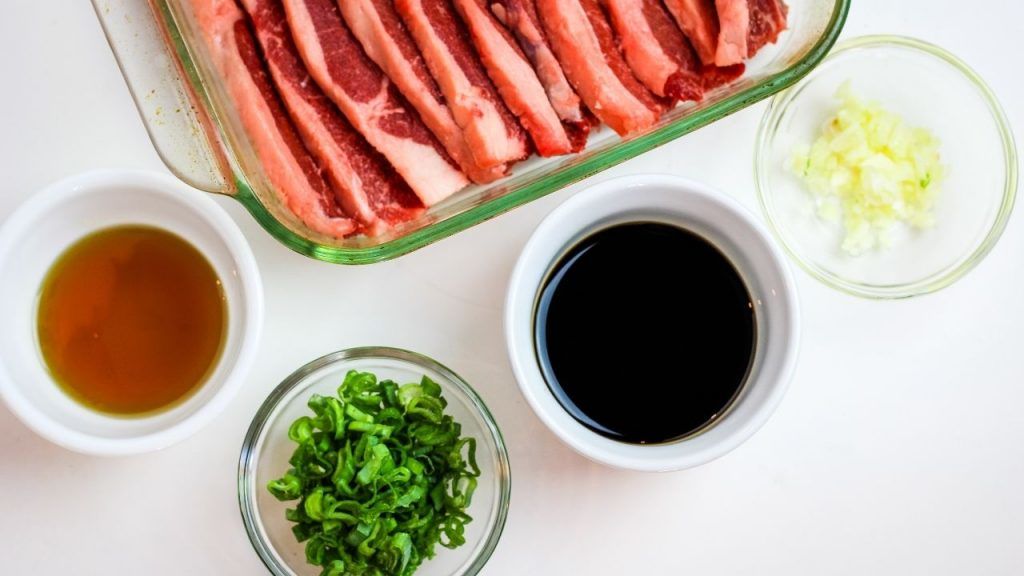 Soy Sauce – There are several brands of soy sauce, all with a unique flavor. My favorite is Aloha Shoyu which has a lighter flavor, but Kikkoman also works well in this marinade. Kikkoman has a very strong flavor. If you are gluten free or need a Paleo recipe, replace the soy sauce with coconut aminos.
Garlic – You can never have too much garlic! This recipe calls for 2 cloves of garlic but feel free to add more if you want to! Fresh garlic is best, but you can substitute garlic powder. It just won't have a strong garlic flavor.
Ginger – I always keep ginger on hand in the freezer. Ginger can be stored in the back of your veggie bin in the fridge (it likes a dark location) but you can also chop it up and freeze it. When you are ready to use it, just toss it in the marinade and let it defrost as it sits.
Honey – I love honey in this recipe. It adds a hint of sweetness which is perfect for this dish!
Green Onions – This is another item that you can keep in your freezer. I often buy several bunches of green onions. I chop off the greens and freeze them in an airtight container. Then I put the stumps in water and let it continue to grow new green onions. Frozen green onions work well in this dish and most other dishes. The only time you must have fresh ones are when you are making a salad, or other dish where the green onions can't be mushy.
Sesame Oil – You can find sesame oil in the Asian section at the supermarket. It is usually fairly cheap and easy to find.
Once you make it a few times, you can start experimenting. Try adding red pepper flakes, gochujang, apple cider vinegar and sesame seeds.
You really can't mess it up!
How to peel and chop garlic
There are all kinds of fancy gadgets that can help you peel garlic. From plastic tubes to garlic presses. But I really hate buying gadgets when I can do it with a knife (for free!). Also, I don't have enough room for more stuff!
To peel garlic, break off a few cloves. Place them on a cutting board on their sides. Put the flat side of your knife on the garlic cloves and with a quick movement, hit down on the knife.
This will smash the garlic and loosen the skin. Put the knife down and peel off the skin. Then chop up the garlic cloves.
What Do You Serve With Kalbi?
Rice…always serve it with rice! 🙂 But if you have ever gone to a Korean restaurant to order Kalbi, you are probably also familiar with the sides that you get to chose from. I have seen anywhere from 5-10+ different options and I love most of them!
My absolute favorite are the bean sprouts, AKA Kongnamul Muchim. If you haven't tried them before, they taste like a marinated bean sprout. It has a light flavor and it goes perfectly with Kalbi and rice! Check out THIS recipe if you want to try it!
Get The Kids In The Kitchen
When I know that the kids are going to love a recipe, I am always excited to find a way to get them involved. We put these short ribs on the BBQ, so the only part that they could help out with was making the marinade.
They were able to measure the ingredients and mix them up. I also had them pour the marinade over the short ribs. They were excited to help and in the end they loved the dinner!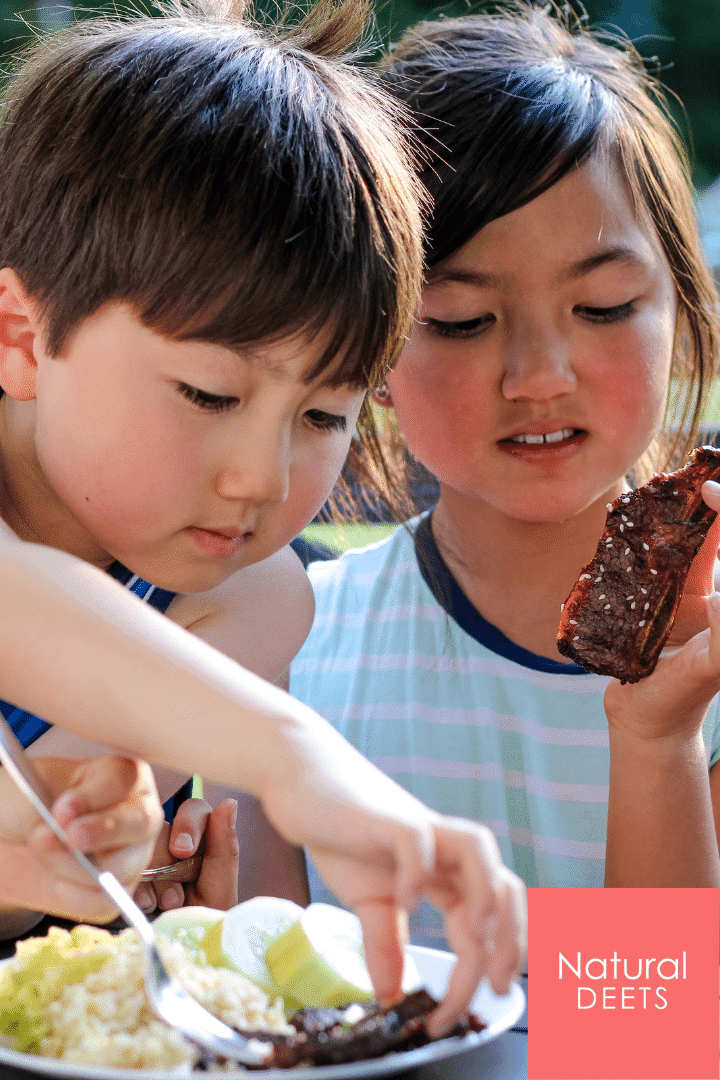 The whole family kept saying "I'm full but I can't stop eating!" Now, that is a compliment if I ever heard one!
This is definitely a winner!
Is Kalbi Healthy?
I would not consider traditional Kalbi to be healthy since it is high in sugar. However, in this recipe we replaced the sugar with honey.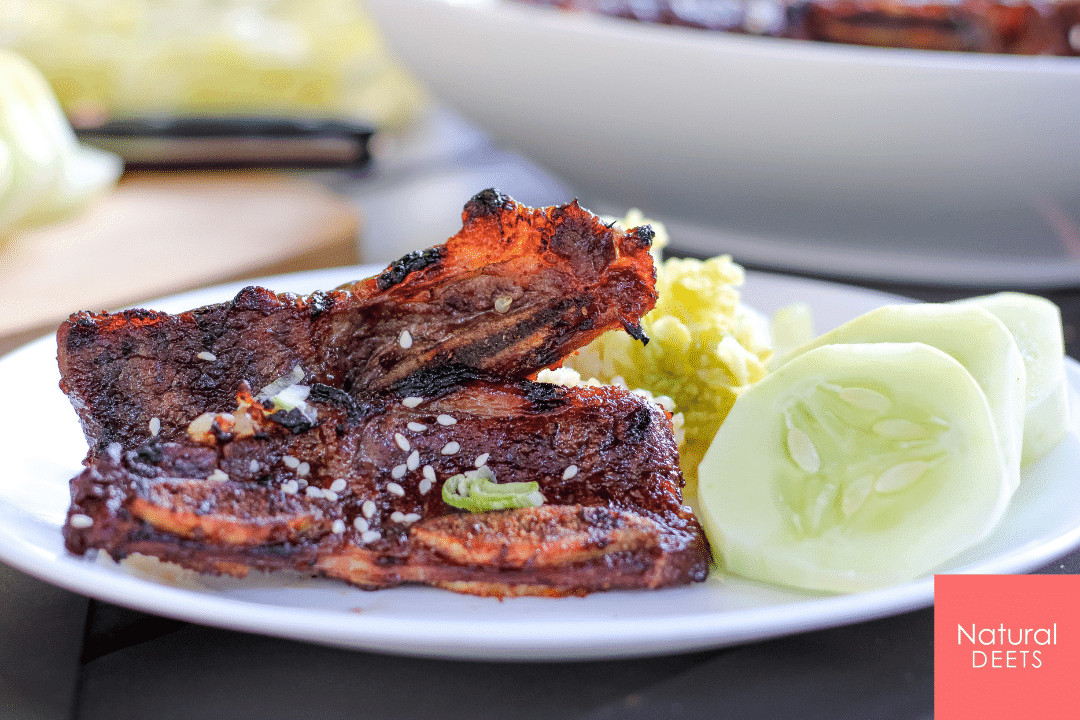 This recipe is clean eating compliant and delicious! If you are gluten free, just switch out the soy sauce for coconut liquid aminos. You won't notice a difference in flavor. The Kalbi you buy is likely not gluten free!
Frequently Asked Questions About Kalbi Short Ribs
What cut of steak is kalbi?
Kalbi is made from the ribs of the cow but it cut cross wise through the bones and each piece traditionally has 3-4 bones. This is different from the bbq ribs we are familiar with. Because the ribs are used for kalbi, the mean can be tough and fatty. They are cut into thin slices which makes them easier to eat.
Is kalbi a waygu?
Waygu is a specific breed of cow. They are sought for the tender and rich meat produced from these cows. Kalbi is a type of cut of beef, so you could get kalbi ribs from a waygu cow. It will be very expensive though!
Korean short ribs slow cooker directions
If you prefer a very tender short rib, you can cook it in the slow cooker to beak down the connective tissue and soften the meat. To do this, mix the marinade, then add the short ribs and marinade to a slow cooker. Cook on low for 5 hours or until tender.
How do you make the Kalbi sauce?
It's optional, but you can use the leftover marinade as a sauce to pour over the short ribs. To do that, add the leftover marinade to a small saucepan. Place the saucepan over medium heat. While the sauce is heating up, mix 1 tablespoon cornstarch with 1 tablespoon cold water in a small cup. Mix well. Once the sauce starts to boil, whisk in the cornstarch mixture. Continue mixing for another minute until it starts to thicken, then remove from the heat and pour over the ribs.
More BBQ Recipes That You Might Enjoy:
Grilled Bread Skewers
Oven Baked Ribs – Grill Finished
Our Favorite 5 Ingredient Chicken Yakitori Recipe
Affordable Grass Fed Beef – Crowd Cow Review
Virgin Mojito Recipe (Pomegranate Mocktail)
Irresistible Summer Champagne Cocktail – Pour A Glass and Get Outside!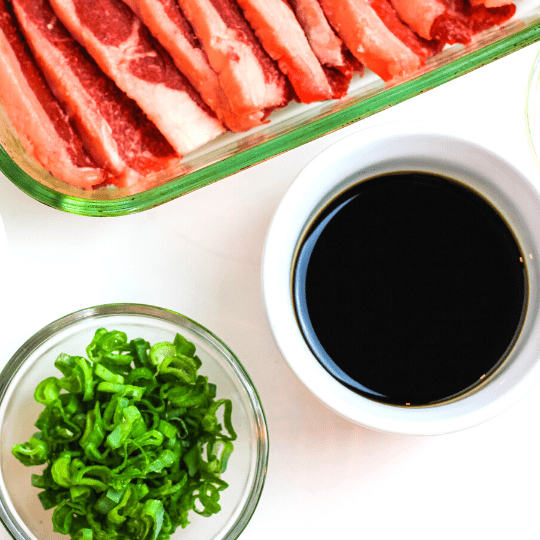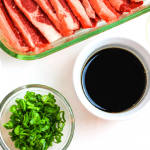 Kalbi Short Ribs
Kalbi short ribs are perfect for the grill! Have the kids mix up the marinade and get outside to enjoy the sunshine!
Total Time
2
hours
15
minutes
Ingredients
2

Pounds

Short Ribs

1/4

Cup

Soy Sauce or Liquid Aminos

1/4

Cup

Green Onions

thinly sliced

2

Tablespoons

Honey

2

Tablespoons

Sesame Oil

2

Cloves

Garlic

minced

1

Teaspoon

Ginger

minced or grated
Instructions
Place the short ribs in a large bowl

In a small bowl, combine the Soy Sauce, Green Onions, Honey, Sesame Oil, Garlic and Ginger. Mix well, until the honey is dissolved

Pour the marinade over the short ribs.

Cover the short ribs and let sit in the fridge for at least 2 hours. Overnight is best.

Heat the grill. Place the short ribs on the grill and cook until done. About 3-4 minutes per side. Keep a close eye on it so the fat doesn't flare up and burn the meat

Remove from the grill. Serve and enjoy!
By