Caprese and I go together like peanut butter and jelly… but once we found out that the kids couldn't eat dairy, I had to cut back on cheese. I missed Caprese so I found a way to recreate it and get my fix without dairy! Introducing Dairy Free Caprese Quiche…
How do you Pronounce Caprese Salad?
First things first. How do you pronounce the name of this dish? Even though I know how to say it correctly, I still get self conscious when I'm ordering a Caprese salad in a restaurant!
So for the record, it is pronounced Kuh-prey-zey. And that is straight from Dictionary.com so you know it's legit! Now we can move forward…
Easy Grab and Go Breakfast!
Caprese Quiche is so simple and delicious, I swear it has brightened up my morning!
Do you ever have those mornings where you debate calling in sick to work? Just thinking about the commute is enough to make me pull the covers up and hit snooze one more time. I think we have all been there! Those are the mornings when I barely make it out the door on time.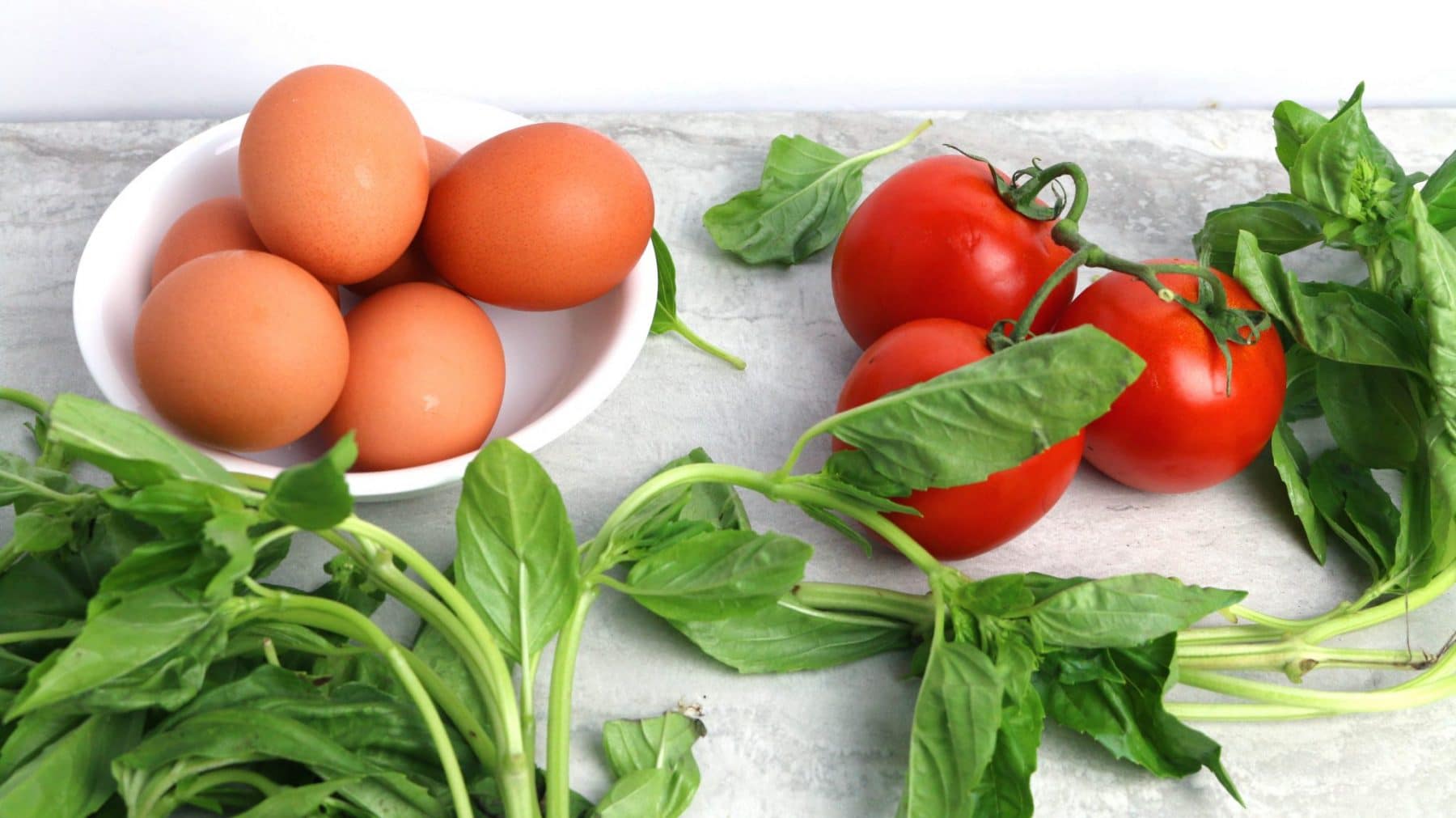 So I rarely feel motivated to make breakfast and lunch. If I didn't prepare the night before, chances are that I will be buying breakfast on my way in.
What Makes Something Caprese?
Caprese is simply a dish with cheese and tomatoes. Various cheeses can be used but these days we typically see it with fresh mozzarella and it is topped with basil, olive oil and balsamic vinegar.
The dish originated in Italy and translated means Dish of Capri. However, I was unable to confirm whether the dish originated from Capri. One would think so with a name like that!
Is Caprese Salad Healthy?
You already know how much I love Caprese Salads! There are two reasons I love it so much….the taste (of course!) and how easy it is to make! Now don't be fooled by the fact that you can order these in fancy restaurants.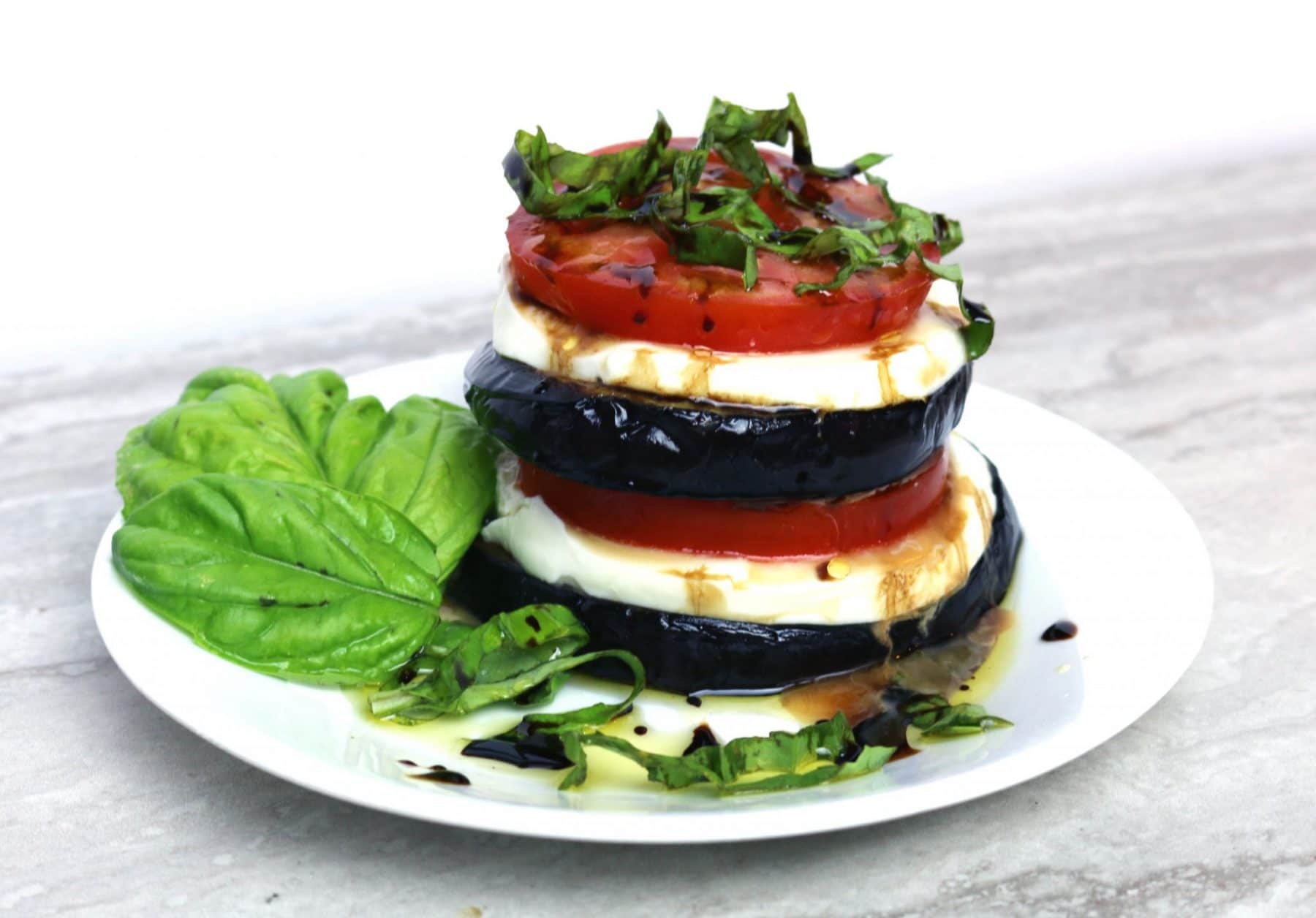 All it takes to make Caprese is sliced tomatoes and sliced mozzarella. Sprinkle with salt and pepper, and drizzle with olive oil and balsamic vinegar. check out this post for an even fancier (but still easy) version! I'll post a teaser picture below:
Dairy Free Caprese
Ok, so I know I said that Caprese is perfect and I just love it! But there is one tiny problem in our house. One that many of you have shared with me as well!
My son loves caprese as much as I do, but he has to avoid dairy (against his wishes!)…which means no cheese. So, I have not been able to eat Caprese in a long long time! It would just be cruel to eat it in front of him. What kind of mother would I be??
I can already picture those sad brown eyes looking up at me while I finished off my plate. He would say "What are you eating?" and I would have to come up with a quick answer!
But that is just one more reason I had to come up with this Caprese Quiche!
Are Eggs Good For You?
Yes. Easy answer right? In the last 10 years, the "Experts" have changed their minds on eggs more times than I have changed my cooking pans. It's ridiculous. One day eggs are healthy and the next day they are causing heart attacks.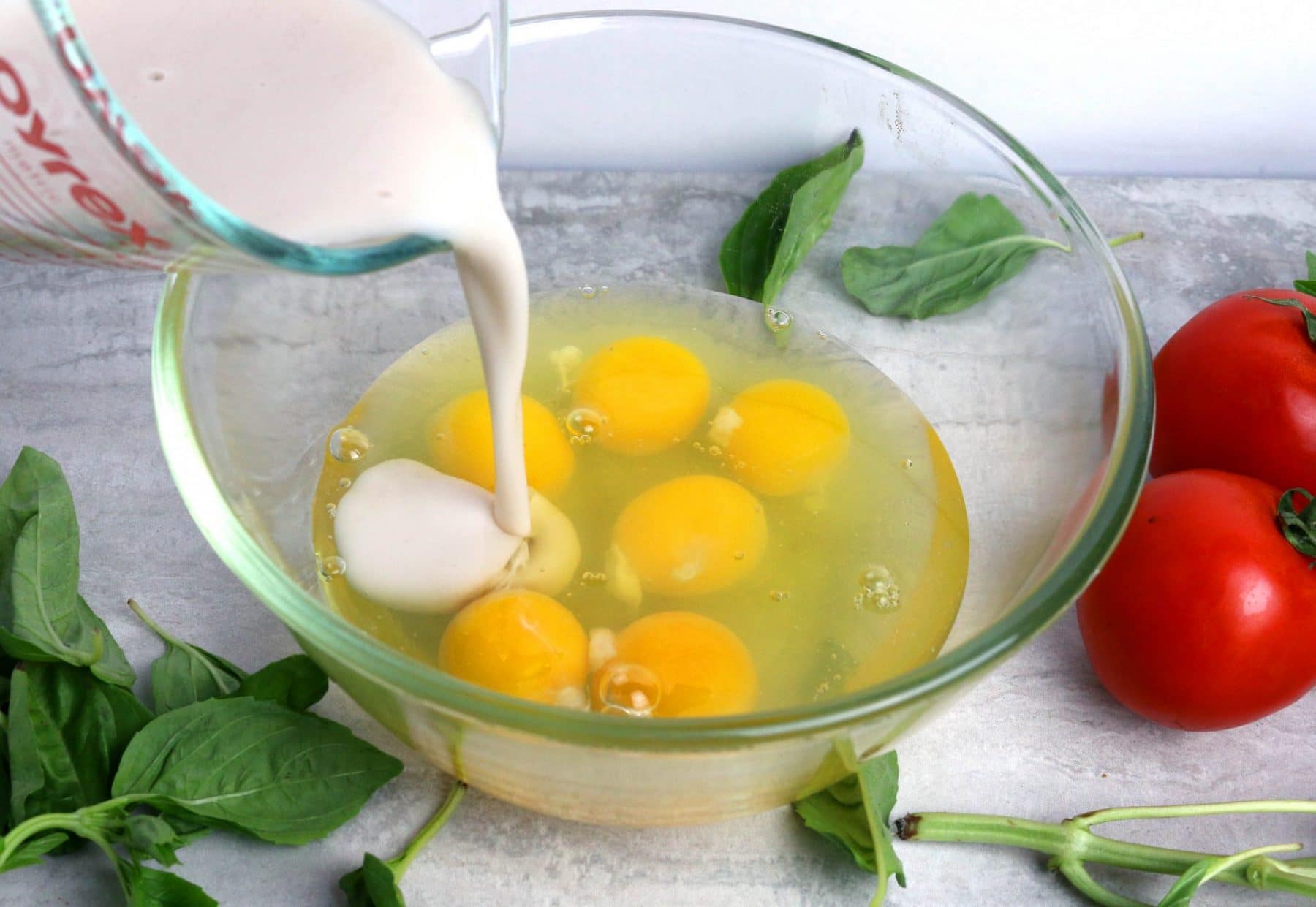 It's no wonder we are confused. But Eggs are considered a part of the whole food diet. After all, they come from chickens. Although some eggs that are healthier than others (based on the chickens' diet and health), they are still considered unprocessed. And very close to nature.
According to Healthline.com, "Eggs are one of the few foods that should be classified as superfoods. They are loaded with nutrients, some of which are rare in the modern diet." It is time we remove the stigma from eggs!
Note: My kids are both reactive to eggs so we have reduced it dramatically from their diets. So there's that too! My husband and I continue to enjoy them!
Tomatoes and Basil – Amazing Combination
It almost feels like cheating (almost…) to make a recipe based on tomatoes and basil. Chefs have been using this combination for centuries! However, it is a tried and true combination with two flavors that complement each other.
I love using fresh basil in the spring because it adds a fresh dynamic that we haven't necessarily tasted since the prior summer. However, if you don't have fresh basil, you can substitute 1/2 Tablespoon of dried basil in this dish. Just mix it into the eggs when you add the tomatoes.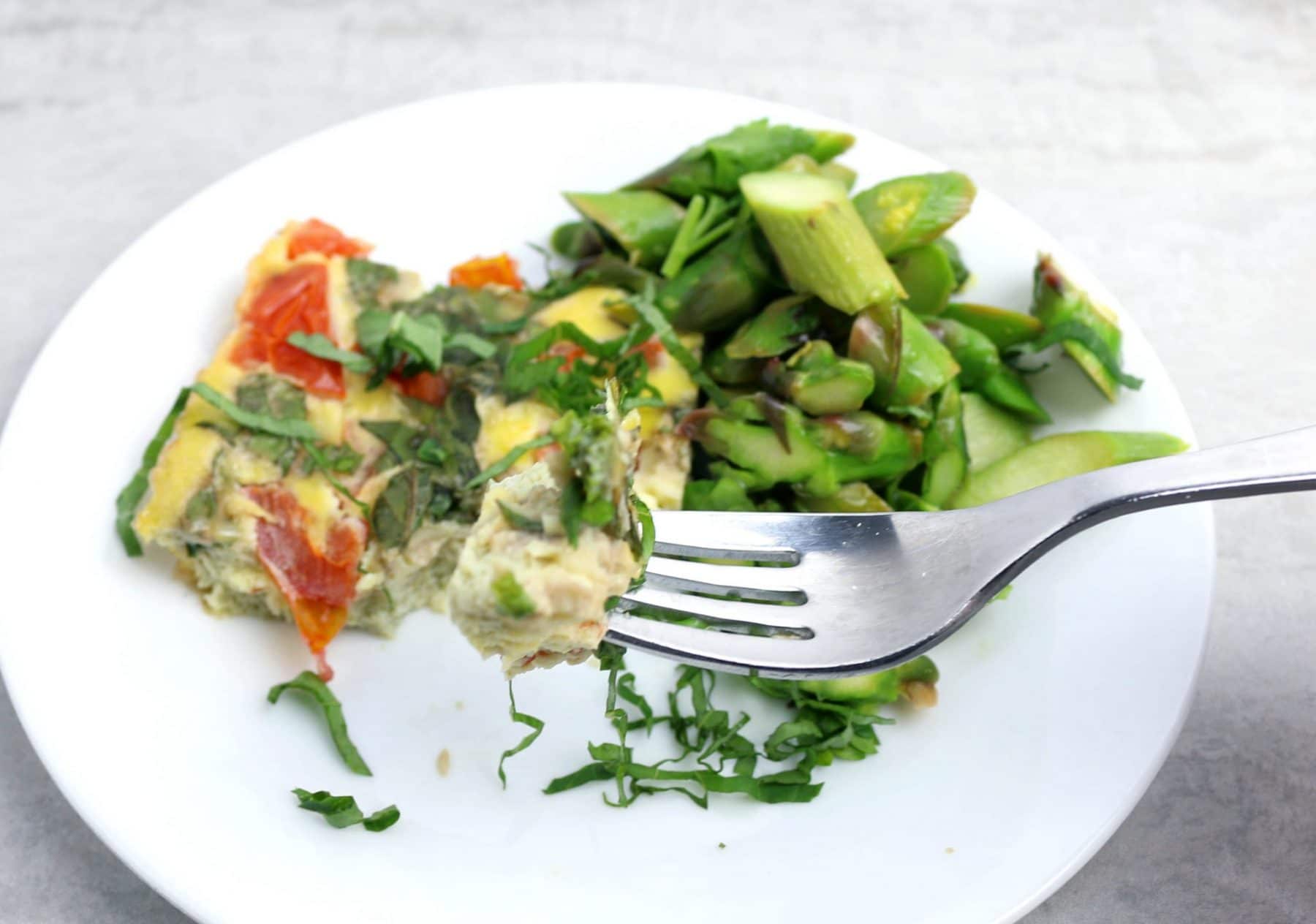 The whole point of making these quiches is for convenience, so I keep the recipe as simple as possible. Look in your fridge…do you have eggs, almond milk (optional), tomatoes and fresh basil?
If so, you have everything you need! And really, what more could you want? You might be thinking, but wait, where is the cheese? Well, I added mozzarella once just to see what it tasted like. It was good but it was very rich. If you can handle it, give it a try! But honestly, it doesn't need it.
Now, are you ready to give it a try? Read on to see just how easy it is to make!
How to Make An Easy Quiche
Go on and try it! Once you make this version, you will be inspired to try more! Quiche is very forgiving so just add what you have on hand. Here are some ideas:
Nitrate Free Bacon
Canadian Bacon
Spinach
Kale
Tomatoes
Green Onions
Bell Peppers
Onions
Almost anything will work in this dish! If you find a favorite combination, be sure to let me know!
Get ready to have an easier morning!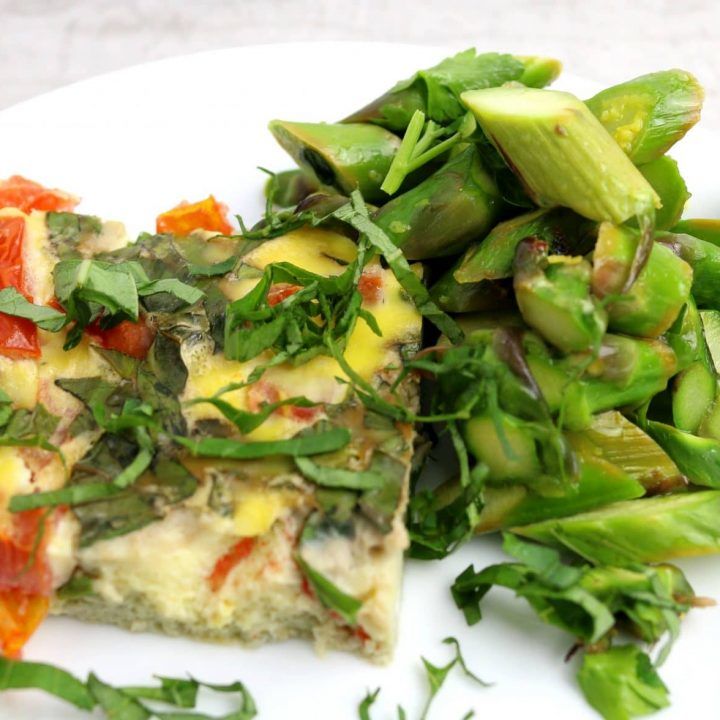 5 Ingredient Caprese Quiche Recipe
This 5 Ingredient Caprese Egg Quiche is so easy and simple! This dairy-free recipe is delicious and can be made ahead of time. This recipe will make your mornings easier!
Ingredients
6 Eggs
1/2 Cup Almond Milk
2 Tomatoes, Seeds removed & Diced
1/2 Cup Fresh Basil, Sliced in to thin ribbons
1 teaspoon Salt
Instructions
Preheat oven to 350°
Grease an 8x8 glass pan. Put aside
Put the eggs and almond milk in a medium bowl. Whisk well, about 3 minutes
Add the Tomatoes, Basil and Salt. Mix well
Pour into the 8x8 pan
Bake 350° for 40 minutes or until the middle is set
Nutrition Information:
Yield:

6
Serving Size:

6 servings
Amount Per Serving:
Calories:

73
Saturated Fat:

1g
Cholesterol:

163mg
Sodium:

479mg
Carbohydrates:

2g
Sugar:

1g
Protein:

6g
Looking for more? Here are some of our recent posts!
By