Sweet, chocolatey, warm goodness…this mint chocolate chip mug cake has all the makings of the perfect weeknight dessert. It takes just 5 minutes to make and it is a delicious ending to almost any meal!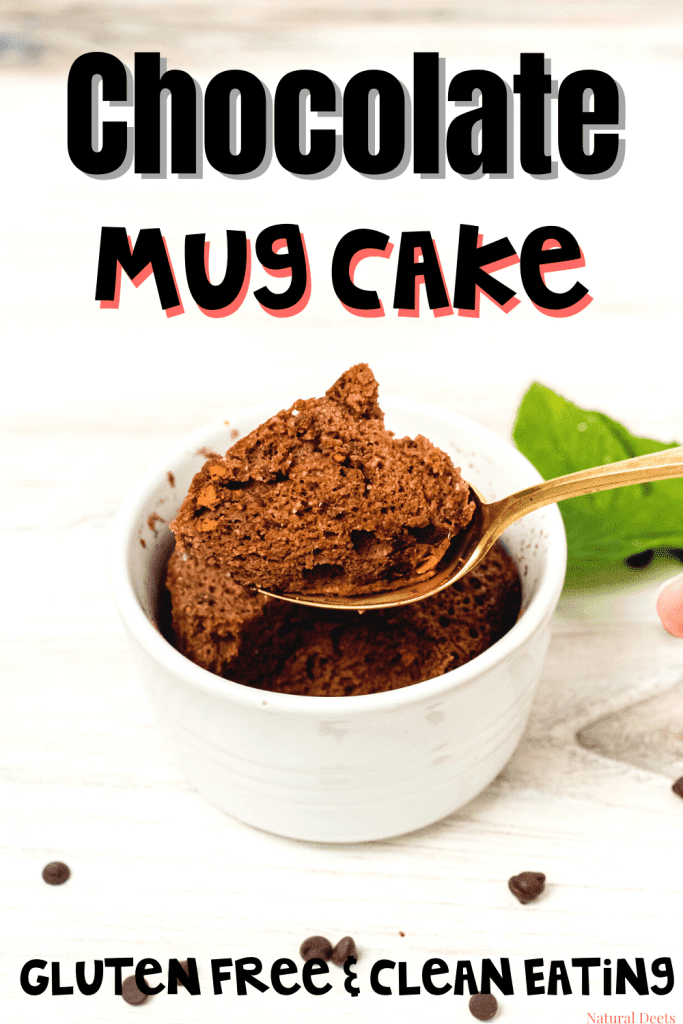 This recipe is so good, that after I post this, I am off to make another one!
Wait until you taste this moist and chocolaty dessert! You won't believe that it was made in under 3 minutes. There's a debate in our house on whether this tastes better with or without the mint. We will let you decide!
Watch Us Make It:
Do Mug Cakes Work?
Yes!! But let's set some expectations here… these are not going to be as good as regular cake that bakes in the oven for an hour. But they are delicious in their own right!
Say it is 7pm and you are looking in your kitchen cabinets for something to satisfy your sweet tooth. Instead of reaching for cookies or something loaded with sugar, grab a few ingredients and make a mug cake!
We are using almond flour and natural sweeteners so you can feel good devouring this clean eating dessert!
Is Almond Flour Good For Baking Cakes?
Almond flour is probably my favorite flour. When used in cakes, it creates a slightly denser texture and gives it a very mild nutty flavor.
But the best reason to use almond flour is that it is more filling than traditional flour. It will satisfy your hunger will keeping you fuller longer.
One problem with eating sweets is that you can eat a lot before you start to get full (you're more likely to get too much sugar before feeling full!). Almond flour helps to fill you up, so it's easier to stop!
Tricks To Making The Best Mug Cake
There isn't much to know here, but there are a few tricks that will guarantee success!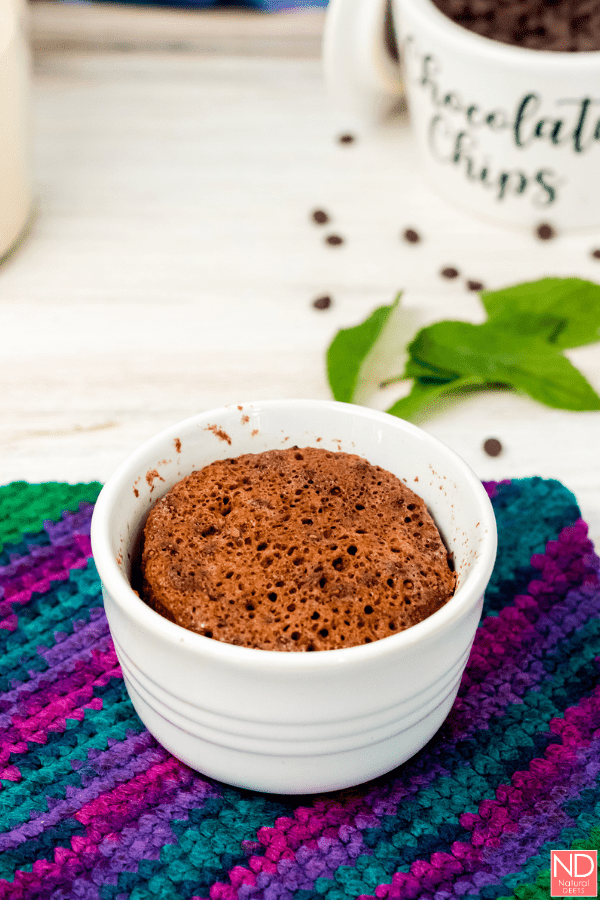 The cake will rise in the microwave so it needs to have space to do so. A standard ceramic coffee mug is just the right size. If you don't want to use a ceramic mug, use a glass dish or ramekin that is at least 2-3 inches high.
You can mix all ingredients in the mug, but the sides may get messy and burn in the microwave. I recommend mixing everything in a separate bowl then pour it into the mug.
The cake will be really hot so let it sit for a few minutes until it is cool enough to eat.
That's it! I told you there weren't many rules!
This is a simple recipe, so let's keep it easy!
How To Make a Mug Cake From Scratch
There are just a handful of ingredients in this recipe. I like to include mint extract, but it is completely optional!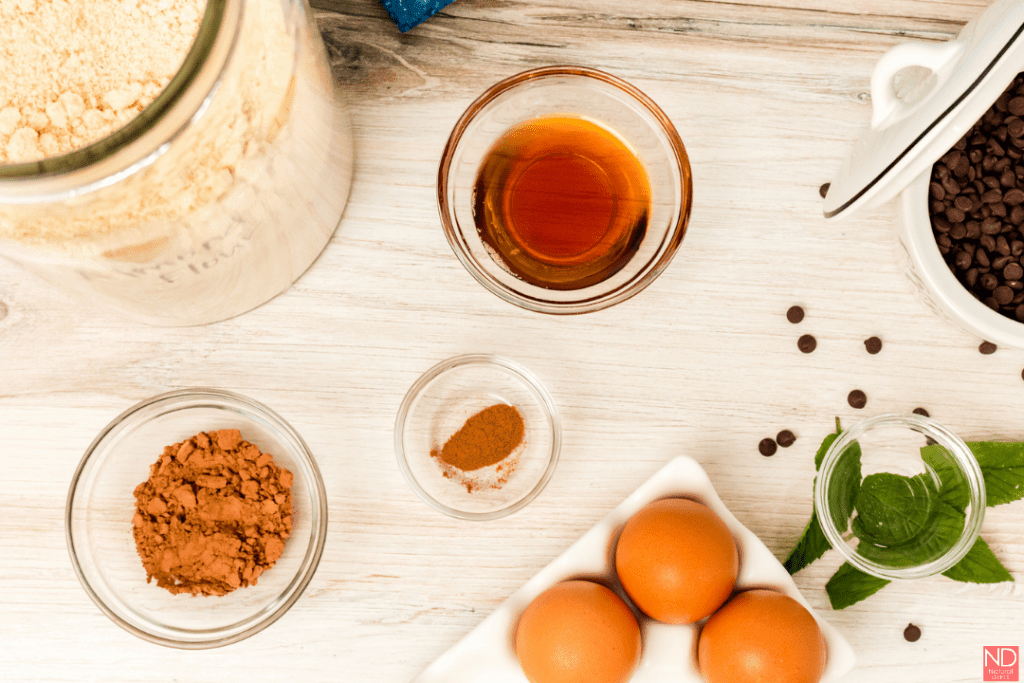 Here's what you need:
Almond Flour – We replaced white flour with almond flour for a denser and more filling healthy cake recipe!
Egg – The cake is so small that we only need one egg
Maple Syrup – a natural sweetener
Cacao Powder – Chocolate, yes!
Cinnamon – for that hint of something special
Dairy Free Chocolate Chips – because, why not?? (Optional)
Peppermint Extract – Optional but I love it. The kids prefer it without
Here's the easy part: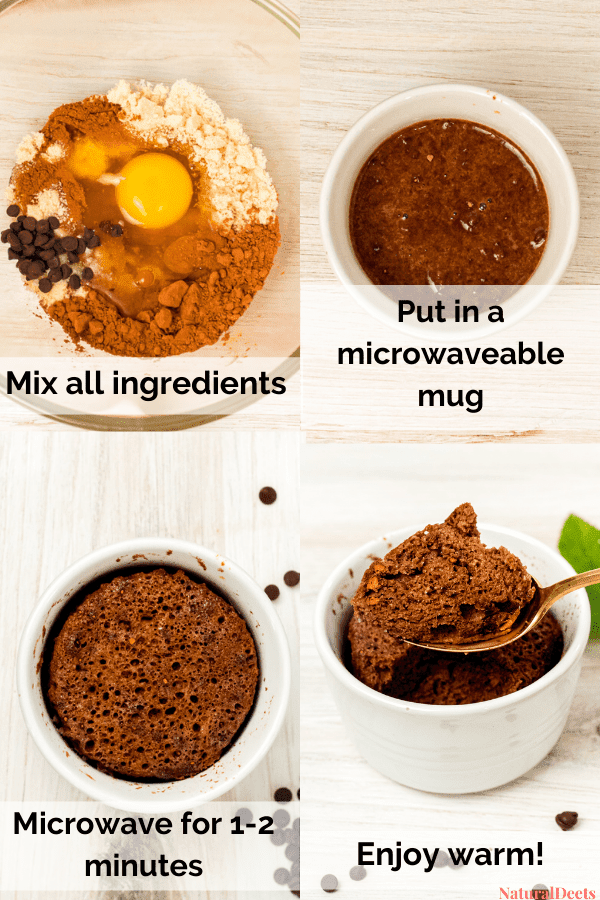 Add all ingredients to a bowl and mix well
Pour into a mug or ramekin
Microwave 1-2 minutes (ours only takes 1 minute)
Serve!
Do Healthy Desserts Exist?
We just proved that they do! We have been trying to cut back on sugar…even natural sugar, so I have tried to make this with less maple syrup.
I have been able to cut it to about 1 Tablespoon but any less than that and it starts to lose its chocolaty flavor. The kids definitely prefer 2 Tablespoons.
If you aren't familiar with the 80/20 rule of clean eating, click HERE to read more. It's one way we are able to stick to a clean eating lifestyle.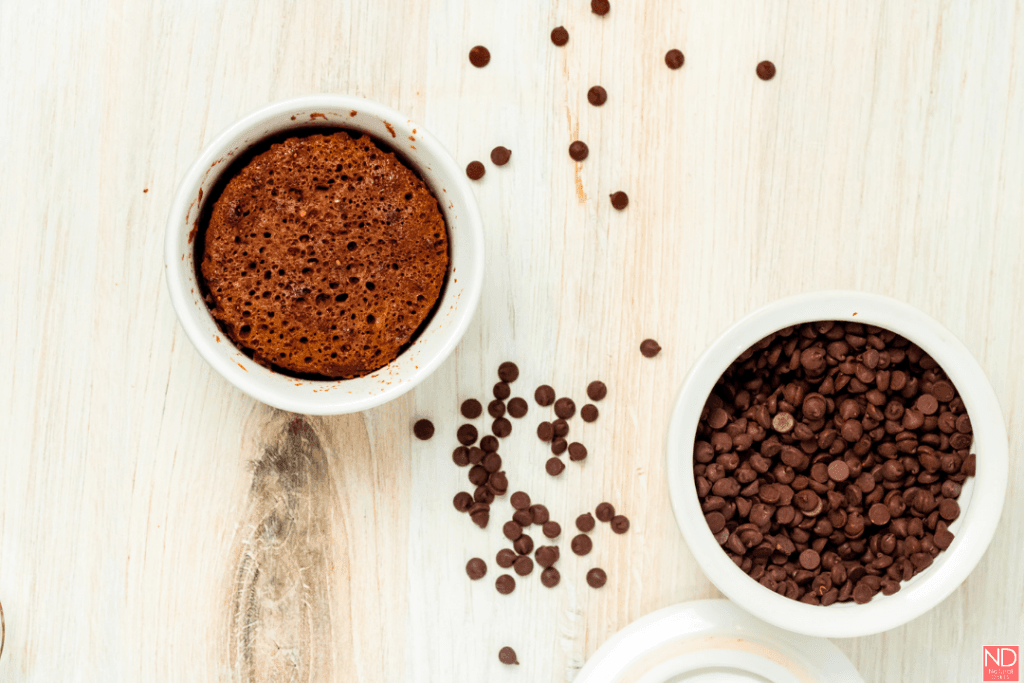 Enjoy!!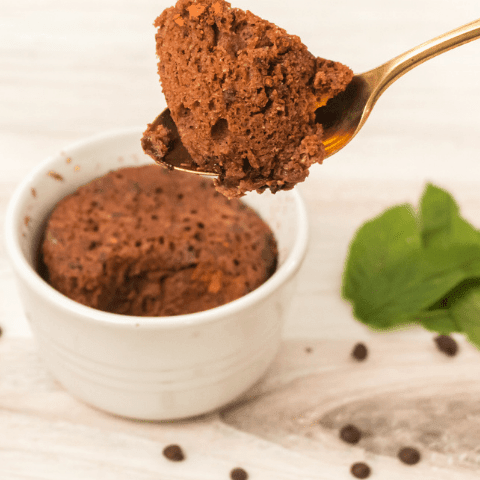 Mint Chocolate Chip Mug Cake
This mug cake might be the easiest dessert you have ever made! It takes less than 5 minutes and still satisfies your sweet tooth!
Ingredients
1/4 Cup Almond Flour
1 Egg
2 Tablespoons Maple Syrup
1 Tablespoon Cacao Powder
1 Tablespoon Chocolate Chips
1/8 teaspoon Cinnamon
1/8 teaspoon Peppermint Extract
Instructions
Mix all ingredients in a small bowl
Carefully pour batter into a ceramic coffee mug or ramekin that is at least 3 inches tall
Microwave for 1-2 minutes. Watch it closely because most microwaves will only require 1 minute
Let cool for a few minutes then enjoy warm!
By