Are you as excited as I am that Halloween is almost here? It is the one time of year that we can get extra creative with food…if it doesn't turn out the way we had intended, we can just say it's a Halloween recipe! LOL! Take these mummy hot dogs for example…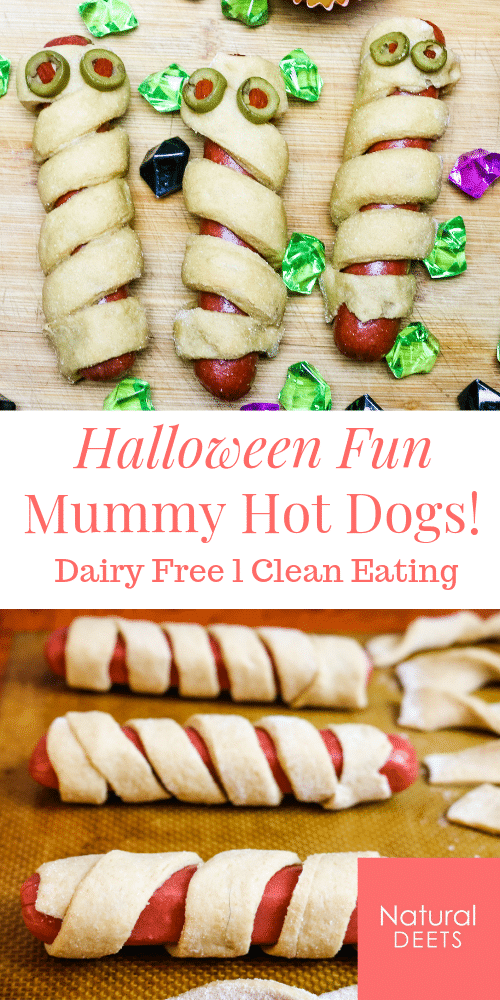 I imagined the olive eyes would look less frightening, but I have to say, I love the way they turned out! My kids have also been playing around with different ideas. That is what makes this one of the perfect Halloween recipes for kids!
Right now they are obsessed with zombies, mummies and monsters thanks to Minecraft. As much as I wish they played less video games, I have to admit that it added a new, fun and creepy element to our Halloween celebrations!
Mummy hot dogs are so fun and SO easy to make! This is one of those Halloween recipes kids can make! I've seen this done online with store bought crescent dough, but I prefer to make my own dough. I use this Easy Bread Dough recipe.
What Is A Mummy Dog?
A mummy dog is a crescent roll cut into slices and wrapped around a hot dog. While baking, the crescent dough puffs up and makes it look like a mummy! It's a fun Halloween snack idea for kids and adults!
I used to eat premade crescent rolls, but once we started cutting out processed foods and reading labels, I realized just how unhealthy they were. Even the healthier versions contain hydrogenated fats and oils along with multiple other additives.
Really…it should just be flour, baking soda, bakng powder and salt for the most part. All the other ingredients are added in for cost savings.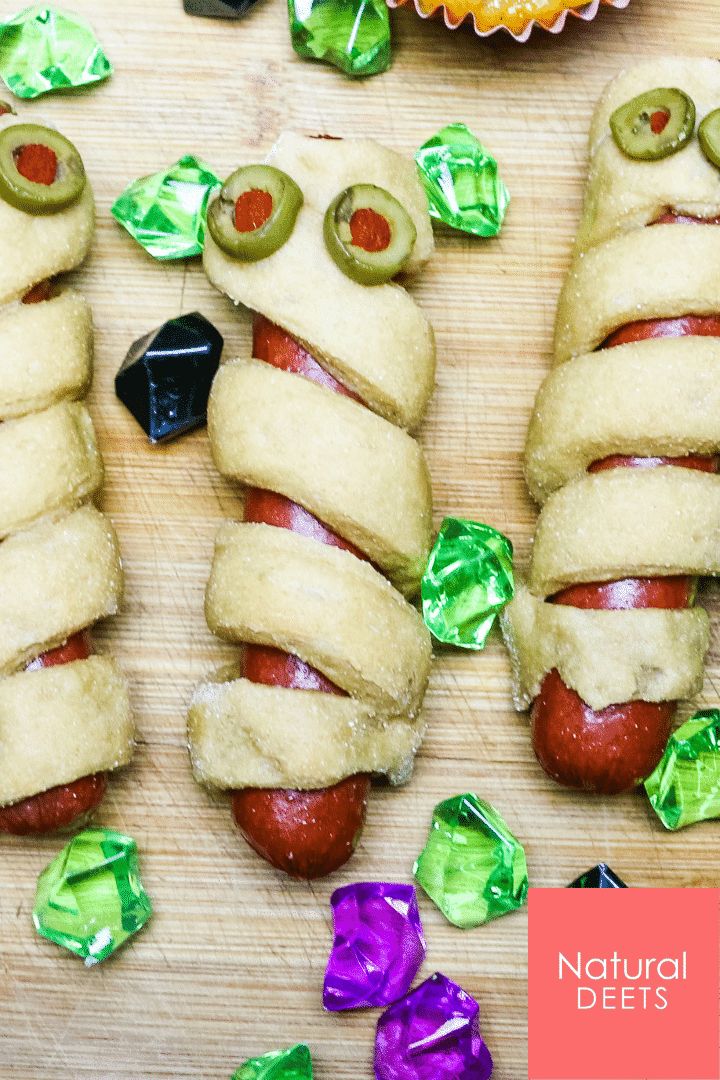 I have a healthy go-to recipe when it comes to making any kind of dough that will be rolled out. You can get that recipe here: Easy Bread Dough
Can You Prepare Crescent Rolls in Advance?
Why, I'm glad you asked! You sure can. I made this dough the day before and wrapped it in saran wrap. Store it in the fridge overnight (make sure it is air tight) and roll it out the next day. I let it sit about 5 minutes just to take the chill off the dough before rolling it out.
Then follow the baking instructions from there! As long as it doesn't dry out in the fridge (from not being properly sealed), your mummy hot dogs will be just as delicious as the first day!
How Do You Make A Mummy Dog?
Well, start by grabbing the kids and having them wash their hands. The whole family can be involved in this one! Just rememebr to play some Kid Halloween music while you bake, to really get in the mood!
Start with your favorite crescent or bread dough recipe for this. I like to use this easy and versatile clean eating bread dough recipe.
Roll the dough into a rectangle that is about 1/8 inch and cut into strips.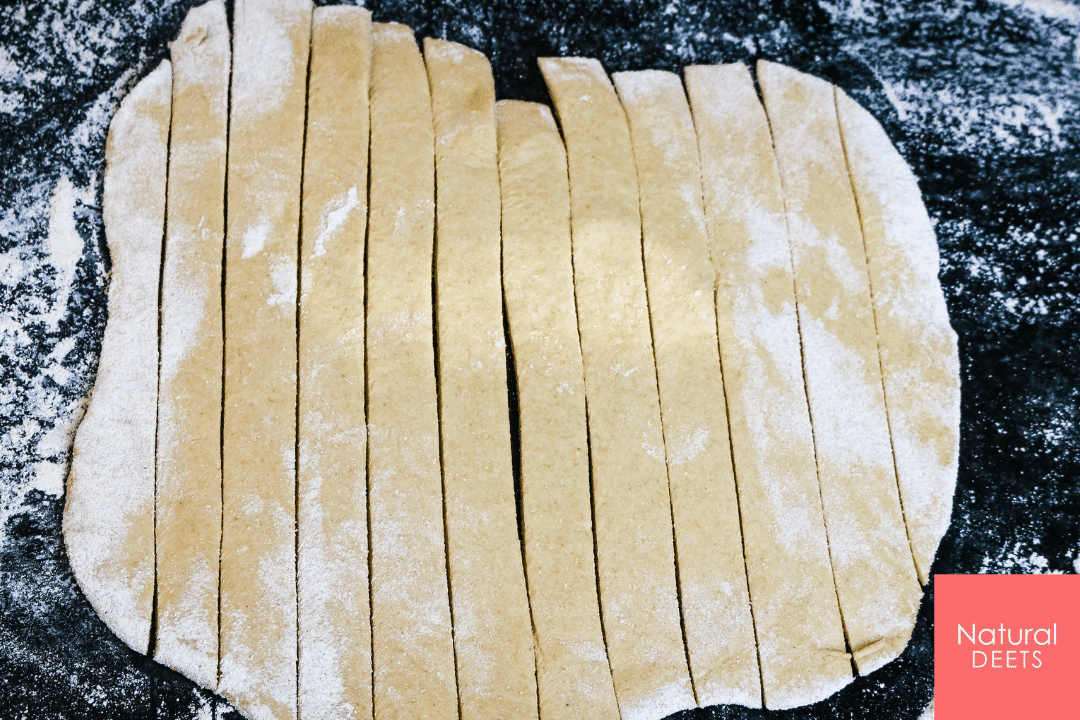 I like to use Nitrate free, no filler, grass fed beef hot dogs. I like these Applegate hot dogs from Trader Joe's. Costco also has delicious grass fed beef hotdogs and they might be more economical if you're feeding a big crowd.
Take one dough strip and hold one end on to the top of the hot dog. With the other hand, wrap the dough around the hot dog until you reach the end. Leave gaps between the dough for the hot dog to show through. This is what will make it look like a mummy!
I slice green olives and gently press them in to the dough to make eyeballs. You could also use chocolate chips.
Brush the bread dough with a beaten egg white and bake at 350 degrees for 10-12 minutes or until browned. You could also brush the dough with garlic butter (in place of the egg whites) for even more flavor. Serve! Kids and adults love this one!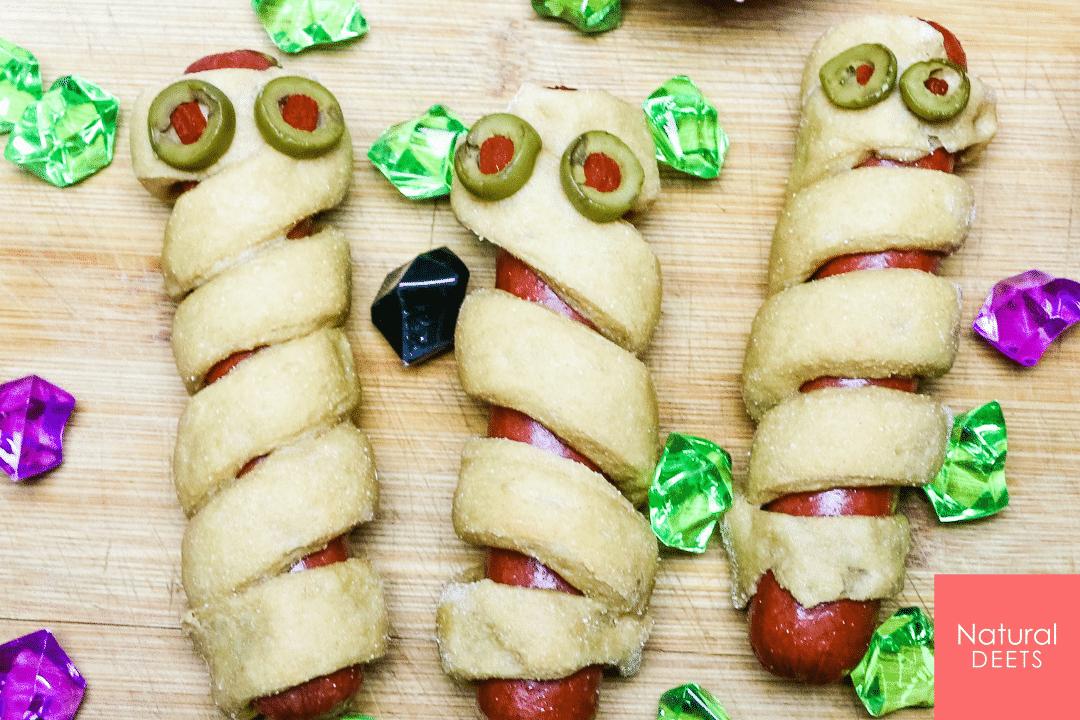 Are you looking for more Halloween party ideas? Check these out:
4 Bootastic Halloween Party Food! – Clean Eating
Halloween Essential Oil Blends – For Spooks and Fun
7 Essential Oils to Spookify Your Halloween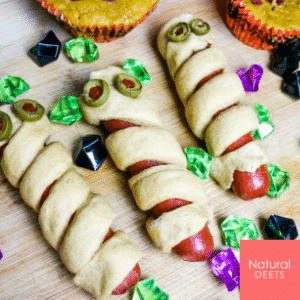 How to Make Mummy Hot Dogs
Add these healthy Mummy Hot Dogs to your Halloween kid-friendly menu!
Total Time
1
hour
15
minutes
Ingredients
1

Package

Grass-Fed Hot Dogs

Favorite Crescent Dough Recipe

See post for link to my favorite recipe!
Instructions
Grab the kids and have them wash their hands!

Make or buy your favorite crescent dough

Roll the dough into a rectangle that is about 1/8 inch and cut into strips.

Take one dough strip and hold one end on to the top of the hot dog. With the other hand, wrap the dough around the hot dog until you reach the end. Leave gaps between the dough for the hot dog to show through.

I slice green olives and gently press them into the dough to make eyeballs.

Brush Dough with beaten egg white or garlic butter

Bake at 350° for 10-12 minutes, or until browned
By