When I first heard about how Norwex cloths can clean your home with just water and no harmful chemicals, I was hopeful but very skeptical. Before handing over my hard-earned money, I had to ask Do Norwex Window Cloths actually work?
In my experience after using it for 2 years – I can say that it does! I have several Norwex products and I'm happy with almost all of them. But my absolute #1 go-to? The Norwex Window Cloth and Envirocloth. Let me tell you why!
Click Here to join the Your Happy Clean Home Facebook group for more ideas, deals and inspiration!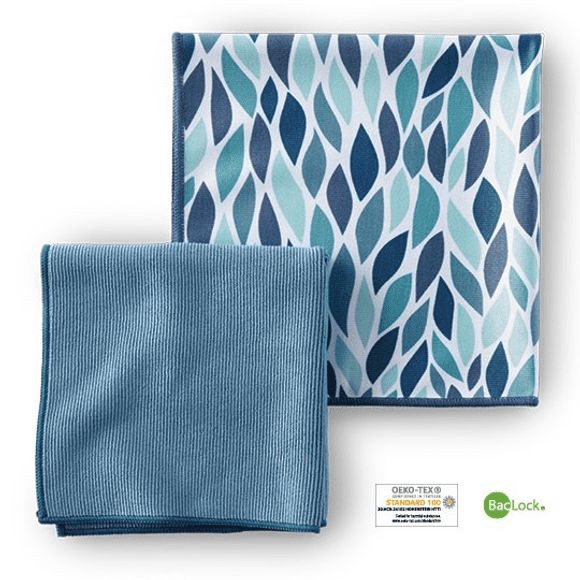 Norwex Window Cloth Review
I did a comparison a while back between the e-cloth dusting mitt and Norwex dusting mitt and I still stand by my review, so you can trust that I'll be honest here!
Even though there are lots of ways to use this cloth, I really only use it consistently for the four purposes below:
Windows – This is what the cloth was made for! We live in the PNW where we have clouds for 9 months out of the year. That means that when the sun finally comes out, we can see all the handprints, streaks and marks on the glass windows. I hate cleaning, but the streaks can't be ignored. The window cloth easily removes all the streaks on the glass. We had a few new windows with a greasy layer, and the window cloth cleaned it like nothing!
Mirrors – Just like windows, this cloth cleans mirrors with ease. There are no streaks, and no chemical smell, which I love. It's not just for the house – Use it to clean your car mirrors or compact mirrors too!
Stainless Steel – This cloth will make your stainless faucets shine! I don't use it on the appliances because I have other cloths for those, but it works great on kitchen sinks and sink faucets!
Tile Backsplash – When I cook something that splatters, like my One Pan Sauteed Kale With Prosciutto, I will wipe the tile behind the stove with a kitchen cloth and then follow it with the Window cloth. It works like a charm!
What is the Norwex Window Cloth?
If you are new to Norwex and overwhelmed with all the choices, the Norwex window cloth and Envirocloth set are where you want to start! These are two of the most popular products from Norwex and they will give you a good idea of the quality and performance that you can expect from Norwex products.
The window cloth gives your windows a streak-free shine without using harmful chemicals but you will find lots of uses for it in your home like windows, mirrors and other shiny surfaces.
Window cloths are made of a tightly woven microfiber fabric which allows them to dry quickly preventing mildew and mold. And because there are no chemicals involved, the kids are now in tasked with cleaning the windows. They actually fight over who gets to do it!
How do you use the Norwex window cloth? – 2 Ways
The #1 misconception that I have seen with the window cloth is that it is used to dry the windows. The window cloth does not absorb water, so you won't be able to dry anything with it. Instead, it should be used to buff the windows after washing.
If your window needs to be cleaned:
Use the Norwex Envirocloth, or a microfiber cloth to clean the window with just water.
If the window is wet, let it dry for a few minutes. We want it to be damp (as if you had used a spray bottle on it) but not wet.
Use the dry window cloth to take out any streaks on the window. On surfaces that can scratch, be sure to wipe with the grain.
If your window is clean but you want it to sparkle!
Lightly mist the window with a spray bottle
Polish it dry with the dry window cloth
We used the window cloth on a brand new window that had an oily film and it worked great, so don't be afraid to try it on bigger jobs too.

Frequently Asked Questions About the Norwex Window Cloth
Do I wet the Norwex window cloth?
The window cloth should be used dry so you do not want to wet it first. The window cloth should be viewed as a buffing tool rather than a cleaning cloth.
What is the difference between Norwex EnviroCloth and the Window cloth?
The EnviroCloth is used to clean and the Window cloth is used to shine. The EnviroCloth can be used to clean the windows or mirrors. Once all dirt and fingerprints are removed, the Window cloth is used to buff out any marks and leave it streak-free!
Which Norwex cloth do I use to wash windows?
The Norwex Window cloth is the best cloth for cleaning windows. I would also recommend picking up the EnviroCloth to clean the windows before using the window cloth, but other microfiber cloths will work too.
Which side of the window cloth do I use?
You can use either side of the Norwex window cloth. They are the same on both sides.
Will I really save money?
eh, I mean it depends on how much you currently spend on window cleaning products. I would imagine it isn't much. The benefit here is that you are only using water so there are no harmful chemicals and you are will save on paper towels!
How do I wash the Window Cloth?
As with all Norwex products, you'll want to use a natural detergent, but just pop it in the washing machine with the rest of your laundry and air dry. Do not use dryer sheets.
Where can I buy a Norwex Window Cloth?
You can buy it on my site by Clicking HERE Let me know if you need any help!
If you love your window cloth as much as I do, or if you have any questions, please leave a comment and let me know!
By