This one-pan sauteed kale with prosciutto dish is delicious, easy and will fast become one of your favorite meals! Prosciutto is the star in this dish and the tender sauteed kale complements the saltiness of the prosciutto making a delicious meal any time of day!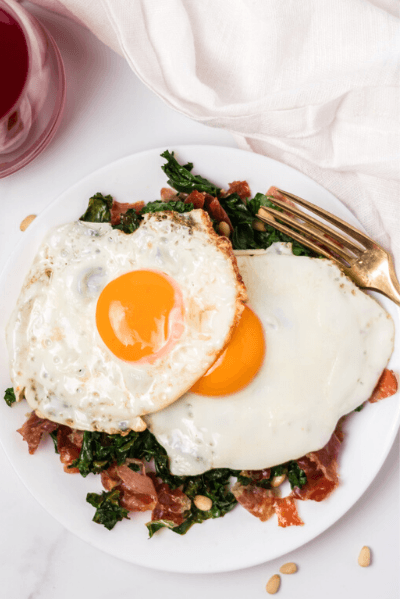 If you don't like kale, you need to give this recipe a try before you give up on it! Think of prosciutto as bacon…everything tastes delicious with bacon. The same can be said about prosciutto!
If you are looking to take this dish up another notch, pair it with this baked Camembert recipe and call it a night. This delicious combination is enough to satisfy anyone!
This Dish Has Kale…Are You Sure It Is Kid Friendly?
This dish does have kale, but it also has prosciutto…which is essentially bacon. The kids loved this dish! They didn't love the kale, but when I had them eat it together, they didn't complain and they asked for seconds. I'd call that a win!
What Is Prosciutto?
Prosciutto is an Italian cured pork (from the hind leg) that is dry-aged and then very thinly sliced. The slices are thinner than a sheet of paper and can be difficult to separate without tearing. That is why they typically come with thin plastic between slices.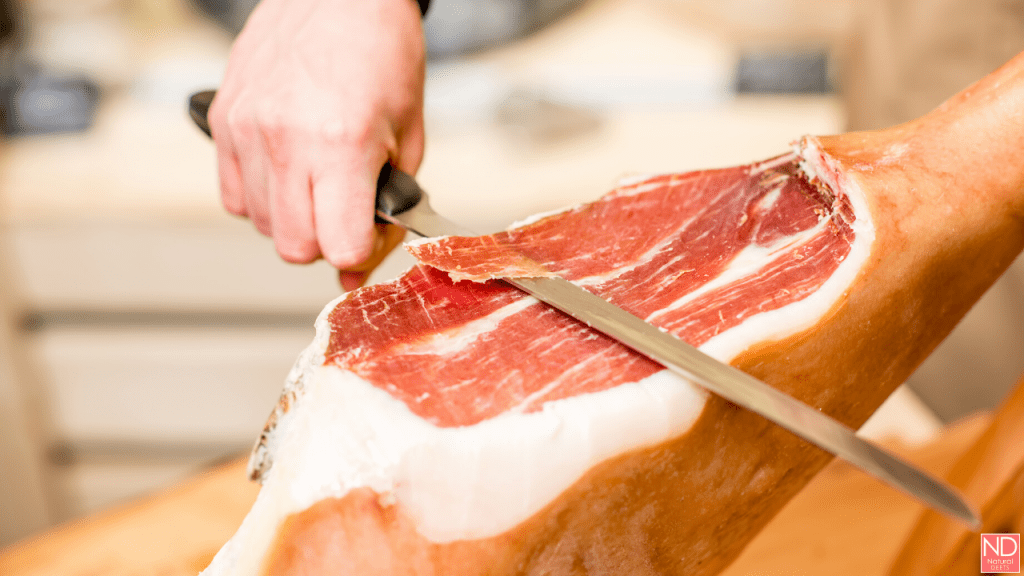 Because of the curing process, the meat is very salty. This means that a little bit goes a long way! I used 2 oz. of prosciutto for this dish and it cost about $5 for that small amount. If you haven't used prosciutto before, you will think that it won't be enough. But trust me…it will be plenty!
What Can You Use Instead Of Prosciutto?
If you can't find prosciutto in the store, there are several substitution options:
Panchetta – This is a very similar meat but comes from the pork belly and must be cooked before eating
Bacon – Cooked and crumbled
Salty Pork – Cooked and sliced thin
Smoked Sausage – Cooked and sliced
Capicola – this is processed similarly to prosciutto but is made from the neck or shoulder muscle of the pig
Nuts – If you are looking to avoid pork or meat, you could just leave it out of the recipe and add salt instead. Or you could pan roast almonds or cashews and toss those in with some salt
How To Saute Kale
Sauteing kale is fairly straightforward but there are a few tricks that will guarantee success! Here are just a few of them:
Wash Thoroughly: Have you ever eaten sauteed greens and suddenly had a gritty feeling between your teeth? Just thinking about it gives me chills! That is because the fine dirt was not properly cleaned from the leaves. To clean the kale, break off the leaves and rinse them one at a time, making sure to get all the dirt off. Then let them drain in a strainer until you are ready to use it.
Use Oil: Kale is a hearty vegetable and doesn't have a lot of moisture. This is why it makes great kale chips! But it will also cause the kale to burn if a liquid isn't added to the pan. 2-3 Tablespoons of oil should be enough liquid
Allow Enough Time For Cooking: Kale takes longer to cook that spinach and chard. When you saute kale, chop it thin to speed up cook time. In addition, allow up to 10 minutes for the leaves to soften, depending on the type of kale you use. In this recipe, we chop the kale into thin ribbons, and it will continue to soften on the plate as we cook the other ingredients, so it only takes 3-5 minutes.
How To Make Sauteed Kale With Prosciutto
Step 1: Start by taking the leaves off the stem of the kale and chopping them into 1/4 inch pieces. The easiest way is to run your knife along the stem and pull off the leaves. Once all the leaves are off, place 3-4 leaves on top of each other and roll them up, similar to how you would roll sushi. Now use your knife and start cutting off 1/4 inch pieces. It's so much easier than cutting each leaf!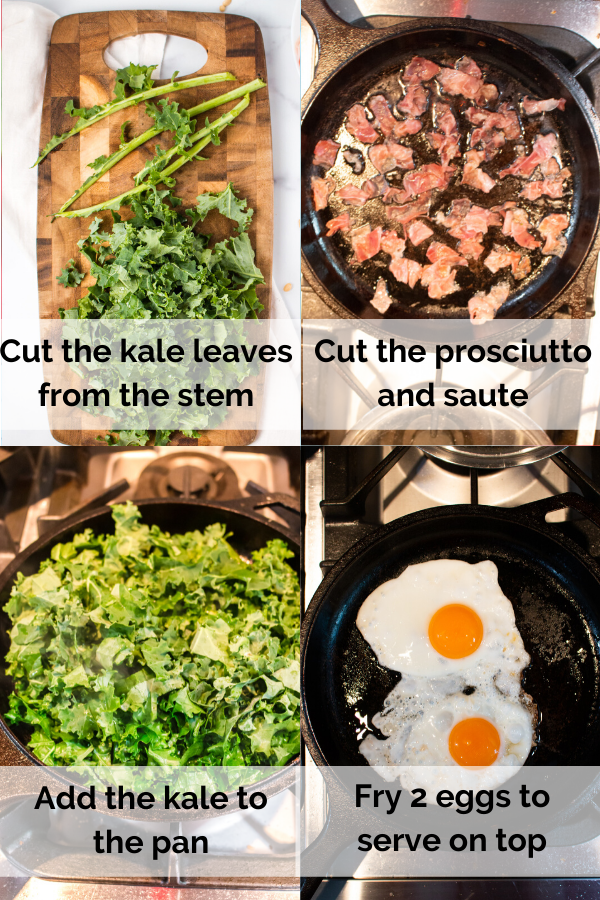 Step 2: Chop the prosciutto into 1/4 inch strips. They will start to stick together, but don't worry about it. You can break it up as you add it to the pan.
Step 3: Heat a skillet over medium heat and add 2 Tablespoons of olive or avocado oil. Let it warm up for a minute, then add the prosciutto. Saute until crunchy – It only takes 3-5 minutes. Once crunchy, remove from the pan and place on a paper towel to drain. DO NOT DRAIN THE DRIPPINGS FROM THE PAN
Step 4: Add the kale to the pan. Saute 3-5 minutes or until wilted. Divide the kale mixture into serving bowls and sprinkle with the prosciutto.
Step 5 (Optional): Pan fry eggs and serve on top of the kale and prosciutto
Step 6 (Optional): Add Pine Nuts to the pan and toast them for 3 minutes or until lightly browned. Watch it carefully because they can burn quickly. Then sprinkle them over the dish!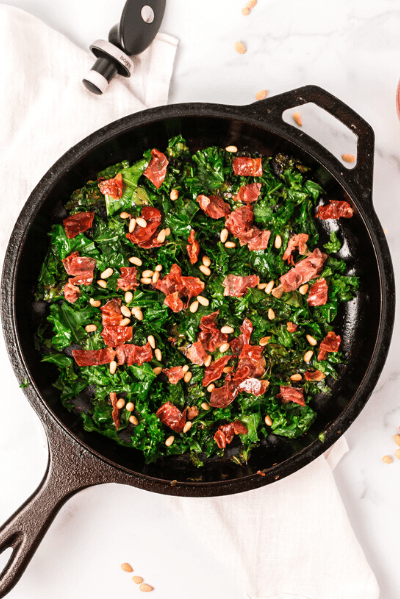 Serve and enjoy warm!
What To Serve With This Dish?
This sauteed kale recipe can be served alone, as it makes a pretty filling meal. However, if you are looking for additional recipes, these would pair well!:

Give it a try and drop a comment to let me know what you think! If you're looking for other one-dish meals, try our chicken curry and rice casserole or a one pan fajita rice casserole.

By