As much as we love cooking around here, our mornings are just insane. The kids are not morning people, so there is a lot of sitting around and dragging their feet. Because of that, breakfast needs to be as simple as Toast and Peanut Butter!
Every morning when the kids wake up, I ask "What do you want for breakfast today?" And they always respond with a bunch of requests. I tell myself that I will be that mom who wakes up early to cook them a warm, healthy breakfast before school, but by the time we make it downstairs and to the kitchen, we are running out of time…EVERY time!
Lucky for them, peanut butter toast can be made in less than 5 minutes and it doesn't require much effort on their part. To be honest, they know how to make toast, but because we need to be out the door by a certain time, I just put the bread in the toaster while I make my breakfast….pick your battles, right?
Is Toast With Peanut Butter A Good Breakfast?
Yes, it is! Some people claim that peanut butter makes you gain weight. I don't believe it, but I can't argue any differently, so I'll let that one sit. What I do know is that natural peanut butter does not contain any added sugar or preservatives and is essentially like eating a salted peanut…which is good for you.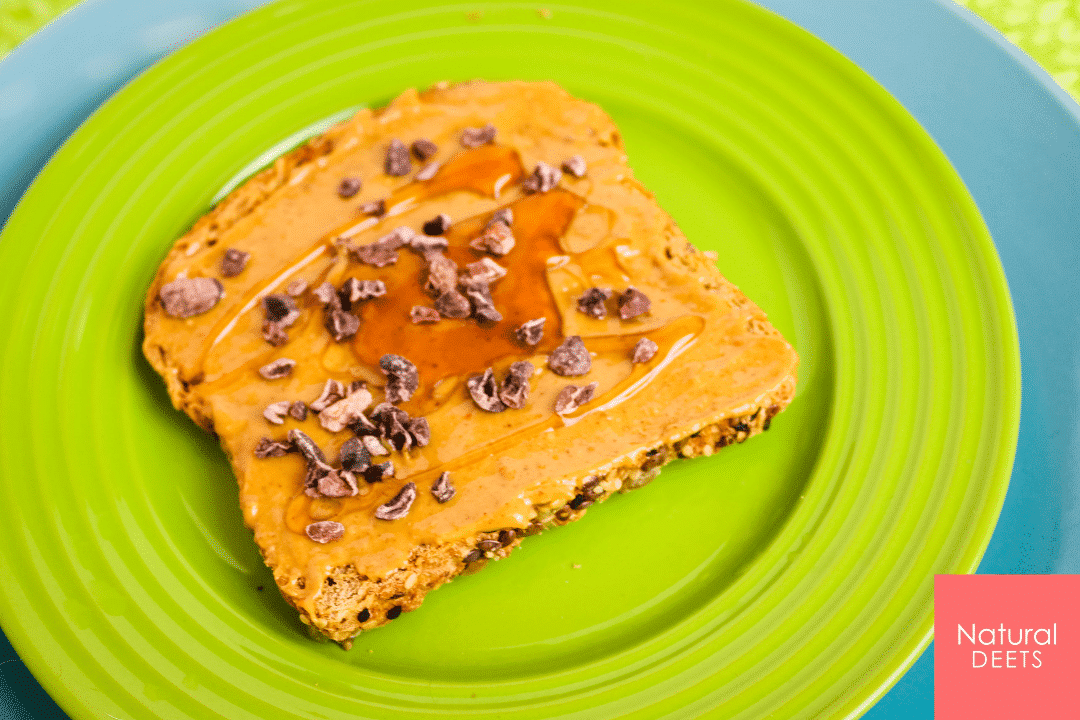 Every tablespoon of peanut butter contains 4 grams of protein. Your body needs protein to repair damaged cells and to create new ones. Protein is most beneficial to your body first thing in the morning, since your body has been fasting all night.
Do Kids Need Protein?
We often hear about protein when we talk about bodybuilders or people who like to work out a lot (that is definitely not me!). But protein for breakfast is also important to children because it gives them energy without a sugar crash, and it keeps them fuller longer!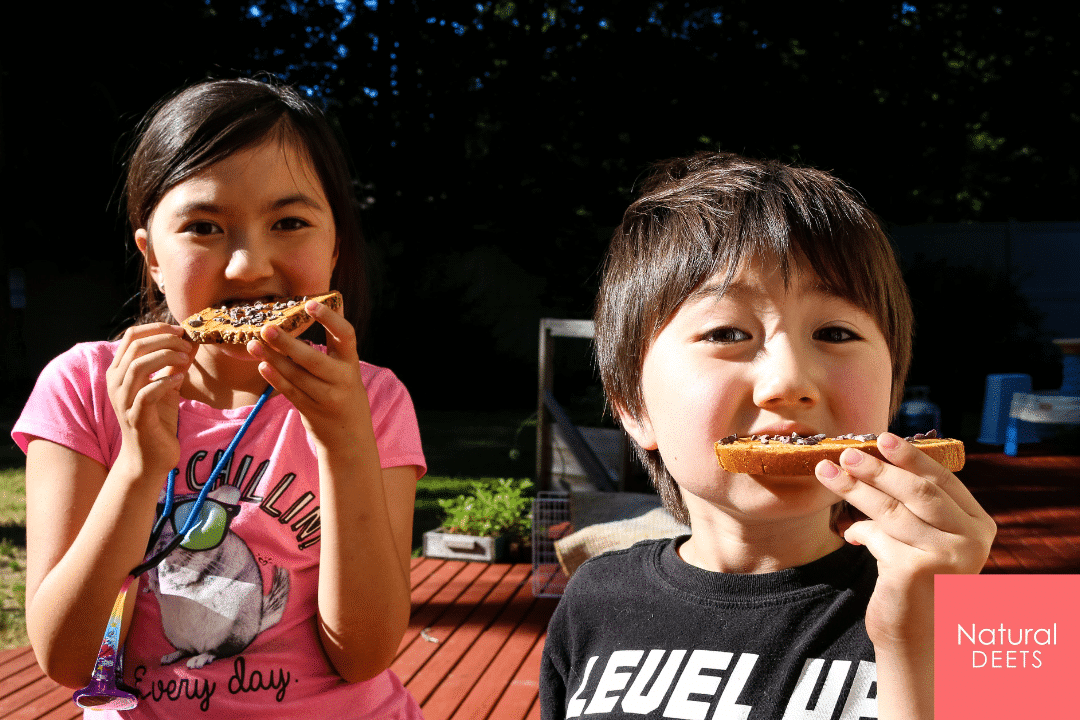 My daughters elementary school serves lunch at 12:45pm and they are not allowed to take food to the playground at recess. I actually still worry about her getting hungry before lunch. I mean, even I have to eat 2 times before 12:45!
Up until 2nd grade, the teachers would give them mid-morning snacks, They weren't the healthiest snacks, but I figured it was better for my daughter to eat something to help her concentrate. But this year she is in 3rd grade and there are no more snacks.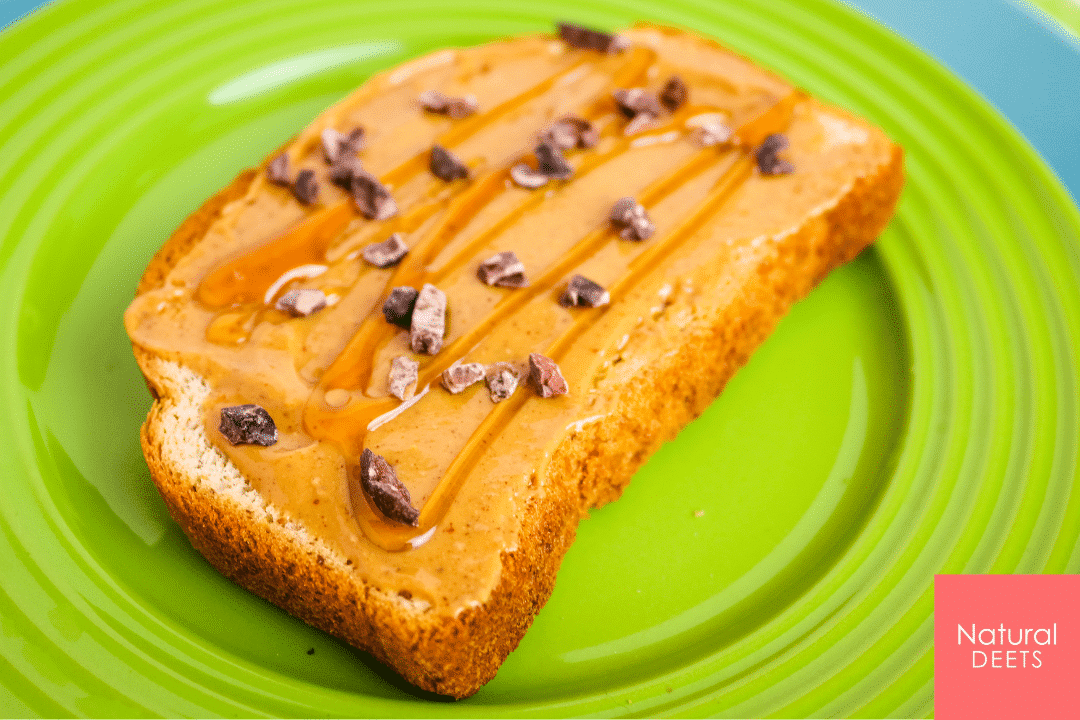 At least I can take comfort in knowing that the peanut butter will keep her full until lunchtime! Kids also need protein for their growing bodies to function properly. Everything from hormones, to tissue growth, is dependent on getting enough protein.
You can read more about how Peanut Butter is good for you HERE
Is Natural Peanut Butter Really Better For You?
That is a resounding yes! Have you ever read the ingredients in Peanut Butter? Let me show you the difference between natural peanut butter and JIF (which I grew up on and used to swear by!).
Natural Peanut Butter
Jif Peanut Butter
Peanuts
Sugar
Molasses
Hydrogenated Vegetable Oil
Mono and Diglycerides
Salt
What is Healthy to Put on Toast?
There are many healthy options when it comes to toast! Obviously peanut butter is one of them!
But you could also try a combinations of any of the following:
Smashed Avocado
Honey
Eggs
Almond Butter, Sunflower Seed Butter
Grass Fed Butter & Cinnamon (and honey)
Microgreens
Add Ins: Hemp Hearts, Flax Seeds, Pumpkin Seeds, Sesame Seeds, Chia Seeds, Goji Berries
This avocado micro green & Chia seed toast is an adult favorite. The kids won't touch it!
Peanut Butter Toast Recipe
Peanut butter toast is so simple and easy to make! The kids can make this one with no help from the adults..though I usually stick around to keep them from drowning the toast in honey!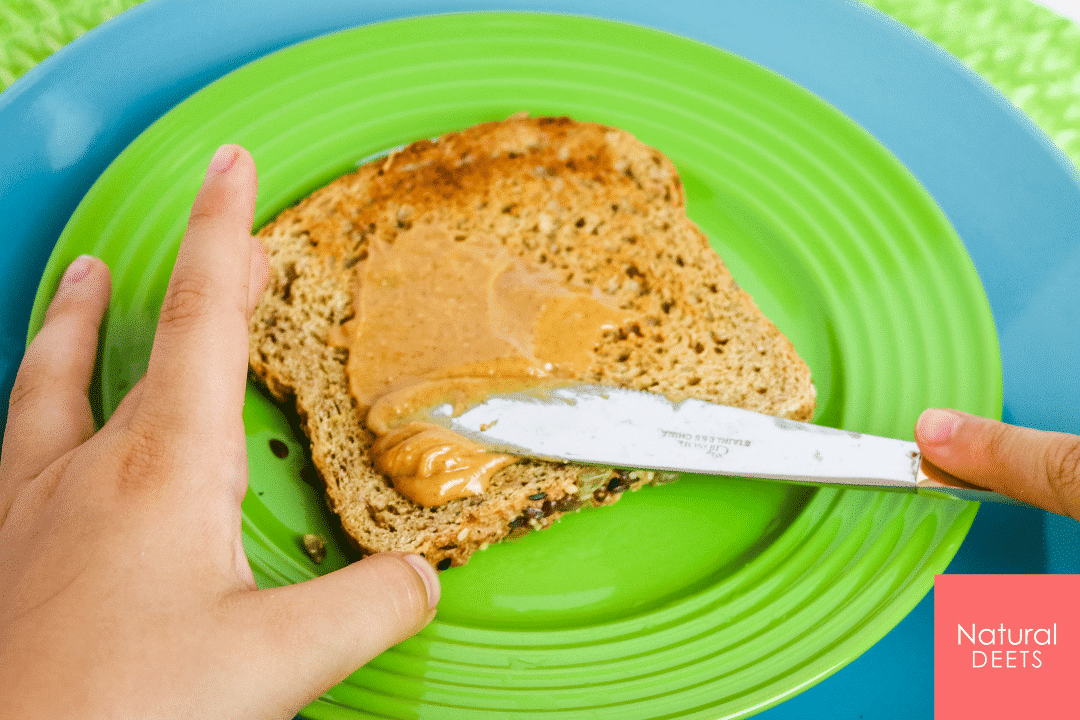 First, place a whole grain bread slice in to the toaster. Toast until it is golden brown
Then cover it in peanut butter. Be sure to get all the edges too! If you do it while the toast is still warm, the peanut butter will melt and it is even more delicious (and messy)!
Drizzle the toast with honey. We use about 1 Tablespoon. Any more than that and the honey will drip everywhere while you eat it
You can eat it as is, or sprinkle it with any healthy toppings of your choice! We decided to add cocoa nibs (which are dairy free too).
Delicious!
Here's another fun idea!
Looking for More Clean Eating Breakfast Ideas? Check these out!
Make ahead dairy free Caprese Quiche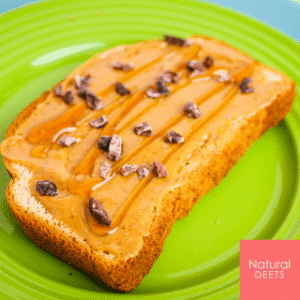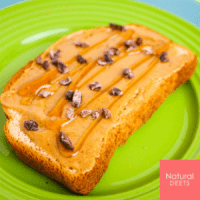 Toast with Peanut Butter
Toast with Peanut Butter can be made in under 5 minutes. It is delicious and easy, so the kids can make it themselves. A win for all!
Ingredients
1 Slice Whole Wheat Bread, Gluten Free ok too
3 Tablespoons Natural Peanut Butter, or more, to taste
1 Tablespoon Honey
Additional toppings of your choice!
Instructions
Place the bread in the toaster. Toast until golden brown
Evenly spread the peanut butter over the toast
Drizzle the honey over the peanut butter
Sprinkle with any additional toppings and enjoy!
Nutrition Information:
Yield:

1
Serving Size:

1 person
Amount Per Serving:
Calories:

415
Saturated Fat:

5g
Sodium:

333mg
Carbohydrates:

38g
Fiber:

5g
Sugar:

23g
Protein:

16g
Looking for more? Here are some of our recent posts!
By