Summertime and the livin's easy with this fruity Sangria recipe! This refreshing party cocktail was made for sitting out on the deck with friends. Sweetened with just fruits, it has just the perfect amount of sweetness and you'll love it with or without the alcohol!
I love a good outdoor party, and when summer comes around, there is just something about a nice cold, fruity Sangria that sends the fun factor through the roof!
Sweet drinks have never been a favorite of mine because the sugar crash just wasn't worth it. But there is no added sugar in this sangria recipe, so you and your guests and sip it all day (and night) long!
What Is Sangria?
Sangrias are a delicious Spanish drink traditionally made with red wine, lemonade and fruits. However, there are many variations, using all different types of wines.
In this recipe, we use a blend of Rosé wine and Vodka. Untraditional I know…but so delicious! I don't like to add any sweetener but if you want it sweeter, you can add 2-3 tablespoons of Honey.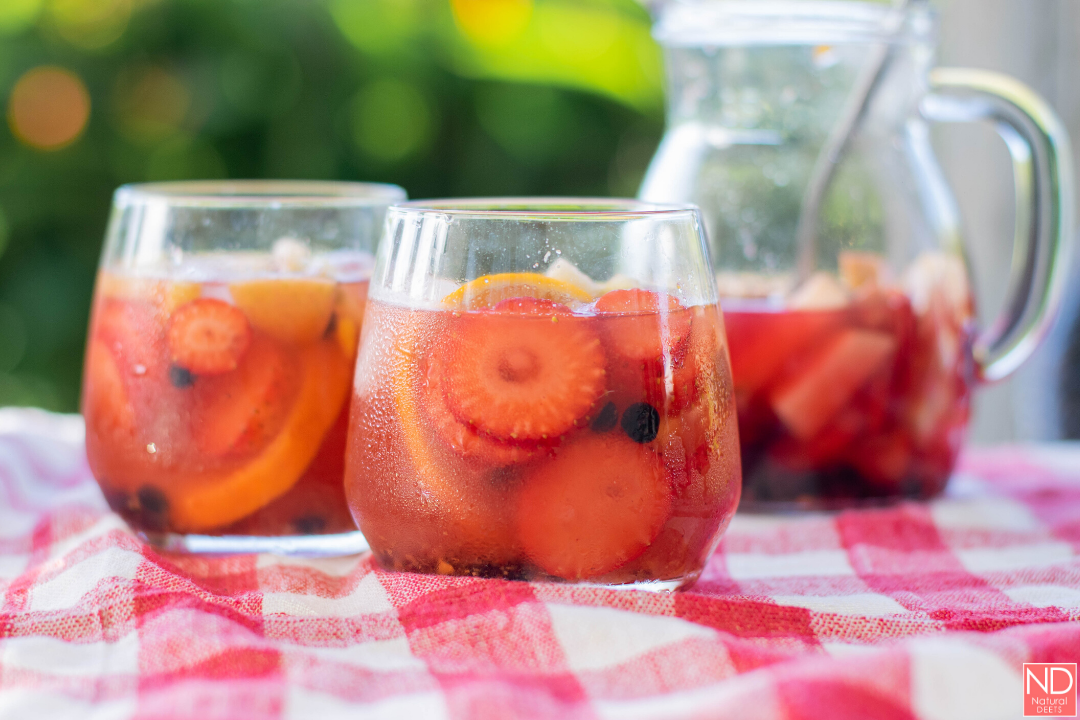 How To Make Sangria
Sangria is so easy to make. Just find the largest pitcher you have and add the following:
Rosé and Vodka – We are going all out in this recipe with a mix of both Rosé and Vodka, because, why not?
Mango Juice – Be sure to look for 100% mango juice, with no added sugars. It usually lives in the health food section, but may also be near the other beverages.
Sparkling Water – This adds a crisp flavor to the drink and makes it perfect for summer!
Frozen Blueberries – Frozen blueberries second as ice, but fresh will work too! Frozen blueberries will melt as they warm up and add another dimension of flavor to the drink. Plus, they're cheaper than fresh blueberries!
Fruits – This recipe calls for apples, oranges and strawberries, but any fruits and berries will work!
Juice from 2 lemons – It is important to use fresh lemon juice because it tastes soo much better than the lemon juice in a bottle. It adds a fresh, summer tang to the drink. If it ends up being more tart that you'd like, counter it by adding 2-3 Tablespoons of Honey…but don't skip the lemon juice!
Just a note: Any Rosé will do, but the better the wine, the better it will taste!
Can I Make Sangria Ahead Of Time?
Yes, you can! In fact, it will taste better if made at least a few hours ahead of time. I like to make it the night before and keep it in the fridge so the flavors can really mix together.
It also tastes better cold, so letting it sit in the fridge overnight keeps it nice and cool! If you forget to make it the night before, at least give it a few hours before serving so the fruits can soften and release some flavor into the drink.
What Are Some Other Healthy Drink Options?
Here are just a few of our favorites!:
Summertime Sangria
Total Time:
2 hours
10 minutes
Summertime and the livin's easy with this delicious Sangria! Sweetened with fruits and enhanced with Vodka, this drink was made for sitting on the deck with friends!
Ingredients
2 cups Rosé
Vodka
1/2 cup mango juice
1 cup sparkling water
1/3 cup frozen blueberry
1 apple, diced
1 orange, sliced
6 strawberries, cut in rings
Juice of 2 lemons
2-3 Tablespoons Honey (optional)
Instructions
Prepare the fruits by washing them and cutting them into bite sized pieces.
Add the mango juice, sparkling water and lemon juice into a large pitcher. Stir well
Add the Vodka, Rosé and fruits and mix well.
Refrigerate at least 2 hours or overnight
Serve and enjoy!
Nutrition Information:
Yield:

8
Serving Size:

1
Amount Per Serving:
Calories:

138
Total Fat:

0g
Saturated Fat:

0g
Trans Fat:

0g
Unsaturated Fat:

0g
Cholesterol:

0mg
Sodium:

23mg
Carbohydrates:

24g
Fiber:

2g
Sugar:

20g
Protein:

1g
Nutritional information was calculated automatically. Please verify accuracy
Looking for more? Here are some of our recent posts!
By