Pear salad with pomegranate and walnuts is deliciously sweet and fresh, fantastic as a side salad or a light meal. It's simple to make, and you can vary the ingredients to include your favorites!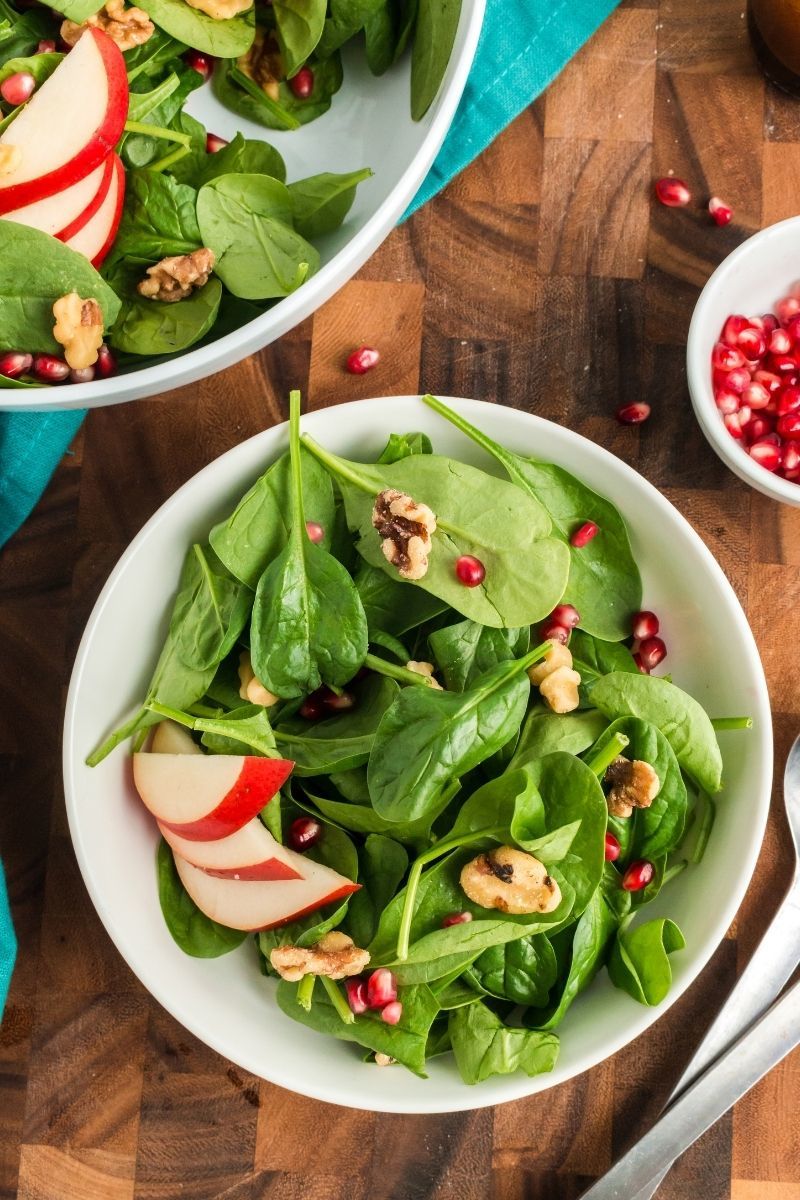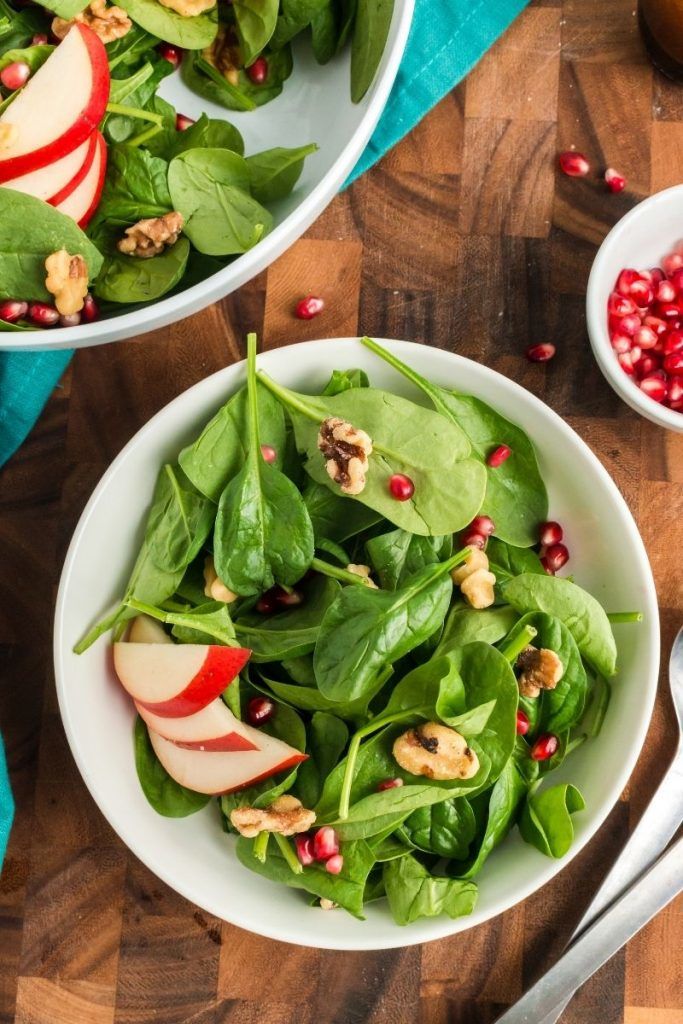 The star of this pomegranate walnut salad is the beautiful pomegranate arils, the red 'jewels' inside the pomegranate. Pomegranate arils surround the pomegranate seeds and are amazingly sweet and juicy. They taste lovely with pear and walnut, and they look gorgeous on the plate, too!
Our supporting players, pears and walnut, are the perfect ingredients for a fall salad, because they are both in season at this time of year. Seasonal fruit and veg taste better and likely won't need to travel as far to reach your plate.
Pair this light dish with an easy side like Kabocha Squash Soup or Pumpkin Hummus!
Healthy Balsamic Vinaigrette Recipe
A simple spinach salad dressing gives this dish a delicious finish, which you can use for any spinach salad, not just this one. If you're on the lookout for more salad recipes, try this Chinese chicken salad, which I created with clean eating in mind.
This dressing uses just 3 ingredients that you probably already have at home!
Balsamic Vinegar – Any balsamic will do. I like to try different flavors too!
Olive Oil – You can also use Avocado Oil
Salt
Optional Add In's for Variation: Mustard, herbs (thyme, oregano, basil), minced garlic, minced ginger
Ingredients You Need For Pear Salad with Pomegranate and Walnuts
To make this baby spinach salad, you will need:
Spinach – Ensure you wash the spinach before using it.
Pomegranate – If you have a whole pomegranate, you will need to remove the pomegranate arils inside, as they are the only part that goes in the salad. To do this, chop your pomegranate into four segments and turn them inside out, popping the arils into a bowl.
Pears – I like to use red pears because they look great, but any variety of pear is fine. Finely chop your pear, and remove the stalk and pips.
Walnuts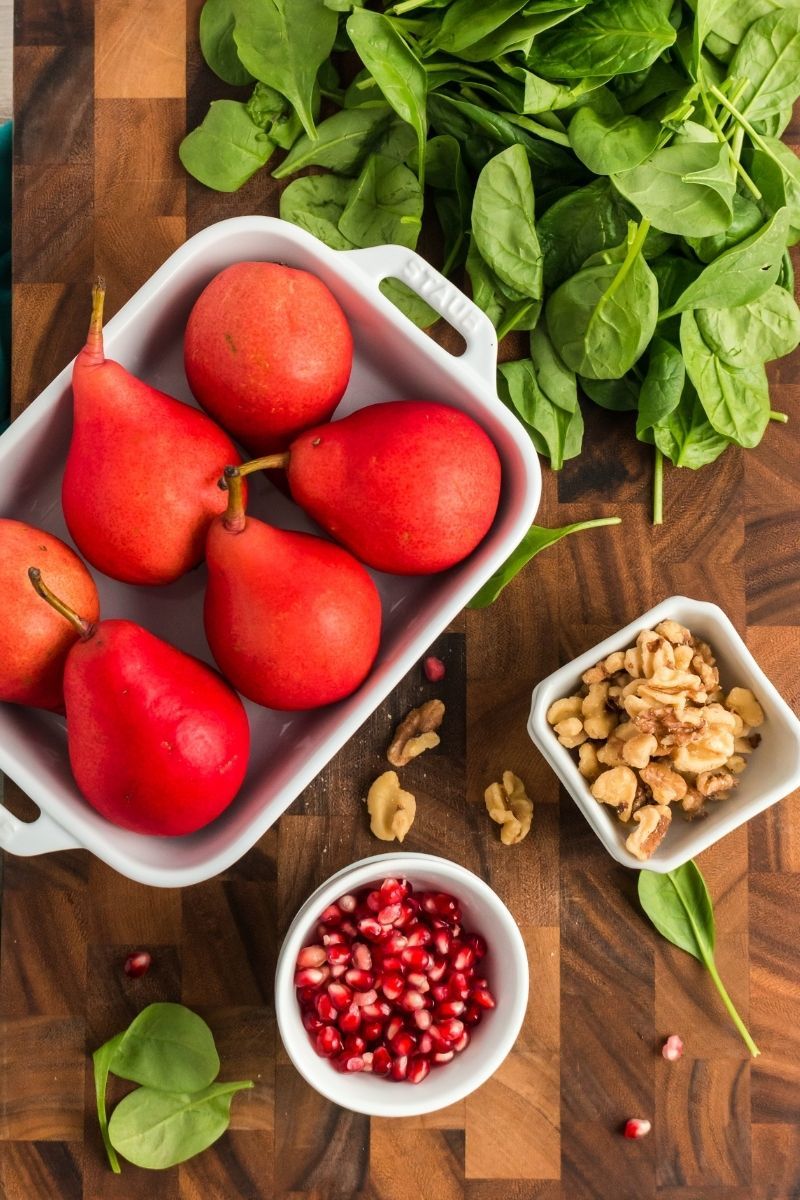 Step By Step Balsamic Vinaigrette in Just 2 Steps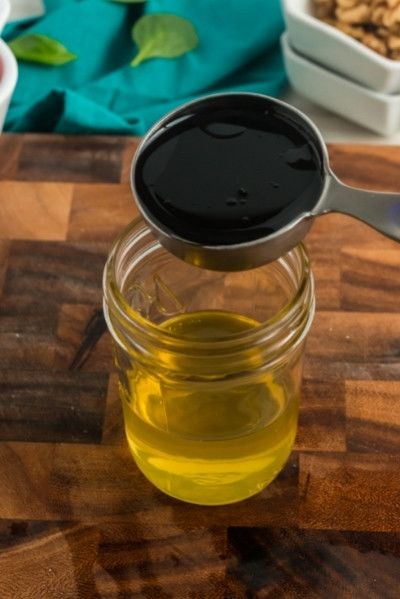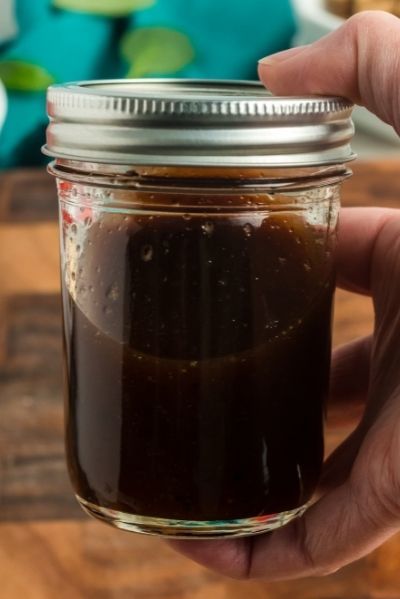 How To Make Pomegranate Walnut Salad
Take your spinach, pomegranate, red pear and walnuts and combine them in a large bowl.
Next, prepare the salad dressing. Take your olive oil, balsamic vinegar and salt and add to a mason jar. Ensure the lid is sealed, and shake well until mixed.
You can either add the dressing to the bowl and toss the salad to cover or drizzle the dressing over the top.
Serve your salad alongside your main meal or with hunks of crusty, buttered bread.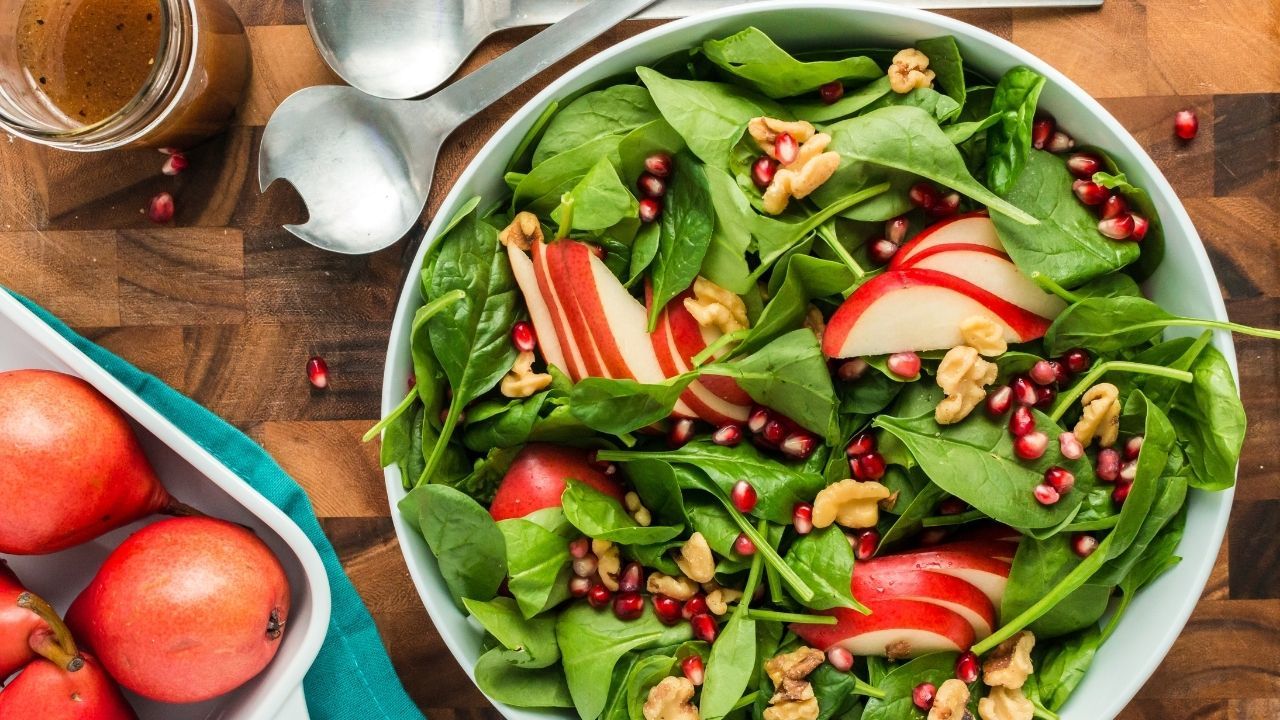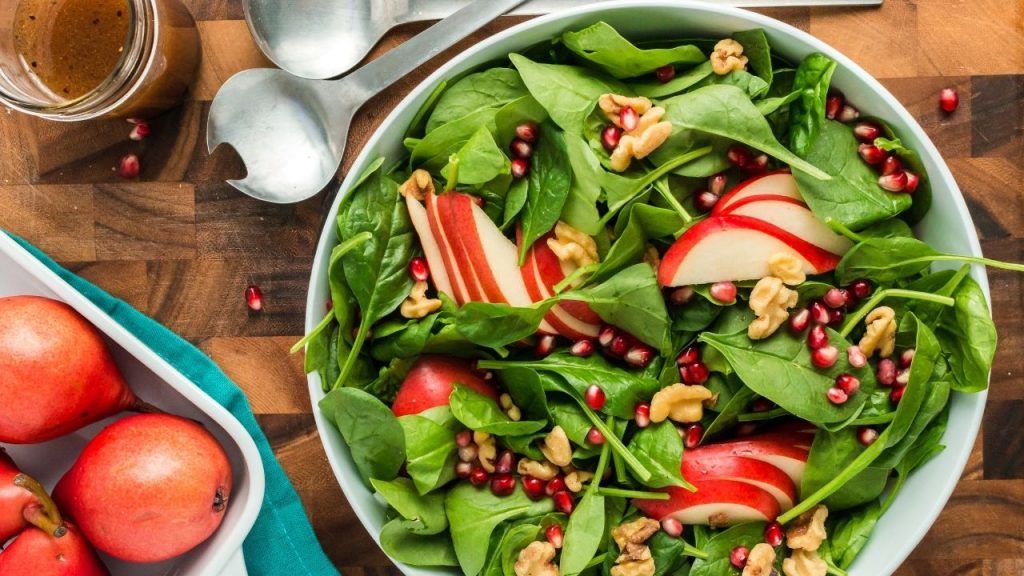 Important Teaching Tips
Pear salad with pomegranate and walnuts is straightforward to make, and there is lots of room for variation, so you can make it your own.
Pears. Sweet pears are delicious combined with pomegranate and walnut. When selecting your pears, try to ensure they are still a little firm so that they don't break apart in the salad. You could also try replacing the pear with avocado or even using a mixture of pear and avocado.
Spinach. If you don't have any spinach, try switching it out for arugula or romaine lettuce. You can also use shaved Brussels sprouts if you're a fan of them.
Feta. Feta or any kind of goats cheese make a great addition to pomegranate walnut salad; the saltiness offsets the sweetness of the pomegranate nicely.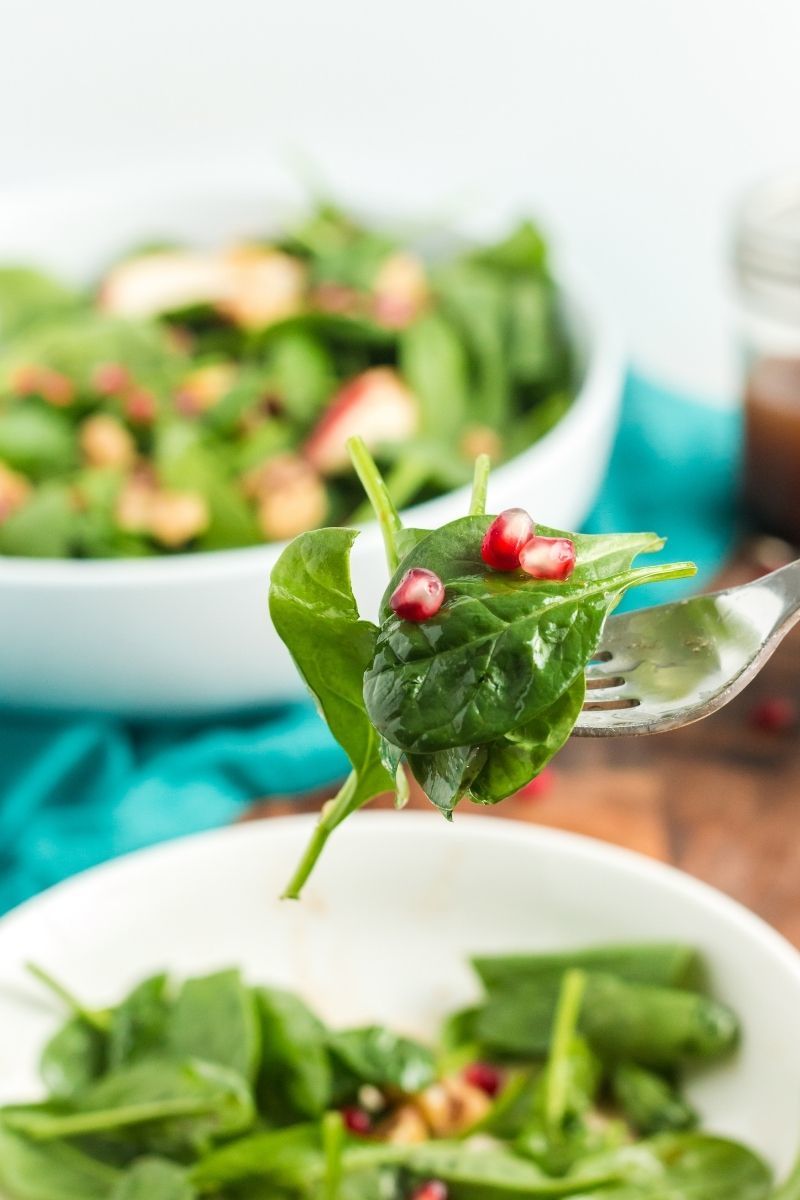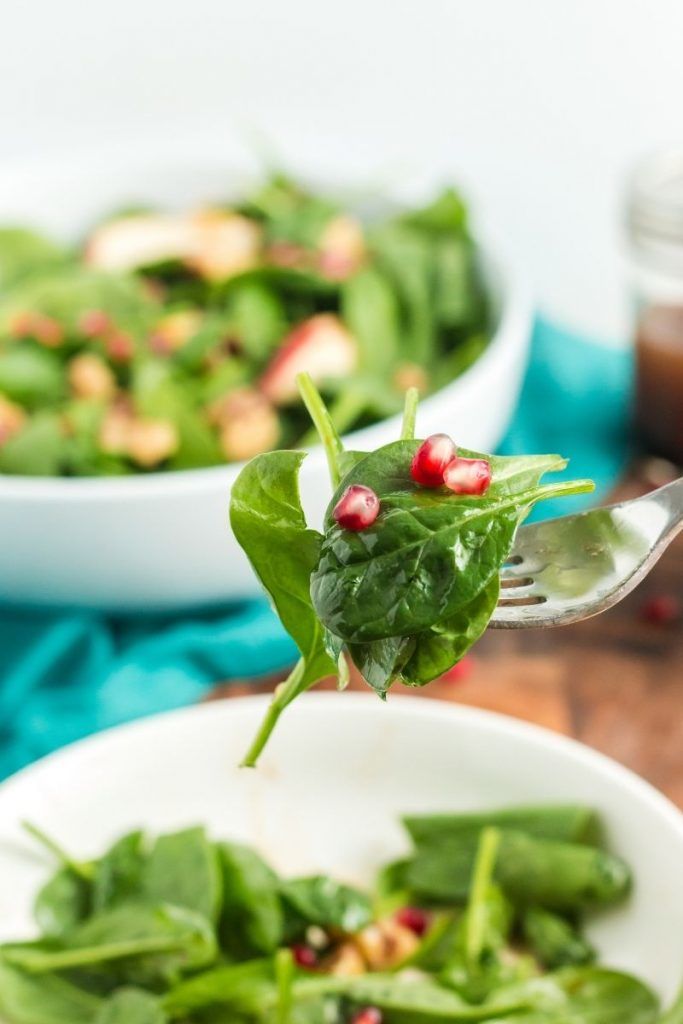 Frequently Asked Questions About Pear Salad With Pomegranate and Walnuts
What can I replace pomegranate with in a salad?
Pomegranate adds a sweet but tart flavor to a salad. That is why it pairs well with hearty fruits. You can substitute dried cranberries, dried fruits like apples or pineapples, red currants or sour cherries.
Can you buy just pomegranate seeds?
You can! It does come with a higher price tag but I think it is worth it. I paid $4.50 for about 1 cup of seeds. Sometimes I will but a whole pomegranate but know that it will take time to get all the seeds out. If you are up for it, here is an easy way to remove pomegranate seeds.
What is a good price for a pomegranate?
It really depends on where you live. We are right outside the city and it costs anywhere between $3-$4 for one pomegranate. Sometimes Trader Joes will have them cheaper.
Do you cut up spinach for salad?
You certainly can! I like to use the whole leaves because it holds the dressing better and it's just easier to toss them in. But you can definitely chop them down to a smaller size if you want to. When I chop spinach, I grab a handful, place it on a cutting board and hold them all together while I chop. This makes it faster and easier that chopping them a few at a time.
Can you eat raw spinach in a salad?
Baby spinach works best in salads because they are still tender. You'll want to wash the leaves before serving, but they can be eaten raw. Spinach tends to hold a lot of dirt, so it is easiest to wash the leaves by placing them in a large bowl of water. Swish it around and then put them into a strainer. You will see all the dirt at the bottom of your bowl.
More Dairy Free Side Dishes You Might Enjoy: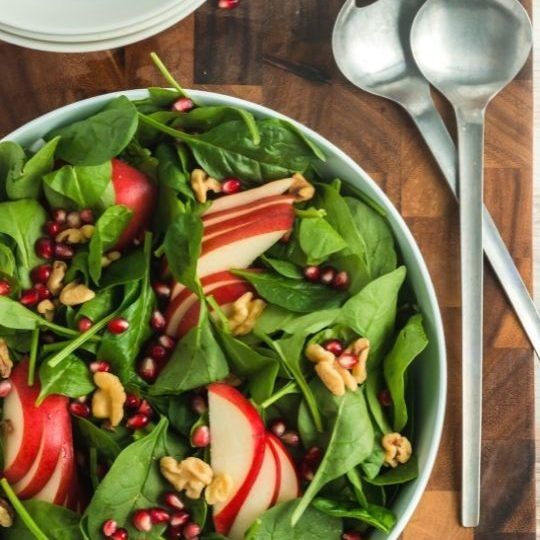 Simple Pear Salad With Pomegranate And Walnuts
Pear salad with pomegranate and walnuts is deliciously sweet and fresh,
fantastic as a side salad or a light meal. It's simple to make, and you
can vary the ingredients to include your favorites!
Ingredients
Salad
6 Ounce bag of Spinach
2 Red Pears
1/4 Cup Pomegranate Arils
1/4 Cup Walnuts
Dressing
1/2 Cup Olive Oil
1/4 Cup Balsamic Vinegar
Pinch of Salt
Instructions
Salad:
Add the spinach to a large bowl
Sprinkle the salad with the walunts and pomegranate arils
Slice the pears and arrange them on the top of the salad
Serve with the dressing. The dressing can either be poured on individual servings, or tossed into the salad. If tossing the dressing with the salad, add a little at a time. You will only need a small amount of dressing.
Dressing:
Add the Olive oil, Balsamic Vinegar and Salt to a jar with a lid.
Tightly seal the jar and vigorously shake the dressing until it is well mixed
Serve
Nutrition Information:

Yield:

4

Serving Size:

1 Amount Per Serving:

Calories:

365

Total Fat:

32g

Saturated Fat:

4g

Trans Fat:

0g

Unsaturated Fat:

26g

Cholesterol:

0mg

Sodium:

68mg

Carbohydrates:

21g

Fiber:

5g

Sugar:

13g

Protein:

3g

Nutrition information isn't always accurate. Please recalculate if needed for nutritional monitoring. In this case, the entire salad dressing was taken in to account. In actuality, the salad dressing makes around 15 servings.

By