Delicious, easy Oatmeal chocolate chip cookies are a classic staple in the kitchen! Normally we turn a blind eye to all the brown sugar that is required but now you don't have to!
What could make these even better? They are dairy free oatmeal cookies! So you have no excuse!
Can You Use Quick Oats For Oatmeal Cookies?
The quick answer is Yes, you can! In fact, they may work even better than regular oats. Since they are designed to cook faster, they often result in a softer cookie as well…and I am a sucker for soft cookies!
The trade off is going to be in the health benefits. Quick oats cook faster because they have been partially cooked and rolled out flatter than their counterpart. This means they are more processed and may have reduced nutrition.
When it comes to making oatmeal cookies, I have had success with both types of oats. For that reason, I typically cook with rolled oats for the nutritional benefits, but I will use quick oats if that is what I have on hand.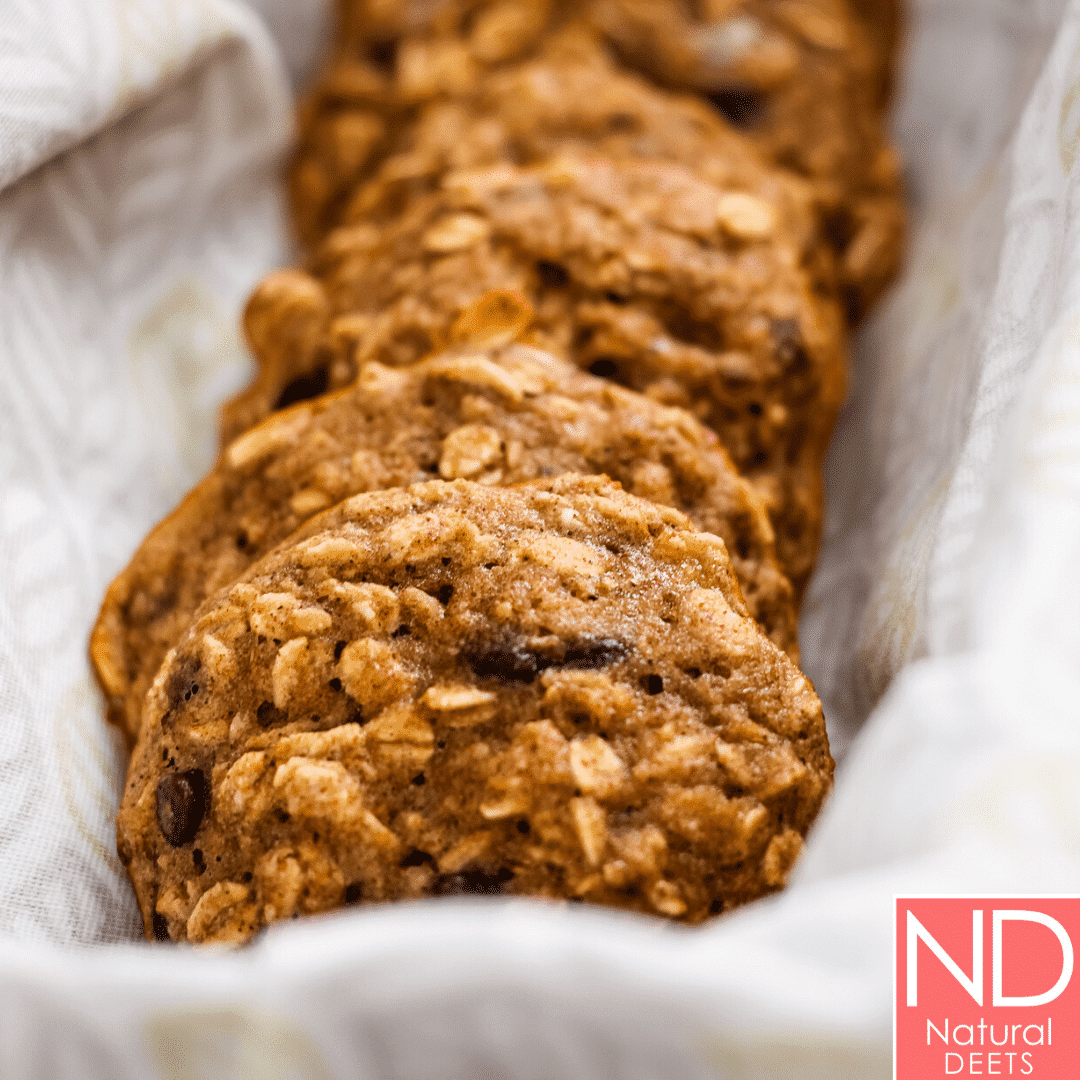 Is Oatmeal Gluten Free?
I didn't know this was even a question until my son had to avoid wheat and I started lurking in the gluten free world. Oats are by nature, a gluten free product.
However, the concern comes from the way the oats are grown and manufactured. If the farms are not careful, the oats can be cross contaminated by other gluten crops. Once they move on through the processing process, they once again can be contaminated.
Gluten free oats are grown by companies who ensure that the oats are never in contact with gluten products. If you are concerned with gluten free, only purchase gluten free certified oats.
Gluten Free Oatmeal Cookies
Even though you would think that oatmeal cookies are made exclusively from oats, they still require a little flour to hold them all together. In this recipe we replaced traditional white flour with almond flour.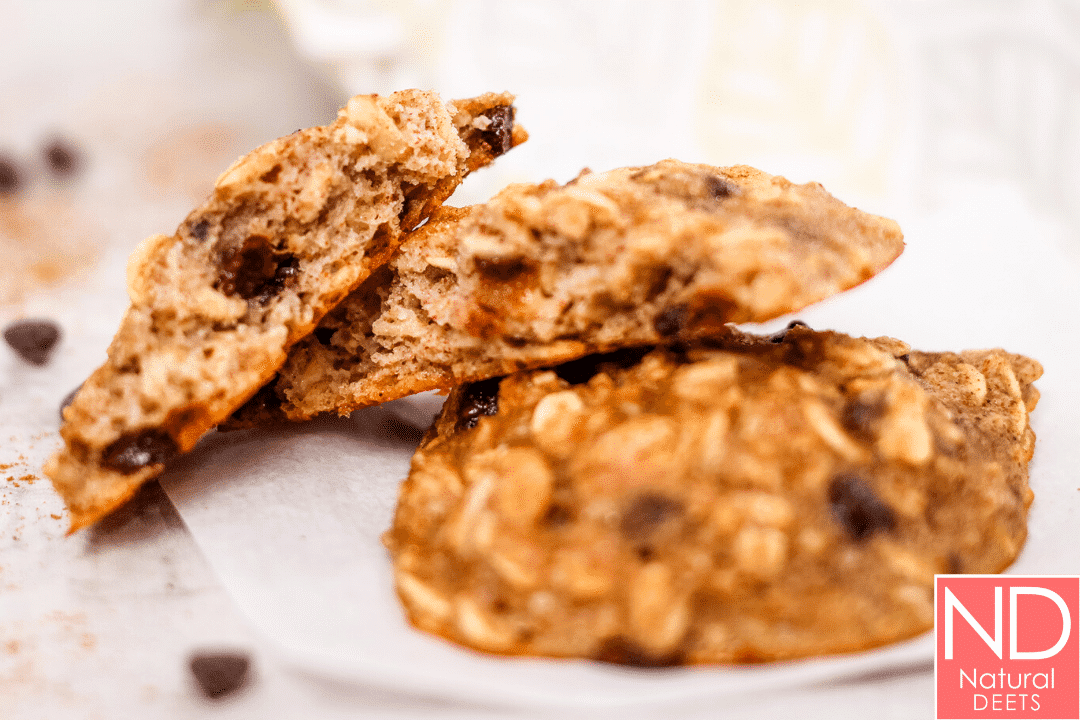 This adds a little more nutrition to the cookies, but it also results in a gluten free oatmeal cookie (assuming you use gluten free oats). This is exciting for my son who limits wheat.
Dairy Free Chocolate Chip Oatmeal Cookies
Both kids have eliminated dairy and for the most part, it wasn't too difficult. But their one biggest struggle was the chocolate!
Fortunately we discovered Enjoy Life Chocolate Chips early on and have been using them as a replacement for chocolate chips. If you can't wait 2 days for delivery, check out your Costco.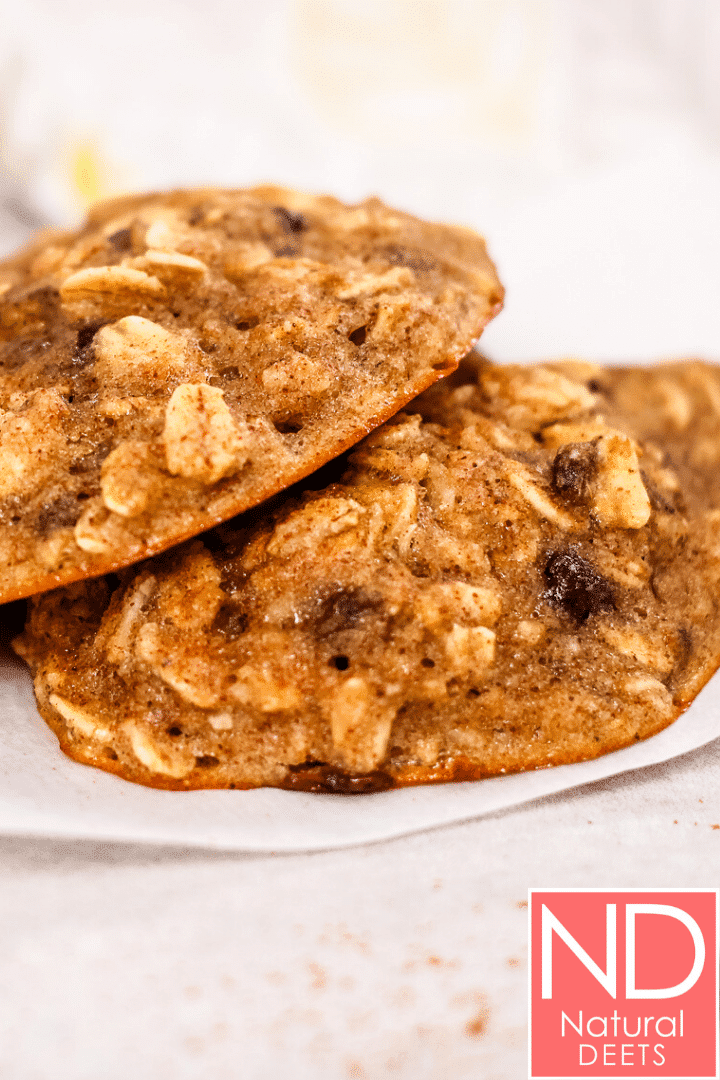 We found some Paleo chocolate chips at our local Costco and they are delicious!! The ONLY reason I wouldn't recommend them is because they come in a very big bag! I suppose you could freeze them, but ours have never lasted long enough to find out!
Feeding Healthy Kids
When I mention feeding healthy kids, the first thing people this about are vegetables. I know this because I used to do the same thing.
However, getting your kids to eat healthier can be as simple as swapping one ingredient for another. In this case, we swapped out traditional ingredients for ones that were healthier.
This is a perfect recipe for kids to make. Even though we use healthier ingredients, none of them are strange, and kids won't think twice about adding them!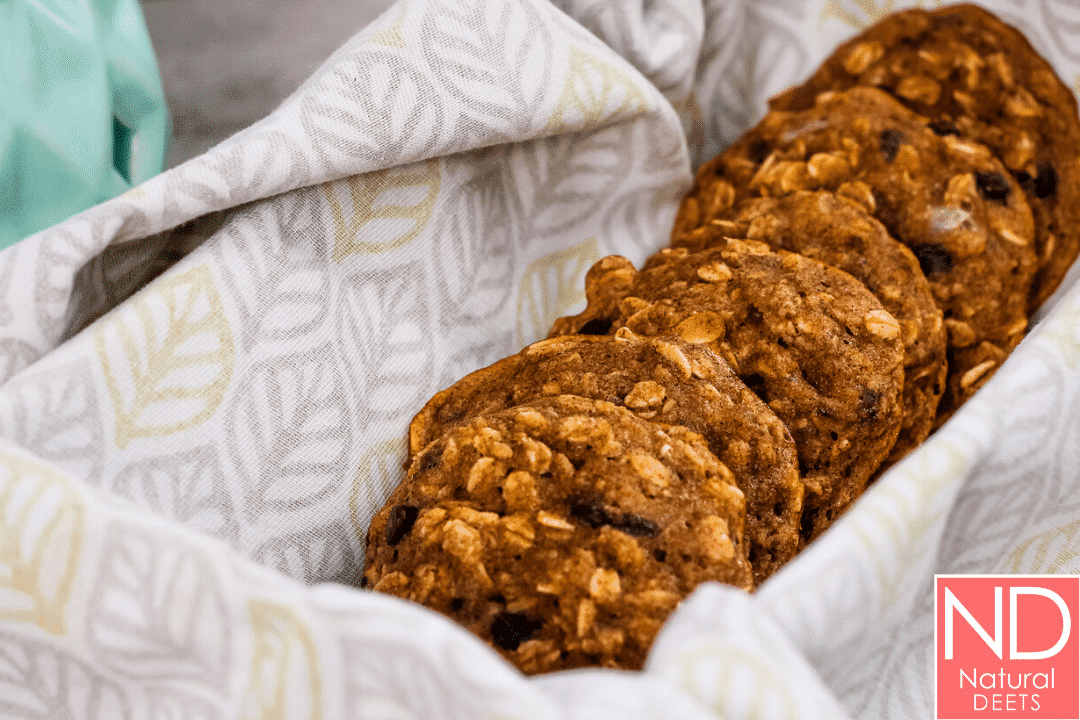 Almond Flour
We swapped out the white flour for almond flour. Almond flour is a great source of protein and fiber. Who couldn't use more fiber??
Coconut Oil
Coconut oil replaces vegetable oil in this recipe. If you haven't already eliminated vegetable oil, it is time to do so. Start cooking with coconut oil or Avocado oil instead. Either option will be low in saturated fats and provide essential vitamins and minerals
Bananas
Oatmeal cookies are literally packed with brown sugar. Not only is processed sugar unhealthy, but it tastes so sweet that kids just can't get enough! By eliminating the sugar and sweetening it (in part) with bananas, we are also retraining the taste buds to get used to less sugar. In addition the banana adds some potassium to their diets!
Maple Syrup
Did you know that pure maple syrup is high in antioxidants? Well it's true! It also has more vitamins and minerals (and less calories) than honey. So feel good putting it in your cookies!
Easy Chocolate Chip Oatmeal Cookies
Now before I share the recipe, I feel I must warn you…these cookies are so easy that you may find yourself whipping them up all hours of the day!
And before long, you'll be justifying them as a healthy snack for yourself and your kids!
But it is worth it. The longest part of this recipe is melting your coconut oil. And that takes less than 30 seconds in your microwave.
Now give it a try and let me know what you think!
Looking for more healthy cookie recipes? Try a few of these!
15 Healthy Cookies To Bring Your Cookie Exchange To The Next Level
The Best Clean Eating Peanut Butter Cookie Recipe
Cashew Cookies – Spooky Halloween Cookies
Delicious and Healthy Sugar Cookies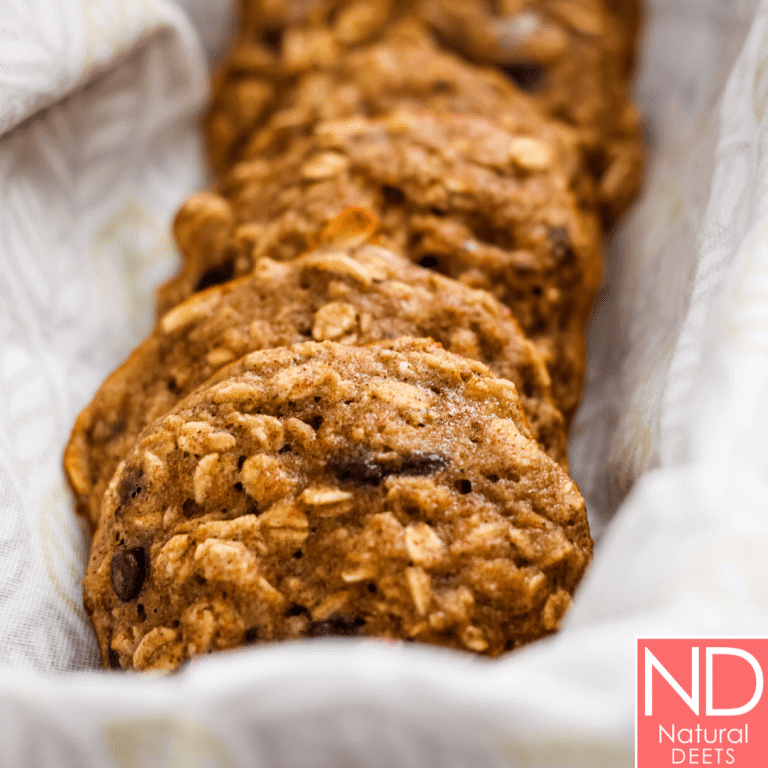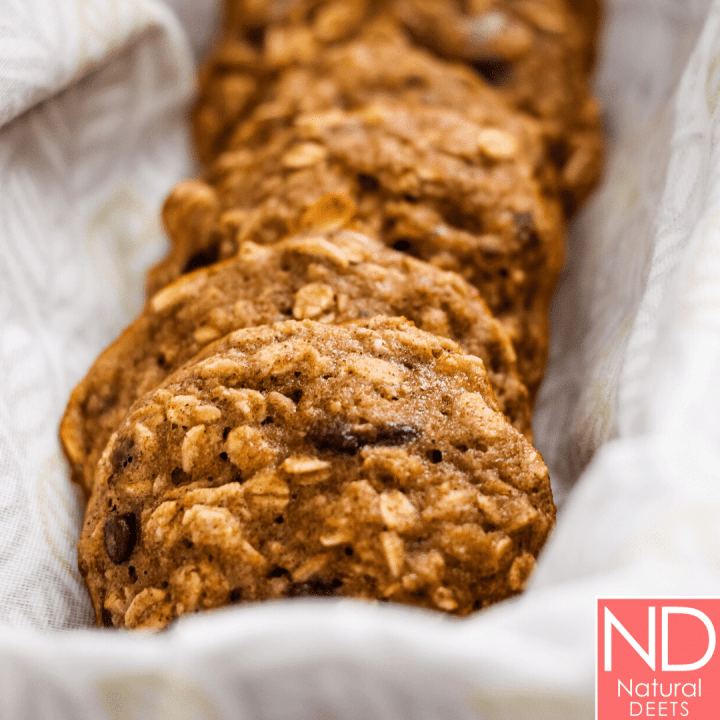 Easy Chocolate Chip Oatmeal Cookies
These cookies are so easy to make that you might find yourself making them all hours of the day!!
Ingredients
¾ cup Oatmeal
¼ cup Almond Flour
1 teaspoon Baking Powder
1 teaspoon Cinnamon
1 teaspoon Vanilla Extract
1 Egg, Substitute a Flax Egg for vegan recipe
1 Tablespoon Coconut Oil
1 Tablespoon Maple Syrup
1 Banana, mashed
2 teaspoon Chocolate Chips, Dairy free
Instructions
Pre-heat the oven to 350 degrees.
If your Coconut Oil is solidified, Melt it in the microwave (in a microwave-safe dish) for 10 seconds, or until melted
In a small bowl, combine the first Oatmeal, Almond Flour, Baking Powder and Cinnamon
Add the banana and mash it in to the flour mixture until combined. Add in the remaining liquid ingredients and mix until combined.
Add the Vanilla Extract, Egg, Coconut Oil and Maple Syrup. Stir until combined.
Gently fold in the chocolate chips.
Line a tray with parchment paper and use an ice cream scoop to portion out 6 cookies.
Bake in the oven for 13 minutes.
Remove from the oven and let cookies cool on the tray.
Makes 6 cookies.
Nutrition Information:
Yield:

6
Serving Size:

6 Cookies
Amount Per Serving:
Calories:

116
Saturated Fat:

3g
Cholesterol:

28mg
Sodium:

14mg
Carbohydrates:

13g
Fiber:

2g
Sugar:

6g
Protein:

3g
Looking for more? Here are some of our recent posts!
By