Sweet, creamy bananas and strawberries with a dash of almond milk, this nice cream might be the best vegan ice cream you've ever had! If you have frozen bananas on hand, you can have dairy-free ice cream in just 5 minutes!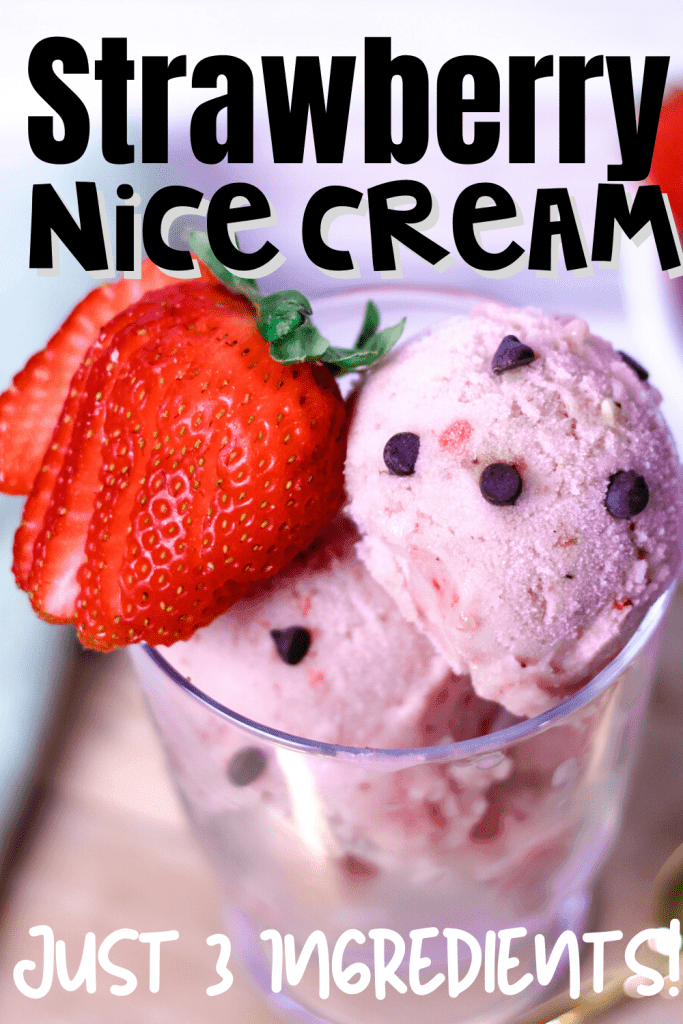 The love of ice cream runs deep in our family, so it was a major blow when we discovered that the kids were reactive to dairy. There are coconut milk alternatives, but they really have a strong coconut flavor.
We were finding fun alternatives like frozen grapes and smoothies but the kids really missed ice cream.
So we were over the moon when we discovered nice cream! The best part is that it doesn't require any added sweeteners and it can be made it 5 minutes or less! We've tried over 10 different flavors and Strawberry is our favorite! We also love our Tropical Banana Nice Cream too!
What You Need To Make Nice Cream
The base of nice cream is frozen bananas. From there, you can add anything! For this Strawberry Nice Cream recipe, you will need:
Frozen Bananas – When you freeze them, break them into smaller pieces first. This will make it easier on the blender. Freeze them in a single layer on a sheet pan. Then store them in an airtight container in the freezer. Half-gallon Stasher bags (this is an affiliate link: Stasher Bag) are perfect for this!
Frozen Strawberries – As our Strawberries go bad, we just put them in the freezer for times like this! Or you can buy frozen strawberries.
Almond Milk – You only need 3-4 Tablespoons. Be careful not to add too much or the consistency will be closer to a milkshake – though that's not bad either!
How To Make Vegan Ice Cream
Tips For Making Nice Cream Even Easier
Tip #1: You will need a blender for this recipe, and we used a Vitamix. However, you want to keep your blender on low speed…it's counter-intuitive, I know!
Most of the ingredients are frozen and if you turn the blender on high, the frozen fruits will be pushed to the top, away from the blade. If you keep it on low, the food stays on the bottom of the blender next to the blade.
Tip #2: Stop blending every 10-15 seconds and use a spatula to press the food down off the sides of the blender. It will ensure everything is evenly incorporated and speed up the process!
Tip #3: Don't Overmix. Overmixing will make everything melt. Once the bananas and strawberries melt, you can place it in the freezer but the consistency of the final product will change. It will still taste good, but it won't be as creamy.
Tip #4: Add Toppings! This is not necessary since the nice cream is delicious as-is. But it is always fun to add some toppings! Try chocolate chips, nuts, shredded coconut or fruits!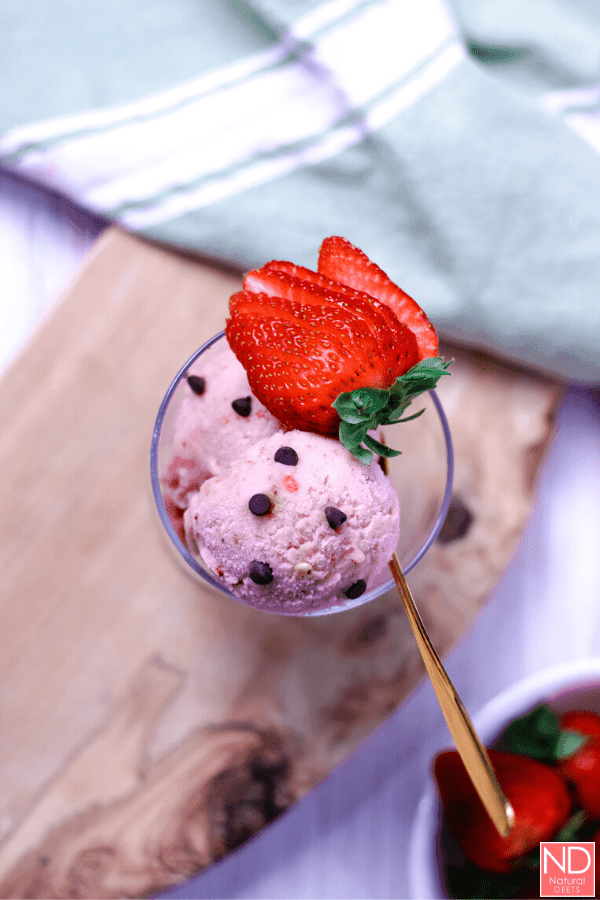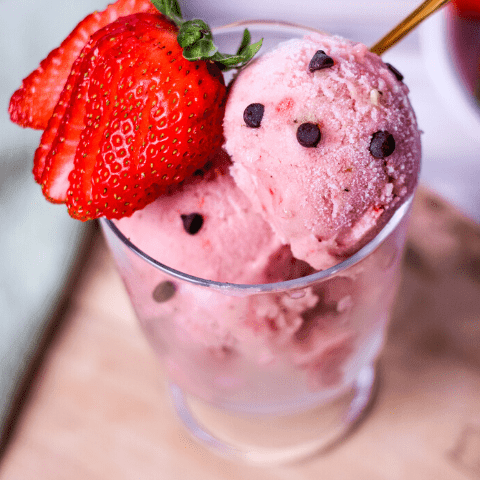 Strawberry Vegan Ice Cream
Creamy bananas, strawberries and a touch of almond milk make this the perfect summertime treat! Keep frozen bananas on hand and you can make this in 5 minutes!
Ingredients
2 Large Bananas, Frozen
6 Strawberries, Frozen
3 Tablespoons Almond Milk
Instructions
Add the frozen bananas, frozen strawberries and almond milk to a blender
Blend on low until all ingredients are smooth and incorporated. You will want to scrape down the sides of the blender every 10-15 seconds to speed up the process.
Serve immediately, or freeze for 30 minutes for firmer nice cream.
Nutrition Information:

Yield:

2

Serving Size:

1 Amount Per Serving:

Calories:

128

Total Fat:

1g

Saturated Fat:

0g

Trans Fat:

0g

Unsaturated Fat:

1g

Cholesterol:

0mg

Sodium:

16mg

Carbohydrates:

92g

Fiber:

18g

Sugar:

20g

Protein:

4g

Nutritional information was calculated automatically. Please verify accuracy

By