This Summer Champagne Cocktail recipe is the stuff memories are made of! Imagine sipping perfectly chilled Champagne poured over a delicious blend of berries and a touch of honey. Delicious!
A few years ago we took a girls trip to Napa Valley where it was sunny, warm, and so relaxing! We rented a limo and drove from one winery to another but our first stop was the Chandon Champagne Tasting Room.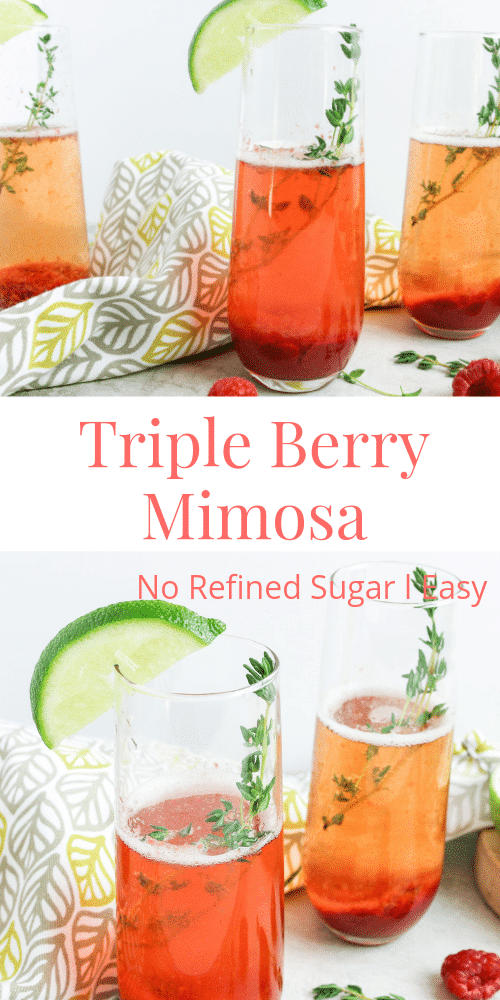 Before we got there, I was convinced that I didn't like Champagne. I am not a fan of carbonated drinks so champagne was never enjoyable.
But then someone ordered strawberries…and my mind was blown
I was told to take a bite of the Strawberry and then take a sip of the Champagne. I did as instructed and I was blown away! The flavor of the Champagne changed and suddenly I found myself carrying another glass outside to the patio. What was going on??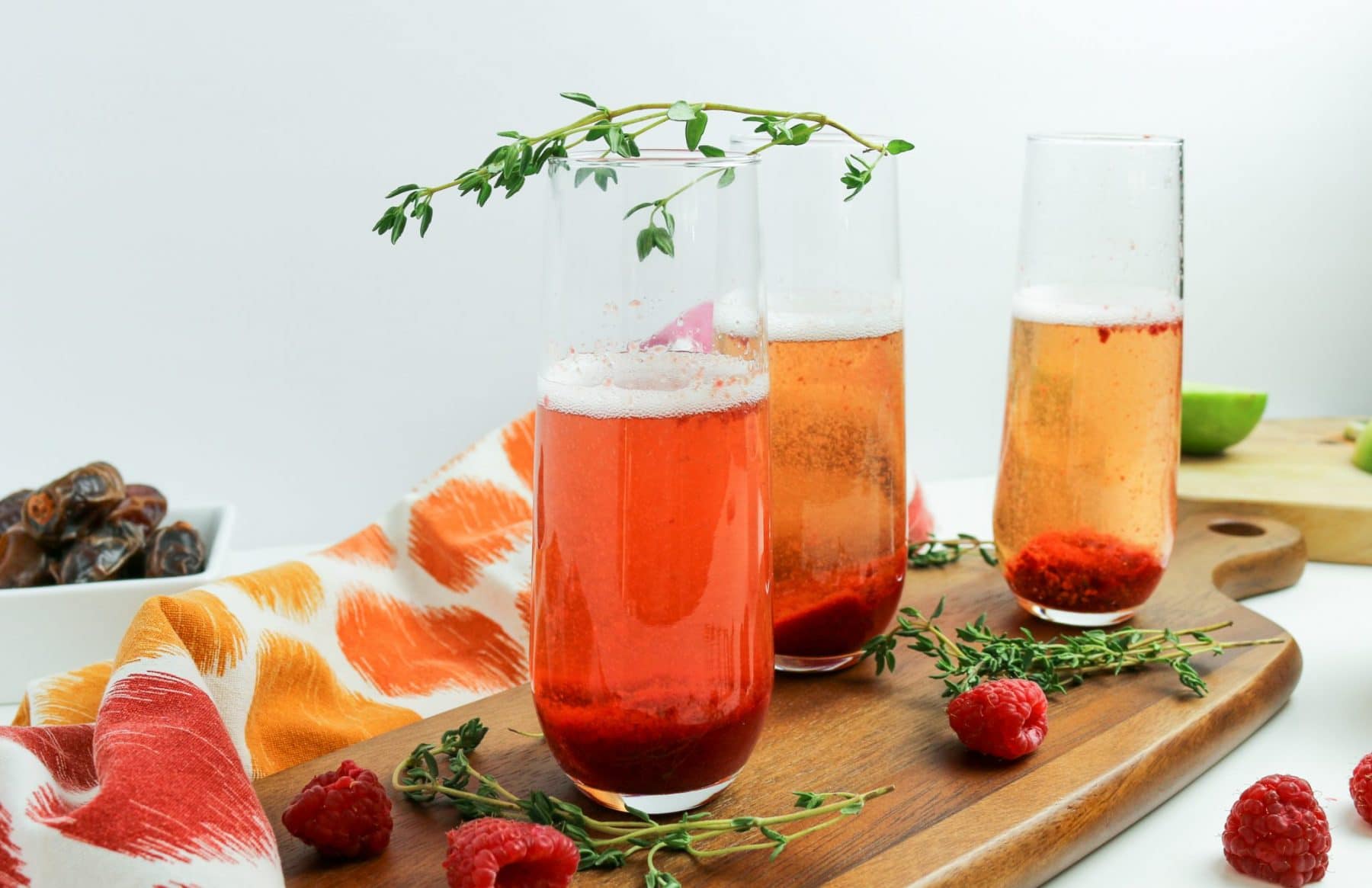 Berry Mimosas are perfect for almost any occasion!
What's in a Mimosa?
A mimosa is typically 2 parts Orange Juice to 1 part Champagne. A lot of times, the flavor of the Champagne is overpowered by the Orange juice so it tastes more like an Orange Seltzer cocktail. Mimosas are perfect for brunch or lunch when you need to limit your alcohol intake so you can function the rest of the day!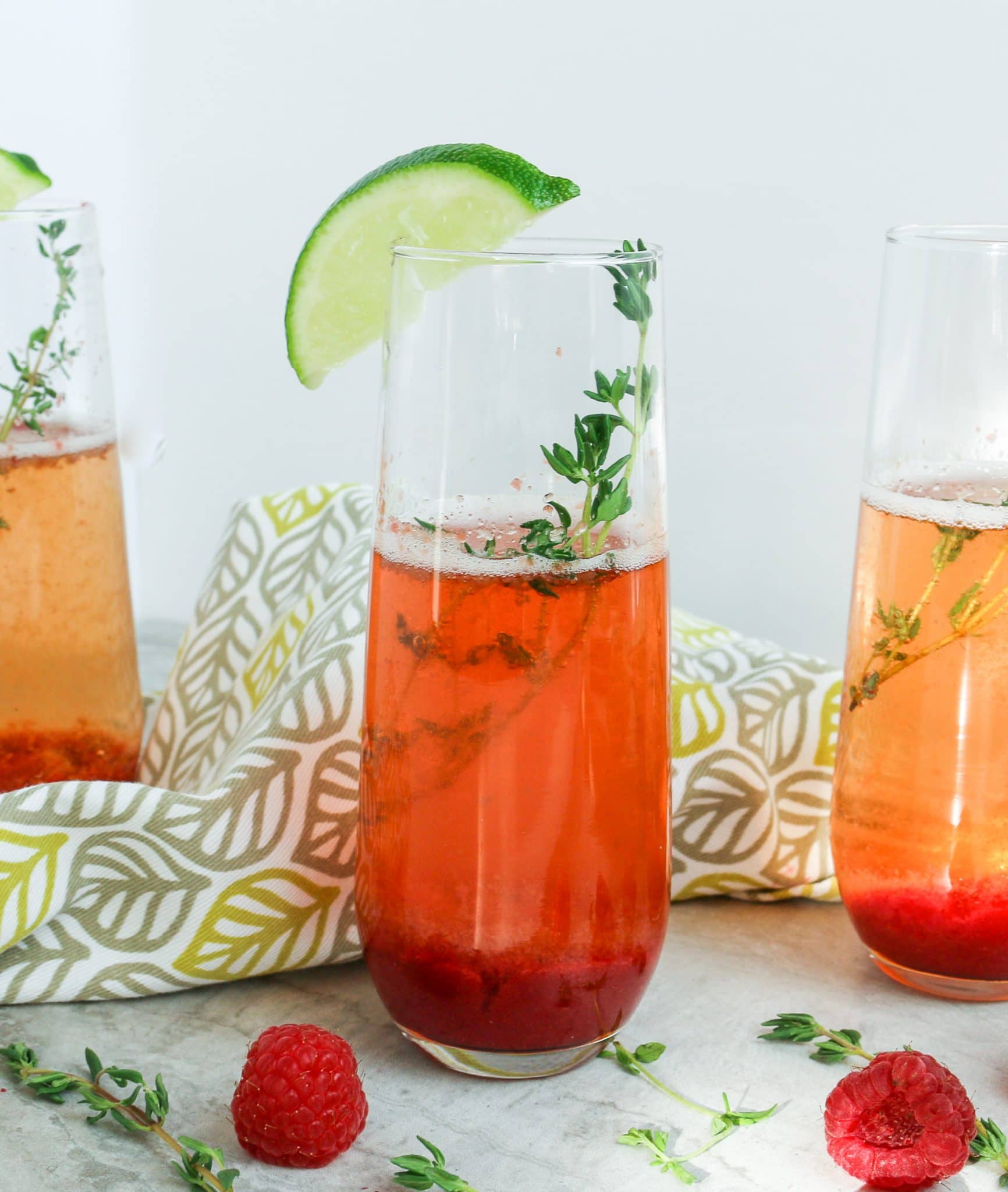 If you are feeling wild, you can experiment with different types of juices too. Definitely try a Strawberry Mimosa. Just switch out the Orange juice for Strawberry juice! It makes a delicious fruity Champagne cocktail too.
But what if you are looking for something a bit more elegant and fun? That is where the Berry Champagne Cocktail shines!
What Snacks Go Well With Champagne?
What goes better with Champagne than strawberries and milk chocolate? Not much. Arrange your premade Champagne Cocktails on a tray and have a plate of Strawberries and milk chocolate right next to it.
Dark chocolate doesn't pair well with Champagne, so save that for another party!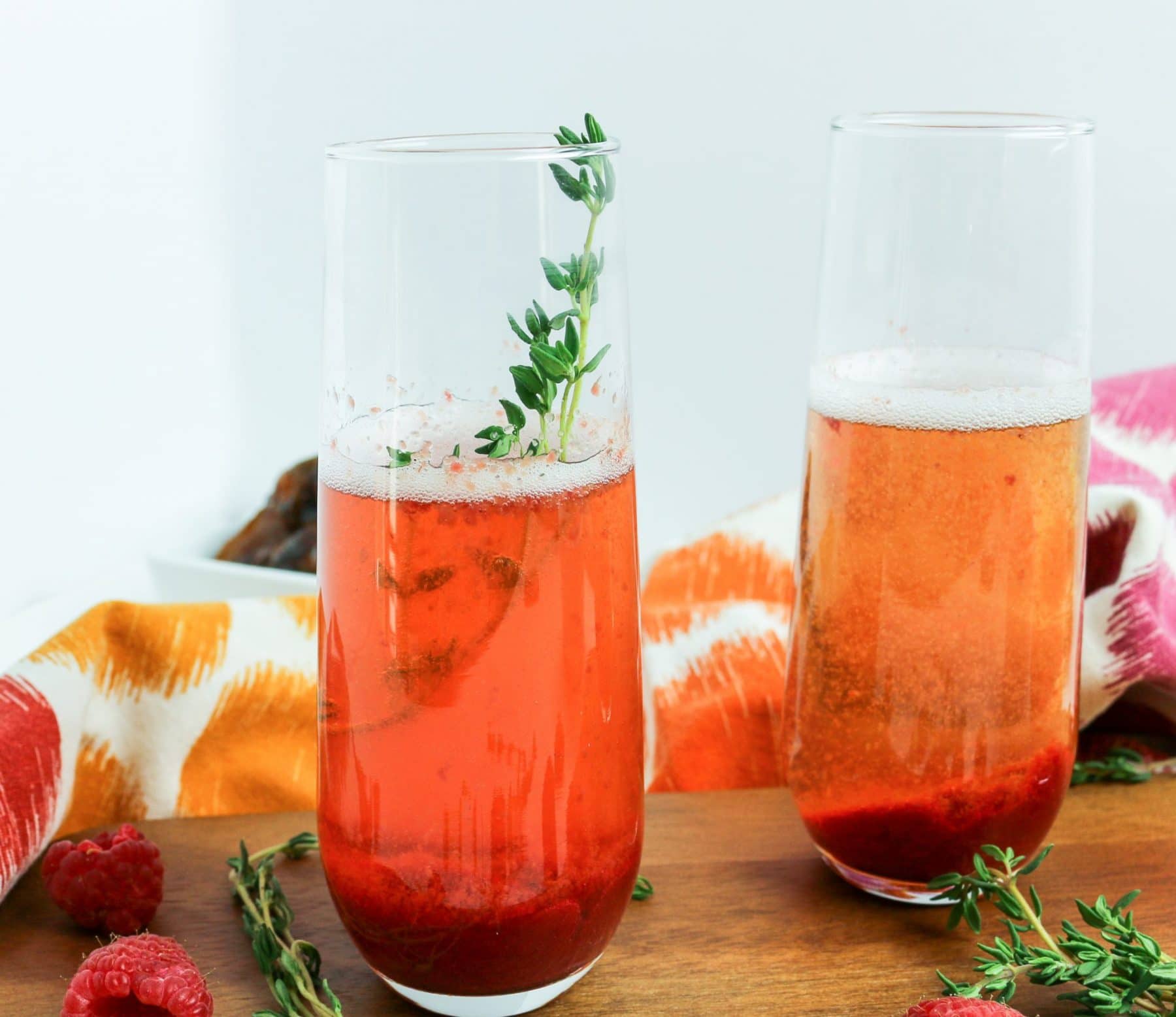 Now, this is going to sound strange, but trust me! You can also serve breakfast dishes with Champagne. Think eggs and mushrooms (maybe an omelet). You can also serve it for lunch with risotto, Seafood or nuts. There are so many options!
Keep fun appetizer plates and matching utensils near the food so guests are encouraged to help themselves! They too will be amazed by the flavor explosion!
What Fruits Go Well With Champagne?
Berries. All kinds of berries are delicious with Champagne! Strawberries, Blueberries, Blackberries, Raspberries, Boysenberries. They are all delicious! That was the inspiration for this recipe too.
You can also pair it with peaches and nectarines. Bellinis are typically made with Peaches and Prosecco, but you could substitute Champagne and it would also be delicious!
Should Champagne Be Chilled?
Absolutely. Some may argue that it is not always necessary, but I would argue that it is always better chilled. Imagine sitting in the warm weather sipping a warm glass of Champagne. Yuck.
The ideal temperature is 40-45 degrees. Storing your Champagne in the fridge will bring it to right around this temperature. And we can't call it a Summer Champagne Cocktail if it is warm…
How to Make Berry Puree
I have a post on exactly how to make a healthy berry puree. Traditional purees use sugar, but we substituted honey for just a touch of sweetness. There will be no sugar crash, though I can't make any guarantees on the alcohol 😉 Click HERE for the Berry Puree Recipe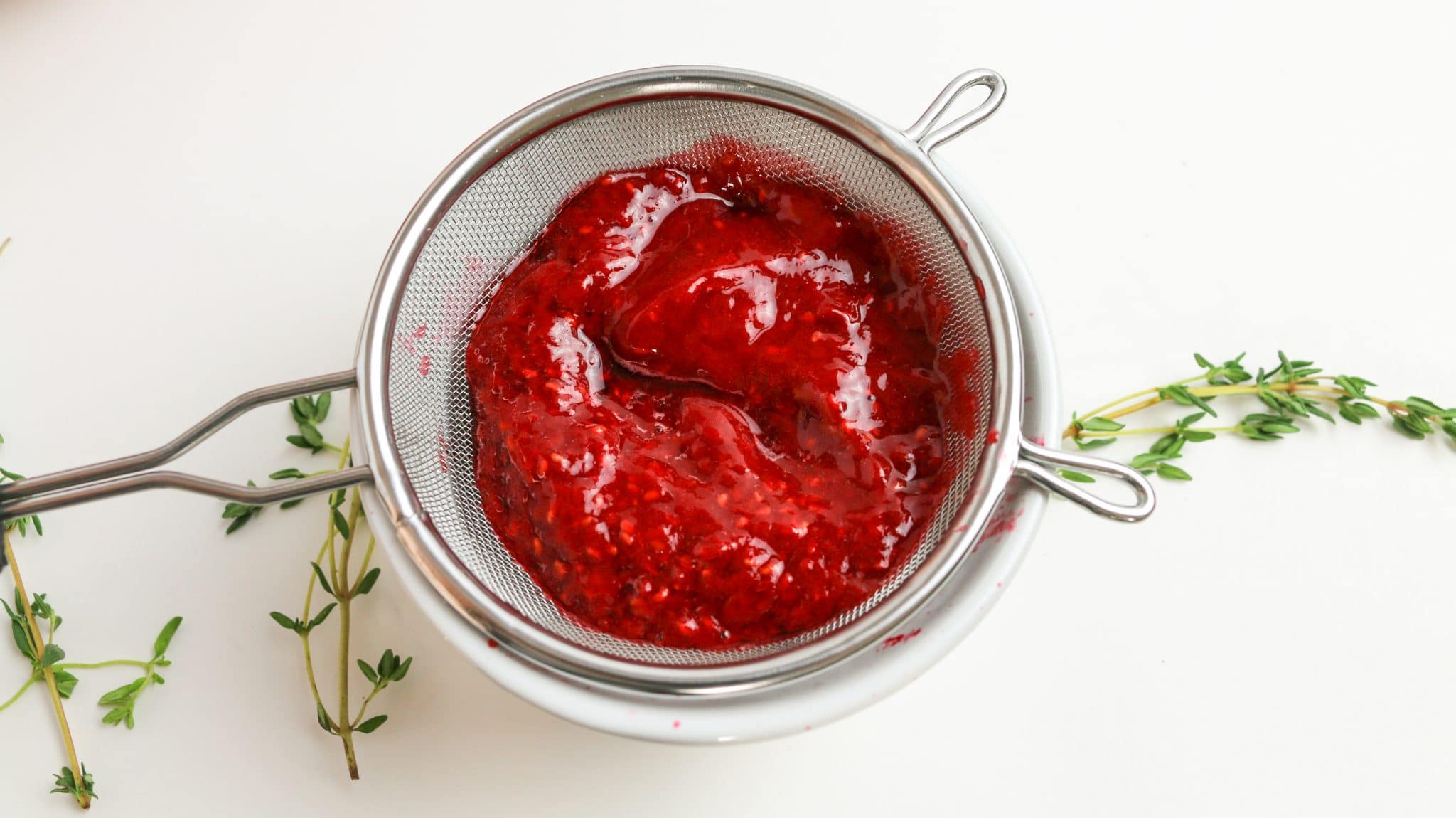 Making a berry puree is easier than you think! And for this recipe, you don't need to strain out the seeds, unless you want to, of course!
Summer Champagne Cocktail
Just put 3-4 Tablespoons of the Berry Puree into a champagne glass. Then pour chilled Champagne over the berry mixture and garnish with a sprig of thyme.
And that's it! Be ready to impress your guests!
If you are looking for more cocktail recipes, check out our Easy Peppermint Schnapps Cocktail, Delicious Fall Cocktail With Apple And Cranberry or this Mimosa bar!
What Snacks Go Well With Champagne?
Looking for some dishes to share at your party? Try a few of these recipes that would pair nicely with this Champagne cocktail:
Remember to make the Berry Puree before using the recipe below. The Berry Puree Recipe can be Found HERE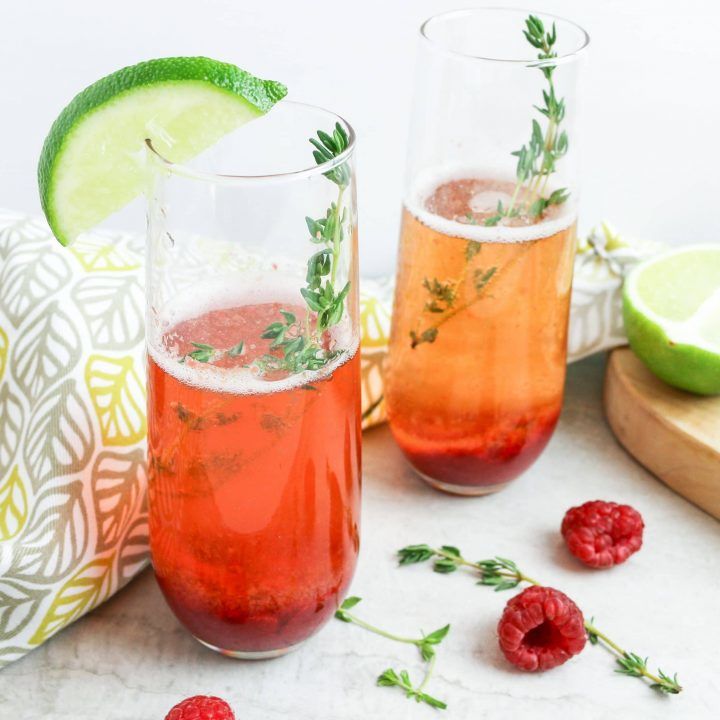 Summer Champagne Cocktail
This Summer Champagne Cocktail is the stuff memories are made of! With a blend of berries and a touch of honey, this recipe is sure to become a favorite!
Ingredients
1 Cup Berry Puree, See Berry Puree Post for Recipe
1 Bottle Champagne
Instructions
Add 4 Tablespoons Berry Puree to a Champagne Glass
Pour Champagne over the berry mixture until the champagne reaches the top of the glass
Garnish with Thyme or more berries
Enjoy!
Nutrition Information:
Yield:

4
Serving Size:

4 Servings
Amount Per Serving:
Calories:

127
Sodium:

26mg
Carbohydrates:

11g
Sugar:

9g
Looking for more? Here are some of our recent posts!
By