Are fancy lunch box containers required for a healthy school lunch? Of course not, but they make the chore of packing lunches faster, easier, and sometimes more fun!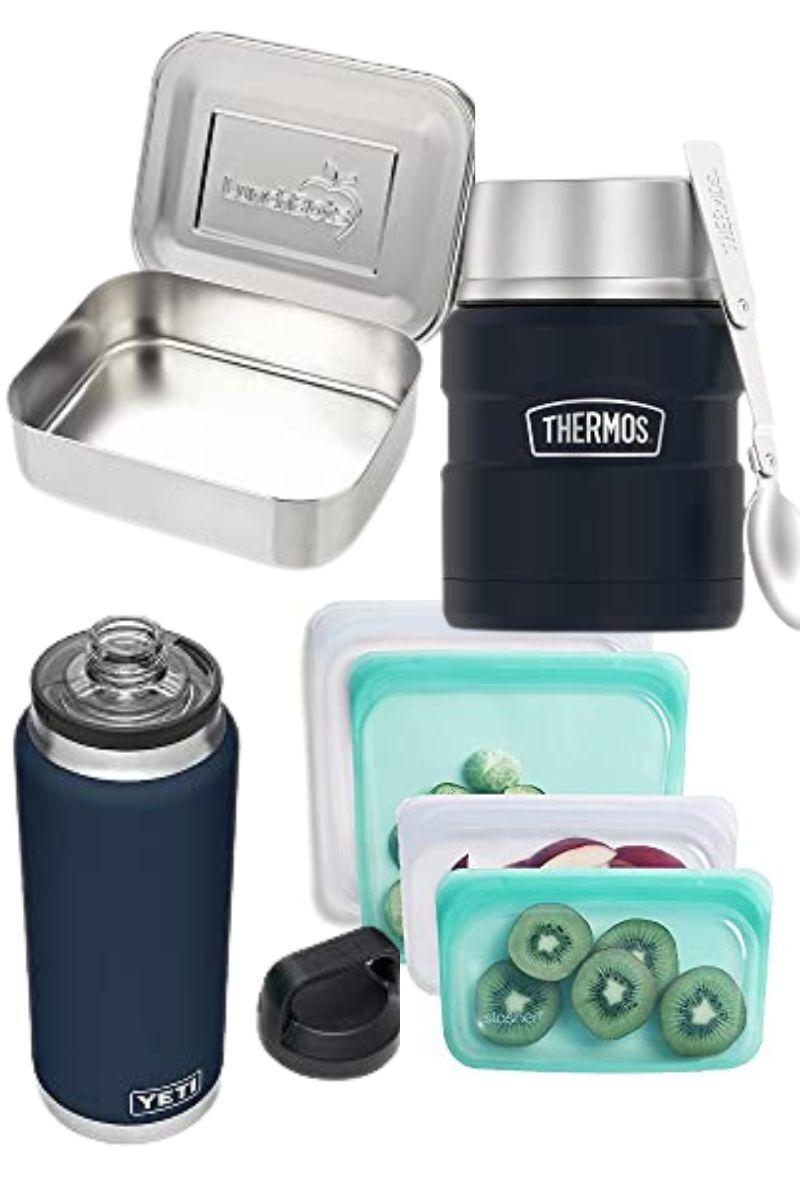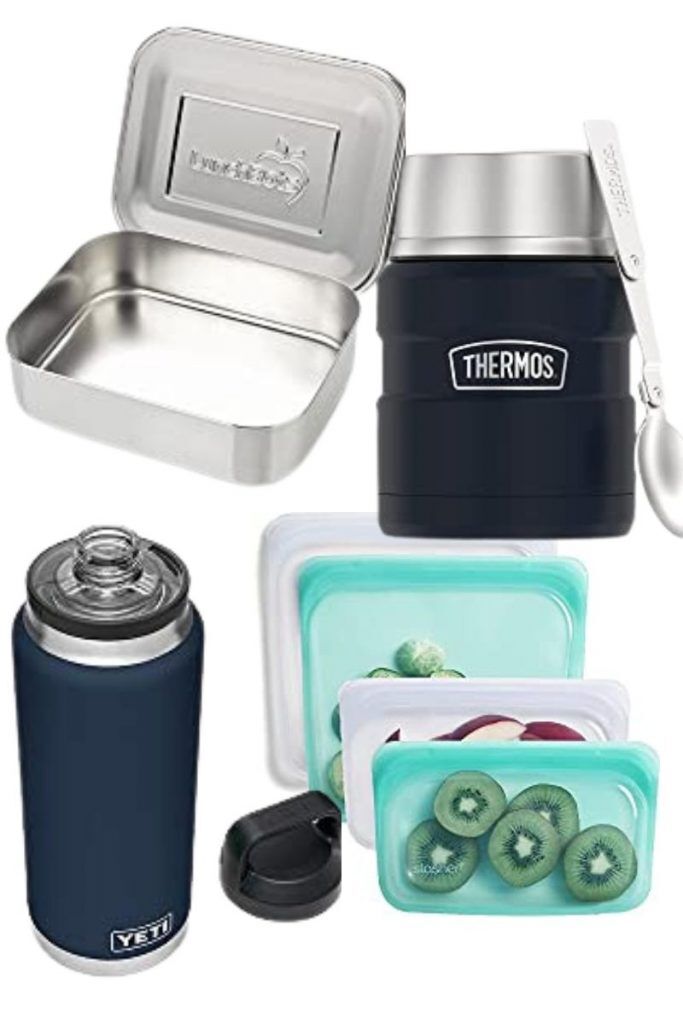 I now have big kids with one entering middle school this year. Over the years we have found several kids lunch box items that we really liked! I even wrote a post sharing them: It's Back to School! 6 Items that Promise to Make Packing Lunch Easier – but the kids were young and they didn't eat too much.
Now it feels like they eat a ton so we had to upgrade our lunch bag supplies! These lunch box food containers can be used by both kids and adults, so you can use them for work too.
Like many of you, I have worked hard to declutter the kitchen, so I am only going to list the must-haves. This is all you need to get you through the school year!
What Makes A Good Lunch Box Container
After lots of trial and error, this is what I look for in a lunch container:
Plastic Free – Even BPA-free plastic has been found to leach toxic chemicals. For that reason (and that they can't go in the dishwasher) I avoid all plastic.
Leakproof – If a container is going to be used for condiments or liquids, it has to be leakproof!
Easy to Clean – My entire family hates cleaning, including me! These containers must be easy to clean with no removable gaskets that need to be cleaned separately. Bonus points if it is dishwasher safe.
Durable – Now that the kids are older and they don't lose their lunch boxes, I will pay for more expensive items if it means that they will last for several years. We have had most of the items below for 3+ years.
Lunch Box Containers for Sandwiches
There are so many sandwich lunch containers on the market but it's best to keep it simple! A lot of times the divided containers can't hold a whole sandwich.
Planet Lunch Stainless Steel Lunch Container – The only stainless steel lunch container you need! This is large enough to hold large sandwich bread and a hoagie will fit in it diagonally. We have one container per kid and it has lasted over 3 years. I think this will last until they graduate! It is not insulated but that hasn't been an issue. I really like that these are just as light as a plastic food container, unlike glass.
Lunch Containers That Keep Food Hot
Unless you pack a lot of foods that need to be kept at a warm temperature, just one of these containers is sufficient.
PRO TIP: The proper way to use an insulated stainless steel lunch container is to add hot water 10 minutes before packing food. After the hot water sits in the container for 10 minutes, pour out the water and add the pre-warmed food to the container. This helps to heat up the stainless steel and keep the food at the right temperature until lunchtime.
Hydroflask Insulated Food Jar, 28oz – Hydroflask products are always great, but you pay for the name! It may be worth it if you are looking for a larger container since this comes in both a 20oz and 28oz size.
Reusable Silicone Bags
Reusable bags are a must-have for sandwiches and snacks. The snack size bag is perfect for crackers and fruit and the larger bags hold everything from sandwiches to leftovers!
Stasher Bags – After trying several different brands, Stashers are my favorite. They create a pocket so it's easier to clean and doesn't smash the food. They are also easy enough for kids to open themselves. Use them for anything from fruits to crackers to sandwiches!
Zip Top Bags – These silicone bags are great because they have a flat bottom and open like a bowl. This makes it easier for the kids to leave it open on a table and grab things like crackers or fruits out of it. They aren't leakproof, so you don't want to use them for anything that may drip.
Condiment Containers
LunchBots 1.5oz Leak Proof Dips Condiment Containers – These little containers are surprisingly useful! They have a silicone top and stainless steel bottom. We use them for dressings, ketchup, bbq sauce, or mayonnaise! They are small containers so they only hold 2-3 Tablespoons but when it comes to condiments, it is big enough. It's also small enough to fit inside the stainless steel sandwich container at the beginning of this post!
Lunch Bots 4.5oz Side Dish Container – These stainless steel containers with silicone tops are just a little bit bigger than the containers above. They are great when you need more condiments, but we end up using them to hold one cookie or a small treat. I don't know why they are called side dish containers since they are too small for a true side dish.
Water Bottles For Kids
We have tried so many bottles and there are two that stand out above the rest. Of course, they are the priciest ones but they have lasted several years, so it's worth it.
Yeti Rambler with Chug Cap, 36oz – The chug cap is what makes this water bottle so special. The cap is so much easier to clean than the straw tops and it still prevents most spills. It's great for older kids who no longer need the security of a straw cap. They come in lots of fun colors too! We like the 36oz size for my middle schooler.
Hydro Flask Wide Mouth Straw Lid, 32oz – Hydro Flasks are great, and although they do get dented, they last for several years of everyday use. The straw lid is great for kids who have a tendency to spill their water, or ones who just prefer to drink from a straw. Be sure to buy the one that comes with the straw lid or you will have to pay extra to buy the straw lid separately.
Lunchbox
Lunchboxes are just as important as food containers! A good lunchbox needs to be large enough to hold the right amount of food, but not so large that they get in the way of everything else the kids bring to school. Here are the ones that we like to use.
Pack It Freezable Lunch Bag – These come in several different styles and colors, so there is something for everyone! Pop them in the freezer the night before and by morning, they'll be ready to go. There's no need to add an additional ice pack. Just remember to put it in the freezer the night before. I keep an extra ice pack in the freezer just in case we forget.
Arctic Zone Titan Deep Freeze Lunch Bag – We buy these insulated lunch bags when they go on sale at Costco. They come with ice packs and they keep the food cold until lunchtime. With regular use, they only last a year but we do have a couple that have lasted up to 2 years.
Some Questions About Packing Lunches
What is so great about bento boxes?
Bento boxes are a lot of fun for young kids because it is like having a box of snacks! They are great for people who don't like to have their food touching or for things like homemade Lunchables or charcuterie lunch boxes. The only problem with them is that they tend to be a lot larger than a standard lunchbox and they often come in styles for younger kids. I would recommend bento boxes for older kids that still enjoy them!
Can you pack lunch the kids lunch box the night before?
You definitely can – if you have the room in your fridge. When we have room in our fridge, we will pack the lunch box the night before and place it in the fridge until morning. Just don't forget to grab it before running out the door!
School Lunch Recipes You Might Enjoy:
By