Tired of dropping $$ on a small tub of vegan ice cream? This amazing tropical banana nice cream can be made with just a handful of ingredients and your favorite blender!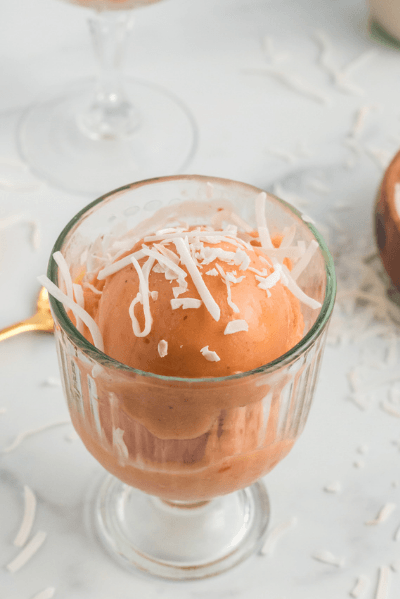 Homemade vegan ice cream has been around for a while but now that more people are looking for dairy free recipes and healthy ice cream recipes, it has gained popularity.
What is Nice Cream Made of?
The base for nice cream is all the same – a liquid and frozen bananas. From there, you can add almost anything! Any frozen fruit will work. You can even add nut butters to give it even more dimension and to cover the banana flavor. Be sure to also try my Strawberry Nice Cream.
Liquid – Switch it up for variety, you can try different nut milks, oat milk, juice coconut water or even plain water
Frozen Bananas – Make sure your bananas are ripe before freezing. Peel them and break them into small chunks. Then freeze on a sheet pan. Once frozen, pop them in an airtight bag or container.
Frozen Fruits – Almost any frozen fruit will work here. Try berries, pineapples, mangos, kiwis, oranges and any other fruits you have on hand!
Vegetables – This is completely optional but you also have the option of adding fresh or frozen spinach for added nutrition! It will result in green ice cream, so there's no hiding it!
TIP: Buy bananas in bulk at Costco. For a few dollars, you will get enough bananas for a weeks worth of smoothies!
TIP #2: As fruits in your fridge start to become overripe, pop them in the freezer for nice cream on another day. It's much better than throwing them away and ripe fruits will act as a natural sweetener.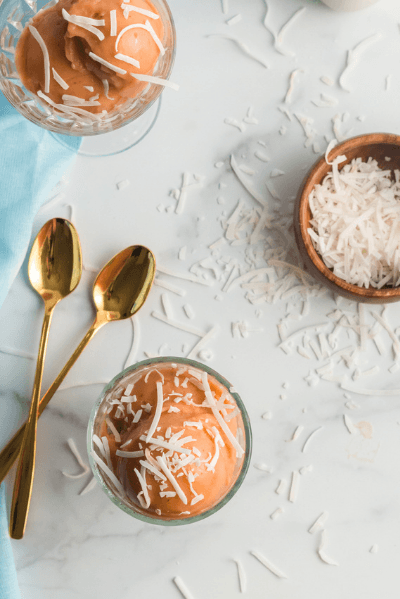 Ingredients You Need For Tropical Banana Nice Cream
Frozen Bananas – Always keep frozen bananas on hand for nice cream or healthy smoothies! If you don't like the flavor of bananas, add a scoop of almond butter to mask the flavor
Frozen Mangoes – Not only are they delicious, but they make this dairy free ice cream extra creamy! I buy frozen mangoes. It's so much cheaper than chopping and freezing fresh mangoes.
Frozen Pineapple – Around here, fresh pineapples are just $3. I buy them on sale, cut them into cubes and then freeze them. It is so much cheaper than buying frozen pineapple.
Frozen Strawberries – Every summer I buy cases of strawberries. If we don't eat them fast enough, they start to soften so I freeze them (with the green top) for smoothies! You can also buy frozen strawberries.
Coconut milk – Coconut milk adds to the tropical flavor of this homemade ice cream, but you can substitute any nut milk. We will only need a splash of milk for this recipe.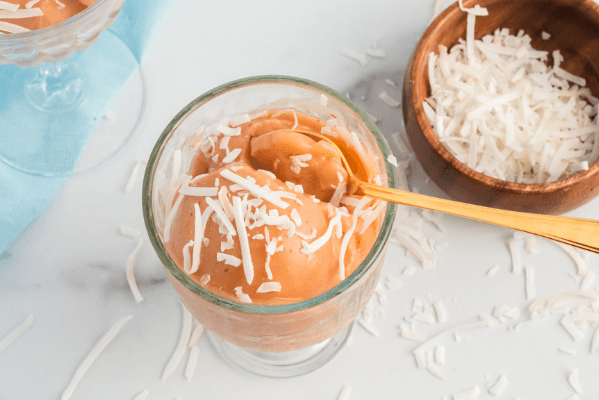 Step By Step Process For Homemade Vegan Nice Cream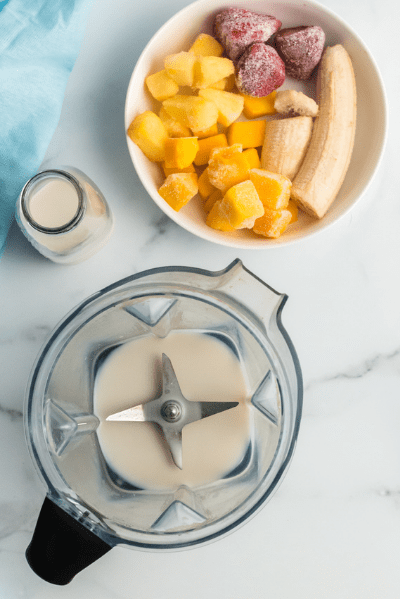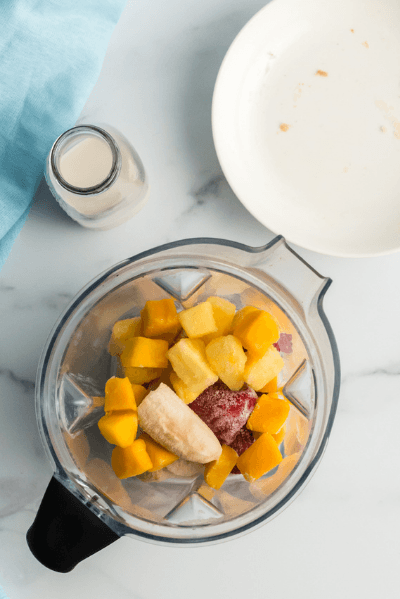 Tips on Making Banana Nice Cream
It's very easy to make homemade ice cream, but there are a few helpful tips since we aren't using an ice cream maker.
You will need a tamper – If you have a Vitamix or Blendtec, your blender came with a tamper. You are going to need that. We are adding just a tiny amount of liquid, so in the beginning, the frozen fruits will get stuck in the blades. The tamper will allow you to push the frozen fruit into the blade and it will speed up the process.
If you don't have a tamper – you can still make nice cream but it will take a little longer (and will require more patience). Turn on the blender. When the fruits start to get stuck in the blade, turn off the blender and use a wooden spoon or scraper to mix the fruit. Make sure the blender is off or you could damage the blade and/or hurt yourself.
Add a little bit of liquid at a time – The first few times, you are going to want to add more liquid. It's fine to add more liquid, but do it slowly…remember that we are making nice cream and not a smoothie.
But if you do add too much liquid – Blend your nice cream, pour it into a bowl and place it in the freezer. Once frozen, scoop it out like ice cream.
Frequently Asked Questions About KEYWORD
Can you make Banana Nice Cream ahead of time?
Yes, you can. It won't have the same soft serve ice cream consistency but it will still be delicious. If you are going to freeze it, pour it into a large bowl and freeze. Take it out 5-10 minutes before serving so it can defrost. You could also freeze it in individual bowls and just serve them straight from the freezer!
What are some nice cream toppings?
You can top it with anything! Shredded coconut, chocolate candy, sliced fruits, sprinkles, or even superfoods like chia seeds and hemp hearts.
Why is it called nice cream?
It is just a play on words! It is a healthy ice cream, so it is nice on your body. It gives those that are dairy free or lactose intolerant another option besides sorbets!
Is nice cream actually healthy?
Like anything else, it depends on what you add to it. Generally speaking, nice cream is very healthy. It is fresh fruits that are sweetened with bananas. Bananas provide a lot of potassium and is very good for you! If you want to boost the nutrition, add some chia seeds and greens to the nice cream. I like to use spinach because it has no taste!
How do you thicken nice cream?
If you add too much liquid, nice cream can become runny. To thicken the nice cream, add more fruits. Frozen bananas and avocados are great at thickening the nice cream. If it is still too runny, just pop it in the freezer.
More Nice Cream and Smoothie Recipes You Might Enjoy: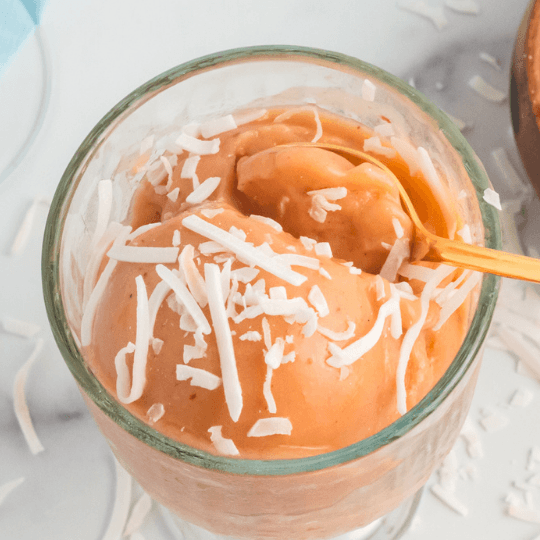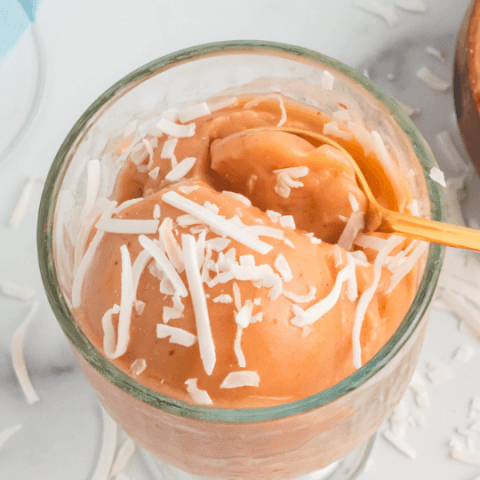 Tropical Banana Nice Cream
Tired of dropping $$ on a small tub of vegan ice cream? This amazing tropical banana nice cream can be made with just a handful of ingredients and your favorite blender!
Ingredients
1 Banana, Frozen
1/2 Cup Mangoes, Frozen
1/2 Cup Pineapples, Frozen
3 Strawberries, Frozen
3 Tablespoons Coconut Milk
Instructions
In a high powered blender, add the almond milk
Add the frozen bananas, mangoes, pineapple and strawberries
Blend on high speed until smooth. Using a tamper, press the frozen fruits into the blade. If needed, turn the blender off and mix the ingredients. Then turn the blender back on.
Serve and enjoy!
Nutrition Information:

Yield:

2

Serving Size:

1 Amount Per Serving:

Calories:

219

Total Fat:

1g

Saturated Fat:

0g

Trans Fat:

0g

Unsaturated Fat:

1g

Cholesterol:

0mg

Sodium:

9mg

Carbohydrates:

56g

Fiber:

10g

Sugar:

33g

Protein:

3g

Nutritional information was calculated automatically. Please verify accuracy

By