With crushed mint leaves and a hint of honey, this healthy Virgin Mojito will quickly become one of your favorite Mocktail recipes! And the best part? The simple syrup in this recipe can be made in the microwave in less than 2 minutes. Yes, please!
When it comes to special occasions, even the kids like to get in on the action. This Pomegranate Mocktail recipe is so delicious that the kids ask for these anytime we have a special event! Because it is nonalcoholic and refined sugar-free, I gladly make it for them!
What is the Difference Between a Cocktail and a Mocktail?
There is only one difference between the two…Alcohol! Cocktails contain alcohol and mocktails are non-alcoholic versions of cocktails. Both are delicious!
When hosting an event like a Wedding or baby shower, it is always a good idea to have a few Mocktail options. Virgin Mojitos are the perfect way to let all guests feel included. Add drink umbrellas or glow sticks to instantly bump up the fun factor at any party!
For baby showers, also be sure to check out these 5 Healthy Pregnancy Mocktails.
What is a Good Virgin Drink?
Pomegranate Mojitos are easily my favorite virgin drink. They contain pomegranate juice which is high in antioxidants and it is primarily seltzer water which has no added sugar or chemicals.
It tastes delicious on a hot summer day or in the winter in front of the fire.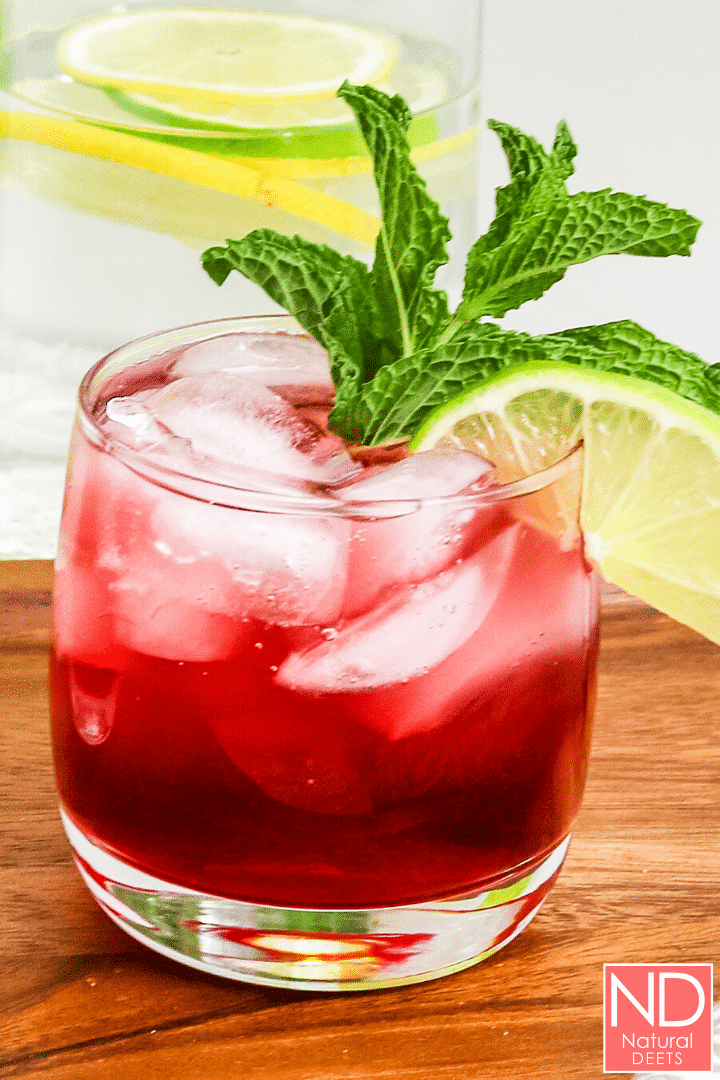 Try it today!!
Microwave Simple Syrup
Simple syrups are the base for mojitos. Traditional recipes would call for sugar and water to be boiled on the stove until thickened. I really don't like to make it on the stove because it takes a while and it creates a sticky mess.
That is why I had to find a way to make it in the microwave, and it was so easy! I started with a 2 cup Glass Pyrex measuring cup. I picked approximately 2 Tablespoons of fresh mint leaves (about 8 leaves) and crushed them in my hand. Bruising the leaves releases the mint flavor.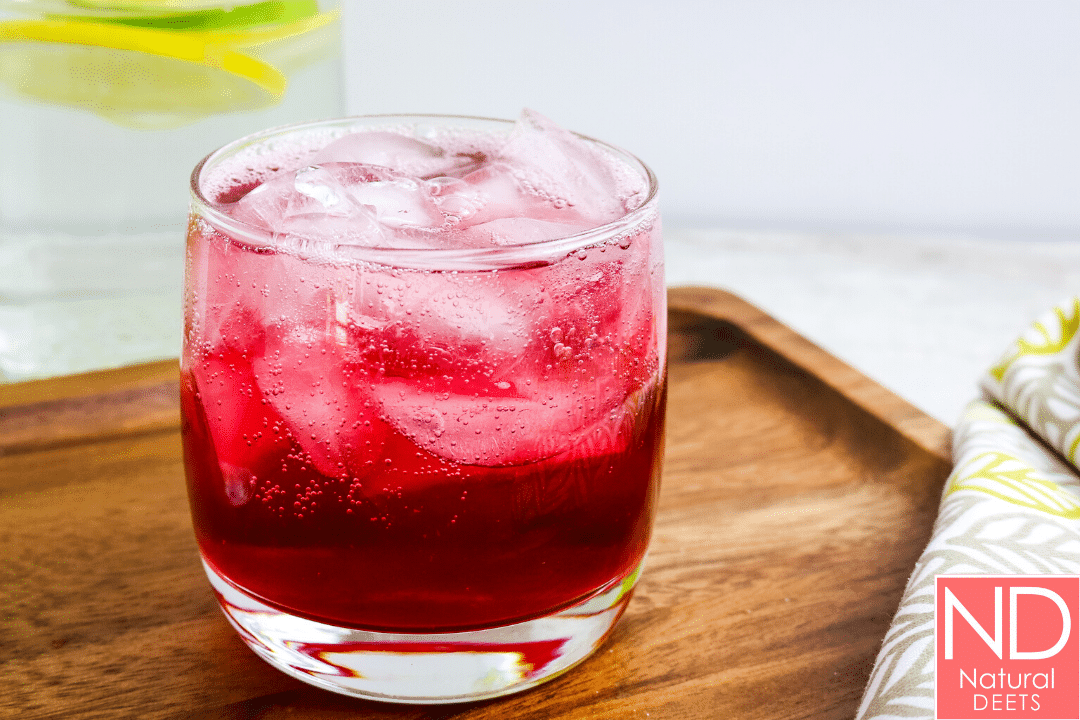 I put the bruised leaves into the Pyrex cup. Then I added 1/2 Cup of Water and 1 Tablespoon of honey. I microwaved it for about 1 minute and 30 seconds, or until it started bubbling close to the top of the cup.
I then let the syrup cool. It will be really hot and can burn, so be careful. And that's it!
Ready to give it a try? The easy recipe is below!
Do you need some ideas of what to serve with your Virgin Mojitos? Here are just a few ideas: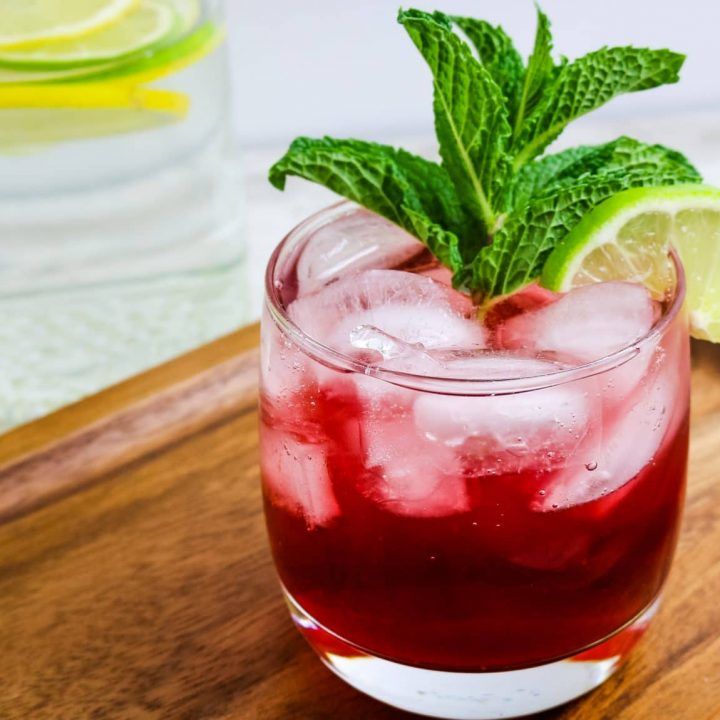 Virgin Mojito (Pomegranate Mocktail)
Virgin Mojitos are perfect for Wedding, Baby Showers, or just hanging out with friends on a sunny afternoon. This recipe has a microwaveable simple syrup made in under 2 minutes. Minty, delicious and refreshing, this is the perfect Mojito Mocktail for any occasion!
Ingredients
Simple Syrup
2 Tablespoons MInt Leaves, Cushed, About 8 Leaves
1/2 Cup Water
1 Tablespoon Honey
Virgin Mojito
1 Tablespoon Simple Syrup
1 Tablespoon Pomegranate Juice, 100% juice
1 Cup Seltzer Water
1 Lime, Cut in to wedges
Instructions
Simple Syrup
In a 2 cup microwave safe container, add the Mint Leaves, Water and Honey
Microwave for 1 minute and 30 seconds, or until bubbly. Watch it closely to make sure it doesn't bubble over
Let sit for 3 minutes before removing. It will be very hot
Let Cool
Assembling the Virgin Mojito
In a glass, add 1 Tablespoon of the Simple Syrup from above
Add the Pomegranate juice and pour seltzer water to the top of the glass.
Squeeze a lime wedge over the top of the drink
Garnish with mint and serve
Nutrition Information:
Yield:

4
Serving Size:

4 Drinks
Amount Per Serving:
Calories:

38
Sodium:

31mg
Carbohydrates:

10g
Sugar:

8g
Looking for more? Here are some of our recent posts!
By