This easy golden milk recipe is my go to drink when I feel a cold coming on. It's also perfect when I just need a warm drink (and it is too late for coffee)! I think you will love it too! Discover the power of turmeric.
Easy Golden Milk Recipe – Almond Milk with Turmeric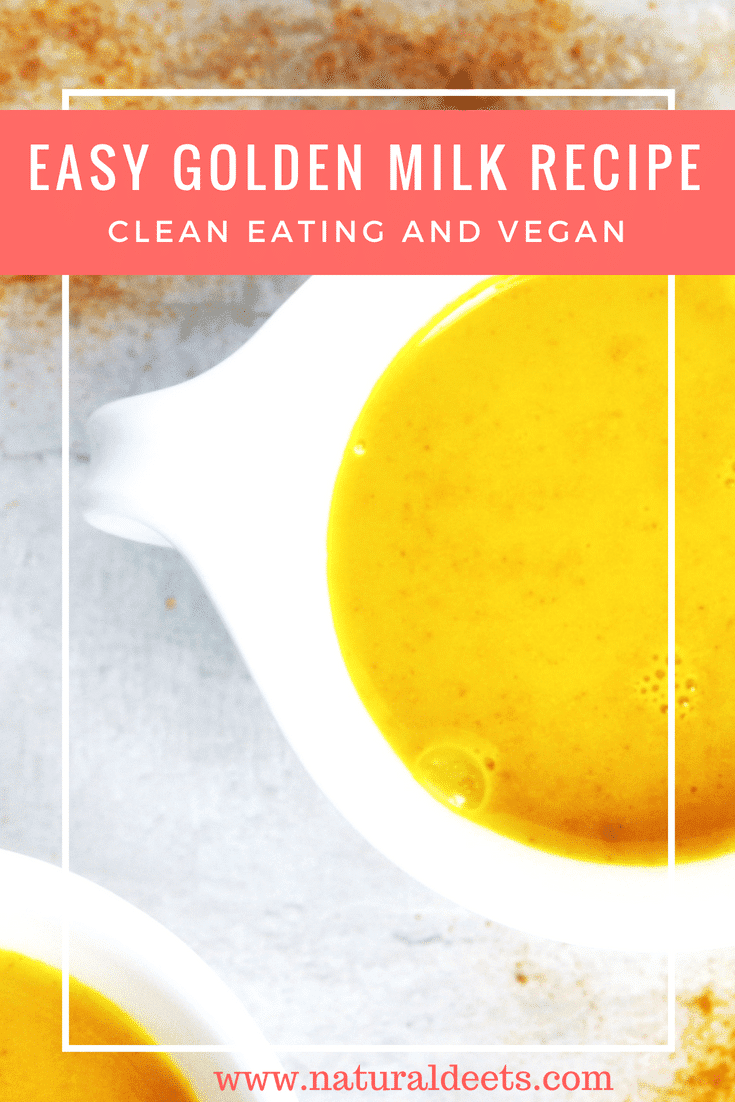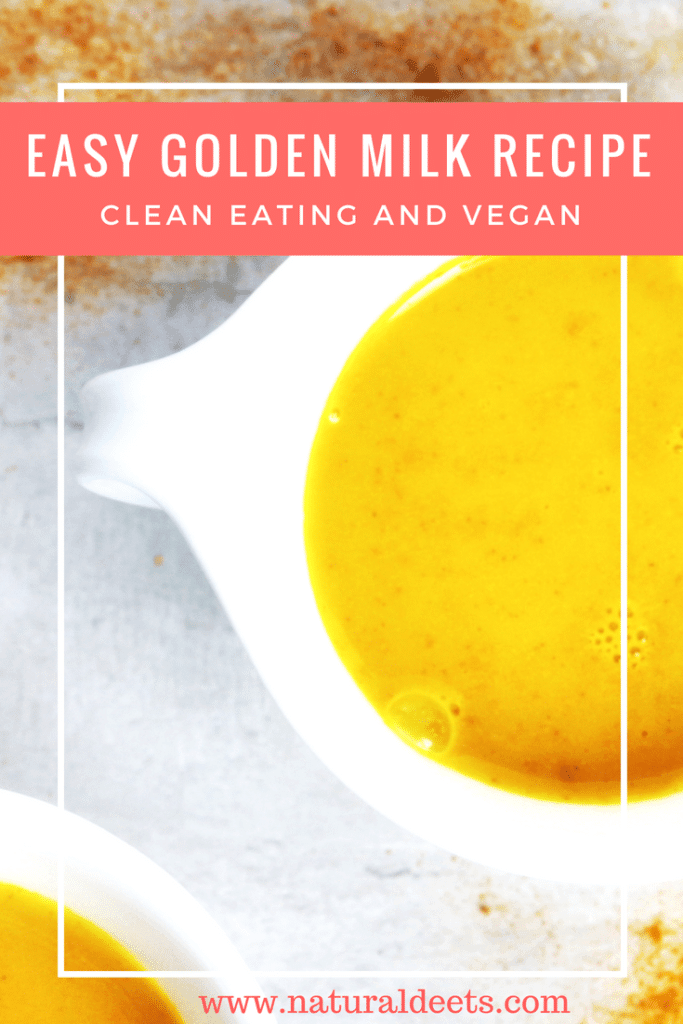 Turmeric has so many benefits that it would be difficult to cover all in just one post. It can help to relieve joint pain and increase your memory. But I like to use it for it's anti-inflamitory benefits as well and boosting the immune system. This Golden Milk Recipe is a delicious and easy way to get the benefits of turmeric. You have to try it to see how it helps you!
Personally, I like to use it when the people around me start getting sick! Golden Milk along with other natural cold remedies have helped me stay healthy over the years.
Earlier this year both kids got the flu. As you can predict, they were coughing in my face and rubbing their germs all over me! I was taking vitamin C and drinking lots of green tea and orange juice. But I also incorporated Golden Milk in to my mornings and miraculously, I didn't get sick. At that point I was sold on Golden Milk.
The standard recipe isn't sweet at all and it has a very strong turmeric flavor. It was hard to drink since I wasn't used to turmeric. I started adding (a lot) of honey and it was delicious! It has actually become a replacement for a latte. In fact, it would probably be delicious with a little coffee mixed in… hm…
Tips for Making Golden Milk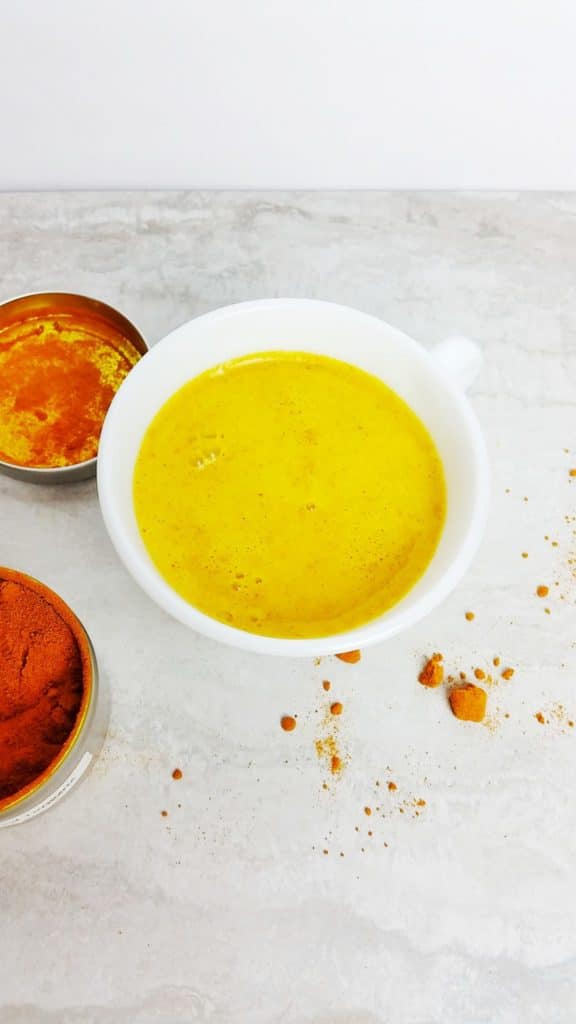 Golden Milk has a similar consistency to a latte. Therefore the first time I tried it, I expected it to be sweet. I was disappointing when it wasn't sweet at all! If this is your first time drinking it, I would recommend adding a lot of honey. At least 2 Tbsp. Another alternative (my favorite way!) is to used sweetened Soy or Almond milk. I keep this to a minimum since it is added sugar, but I tell myself that the health benefits of Turmeric offset the sugar! Shhhh…
Clean Eating Golden Milk Recipe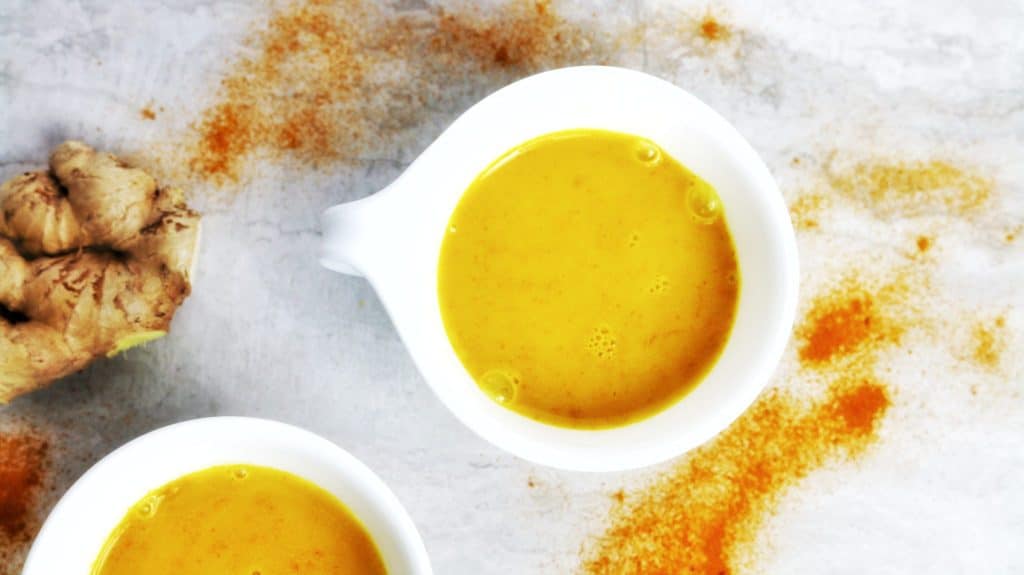 This recipe has been modified to be clean eating compliant. It was easier than anticipated and you won't feel like you are missing out on anything!
Ingredients
2 Cups Soy, Almond or Cashew Milk (you can also use sweetened Soy or Almond milk if you are not used to turmeric)
1 heaping tsp Turmeric
1 tsp grated ginger (or to taste)
2 tsp honey (add more or less based on preference)
1/2 tsp vanilla (optional)
Pinch of Salt
Directions
Combine all ingredients in a small saucepan and simmer 10 minutes.
That's it! This Easy Golden Milk recipe really is easy!
Enjoy and let me know what you think!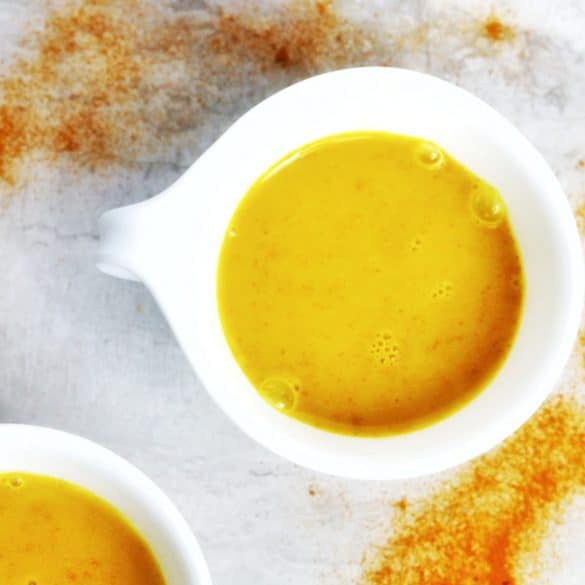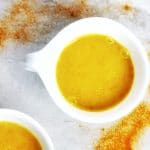 Easy Golden Milk Recipe
This easy golden milk recipe will make you a believer! Turmeric has so many health benefits that it is hard to cover in just one post! I use it to stay healthy while the people around me get sick!
Ingredients
2

Cups

Soy milk

Almond or Cashew Milk (you can also use sweetened Soy or Almond milk if you are not used to turmeric)

1

tsp

Turmeric (heaping tsp)

1

tsp

grated ginger

or to taste

2

tsp

honey

add more or less based on preference

1/2

tsp

vanilla extract

optional

1

Pinch

Salt
Instructions
Combine all ingredients in a small saucepan and simmer 10 minutes
By