This Gluten Free Corn dog batter recipe is also free of Wheat, Eggs and Dairy! The corn dog batter is perfect for mini corn dogs – think appetizers or a Gluten Free lunch idea!
Serve them with crispy smashed potatoes and a vegetable side dish for a kid friendly dinner!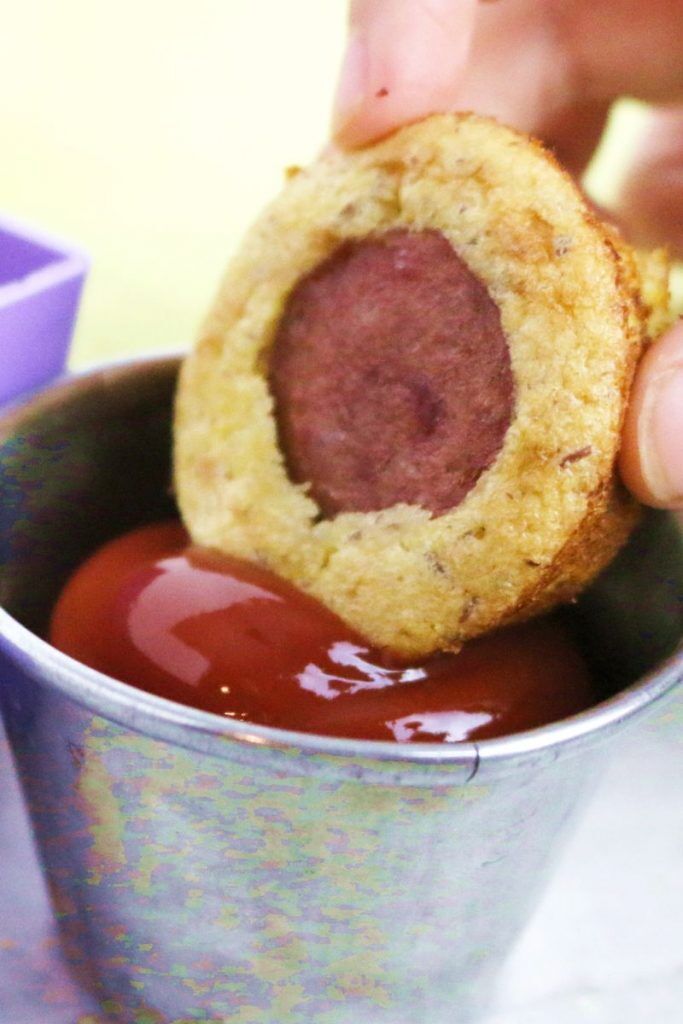 Clean Eating with Allergies
In addition to Clean Eating, our family has already been eliminating dairy and eggs due to intollerances. So imagine my surprise when we were told that we also need to eliminate wheat for 8 weeks. Now that is hard to do! Our kids eat toast for breakfast and sandwiches for lunch. I needed more school lunch ideas and it had to be clean food!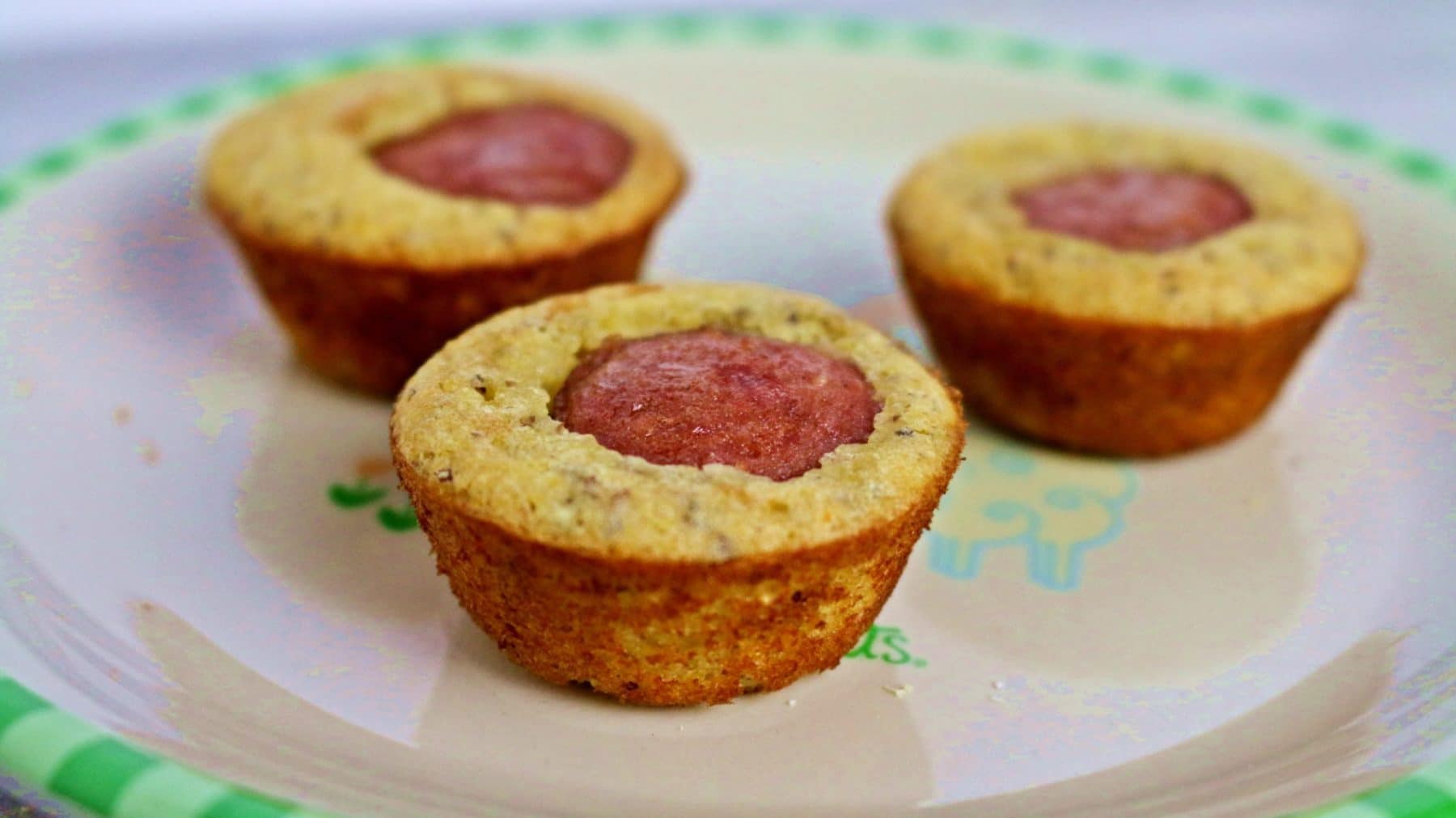 Gluten Free Corn Dog Recipe
I pulled out one of our favorite recipes: https://www.naturaldeets.com/dairy-free-corn-dog-recipe/ and figured out how to eliminate the wheat. Surprisingly, the wheat free version turned out to be just as good as the original!
To replace the flour, I increased the cornmeal and made up the difference with Chickpea Flour. Chickpea flour and cornmeal are both naturally gluten free and although I wasn't going for a Gluten free corn dog, that's where we ended up.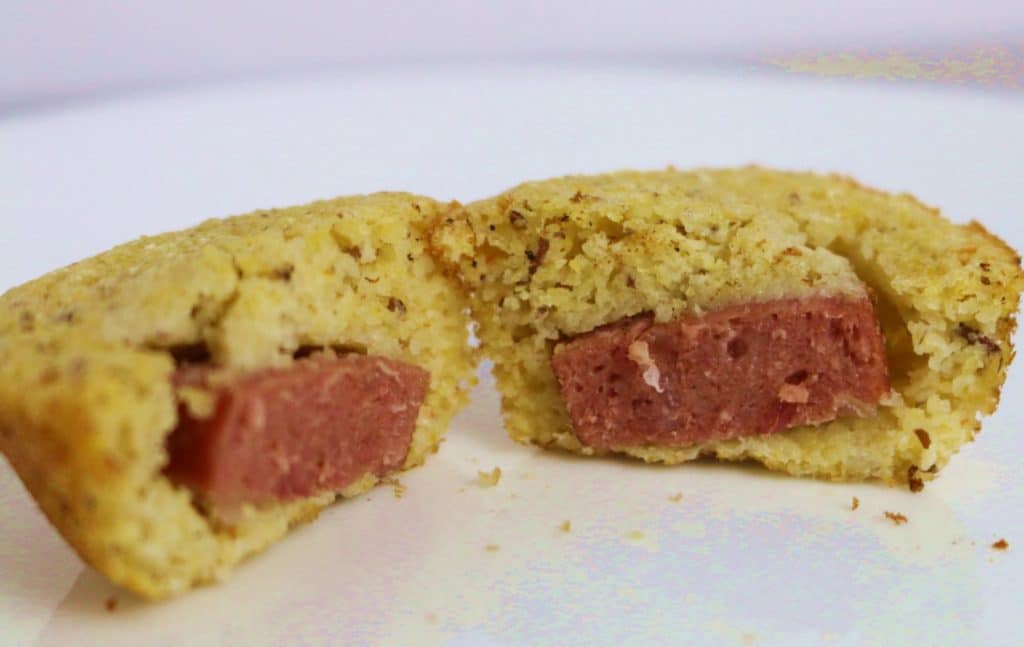 Wheat Free Mini Corn Dog Muffins
There were a couple of tricks to this dough. First of all, it looked extremely watery. In fact, I was sure I was going to be making another batch. Here's a picture (see what I mean?):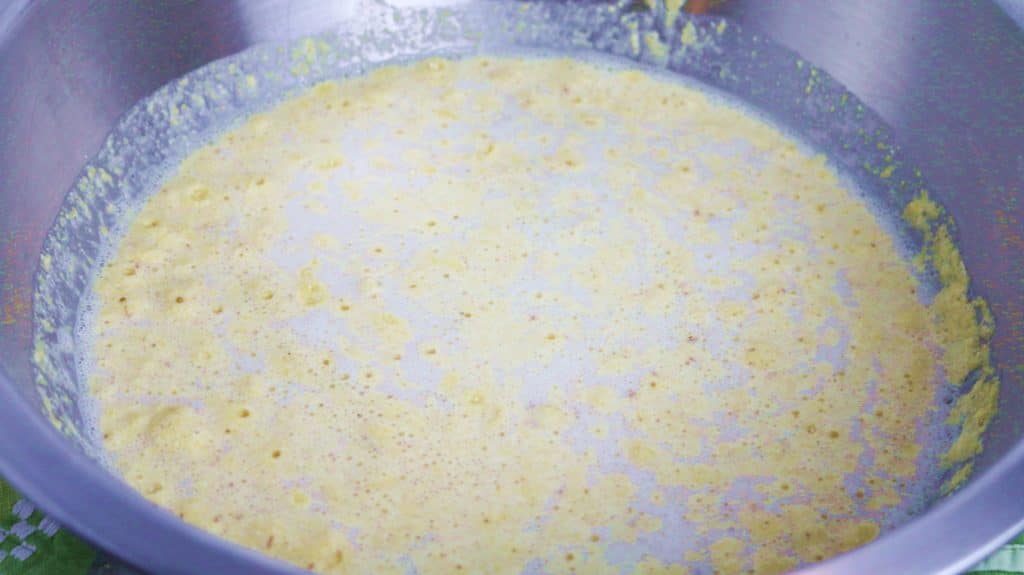 But it actually turned out perfectly! The second trick is to let the batter sit for 10 minutes before baking. This gives the baking powder and baking soda time to activate.
The last trick is to sufficiently oil the muffin pan. Because there is so little oil, and no eggs or butter, the muffins will stick to the pan. Sufficiently oiling the pan will keep them from sticking.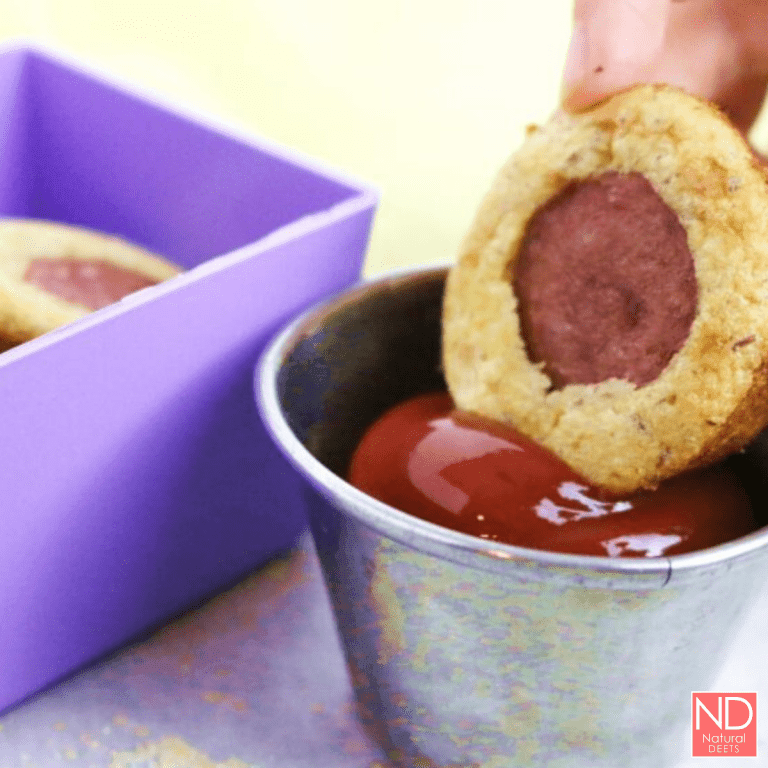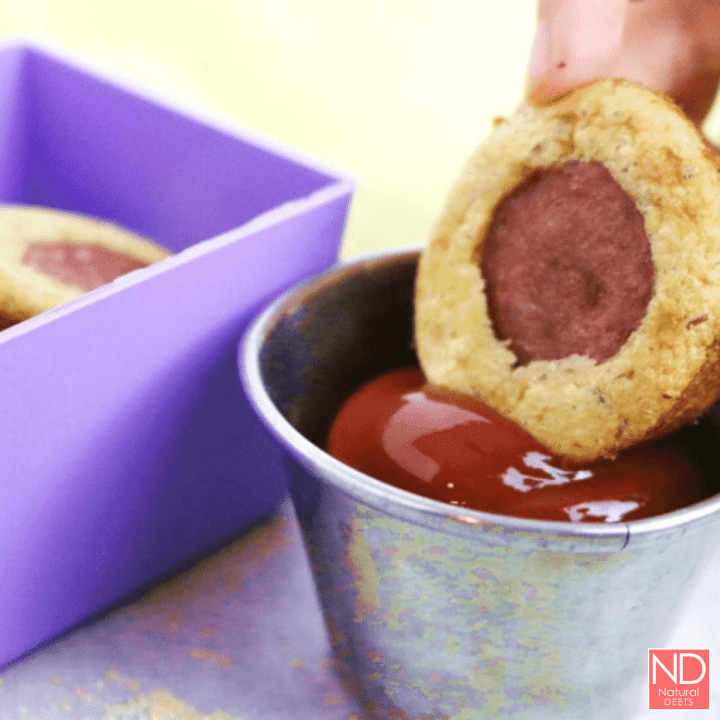 Gluten Free Corn Dogs
Ingredients
8 Grass Fed Hot Dogs, Sliced
2/3 + 3/4 Cups Cornmeal
1/3 Cup Garbanzo Bean Flour
2 Cups Almond Milk
2 Tbsp Apple Cider Vinegar
2 Flax Eggs (2 Tbsp Flax & 6 Tbsp Water)
2 Tbsp Olive Oil
1-3 Tbsp Honey
1 tsp. Baking Soda
1 tsp. Baking Powder
1 tsp. Salt
Instructions
Preheat Oven to 375°
Mix the Flax eggs and let sit while you prepare the rest
In a large bowl, mix the Almond Milk and Apple Cider Vinegar. Place aside
In a medium bowl, mix the Cornmeal, Garbanzo Bean Flour, Baking Soda, Baking Powder and Salt
Add the Flax egg to the bowl with the Almond Milk. Add the Honey and Oil and mix well.
Add the dry ingredients to the wet ingredients and stir until just mixed. Remember that the batter will be watery.
Let the batter sit for 10 minutes. While the batter is sitting, cut the hot dogs into 1.4 inch pieces
Spray your muffin pan with nonstick spray or rub with olive oil
Fill each muffin 3/4 full and place a hot dog slice on the top
Bake for 15-20 minutes. If using a convection oven, bake for 7-10 minutes
Cool and serve
Nutrition Information:
Yield:

12
Serving Size:

1
Amount Per Serving:
Calories:

192
Total Fat:

14g
Saturated Fat:

4g
Trans Fat:

0g
Unsaturated Fat:

8g
Cholesterol:

34mg
Sodium:

624mg
Carbohydrates:

13g
Fiber:

1g
Sugar:

6g
Protein:

6g
Nutrition information is calculated by a 3rd party and should be verified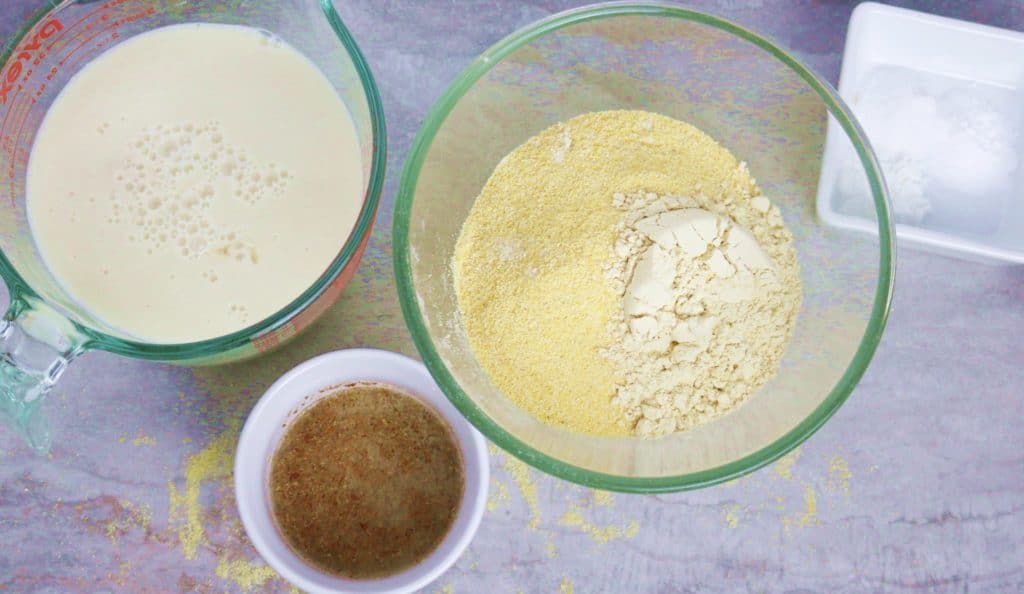 Looking for more? Here are some of our recent posts!
By