What can you make when you open your cabinet and all you have are a few packets of gelatin and some juice? Homemade fruit snacks of course!
What kid doesn't love fruit snacks? And what mom doesn't love fun and delicious clean eating recipes?!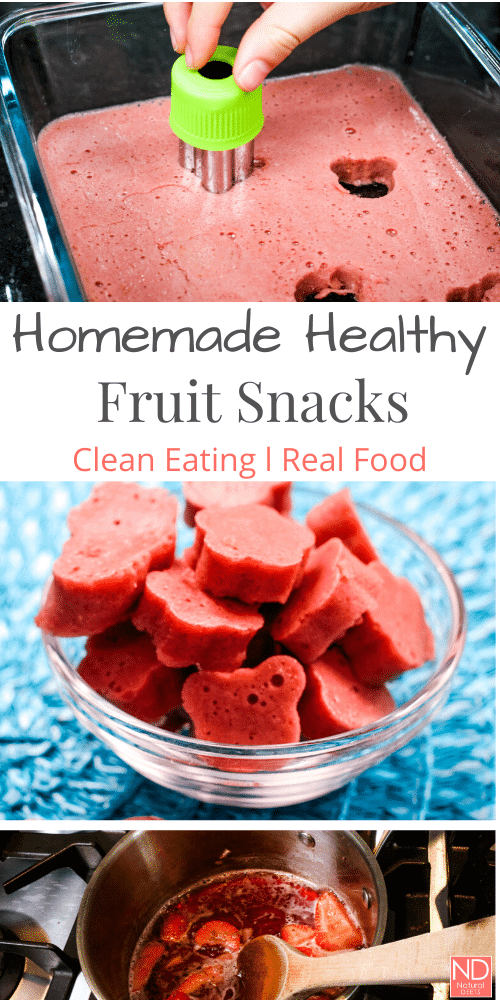 The best part of these fruit snacks if that you can use anything you have on hand. Frozen fruits are best and any juice will work.
We had a bottle of organic tart cranberry/cherry juice that no one in the family liked. We were able to use it up on these fruit snacks. Better than throwing it away!
Cooking with kids – How to do it
Forgive me if you have already heard me say this, but cooking with kids doesn't have to be complicated and this recipe is the perfect example!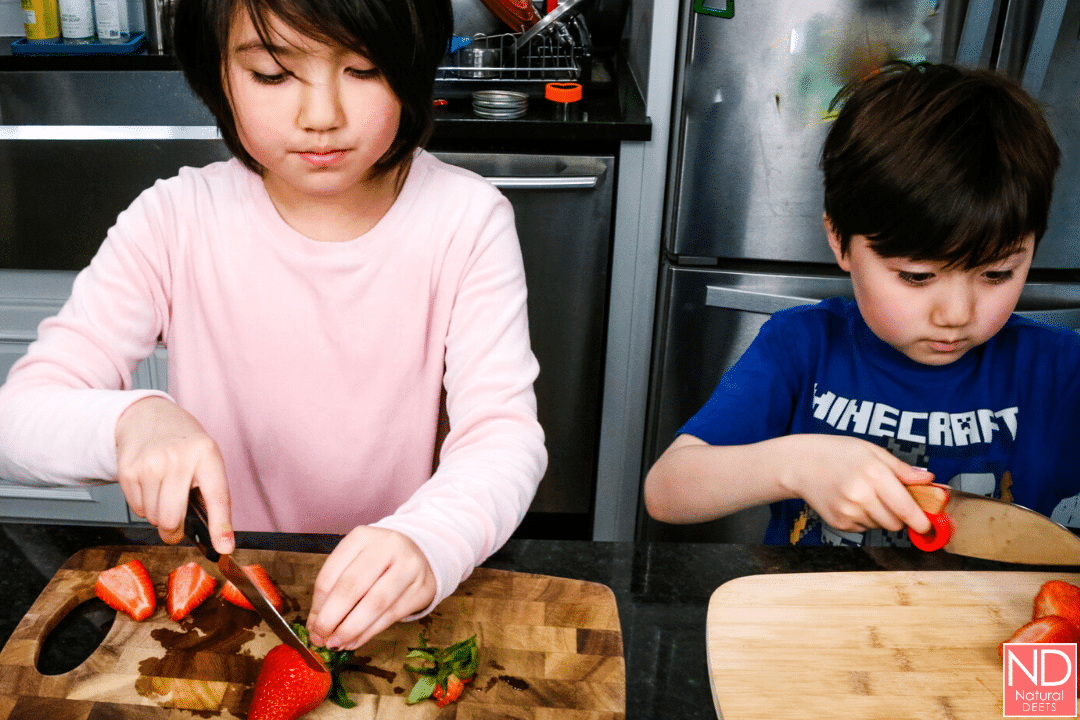 This recipe is going to require help from an adult because it involves hot liquids which could easily burn a child.
But that doesn't mean they can't help.
Set up a station for each child with some fruits and let them start chopping. They will feel like they are cooking but will still be safe!
At the end they can grab their cookie cutters and start making shapes. So really, they are helping with about 60% of the cooking!
What is Gelatin Made of?
The real answer is that it depends on what brand of gelatin you buy. There are two general types of gelatin – one made from beef or pork collagen and the other is made from fish by-products.
Collagen is all the rage these days and is touted for creating firm and beautiful skin. However, growing up, we were told that gelatin was good for our nails. Anytime I mentioned splitting nails, someone would suggest gelatin.
Why is paleo gelatin good for you?
Gelatin's popularity started increasing in the last 10 years after the Paleo lifestyle became popular. Gelatin can be found in bone broth made from beef marrow. It is believed that gelatin was common in the human diet until recent years.
Paleo gelatin is made from grass fed beef bones and contains nutrients believed to support joint and bone health in addition to improving your skin!
What is gelatin used for?
We use gelatin in this recipe to harden the juice so the kids are able to pick it up. However, there are other uses for gelatin:
Thickening agent in food
Make homemade gummy bears or fruit snacks!
mix with water and drink (if you are just trying to get more gelatin)
What kind of juice should we use for fruit snacks?
Any juice is going to work in this recipe. Our favorites are grape juice and orange juice. However we have also used cherry and cranberry juice too.
I'd stay away from juices like tomato or V8…that's just cruel! 🙂
I would suggest finding an organic 100% juice brand with no added sugar. We will be adding a touch of sugar, so there is no reason to buy sugared juice!
How to Make Homemade Fruit SNacks
Don't let this recipe intimidate you. It took me years to finally try it and it was so easy that I'm a little embarrassed! Now we make it all the time!
In a small mixing pot, add the fruit juice, honey and fruits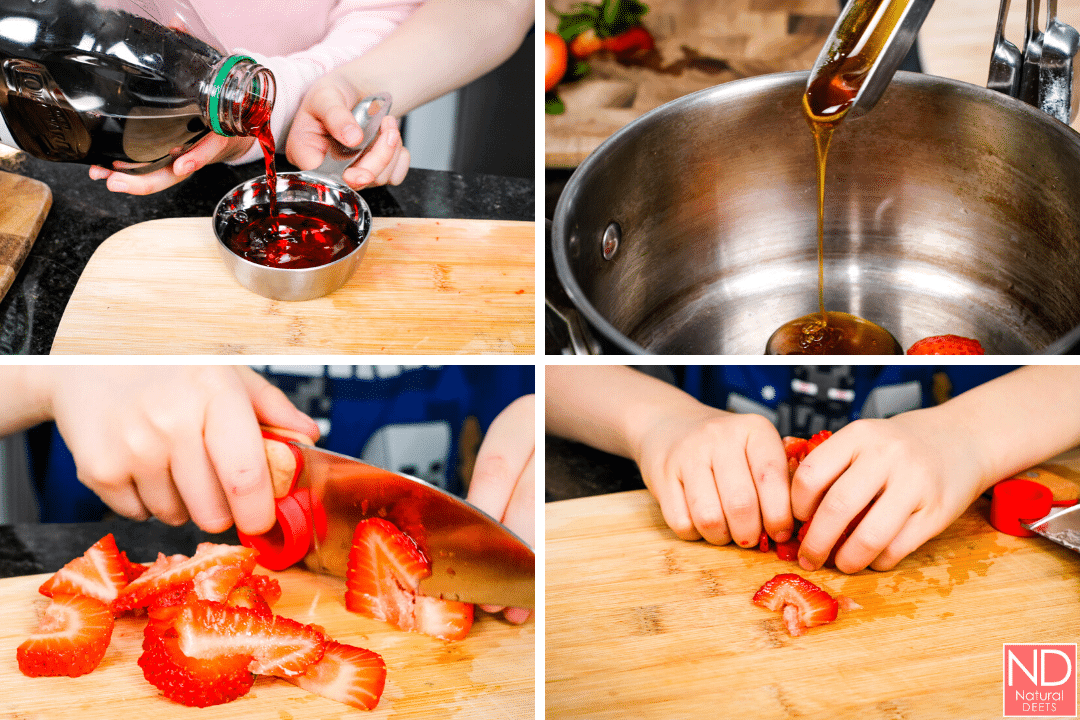 2. Cook over medium heat, stirring constantly until the fruit softens and starts to break down.
3. Very carefully pour the fruits in to a blender and add the gelatin. Blend until smooth. This will be very hot so if kids are making this, an adult should help.
4. Once blended, pour the mixture back into the small saucepan.
5. Add the chia seeds and stir well.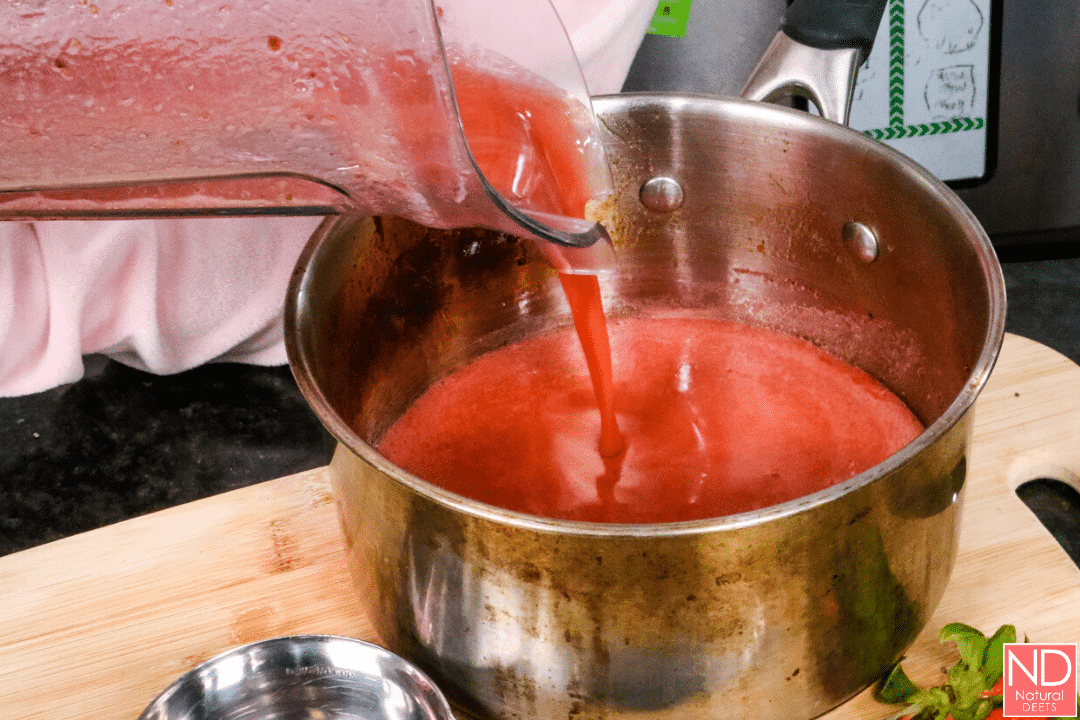 6. Pour the mixture into a small rectangle container. We used a 6×8 glass storage container but any small glass container will work.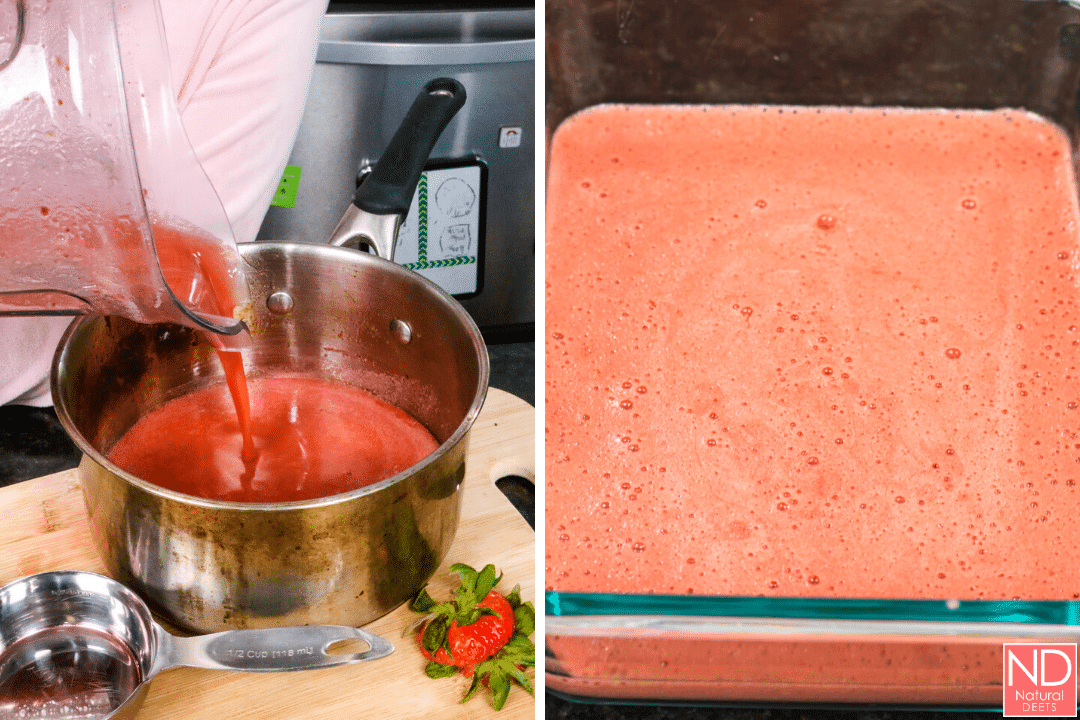 Place the mixture into the fridge for at least 1 hour or until hardened.
Using Cooking Cutters to Make Healthy Fruit Snacks
Now the fun part! Grab your favorite cookie cutters (we love THESE).
Have the kids start cutting out shapes! If you don't have a cookie cutter, you could just cut them into squares. Trust me, they will still taste just as good!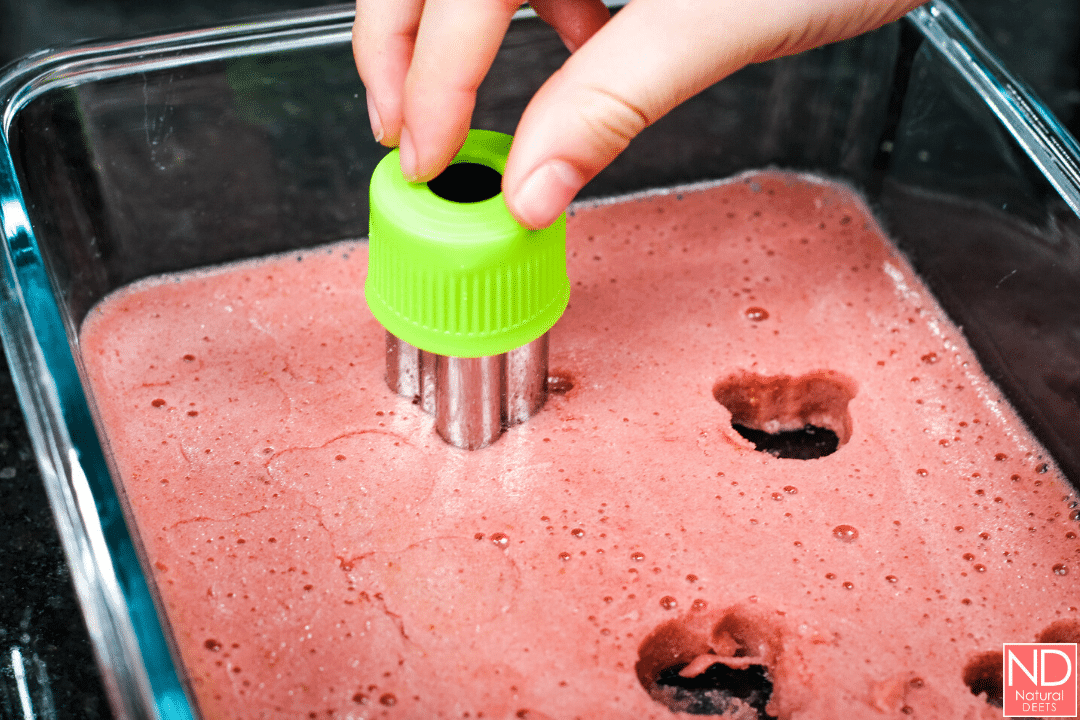 Now enjoy!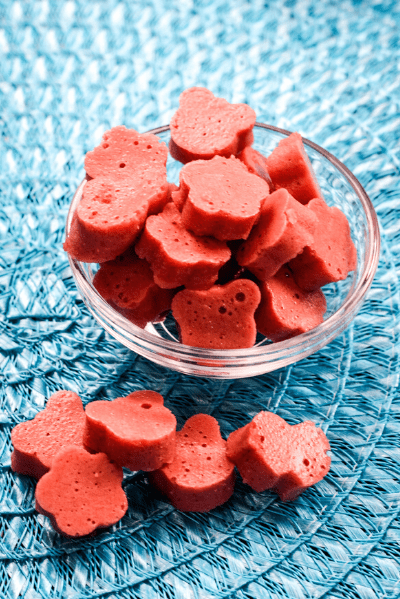 Kids really love these. Don't believe me? Look at this, LOL!!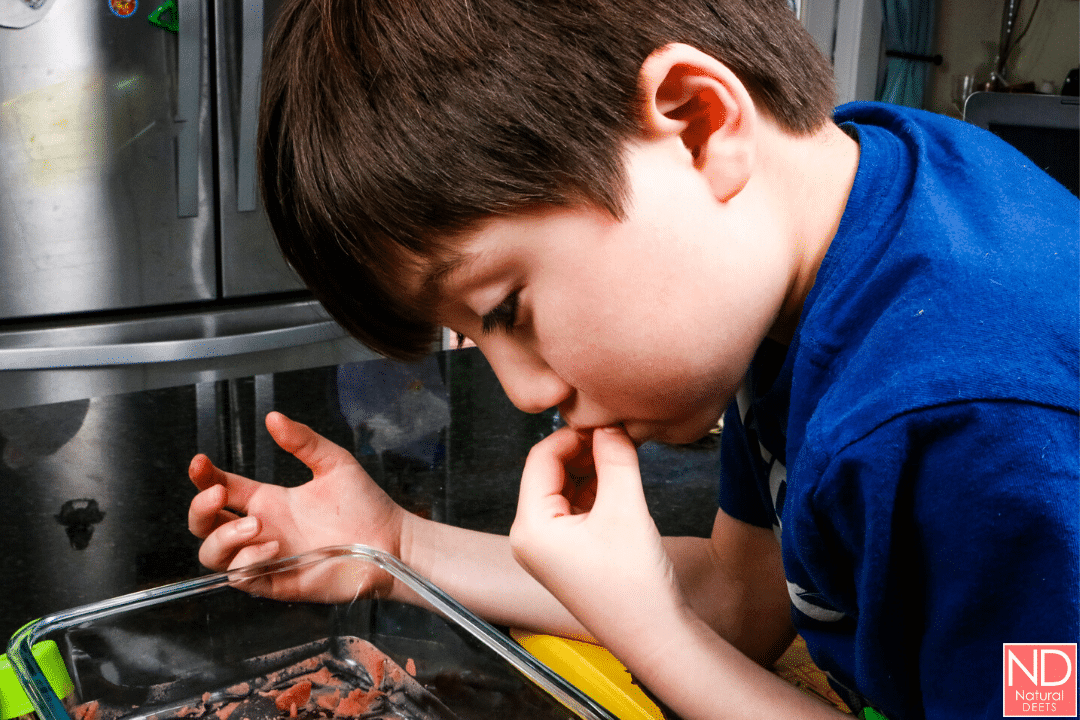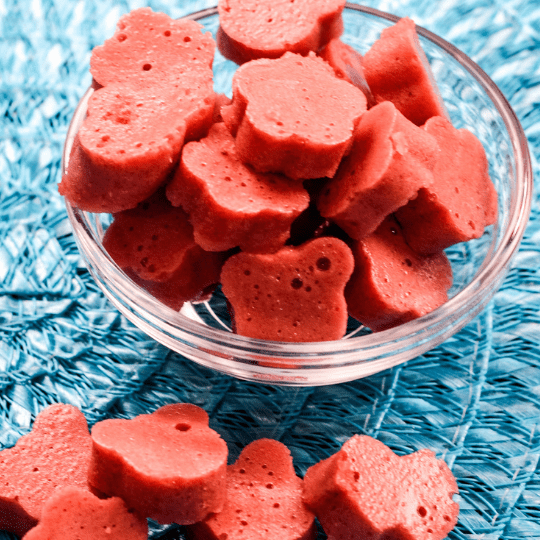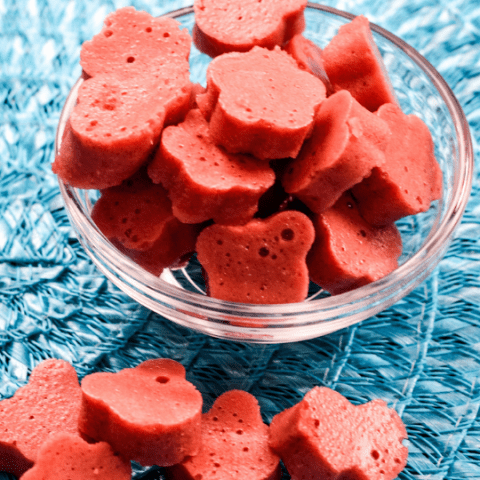 Homemade Fruit Snacks
These homemade fruit snacks are a fun kid friendly activity! They are healthy, delicious and you can use any juice or fruits you have on hand!
Ingredients
1 Cup 100% Fruit Juice
1 Cup Strawberries, Frozen is ok
4 Tablespoon Honey
3 Tablespoons Gelatin
1/2 teaspoon Chia Seeds
Instructions
In a small saucepan, add the juice, honey and strawberries
Cook over medium heat, stirring constantly to keep if from burning. Cook for about 5 minutes or until the fruits soften
Carefully place the mixture into blender and add the Gelatin. Blend until smooth
Pour the mixture back into the saucepan and add the chia seeds. Mix well.
Pour the mixture into a medium sized glass container.
Place in the refrigerator for at least 1 hour, or until hardened
Use mini cookie cutters to cut out shapes, or use a knife to cut the gelatin into squares.
Enjoy!
Nutrition Information:
Yield:

4
Serving Size:

4 servings
Amount Per Serving:
Calories:

124
Saturated Fat:

1g
Sodium:

13mg
Carbohydrates:

28g
Fiber:

1g
Sugar:

27g
Protein:

5g
Looking for more? Here are some of our recent posts!
By