You know those nights when the kids have already had dinner and they need to go to bed in an hour, but they are still hungry? Yep…I knew you would know what I am talking about!
Let me show you how to make popcorn on the stove. It's a lifesaver for times like those…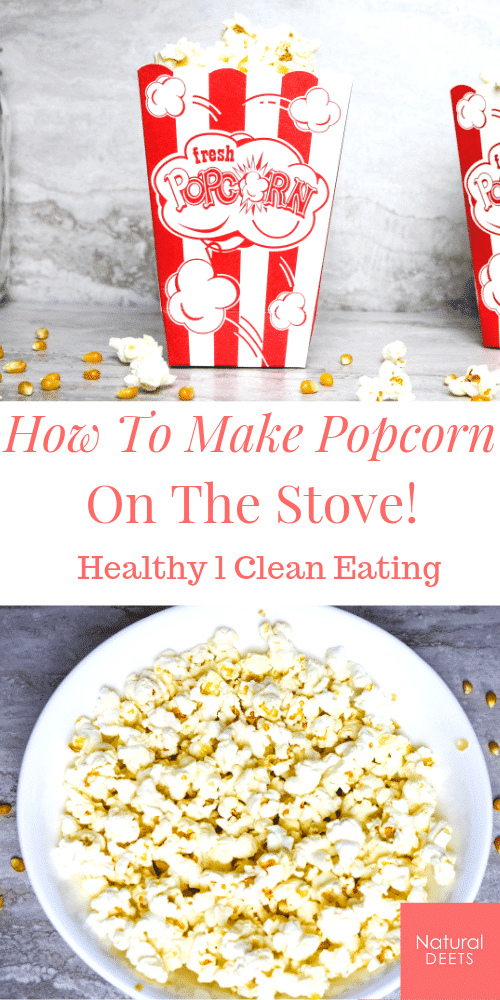 Well, popcorn to the rescue! It is the perfect late night snack because it fills you up without making you uncomfortably full before bed.
It's also nice and warm when it first comes off of the stove, and there is something comforting in that. And also take comfort in knowing that this recipe is clean eating compliant and kid friendly!
Why Is Microwave Popcorn So Bad?
Do you remember years ago when the news started talking about popcorn lung? It was a nickname for a condition caused by small particles released into the air when popcorn was microwaved.
It was said to cause lung damage and contribute to respiratory issues and was specifically caused by chemicals added to microwave popcorn for flavor.
Without going in to specifics about the chemical reactions, the fact that chemicals were being added to popcorn was enough for me to find another way to make popcorn!
Healthy Snacks For Kids At School
My kids love popcorn and for a while I was sending popcorn in their school lunch. But I started noticing that they would eat the popcorn and bring home the rest of their food.
It turns out that they eat popcorn so slowly that they didn't have time to eat the rest of their meal…I should have known, considering they take 2 hours to eat dinner…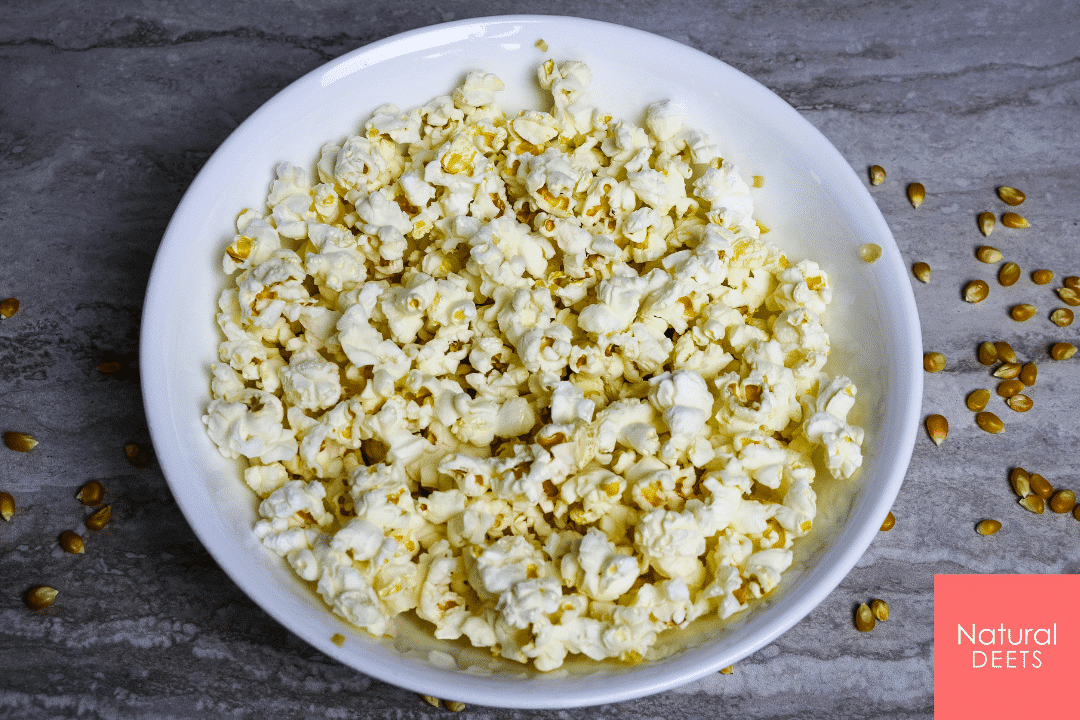 I no longer let them take popcorn to school, but we still eat it at home! It's perfect as a late night snack…but really, we eat it anytime of day.
Healthy Late Night Snack
I already mentioned it, but it is worth mentioning it again!
Popcorn is the PERFECT late night snack and even better at movie night! Here are just a few other reasons why it's so awesome:
It takes a long time to eat – so if you snack when you are bored, this will keep you busy for a while!
You can make it in 5 minutes
Organic Popcorn kernels are cheap! Check out Trader Joes or the bulk bins at the supermarket
It's the perfect vehicle for almost any flavor – add garlic powder, salt, nutritional yeast or cinnamon
It fills you up but doesn't make you feel sick if you eat too much (that's important to me!)
It just tastes good!
Popcorn has many health benefits too! Read more about them HERE.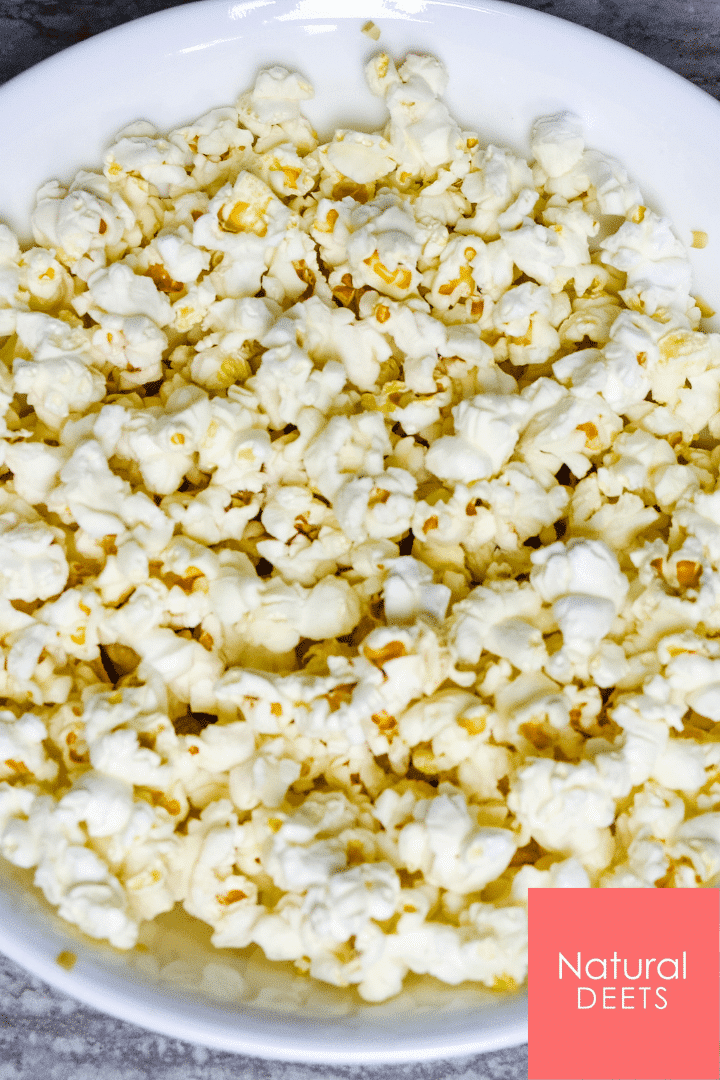 At this point…I'm thinking that I can't believe I wrote a whole post about popcorn, LOL! Our love for popcorn must run deep!!
Stovetop Popcorn Needs A Little Oil
There is a science behind the reason why popcorn needs oil, but this is a food blog and not a science class 🙂 So I will keep it simple.
The oil spreads out on the bottom of the pan and helps to evenly heat the pan. This way, the popcorn cooks evenly and there is less chance of burning.
You can use olive oil, but we like to use avocado oil. I have also heard of using coconut oil but my kids don't coconut flavor, so I haven't tried it…let me know if you do!
The other nice thing about using oil is that your toppings will stick easier. You can sprinkle some fine salt over the top right before serving.
How Do You Make Popcorn Step By Step?
Making popcorn is surprisingly simple. Let me break it down for you!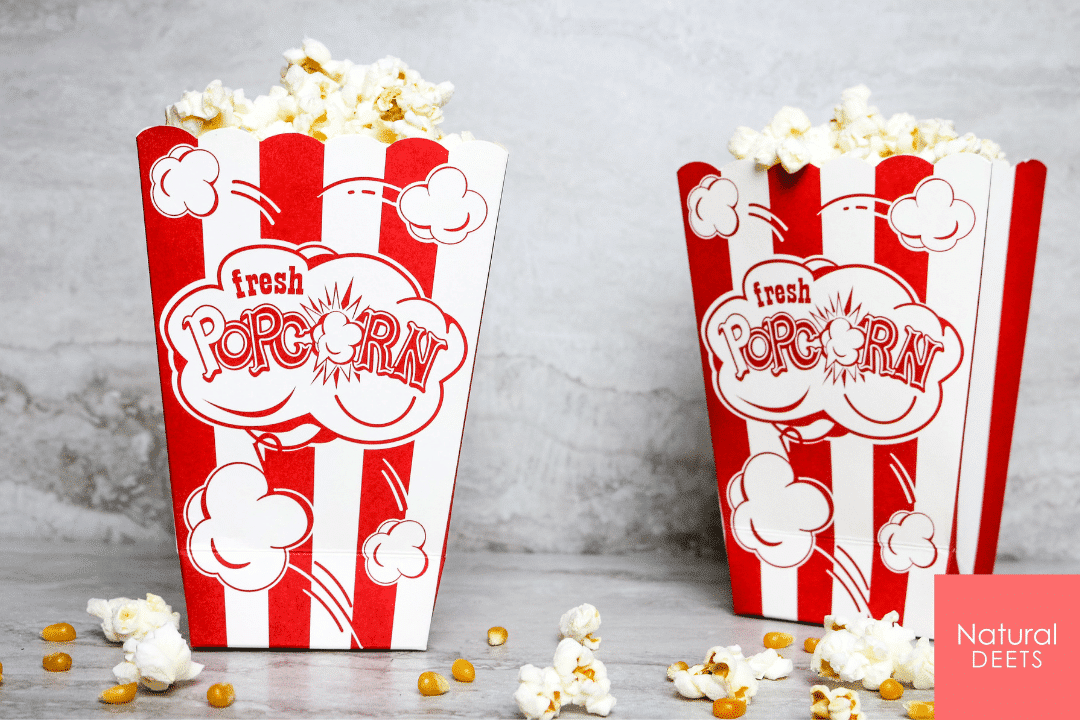 How to make popcorn on the stove:
Step 1: Add some oil to your pan or dutch oven. Measure your popcorn and add it to the pot
Step 2: Cover the pan (or dutch oven) and turn the stove on to medium high
Step 3: Watch it the whole time. Once it heats up, you will start to hear the kernels pop.
Step 4: When the popping slows down, turn off the heat and remove the pan from the stove.
Step 5: Remove the lid, let cool for a minute, then enjoy!
You will notice that there are unpopped kernels. There is no real way to prevent this. If you pop it until all kernels are popped, the rest of the popcorn will begin to burn.
Just throw away the unpopped kernels (no you cannot repop them!) so no one accidentally eats them.
How To Make Homemade Popcorn Taste Good
If you are not a fan of plain popcorn, spray it the cooked popcorn with nonstick spray and sprinkle it with salt, nutritional yeast, garlic powder or cinnamon.
You could try drizzling it with melted butter, but it will get soggy….and really…is that healthy?
Either way it is better than eating chemicals in your microwave popcorn!
Now go on and give it a try! I would love to hear what you think! Also, be sure to let me know if you find any delicious flavor combinations.
COOKING CLASSES FOR KIDS – CLEAN EATING AND KID FRIENDLY TOO:
As always, grab the kids and get them involved! Here are just a few things they could learn from making this recipe with you!
How to use the stove
How to make popcorn on the stove!
Looking for an online cooking class designed to teach kids real kitchen techniques? Check out our Apricot Kids course. Click HERE for the Deets!
Looking for more snack recipes? Check these out:
How to Make Homemade Tortilla Chips Crunchy and Delicious
The Best Clean Eating Peanut Butter Cookie Recipe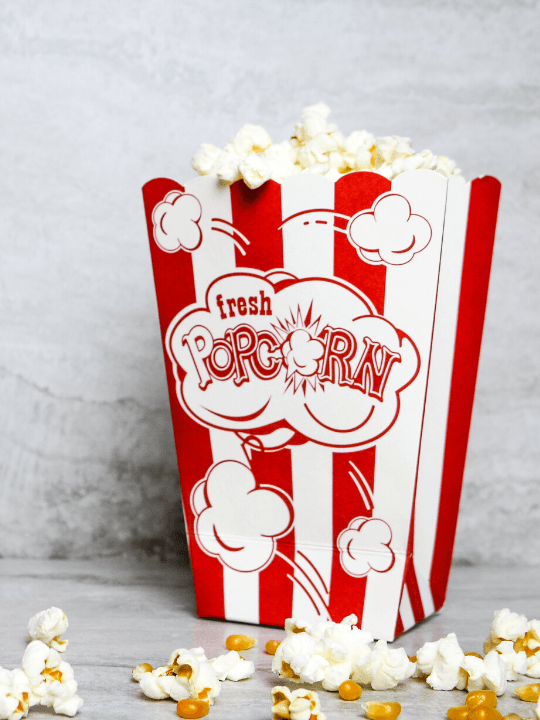 How to Make Popcorn On The Stove
Stovetop popcorn is easy and delicious! Give it a try today!
Ingredients
1 teaspoon Avocado Oil
1 Tablespoon Popcorn Kernels
Instructions
1. Add 1 teaspoon Avocado oil to your pan or dutch oven.
2. Add 1 Tablespoon of popcorn kernels to the pan.
3. Cover the pan (or dutch oven) and turn the stove on to medium high. If possible, use a glass lid.

4. Once the pan heats up, you will start to hear the kernels pop.
5. When the popping slows down, turn off the heat and remove the pan from the stove.
6. Remove the lid, let cool for a minute, then enjoy!
Nutrition Information:
Yield:

4
Serving Size:

4 people
Amount Per Serving:
Calories:

29
Saturated Fat:

1g
Sodium:

1mg
Carbohydrates:

4g
Fiber:

1g
Sugar:

1g
Protein:

1g
Looking for more? Here are some of our recent posts!
By