Natural Mildew Remover
It would be my dream to have someone come once a month and clean my bathrooms. It is just the one part of my home that I enjoy cleaning the least. Therefore my tub definitely could use a little love. We don't like to use chemicals and prefer to clean with just vinegar or alcohol, but sometimes we need something stronger. This natural mildew remover does the trick!
It only takes minimal ingredients that you probably have on hand (add vinegar if you really need scrubbing power). You can mix this together in a matter of minutes. As an added benefit, this is a spray that kills both mold and mildew.
Be sure to download the Free Mold and Mildew Cleaner Label (with recipe!). Attach it to your bottle to keep the recipe on hand when you run out: Mold and Mildew Cleaner Label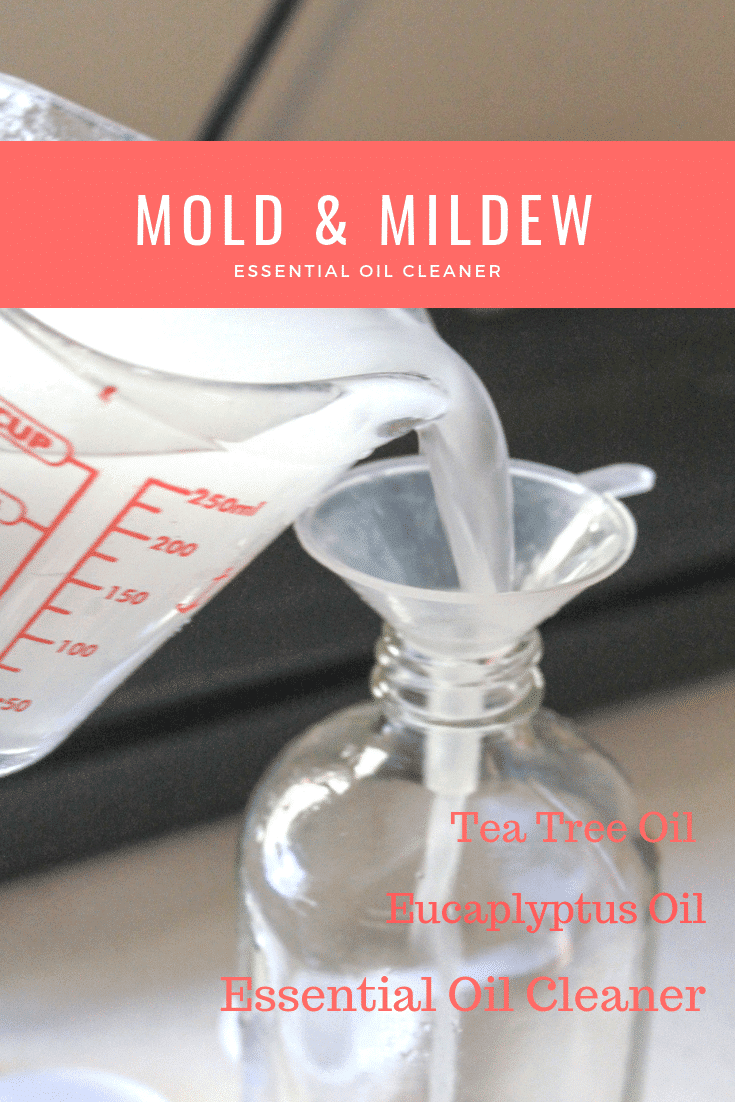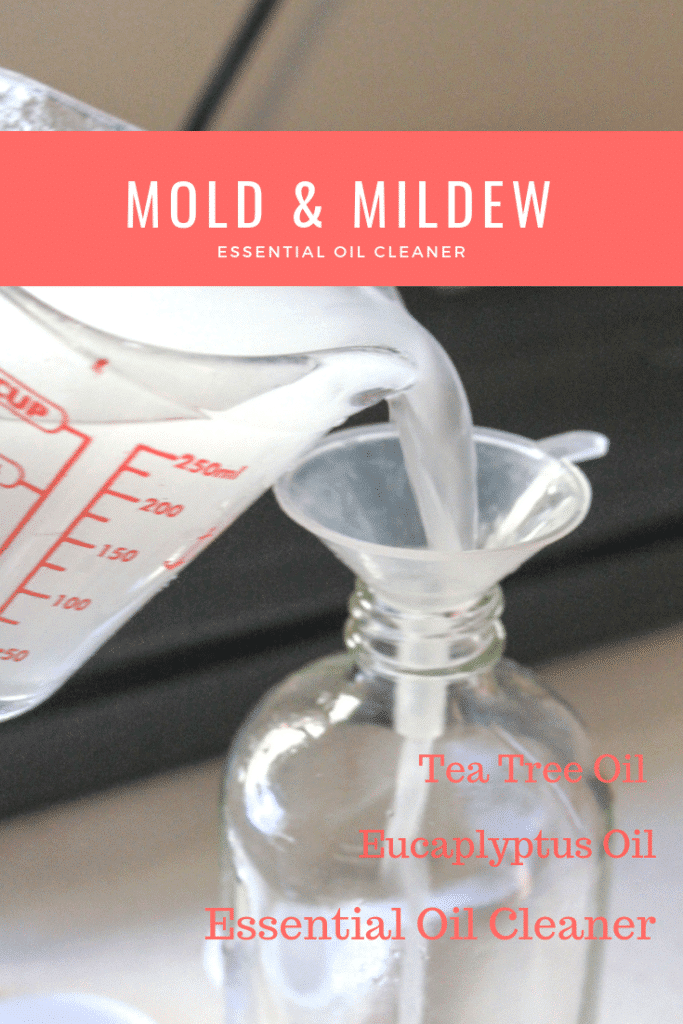 Kill Mildew and Mold
The key to this mixture is the Tea Tree oil. If you are not familiar with essential oils, just know that Tea Tree Oil has antiseptic properties that not only make it effective in treating cuts and burns, but also makes it a great cleaning agent.
The recipe below calls for water. I had heard of people replacing the water with vinegar for more strength, but when I tried it, it created a gassy reaction and broke my spray bottle. Because of that, I spray the shower with vinegar before using this spray. Baking Soda and Vinegar are a proven effective combination!
Ingredients:
1 Glass Bottle
2 Cups Distilled Water
30 Drops Tea Tree Oil
10 Drops Eucalyptus Oil (optional)
5 Drops Lemon Essential Oil (optional0
¼ Cup Baking Soda
Natural Mildew Spray Instructions:

Pour 1 cup of water into a spray bottle
Using a funnel, pour into a clean spray bottle. You will have some baking soda left in the bowl that settled. That's ok!
In your bowl, add 1 cup of water and mix the settled baking soda. Funnel into your bottle.
Print out a free cleaning label on sticky back paper and attach!
Here is the link for your Free Cleaning Label (use sticky back paper to make it a sticker): Mold and Mildew Cleaner Label
Here are Amazon Links to what you need:
I may make a small commission on any sales below. There is no cost to you and it just means that I can continue to bring you more content!
Glass Spray Bottles:
This one is great because it comes with caps to keep the product fresh!
Essential Oils:
If you are new to essential oils, there are 2 that I really like. The important thing with oils is to find ones that are pure. Some have added alcohol or other products to "water" down the product. One trusted brand is Young Living. Their oils are great, but expensive. The scents are stronger than other brands I've tried so I still use their oils. Contact me if you would like to order some oils and I can get those for you.
I also like Plant Therapy. They are more affordable but their oils are organic and 100% pure. This is a great starter set and the one that got me hooked on essential oils!
Distilled Water:
Distilled Water is different than plain tap water. In this case distilled water is preferred because minerals and impurities have been removed. This means less chance of residue left behind after cleaning. Once you have it on hand, you will finds lots of uses for it (ex. humidifiers, cleaning products, steamers, irons, etc)!
I added the link for distilled water below, but this is pricey, unless you need 6 bottles. Go to your grocery store and get one for under $4.
And you can never have too much Vinegar. Use it for anything and everything!
Looking for more Essential Oil Blends? Check out my favorite: DIY Lavender Lotion
By