You read that right! These Asian stuffed kale leaves are kid friendly! Just leave off the Sriracha 🙂 I wanted to create something different from typical stuffed cabbage rolls and I did not want to smother it in tomato sauce. So this stuffing is my take on an Asian Kale Roll!
Kale in our Veggie box…again!
Not Kale again! It was Thursday evening, after a very long day at work and an even longer commute. I was excited to see what we got in our veggie box this week so I quickly picked it up off our porch and carried it to the kitchen.
I pushed everything aside and made room for the box. As soon as I opened the box, I saw it. Kale. Not again, I thought! We had kale the last 2 weeks and I had been sauteing it with random dinners.
We all know how healthy kale is for us but that doesn't mean I want to eat it every week. It can be tough if not cooked properly, and it just doesn't look all that appetizing!
Honestly, I prefer chard, but I had to make do with what we got. My resolution this year was to waste less food, so I had to get creative.
Kale is high in:
Protein, Fiber, Vitamins A, C and K, Folate, Vitamin B
And Helps With:
Inflammation, Damage from Free Radicals, is a Detoxifier, and helps with Healthy Vision
Want to read more about the health benefits of Kale? Check out this page!: https://draxe.com/health-benefits-of-kale/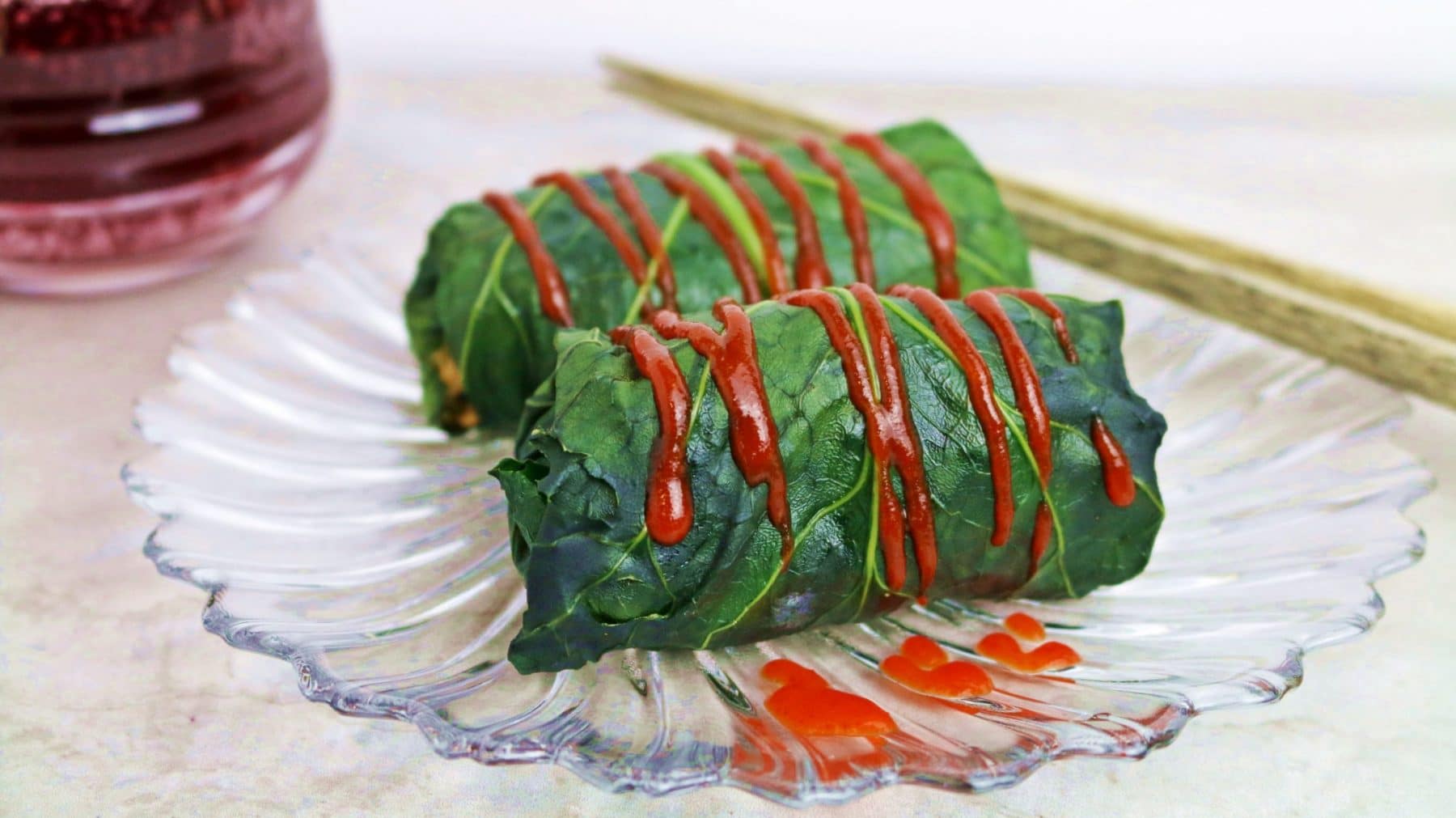 Stuffed Kale Leaves
I wouldn't group this recipe into the easy kale recipes category since it takes some time to make, but I also wouldn't call it difficult. If you have made cabbage rolls before, you know how difficult it can be to wrap the rolls without tearing them. Sometimes they rip and tear before you even have a chance to try rolling them.
I'm convinced that this is the main reason people have come up with recipes for Unstuffed Cabbage Rolls!
Well, that is where the kale leaves shined! Because they are so thick, they actually rolled easily. There is a sweet spot though. I found that boiling the leaves for 4 minutes was perfect. Anything longer resembled a cooked cabbage leaf and was difficult to roll without tearing. Anything shorter and the kale stem wasn't pliable enough to roll.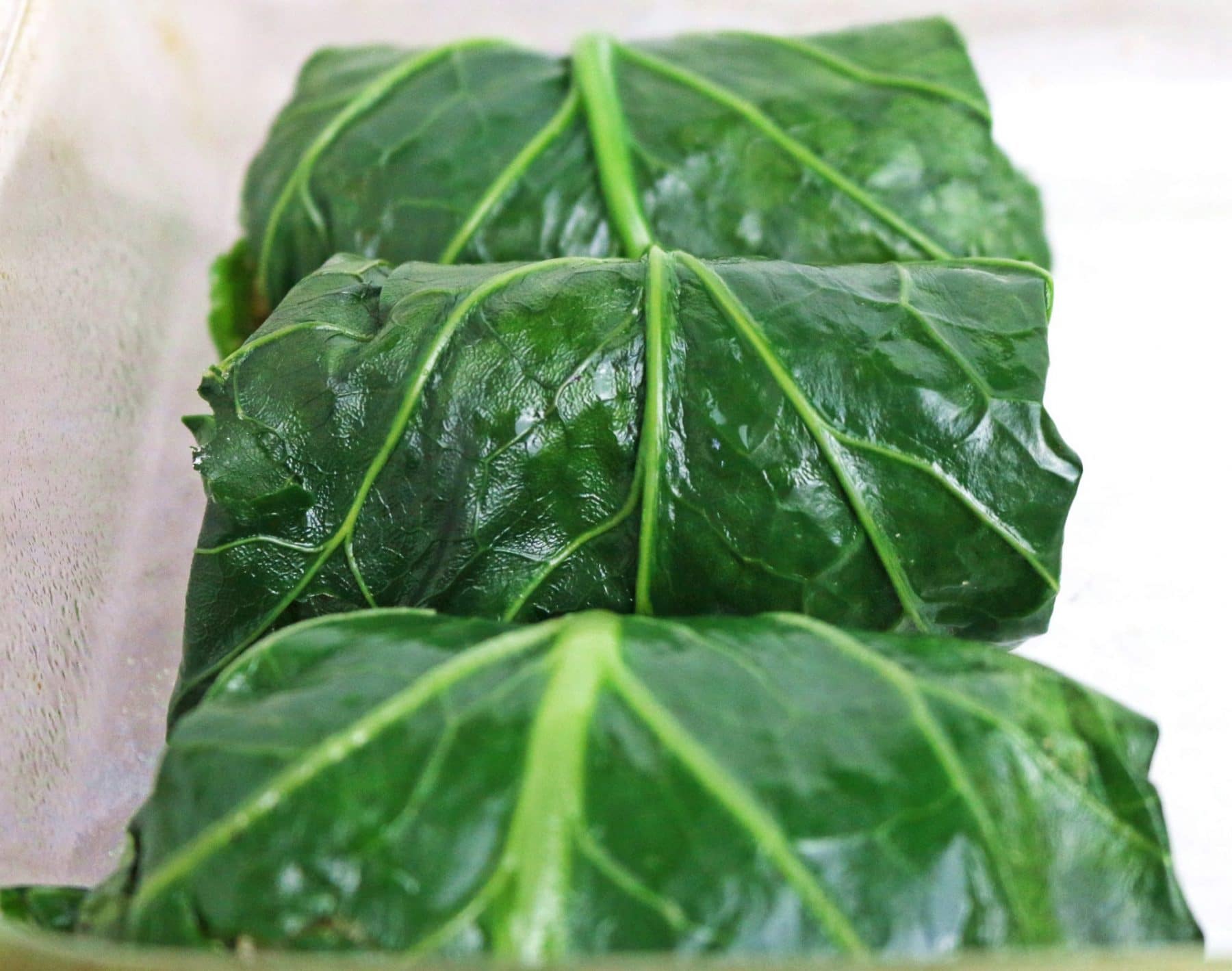 How to Make Asian Stuffed Kale Leaves
This clean eating recipe is easier than you think and even the kids enjoyed it! They made faces and didn't want to eat the kale, but after it is cooked, and when eaten with the stuffing, you can't even taste it.
So they ended up eating everything.
Start by boiling 6 cups of water in a large pot. It needs to be large enough to fit the kale leaf, but it is also ok if the edges of the leaves fold onto themselves.
While the water is boiling, wash your kale leaves and trim the stems.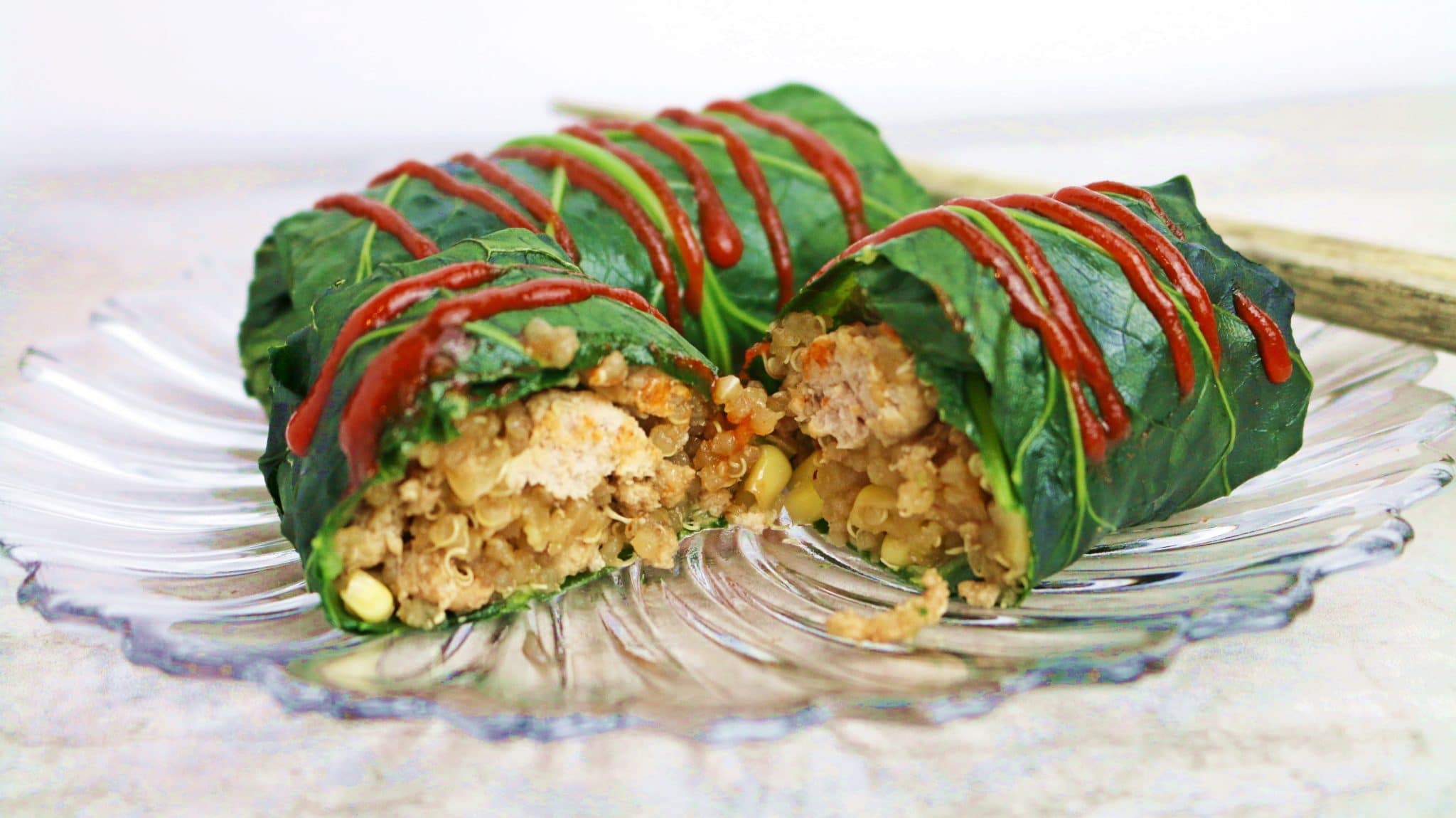 Prepare the Filling for the Stuffed Kale Leaves
The filling is simple to prepare. We used 1 cup of cooked quinoa. You can make this ahead of time on the stove, or just use leftovers if you have it. Check out this post if you need to know How to Cook Quinoa.
Cooked Quinoa does great in the freezer so it is a good idea to make a large batch and freeze what you don't use.
Once the quinoa is cooked, the filling can be made! To give it the Asian flavor, I added garlic, ginger, soy sauce, and oyster sauce. If you don't have oyster sauce, it can be excluded. It just gives it a sweeter subtle flavor.
Try adding a touch of honey if you exclude the oyster sauce. I also added ground turkey to give it some substance!
Once the filling is complete, you can roll your leaves!
Wrapping the Kale Leaves
To wrap the kale leaves, start by taking one leaf and laying it flat on a cutting board, or another large surface. Make sure the stem is facing you. Place about 1/4 cup of filling at the base of the leaf.
Fold in the sides over the filling and start rolling from the bottom to the top. Gently use your fingers to keep the filling in the leaf. Once rolled, you should be able to easily pick it up and transfer it to a greased pan. Take your time with the first few until you get the hang of it!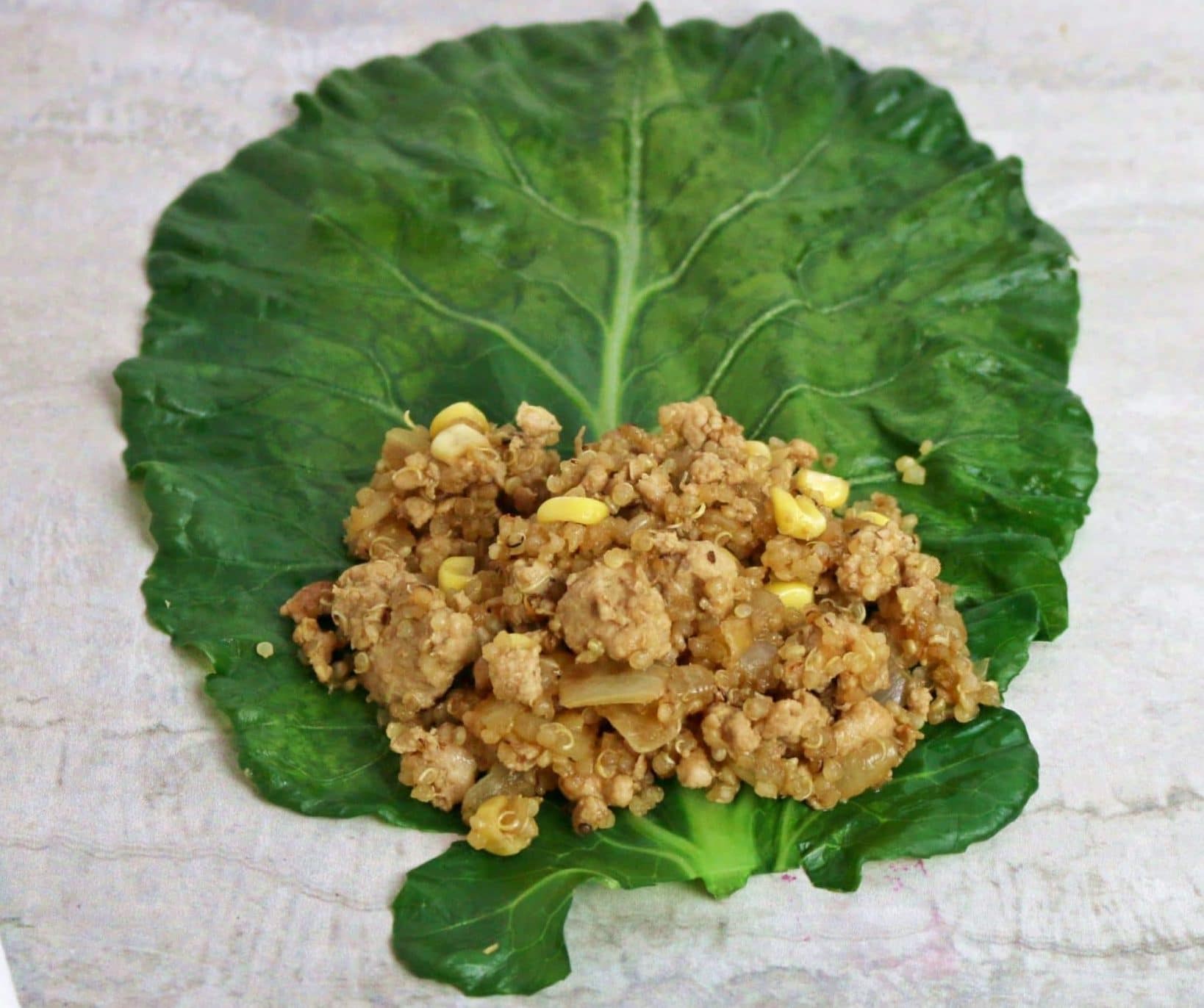 Now go on and try these stuffed kale leaves! Get creative too. Try adding carrots, broccoli or spinach…whatever you have in the fridge! Be sure to come back and let me know what you and your family thought!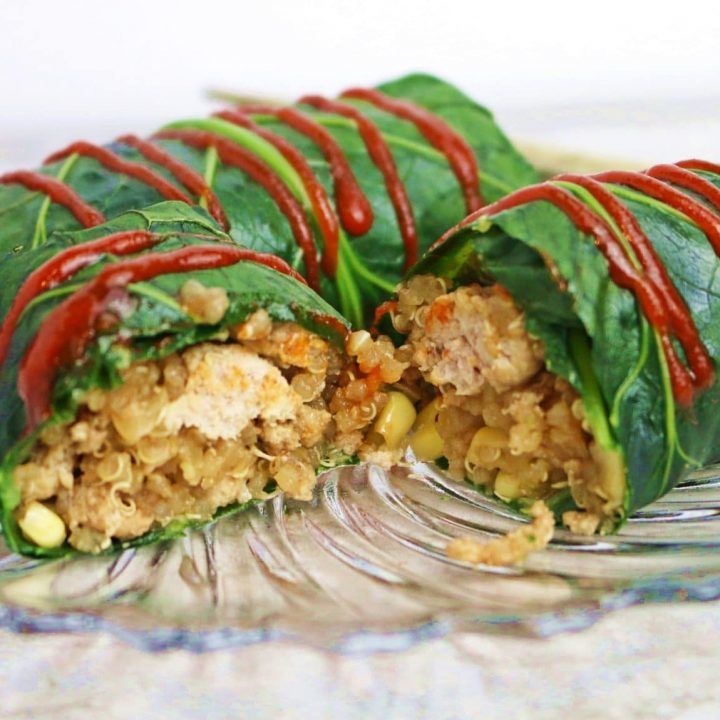 Stuffed Kale Leaves
These Asian Stuffed Kale Leaves are straight forward and delicious. Even the kids enjoyed them! Top with some Siracha and enjoy!
Ingredients
1 bunch Kale, about 9 leaves
3 Tablespoons Olive Oil
3 Cloves Garlic, Minced
1 Cup Onions, Diced
1 Pound Turkey
1 teaspoon Ginger, finely diced
1/2 Cup Corn, Frozen is OK
1 Cup Quinoa, Cooked
3 Tablespoons Soy Sauce
1 Tablespoon Oyster Sauce, Optional
1 Tablespoon Worcestershire Sauce, Optional
Instructions
Boil the Kale Leaves
Boil 6 Cups of water in a large pot. The pot should be large enough to fit a kale leaf.
While the water is boiling, wash the Kale leaves and cut off the stems.
Very carefully, add the Kale leaves to the hot water. I did about 3 leaves at a time. Push the leaves under the water. They will float to the top, but continue to push them down.
Cook the leaves for 4 minutes, or until the stem is soft enough to roll, but not so soft that it tears
Make the Filling
Heat the Olive oil in a large skillet
Saute the onions and garlic until the onions are soft, about 3-5 minutes
Add the turkey and cook until browned.
Add the Quinoa, Ginger, Corn, Soy Sauce, Oyster Sauce, and Worcestershire Sauce.
Take off the heat.
Wrap the Kale Rolls
Oil a baking dish. I like to use an 8x8 dish, but any larger size will do.
Place a Kale Leaf on a cutting board with the stem facing you.
Add 1/4 cup of filing at the base of the kale leaf (near the stem).
Roll in the sides of the leaves on top of the filling to secure the filling. Then gently roll the leaf from the bottom to the top. Using your fingers to keep the filling from falling out.
Pick up the roll and place in your pre-oiled pan. Cover with Foil and bake for 25 minutes.
Top with Siracha, if desired!
Nutrition Information:
Yield:

4
Serving Size:

4 people
Amount Per Serving:
Calories:

428
Saturated Fat:

3g
Cholesterol:

57mg
Sodium:

671mg
Carbohydrates:

41g
Fiber:

4g
Sugar:

3g
Protein:

26g
Looking for more? Here are some of our recent posts!
By