Thrive Market Review and Latest Haul
I'm so excited to share my latest Thrive Market Haul with you! After a long day at work, it's always fun when I come home to a box sitting on my doorstep. Honestly, most of my boxes are Amazon deliveries, but every once in a while, a Thrive Market box is waiting for me!
If you haven't read my prior Thrive Market review, be sure to check it out here: Thrive Market, is it worth it?. In that post, one of the tips I give is to wait for the emails that offer a free gift with purchase or a discount off your entire purchase. I'll show you which items I got for free later in this post. If you are already ready to give Thrive a try, here is the link to a free 30 day trial + 25% off your first purchase!
It always seems to happen that my order arrives on a weekday, so I don't have a chance to open the box until after dinner. But it actually works out better that way because we aren't hungry when we start digging through the box. It's not uncommon for us open and try everything we've ordered….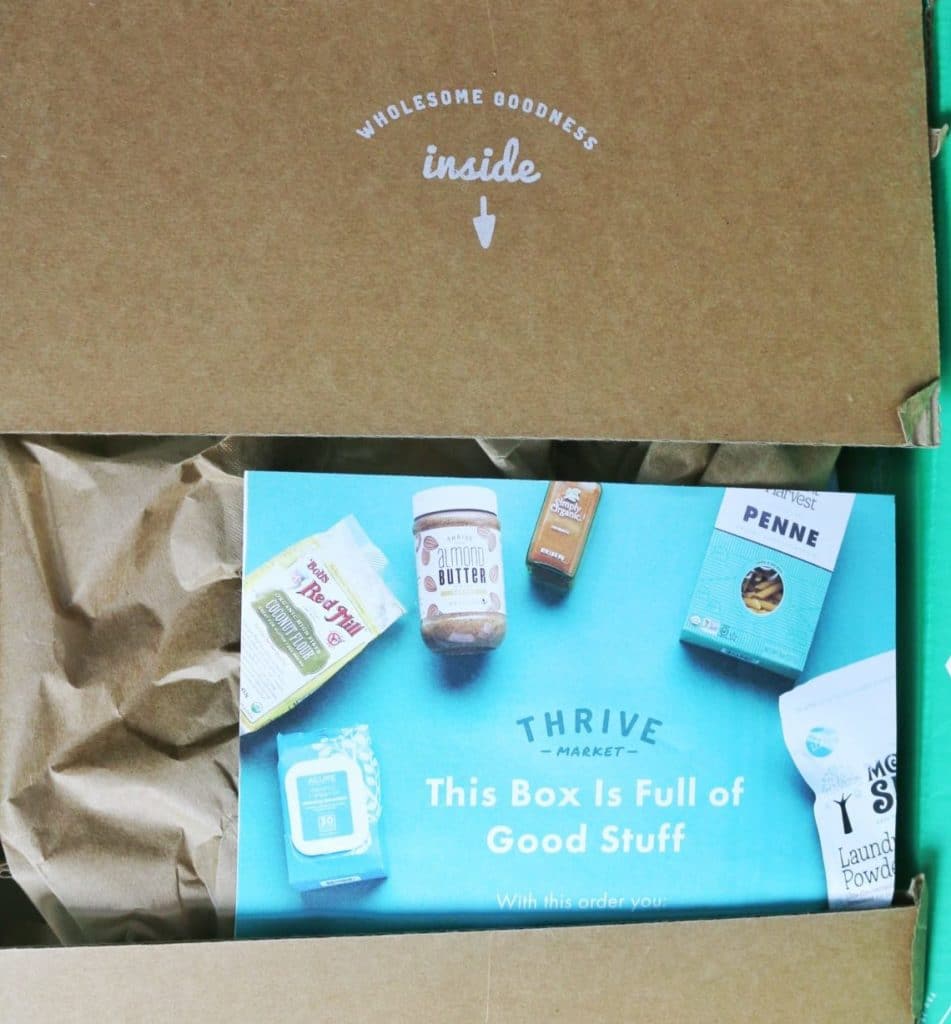 What's inside?
They do a great job packing the products. This is awesome because I like to order items that come in glass jars, rather than cans (to avoid BPA). Thrive has us covered and they wrap each glass jar individually.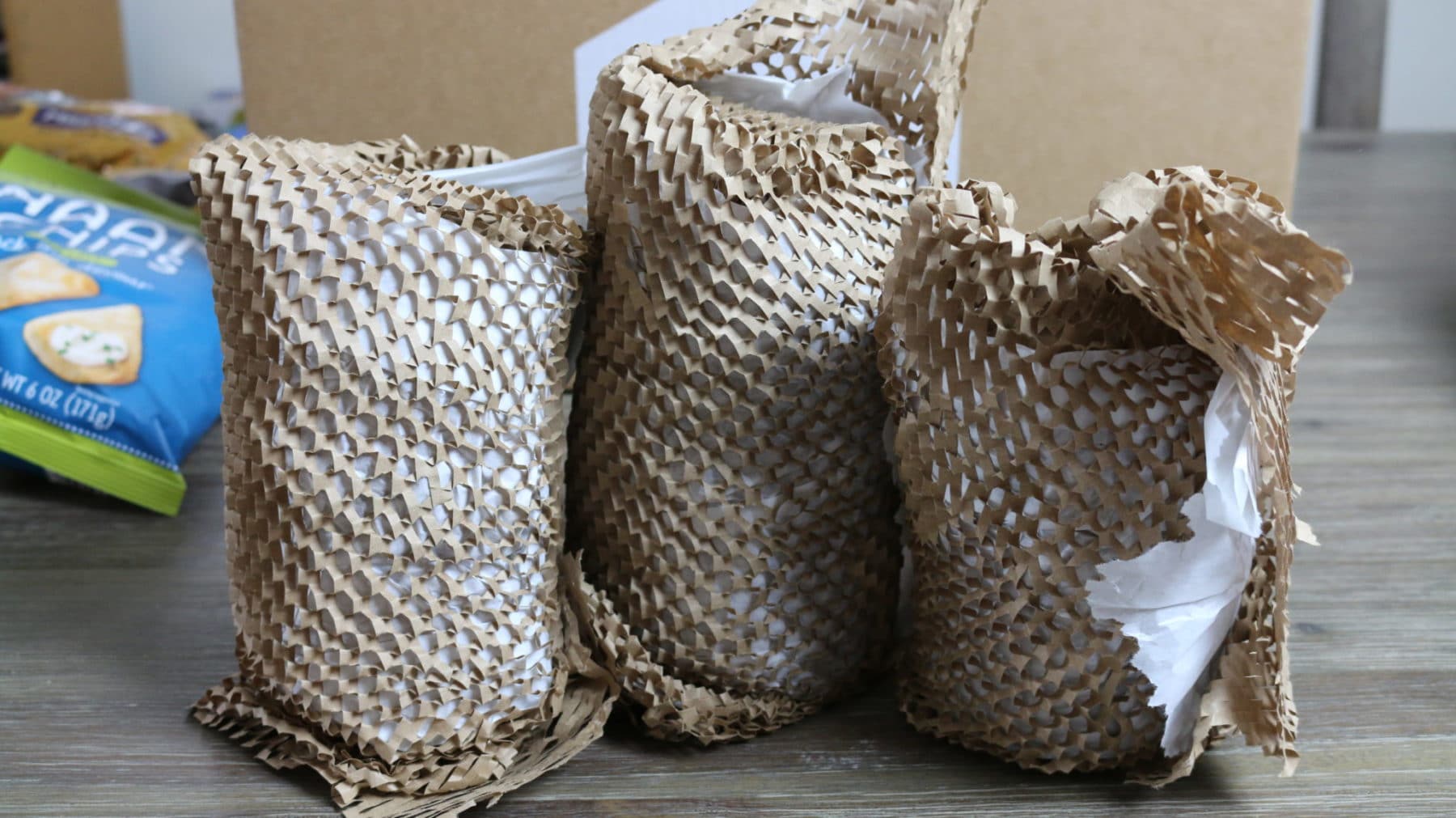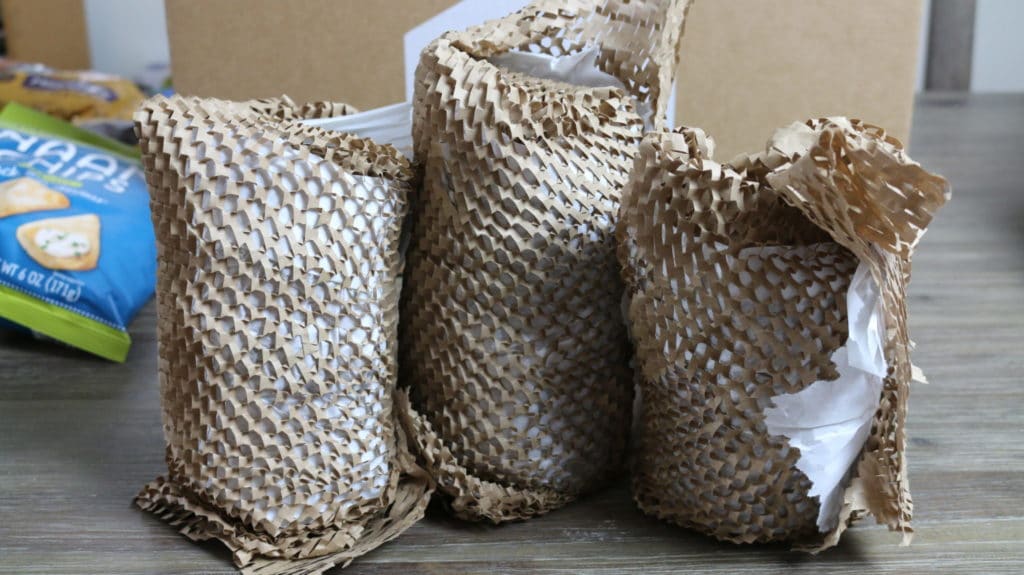 Despite all the padding, they do a great job packing everything in to the box. The jars arrive in one piece and the snacks are never crushed! The only downside is trying to recycle everything.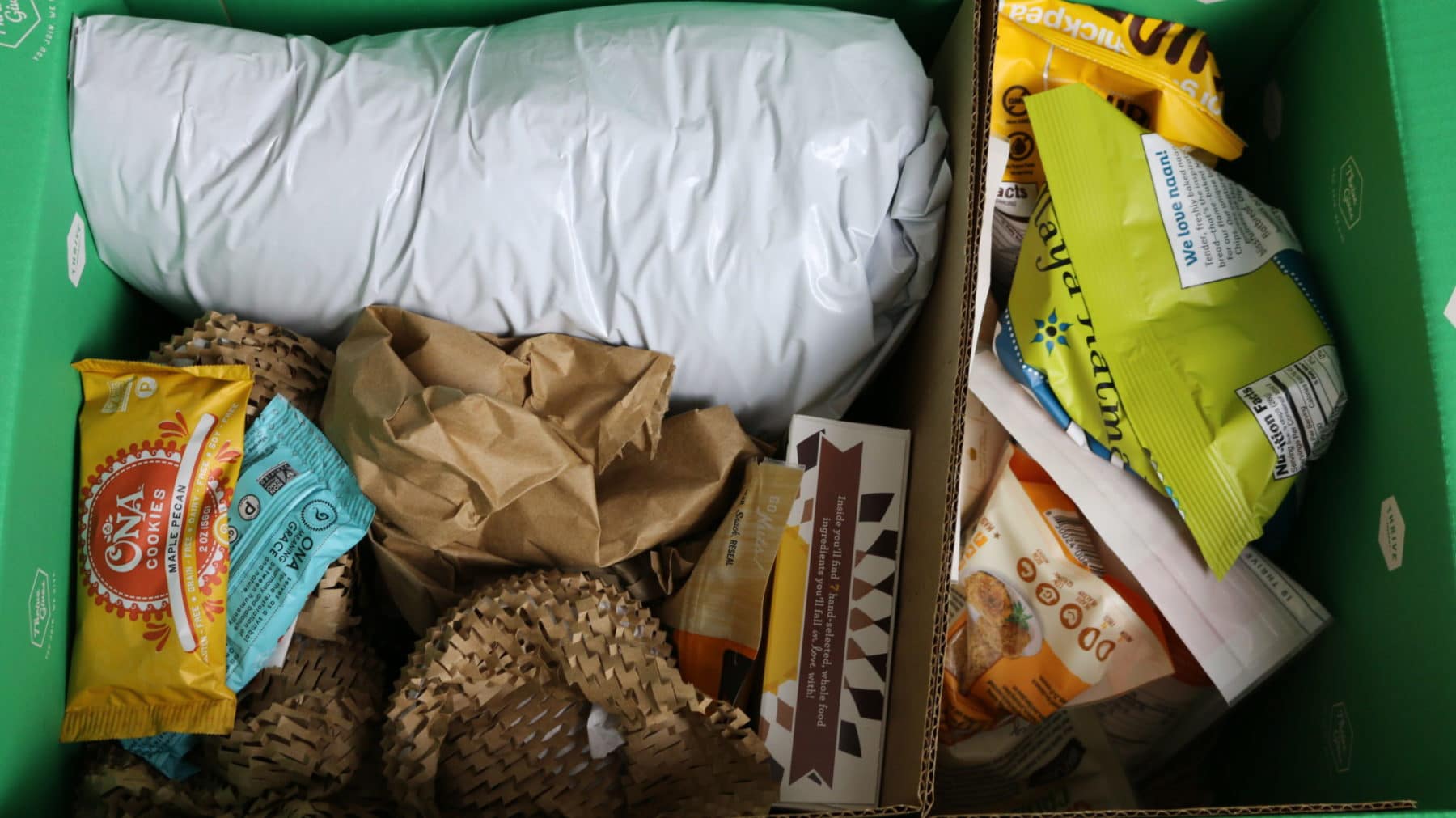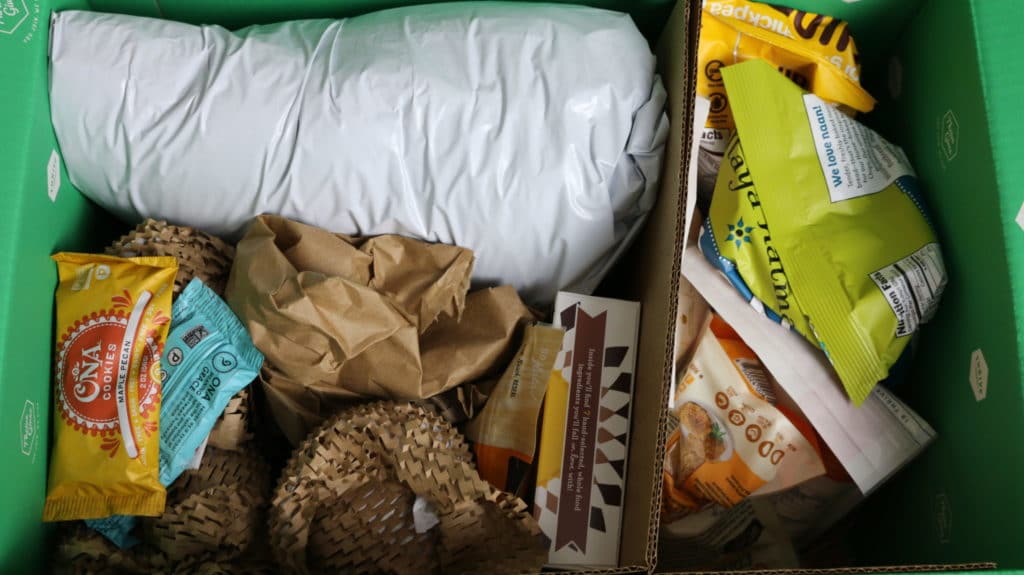 Thrive Market Free Gifts
If you've read my prior posts on Thrive Market, you know that I always order when they are offering a free gift! With this order we got free Ona cookies. These are Gluten free, soy free, grain free and dairy free. I love to get the free gifts because these are usually items I would never think to buy on my own.
We really enjoyed the Maple Pecan cookie and it was a great breakfast! Surprisingly, none of us liked the chocolate chip flavor. It didn't taste anything like a chocolate chip cookie.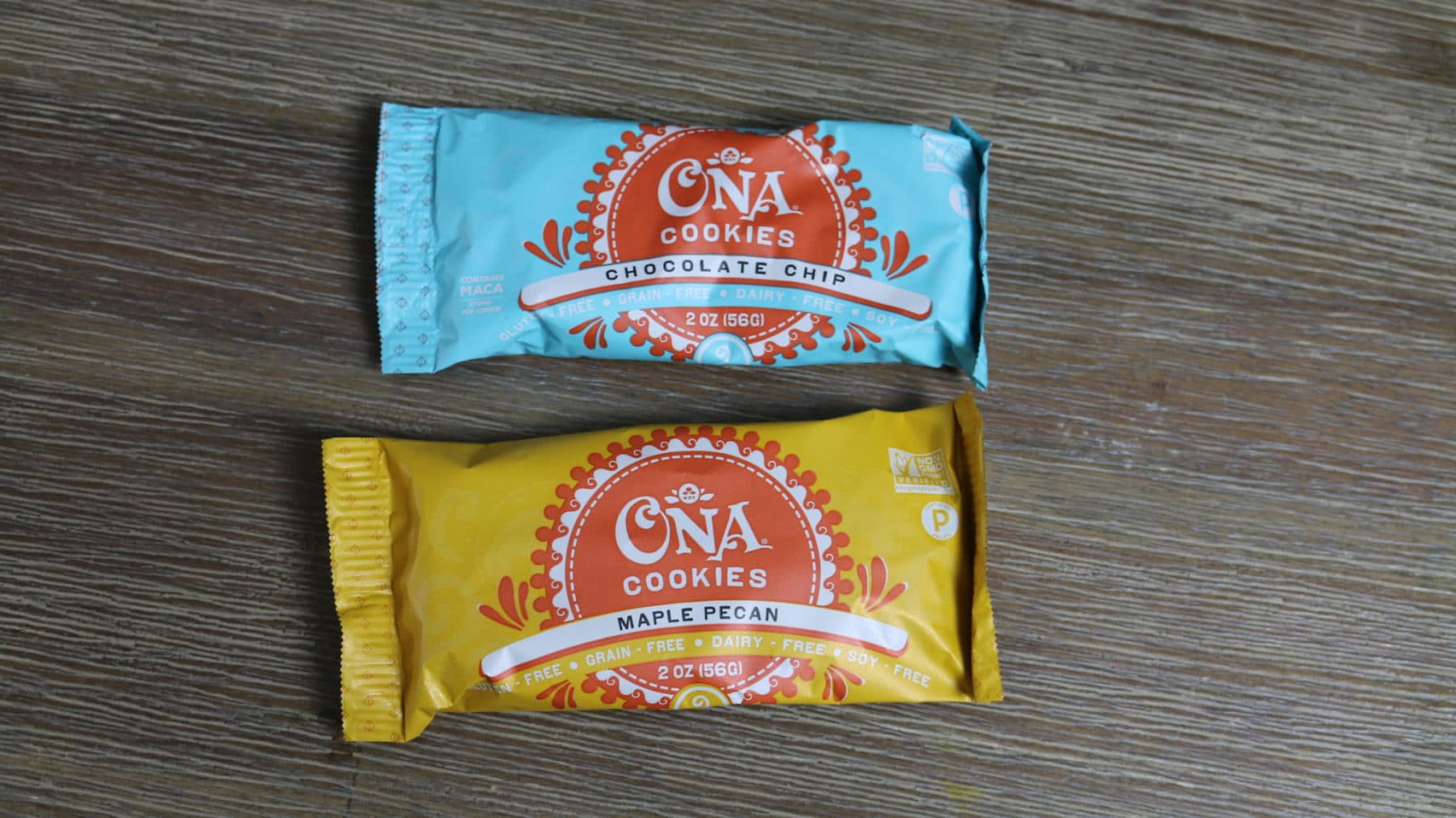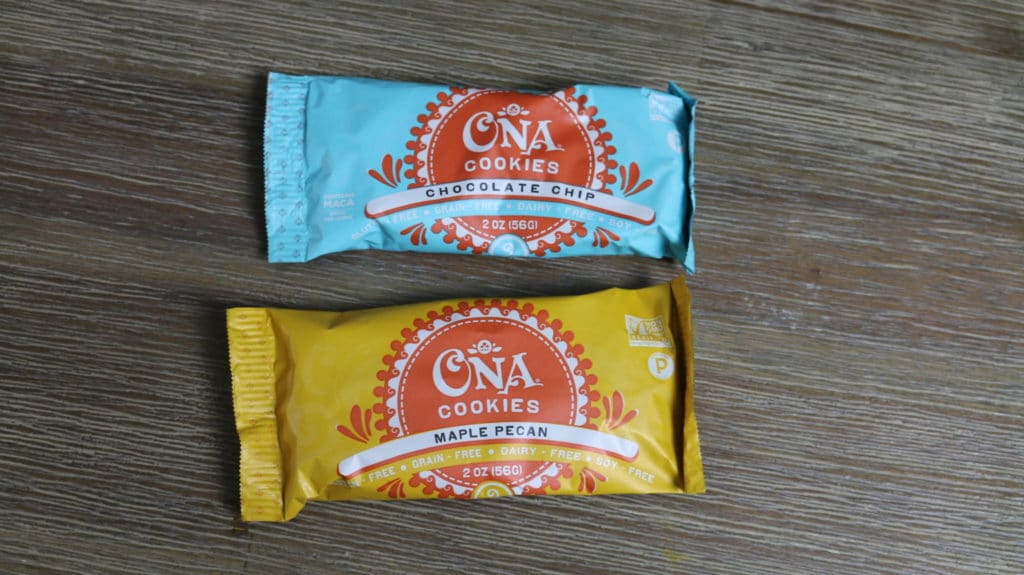 Thrive Market Haul
So finally, I will share what we ordered in our box. Many of these are staples in our pantry but I also like to order random items just to add some excitement to our life. My entire order (with free shipping) was $49.36. An awesome deal for everything I got!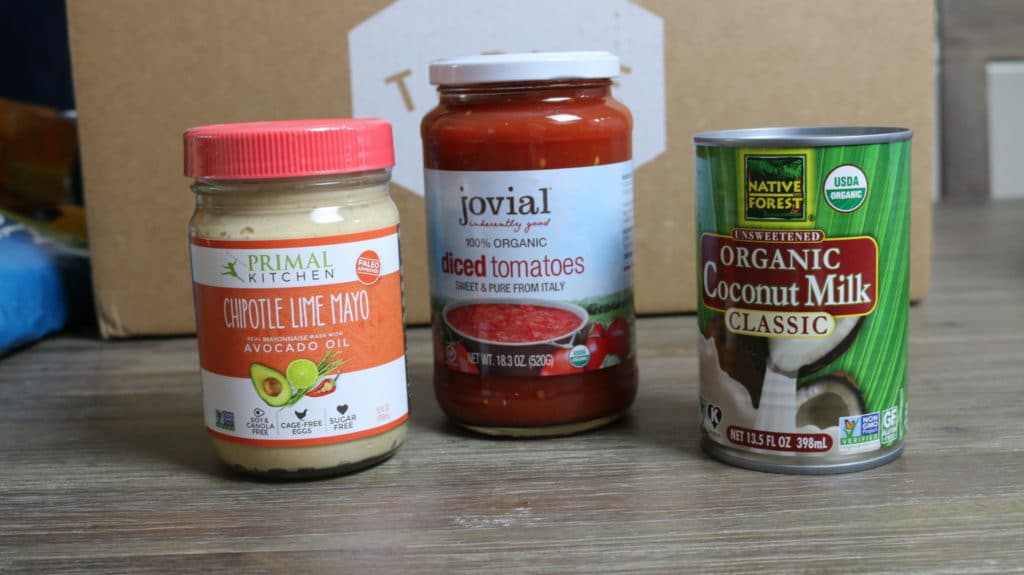 I always buy some form of Jovial tomatoes ($3.69). I can't find these in stores but they are one of my favorites. Tomatoes are acidic so they shouldn't be cooked in Stainless Steel cookware (the acidity causes the pan to leach metal). So why do we think it is ok to sell tomatoes in aluminum cans?? Glass is the way to go. I use these for everything from stews to spaghetti sauce.
Coconut milk is another staple that I always order ($2.39). It is easy to find in stores these days, but even easier to just add to the order.
The Chipotle Lime Mayo was purchased on a whim and it was delicious ($7.45). We tried the plain one in the past and didn't love it. But this Chipotle flavor is yum!
Kid Friendly items from Thrive Market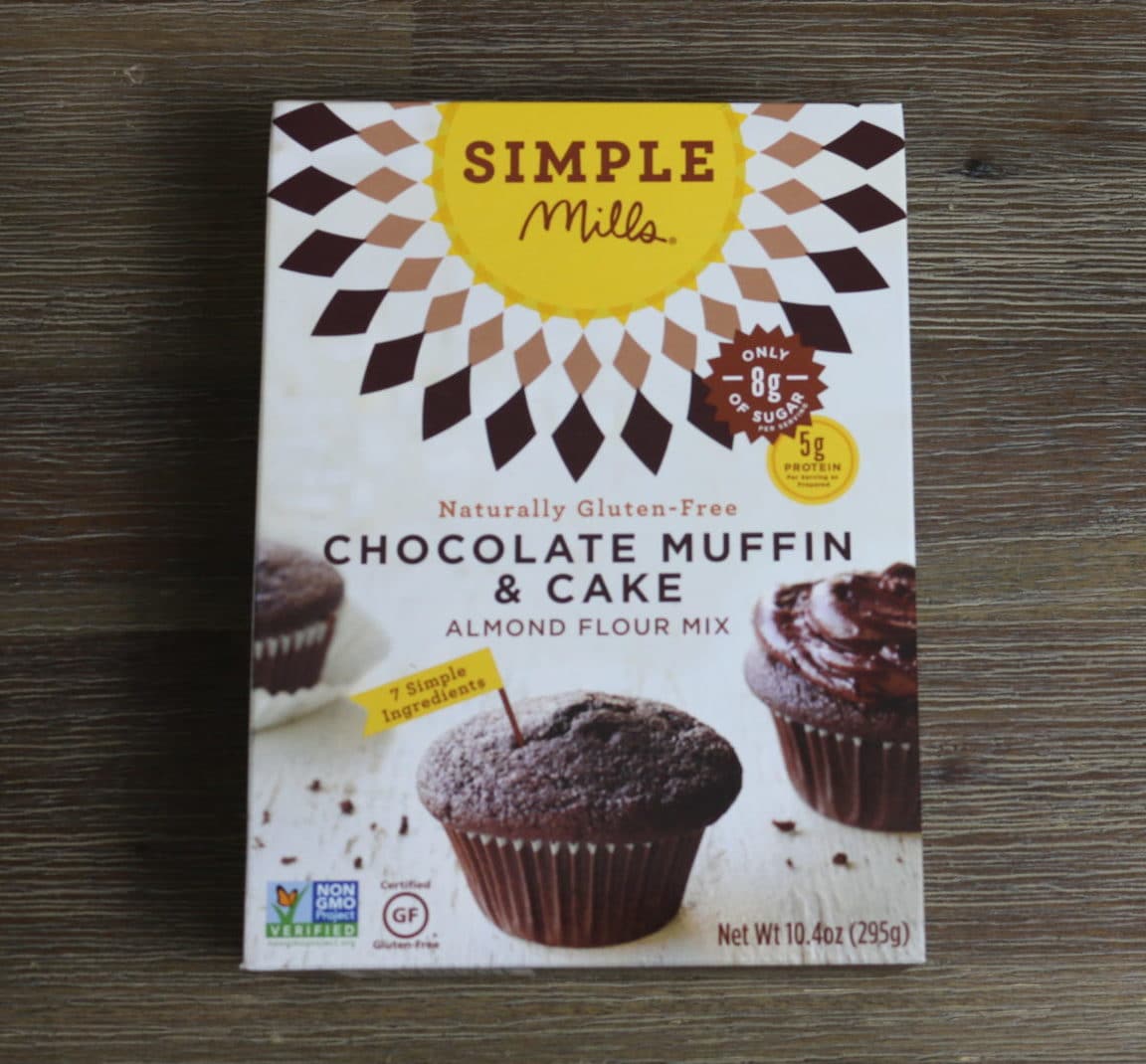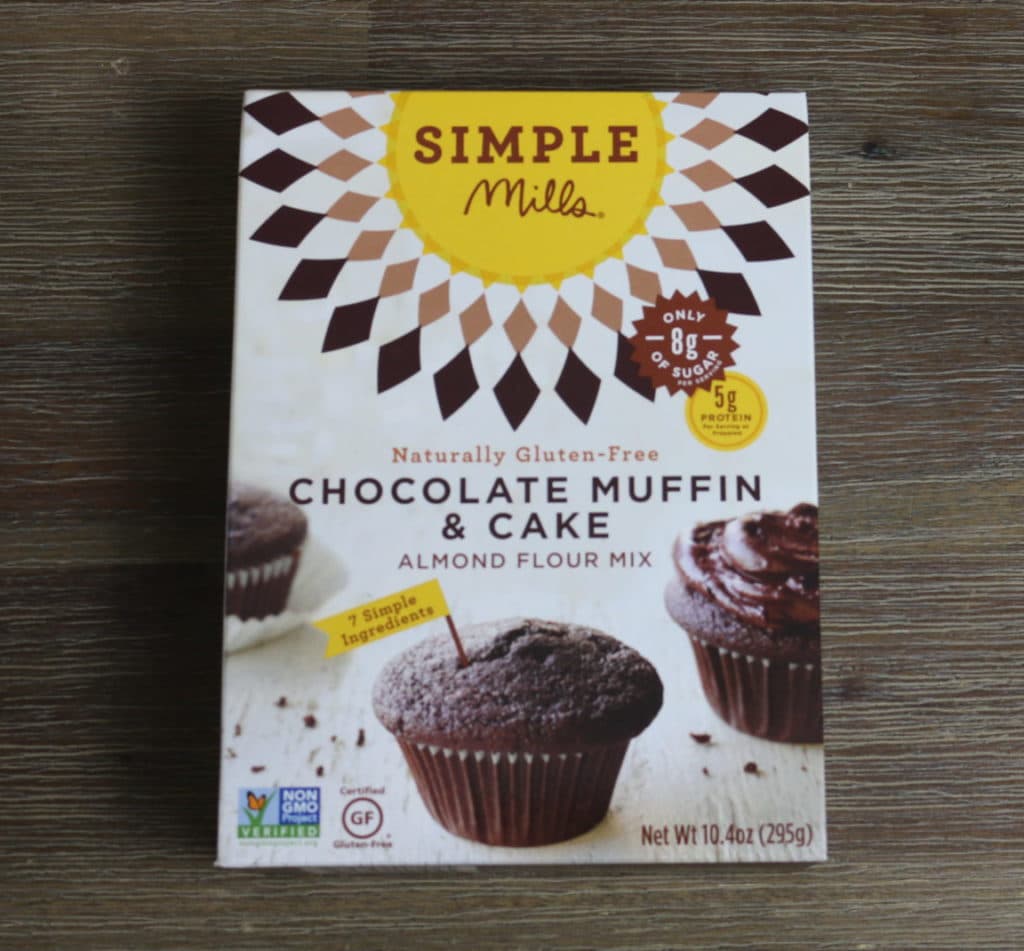 This is one of our all time favorite items! (5.99). These chocolate muffins only have 7 ingredients – Almonds, organic coconut sugar, arrowroot powder, cocoa, organic coconut flour, baking soda and sea salt. They are so delicious and because they are made with almonds, they actually fill you up unlike traditional cupcakes. I let my kids eat these for breakfast too.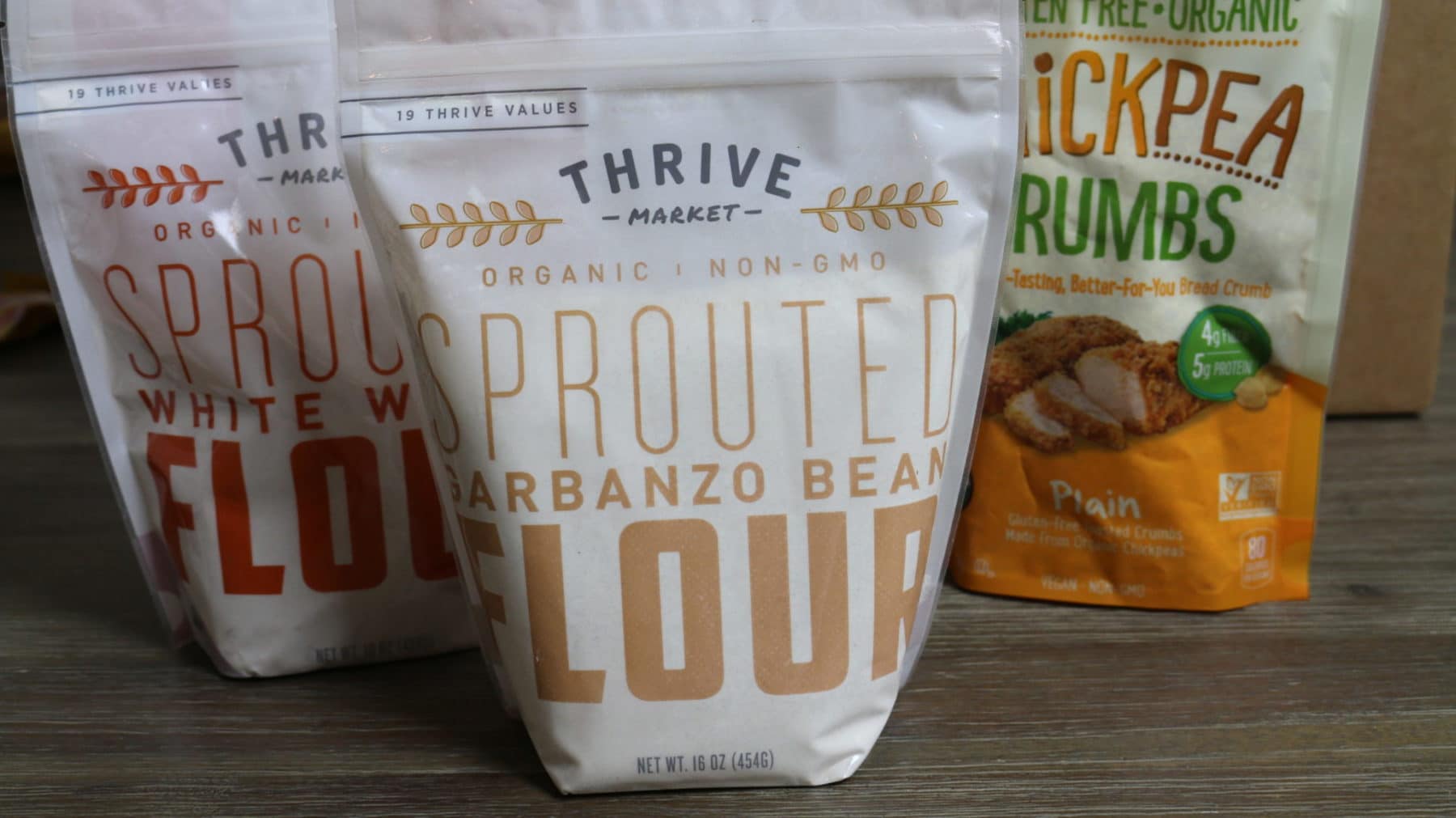 I really like their assortment of flours too. I use the Sprouted White Whole Wheat for just about everything ($3.45) and I mix the Sprouted Garbanzo Bean Flour into my baked goods to make them fluffier ($4.75). The Chickpea Crumbs were a first time purchase ($3.75). They tasted good but they needed to be ground finer before using them as breading. I probably won't buy this one again.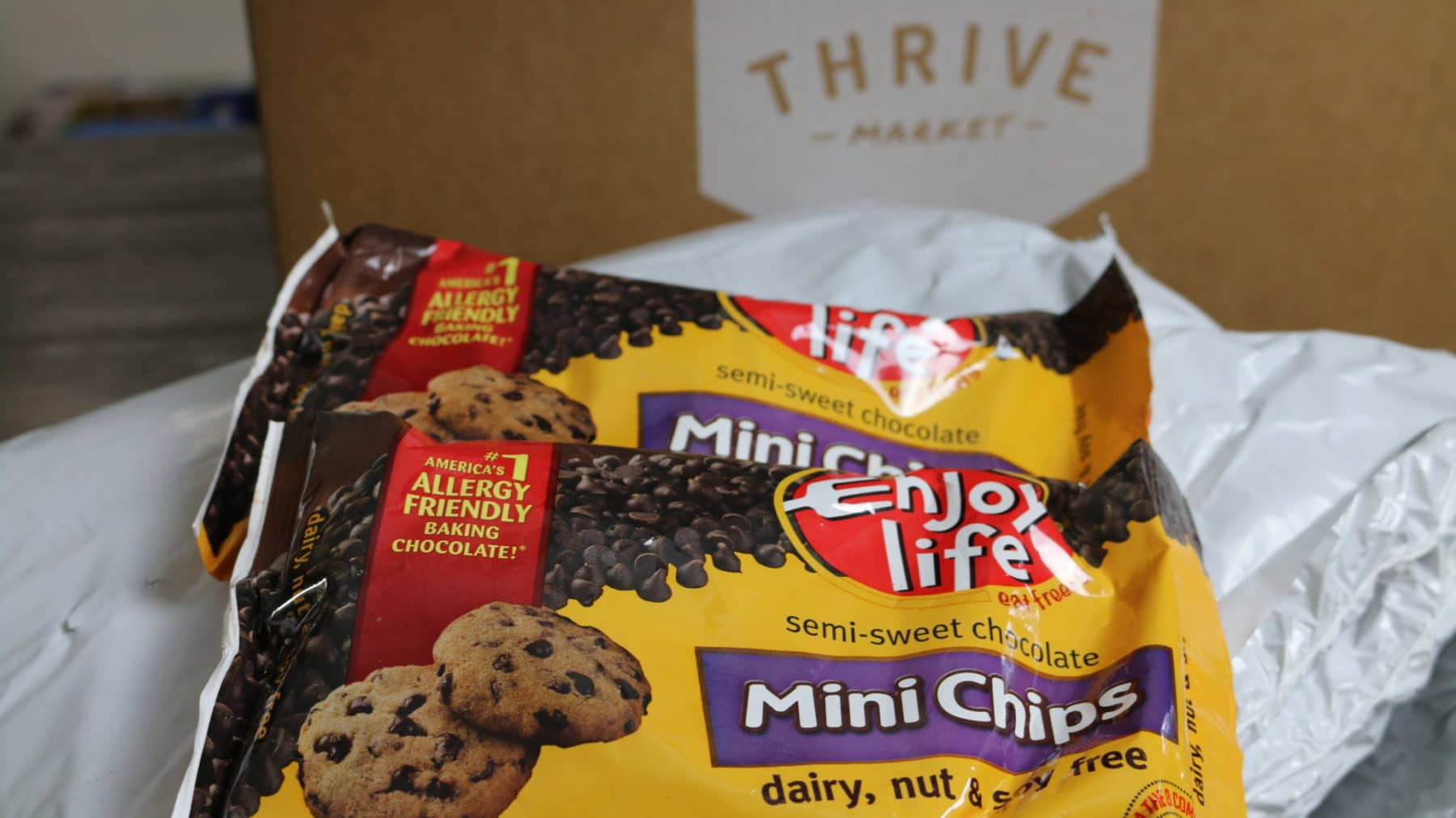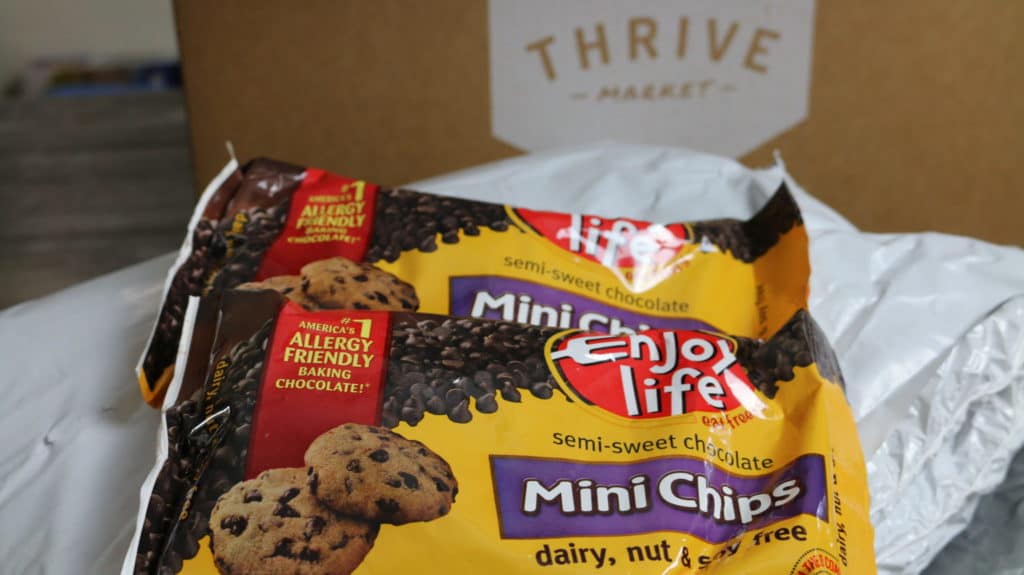 Dairy free Chocolate chips…enough said! ($4.95)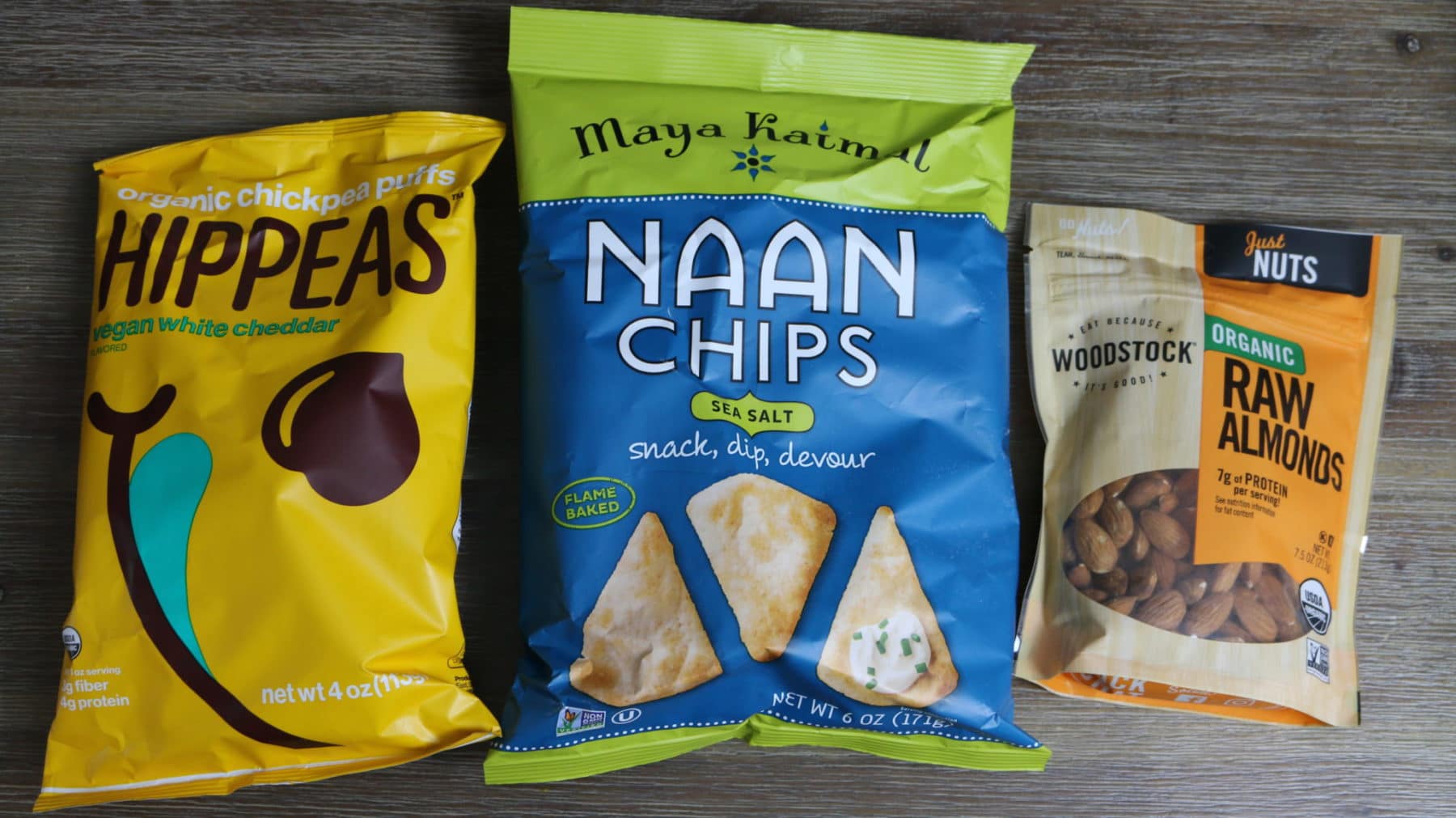 Organic White Cheddar Chickpea Puffs were given to us free. They were OK but I wouldn't recommend these unless you are have eaten fake cheese chips before. The NAAN Chips were also free. These were delicious and we would buy these again!
I bought the raw almonds to make almond milk ($7.99). Though I consider this expensive, I haven't found them any cheaper at the store so I continue to buy them! (If you haven't tried fresh almond milk, you need to try this recipe: (Easy Almond Milk Recipe)
Thrive Market Coupon:
Are you ready to give it a try? Click on the banner below for 25% off, free shipping and a free trial!
By