This Quinoa Breakfast Bowl is delicious and it will keep you full. It's a Clean Eating recipe too. 🙂

I bet I know what you are thinking because I had the same thought. Quinoa for breakfast? But trust me on this one!
Vegan Breakfast Recipes
Vegan breakfast recipes have proven to be one of the places I struggle the most. It is hard for me to come up with family-friendly recipes that are egg-free! Eggs are so quick and easy to make, but now that we are eliminating them, we need to be creative.
This quinoa breakfast bowl recipe is similar to a quinoa porridge or overnight oats. However, the texture of the quinoa remains the same, as it doesn't absorb a lot of liquid the way oats do. Keep that in mind if this is your first breakfast bowl recipe
If you are in the mood for oatmeal, check out our best vegan oatmeal recipe!
Vegan Quinoa Breakfast Bowl
I have been in love with Overnight Oats for a while now (check out my favorite version: Easy Overnight Oats). It is so easy to put together the night before and grab on the way out the door in the morning. But it was time for something new. Enter the Quinoa Breakfast Bowl!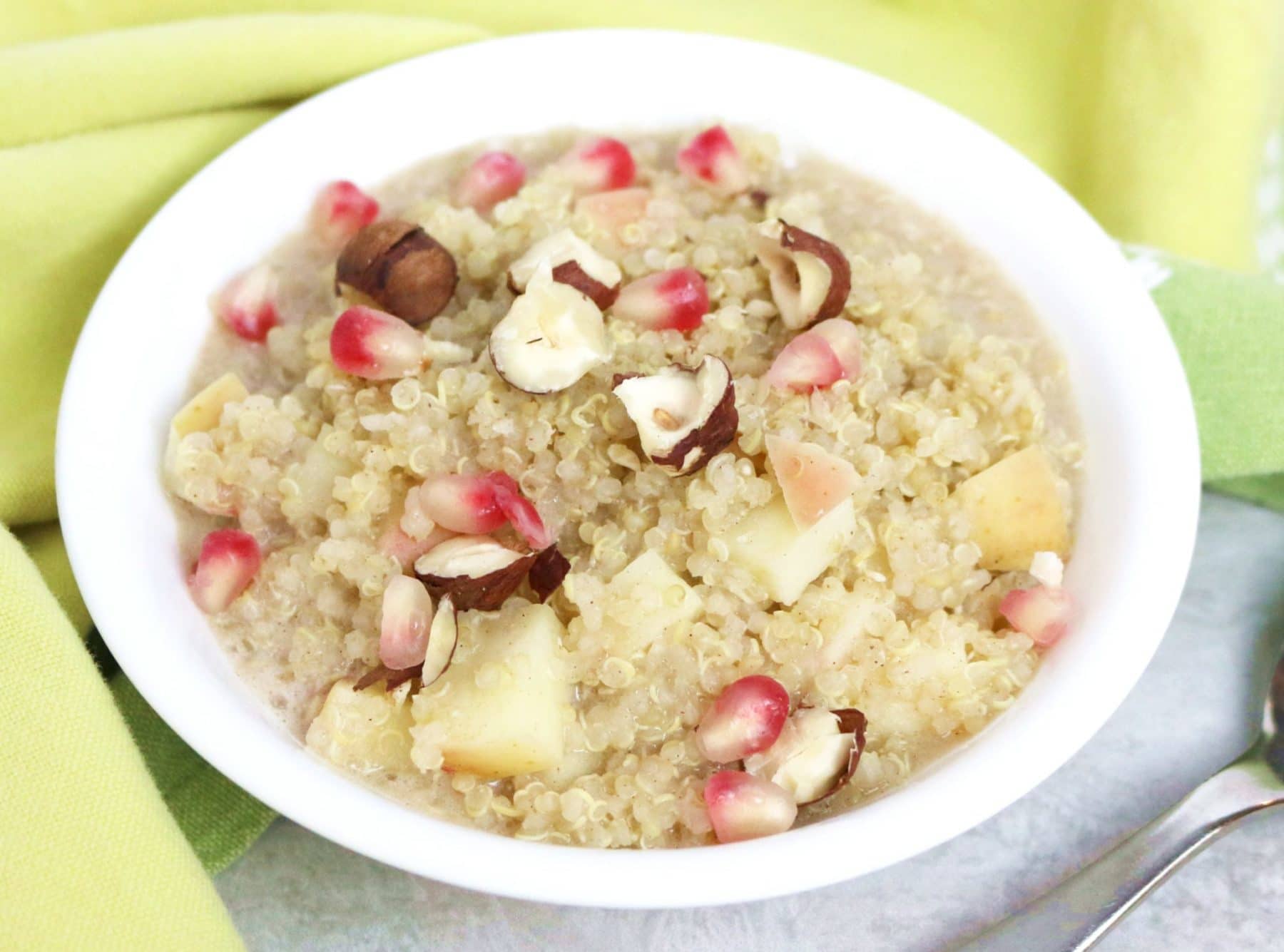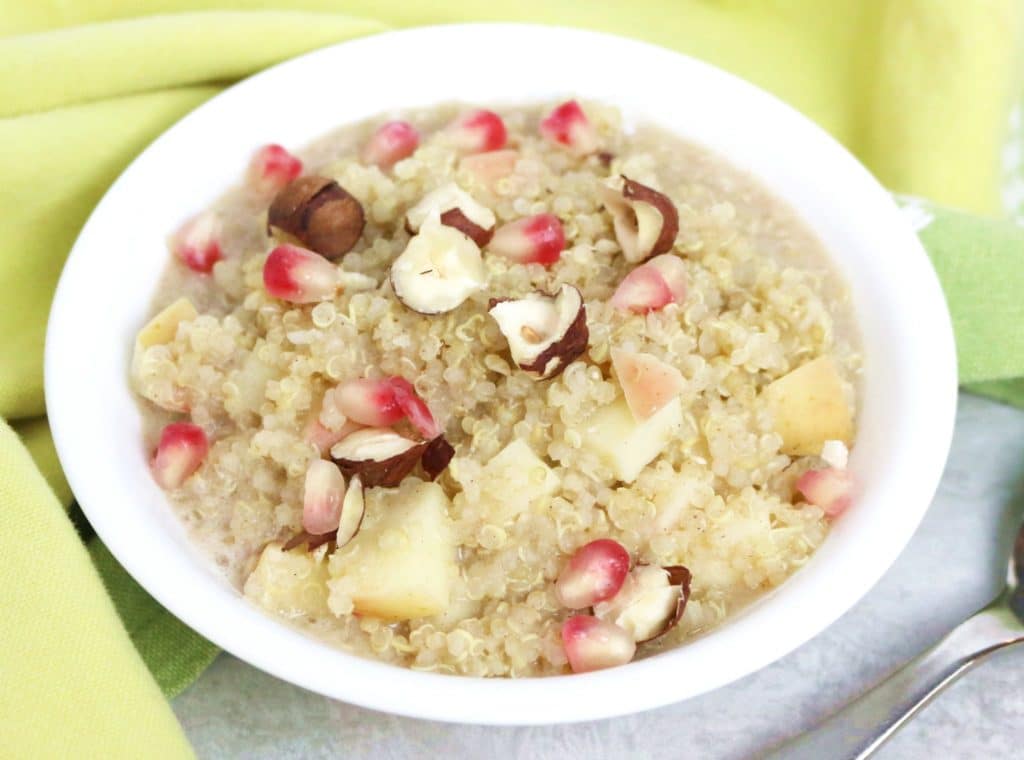 Quinoa contains all 9 essential amino acids, and is high in fiber, magnesium and many other vitamins and minerals. To many it is considered a perfect food. It is gluten free, high in protein and is approved for Clean Eating!
This Quinoa Breakfast bowl is easy to put together with leftover quinoa and it can be heated in the microwave. It's the perfect make ahead breakfast!
Note: I would not recommend eating it cold. It tastes much better warm 😉
Clean Eating Quinoa Breakfast
This vegan quinoa breakfast bowl is made with quinoa, almond milk and maple syrup as a base. I added apples, cinnamon, pomegranates, and hazelnuts, but you can add anything.
Here are just a few ideas:
Berries (blueberries, raspberries, blackberries)
Apples or Pears
Raisins, Dried Cherries or unsweetened Cranberries
Sliced Almonds, sunflower seeds or hazelnuts
Hemp hearts, Chia seeds or Flax seeds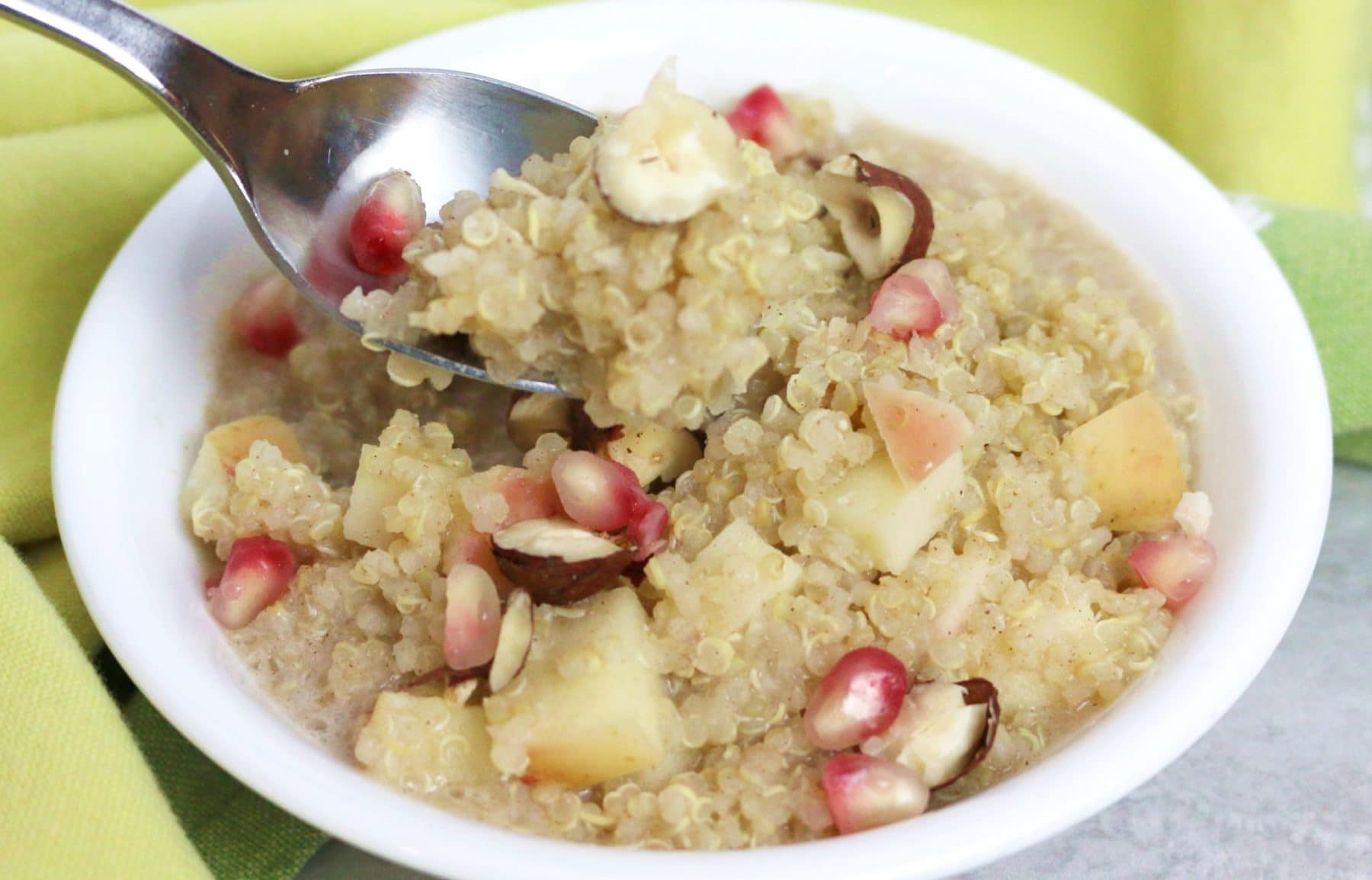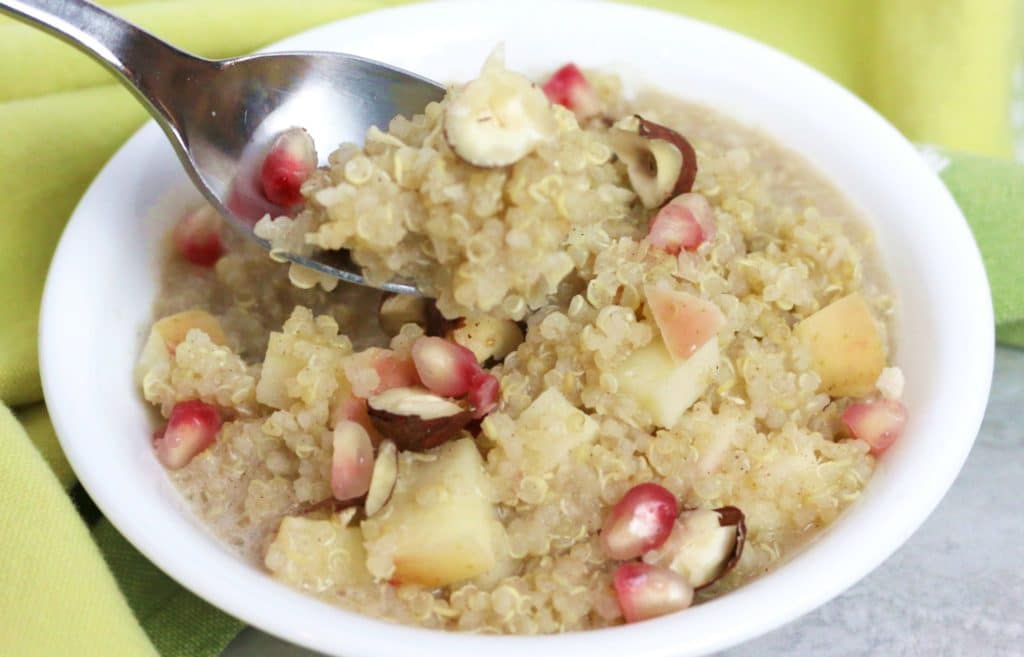 How to make a Quinoa Breakfast Bowl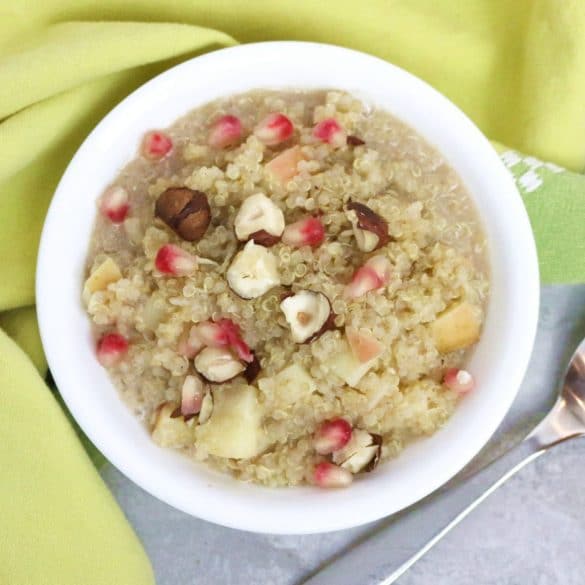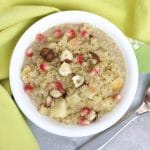 Quinoa Breakfast Bowl
This Quinoa Breakfast Bowl is delicious and it will keep you full. It's a Clean Eating recipe for cooked quinoa with antioxidant-rich fruits and nuts.
Ingredients
3/4

Cup

Cooked Quinoa

1/2

Cup

Almond Milk

more if preferred

1/4

cup

apples

diced

1

tsp

Cinnamon

2

tsp

Maple Syrup

to taste

chopped Hazelnuts or almonds

optional
Instructions
Add all ingredients to a small saucepan


Simmer over medium heat until warmed and the apples are slightly soft. Add more almond milk as needed. Do not let it burn


Serve! If desired, put it in a glass bowl and store in the fridge. It can be reheated the next day before serving.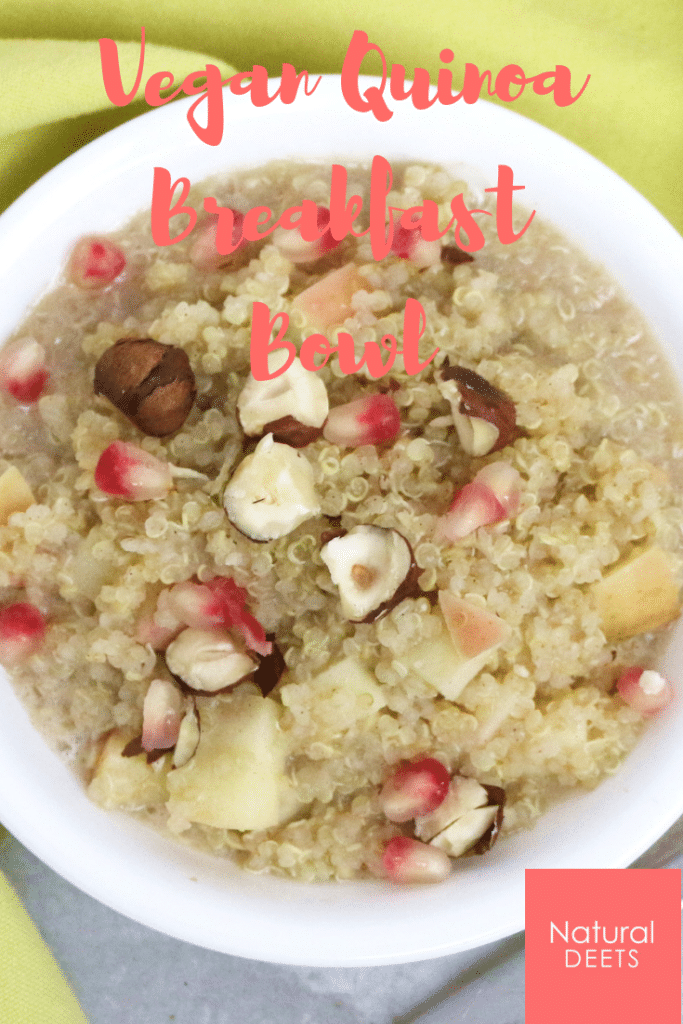 By