These no-bake peanut butter balls come together faster than a trip to the cookie store! Dairy-free chocolate chips and natural peanut butter make these a delicious and healthy choice for little hands.
Have you tried these energy balls yet?? I make them all the time and can't believe I haven't shared them before today.
No-bake energy balls are one of those easy snacks that you can whip up in 5 minutes and keep in the fridge for snack attacks. They are also perfect for lunchboxes! They are filling (because these kids eat so slowly!) and won't melt in their lunchbox. I even hide flax seed in it to make it even more perfect!
Easy Party Snacks
Not only are these no bake peanut butter balls delicious, but they make an easy party snack! Just make them the night before and put them in the fridge for the next day. The balls can be eaten right away but taste even better when they've been sitting for a few hours.
If you are looking for some other kid friendly party foods, try some of these:
Is Oatmeal Gluten Free?
These oatmeal balls make a great snack for class parties, but with all the allergies out there these days, it is important to know what you are serving.
For the most part, oatmeal is gluten-free, however, it can be cross-contaminated if it is processed on, or near a machine that processes gluten items. So if you need a gluten-free snack, read the oatmeal labels to triple check that it says gluten-free.
There are several options but Bob's Red Mill is the easiest to find in grocery stores and can be trusted!
Watch Us Make These Energy Balls:
How To Make Peanut Butter Energy Balls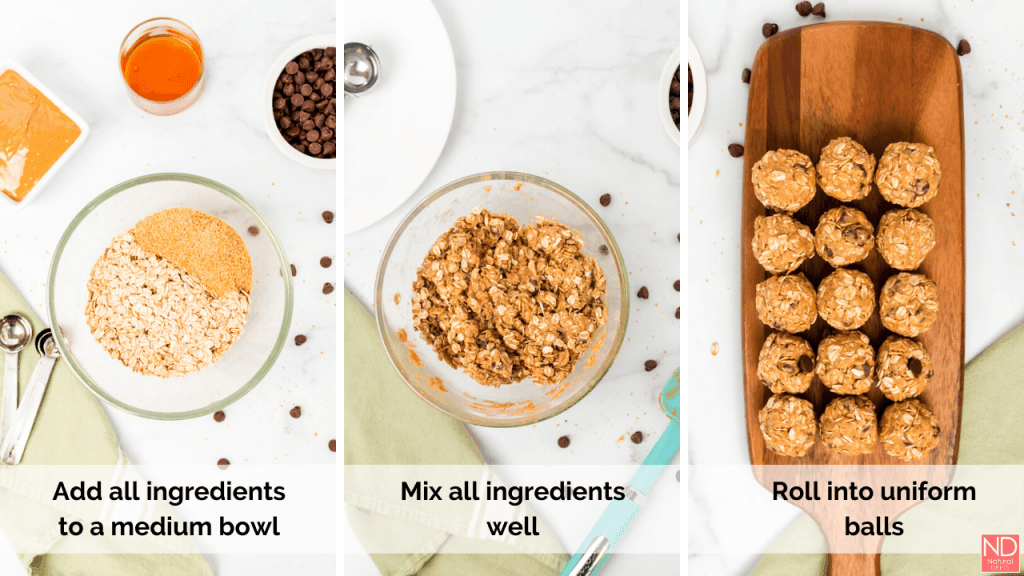 It's so simple, you're going to wonder why you haven't tried it sooner!
Step 1: Add all the ingredients to a medium bowl
Step 2: Mix well and form into uniform balls. Chill in the fridge for at least 1 hour or overnight.
Seriously…the easiest snack ever!
Energy Ball Variations To Try:
Use the base of 1 part peanut butter to 2 parts oatmeal. From there, let your imagination run wild! Here are a few ideas to get your ideas flowing!:
Shredded Coconut
Dried fruits: Raisins, Cranberries, Apricots, Berries or Goji Berries
Nuts: Almonds, Peanuts, Walnuts and Pine Nuts
Superfoods: Flax, Chia Seeds, Matcha Powder, Cacao Powder, YourSuper Powders and even Green Coffee Powder!
Chocolate Peanut Butter Balls
I typically make these peanut butter balls without the chocolate drizzle, but it just didn't look good enough to be photographed…what can I say, people eat with their eyes!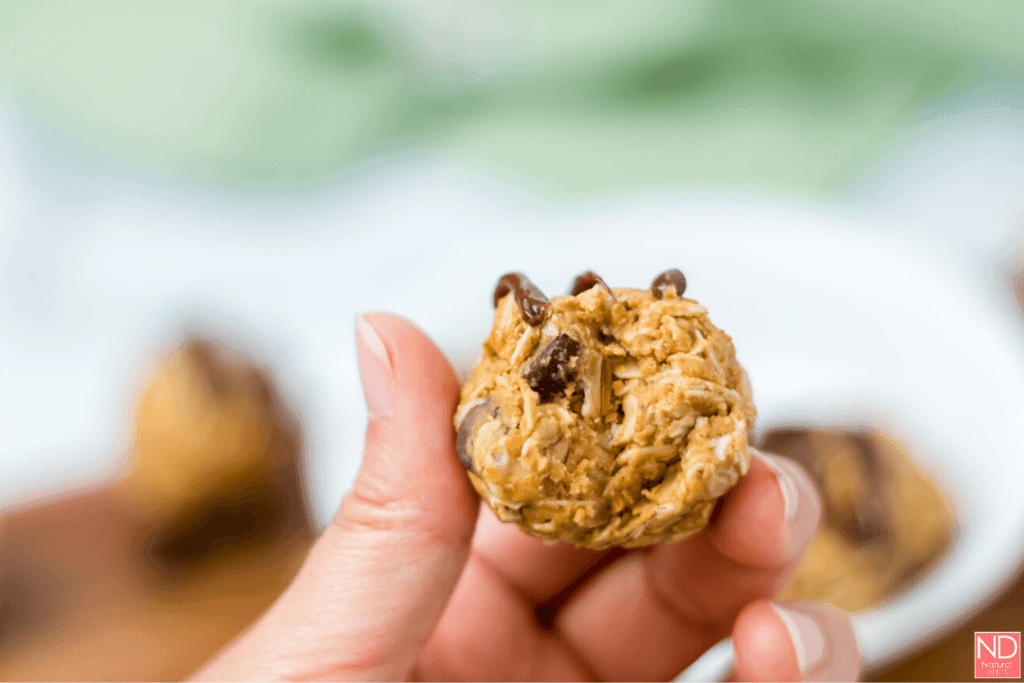 So I melted some chocolate chips, squeezed it into the corner of a sandwich bag and cut the corner. Then I drizzled it over the peanut butter balls. It looked so good and actually tasted really good too! However, if I were to do the drizzle again, I would leave the chocolate chips out of the energy balls. It adds enough sweetness without it.
Have fun playing around with this recipe! And let me know if you find a variation that you love!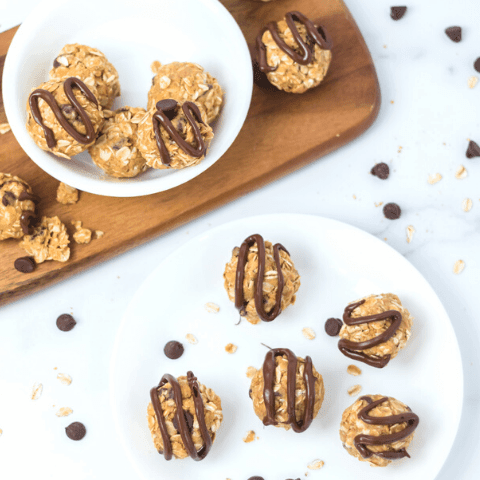 5-Minute No Bake Peanut Butter Balls
These 5 minute peanut butter balls can be thrown together faster than you can make it to the cookie shop!
Ingredients
2 Cups Oatmeal
1 Cup Peanut Butter
4 Tablespoons Honey
3 Tablespoons Ground Flax Seed
1/2 Cup Dairy Free Chocolate Chips
Instructions
In a medium bowl, add the oatmeal, peanut butter, honey, flax seed and chocolate chips.
Mix all ingredients well
Take approximately 1 1/2 Tablespoons of batter and roll into a ball
Put the balls on a plate and let sit in the fridge for 1 hour or overnight. You can eat it immediately but it tastes best after it sits.
Nutrition Information:

Yield:

12

Serving Size:

1 Amount Per Serving:

Calories:

219

Total Fat:

14g

Saturated Fat:

4g

Trans Fat:

0g

Unsaturated Fat:

9g

Cholesterol:

0mg

Sodium:

105mg

Carbohydrates:

21g

Fiber:

3g

Sugar:

11g

Protein:

6g

Nutritional information was calculated automatically. Please verify accuracy

By