Accordion potatoes are all the rage on TikTok and for good reason! They are slathered in herb butter and then baked to a crisp. As you can imagine, they are AMAZING. Normally they have to bake for at least 45 minutes but with this convection oven recipe, you can have it on the table in just 30 minutes.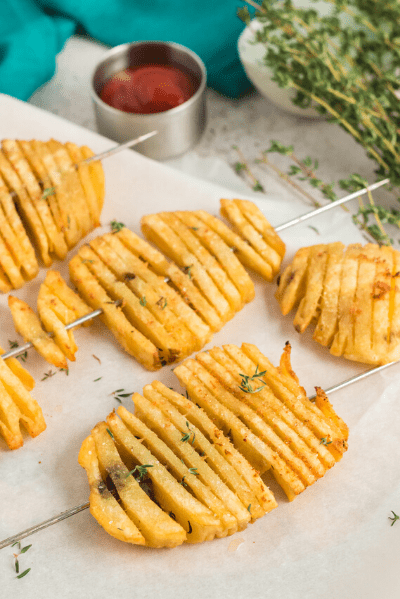 I'm not going to lie – these accordion potatoes take some prep work. That's why my go to potato recipe is still smashed potatoes. But the kids ate this entire tray in less than 5 minutes. I had to shove my hand in just to be sure I got a few!
I'll share a few tips on how to save some time when making these.
The convection oven made them really crispy and crunchy, similar to fresh, hot french fries!
What are the pros and cons of a convection oven?
Ever after I discovered the convection setting on my oven, I have been in love! It does take a little practice since the convection setting increases the overall temperature in the oven but it has been such a time saver!
In the early days of Covid, when we didn't want to eat out, we were able to make restaurant quality chicken wings in the convection oven! I have perfected that recipe, but I also started branching out to other dishes.
Here is a list of convection oven pros and cons based on my experience:
Pros:
The convection fan is pushing air around the oven, resulting in even cooking and browning. No more hot spots! This means that every piece of potato gets crunchy.
Because the hot air is being pushed around the oven, the food cooks faster. On average, I can cut 20% – 30% of the cooking time.
You can cook several dishes at once and they will all cook evenly. What a time saver!
Cons:
The convection setting increases the heat in the oven, so the temperature needs to be decreased slightly. I like to decrease it by about 25 degrees. This can take practice if you aren't following a recipe
Since it is hotter, food can burn faster. Keep a close eye on it and check often for burning.
What should not be cooked in a convection oven (in my experience): Bread/rolls (doesn't rise and it burns), pizza (burns every time!), cakes and poultry (they both get tough and dry).
Potatoes do amazing in the convection oven! Be sure to add some kind of fat to keep them from drying out, but they will be amazing and crispy!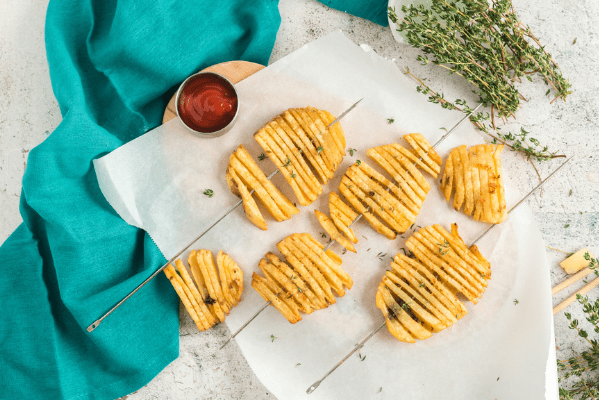 INGREDIENTS YOU NEED
Potatoes – I used 1 pound and it made 2 – 3 servings. If you have big eaters, you will want to double or triple that. I like to use red potatoes, but russet potatoes will also work well. Yellow potatoes will be too soft and will fall apart.
Butter – Dairy free butter works beautifully. I used Miyokos. However, you could also use olive oil or avocado oil. Both will be crispy!
Garlic powder – This gives it a garlic butter flavor but it can be left out
Thyme – I LOVE the combination of thyme and potatoes. They were meant for each other!
Salt – This is required. Potatoes without salt is just not the same. I like to sprinkle salt on the potatoes as soon as they come out of the oven so it sticks.
Skewers – These are cooked on skewers, but you can also make them without skewering them (shhhh….). It is time consuming to stick them on a skewer so I prefer laying them on a sheet pan instead.
Step By Step Instructions on Making Accordion Potatoes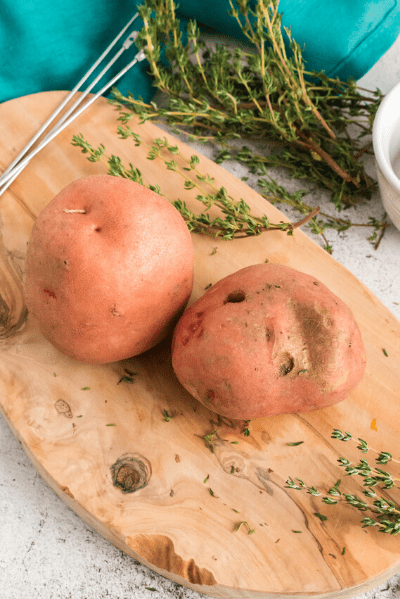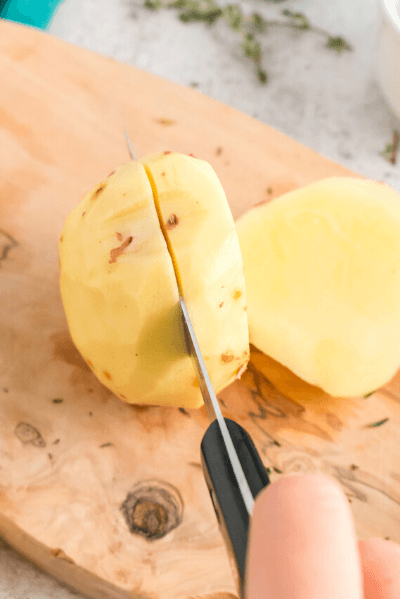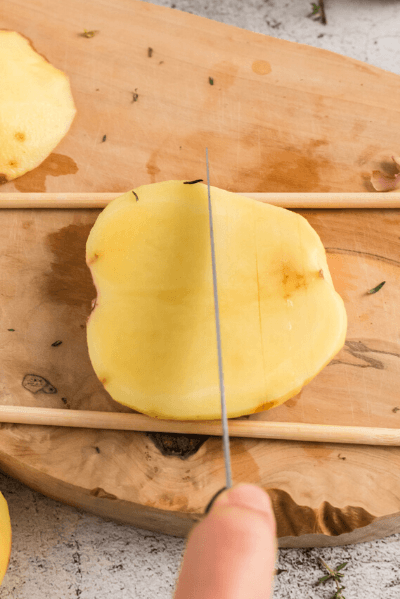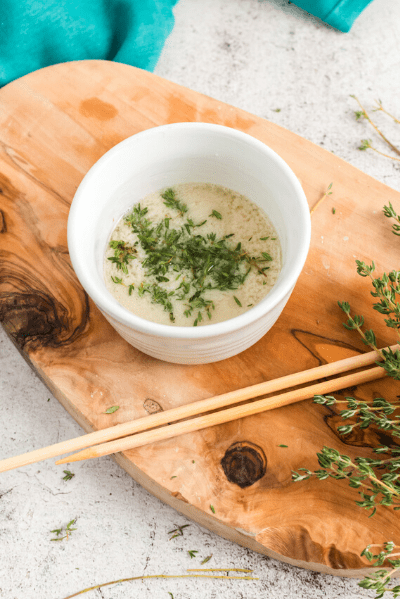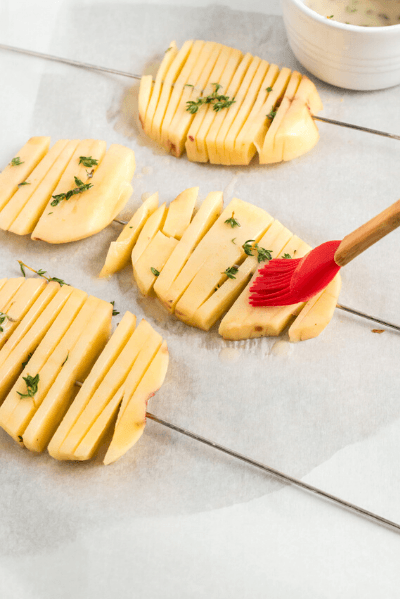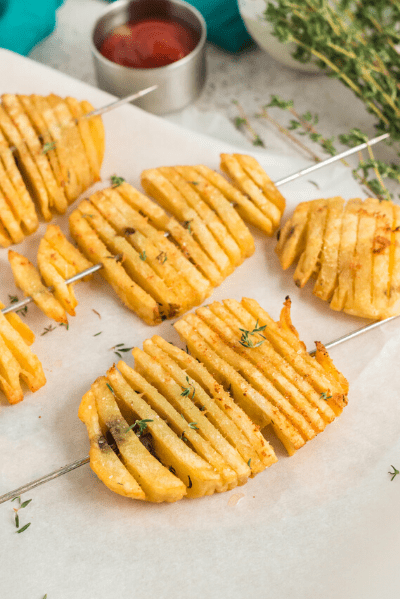 Tips on How To Make Accordion Potatoes
There are two things I found tricky with this dish. Here is how I overcame both of them:
Making the cuts on the second side – Making the cuts on the first side of the potato is easy. You just cut every 1/8 of an inch. However, you then need to flip the potato slice over and try to cut in between the slices on side 1. If you end up making the cut over the cut on the other side, it will cut all the way through. This is why we are cutting them 1/8 inch apart. Once you master it, you can make the cuts closer together.
Putting the potato on the skewer – This was so difficult! The potato was hard so pushing the skewer through it, while trying not to cut yourself is not easy. If serving these to guests, it would be worth the trouble. When serving it to family, skip the skewer! I still did cuts on both sides and slathered it in the butter mixture, but then I put it on the pan and cooked it like that. It was still crispy, crunchy and delicious!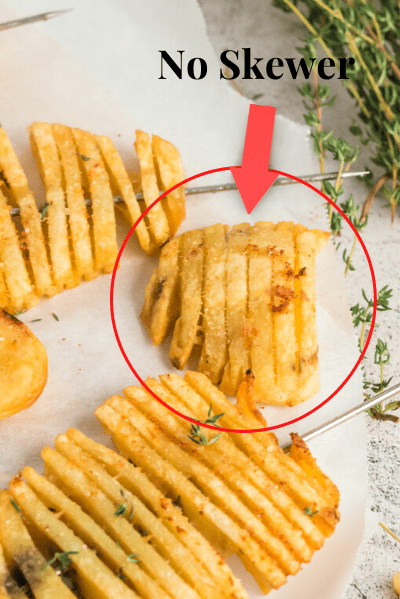 Final Tip – Add Salt – When it comes to potatoes, salt should always be added as soon as it comes out of the oven. That is how they get that delicious salty flavor on french fries. If you added the salt ahead of time, it would melt in to the potato and the dish would have less flavor dimension.
What kind of skewers should I use?
I prefer metal skewers for the potatoes because they don't burn when cooking. Also, they contribute to our zero waste lifestyle and they're cheap and reusable.
But the wooden skewers do have their place. I have jumbo wooden skewers so they are about 3-4 times as thick as the metal skewers. I like to use them as knife guards when cutting the potatoes.
If you use wooden skewers, be sure to soak them for 5-10 minutes before skewering the potatoes. This will prevent them from burning in the oven. You can also place a small piece of foil over the exposed wood to prevent burning.
Frequently Asked Questions About Accordion Potatoes
Can I make accordion potatoes with olive oil?
You sure can! Just substitute the butter for olive oil or avocado oil. Both of them do really well in the convection oven.
Can I make accordion potatoes with rosemary and garlic?
Absolutely! I have tried it and it is a delicious combination. Just substitute Rosemary for the garlic
Can you make fried accordion potatoes?
You can, but I think once you taste this convection oven recipe, you won't see a need to fry it. It's much healthier in the oven.
Is this a dish that kids can make?
Kids can certainly help with this dish, but I would say it is going to be difficult for young kids to do on their own. Cutting the potato slices and sticking them on the skewers are the most challenging (and dangerous) parts. But the kids can help eat it! If they like fries, they will love this accordion potato recipe!
More Recipes You Might Like and Convection Oven Recipes to try: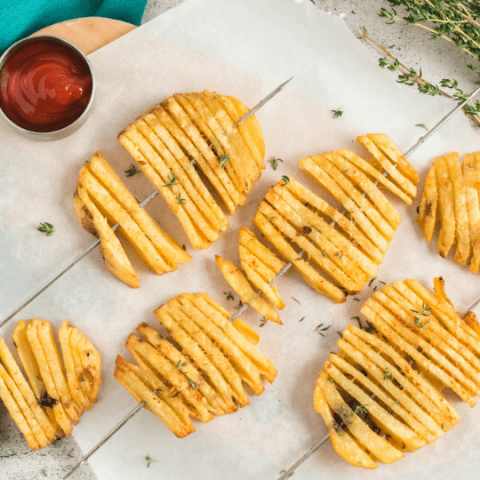 Accordion Potatoes in the Convection Oven
Accordion potatoes are all the rage on TikTok and for good reason! They are slathered in herb butter and then baked to a crisp. As you can imagine, they are AMAZING.
Ingredients
1 Pound of Potatoes
1/4 Cup Butter - I used dairy free
1 Tablespoon fresh thyme
1/2 teaspoon Garlic Powder
Salt
Instructions
Wash and peel the potatoes
Place the potato on a cutting board and cut lengthwise into 1/4 inch slices
Take one slice and lay flat side on cutting board. Put a skewer above and below the potato
Cut the potato into 1/4 inch slices without cutting all the way through the potato. Use the wooden skewers as a knife guide
Flip the potato slice over and do the same on the other side, trying to cut in between the first cut marks
Very carefully put the potato slices on to skewers
Melt the butter in the microwave and add the thyme and garlic powder
Turn on the convection fan in the oven and bake at 350 degrees for 30-40 minutes or until brown and crispy
As soon as it comes out of the oven, sprinkle salt on both sides of the potatoes
Serve and enjoy!
Nutrition Information:

Yield:

2

Serving Size:

1 Amount Per Serving:

Calories:

418

Total Fat:

23g

Saturated Fat:

15g

Trans Fat:

1g

Unsaturated Fat:

7g

Cholesterol:

61mg

Sodium:

496mg

Carbohydrates:

49g

Fiber:

5g

Sugar:

3g

Protein:

6g

Nutritional information was calculated automatically. Please verify accuracy

By