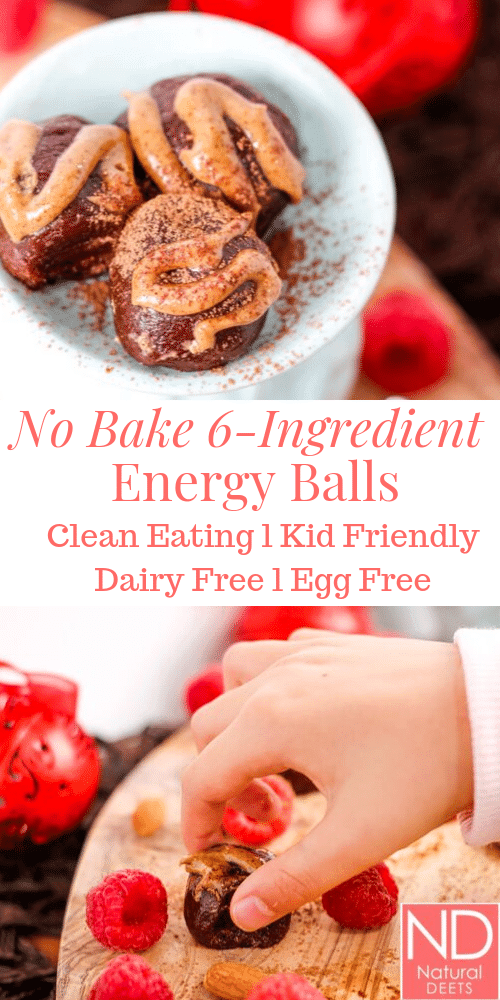 What is the last thing you want to do when you get home from work? Oh, right! Cook! Well, these no bake energy balls are about to become your new best friend!
After a 1.5 hour commute home, I am exhausted when I get home. Our evening routine consists of dinner, homework and packing lunches. But the worst feeling is when I open the fridge and there are no snacks for the kids to pack.
I mean, you can only expect them to eat so many sandwiches without some kind of treat to break up the monotony!
These no bake energy balls can be made in about 10 minutes and they pack nicely in a lunch box (if kept cool). The best part of this clean eating recipe is that they are healthy and mom will love them too!
If making this for more than two people, I would definitely double the recipe.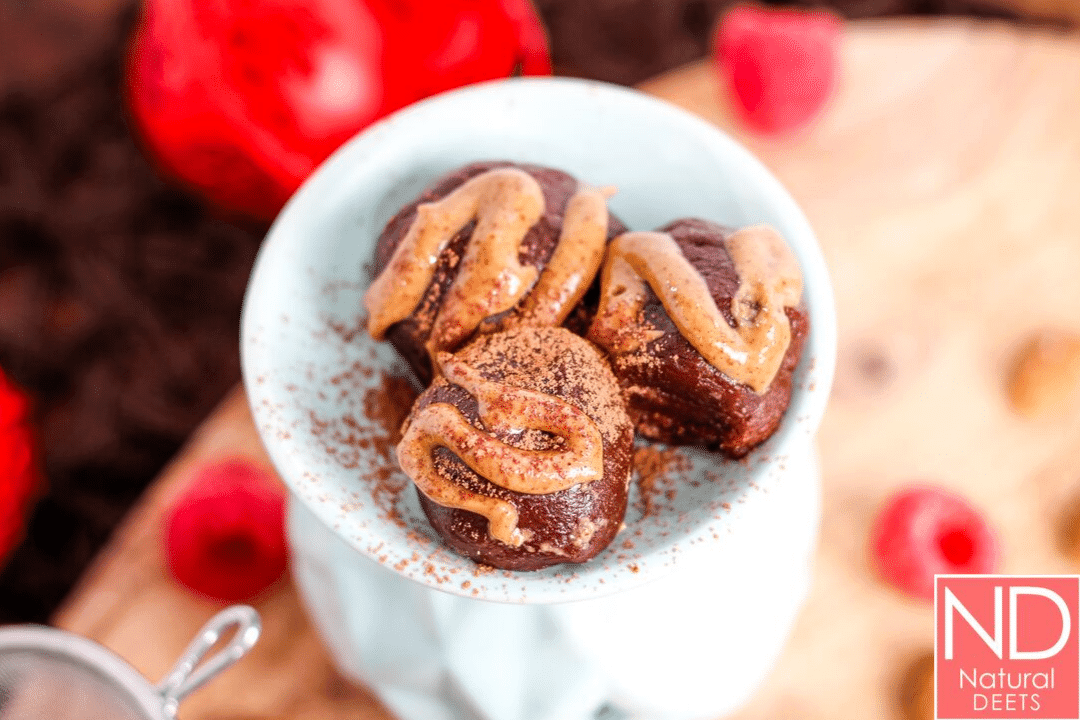 What Is An Energy Ball?
If you haven't already tried these delicious balls bursting with flavor, you have been missing out! I discovered no bake energy balls one night after dinner, when the kids were in bed and I had a mad craving for chocolate.
Chips and chocolate are purposely left off the shopping list because moments like these are my weakness! Fortunately I didn't have a chocolate bar in the house, so I had to experiment to come up with something equally satisfying and delicious.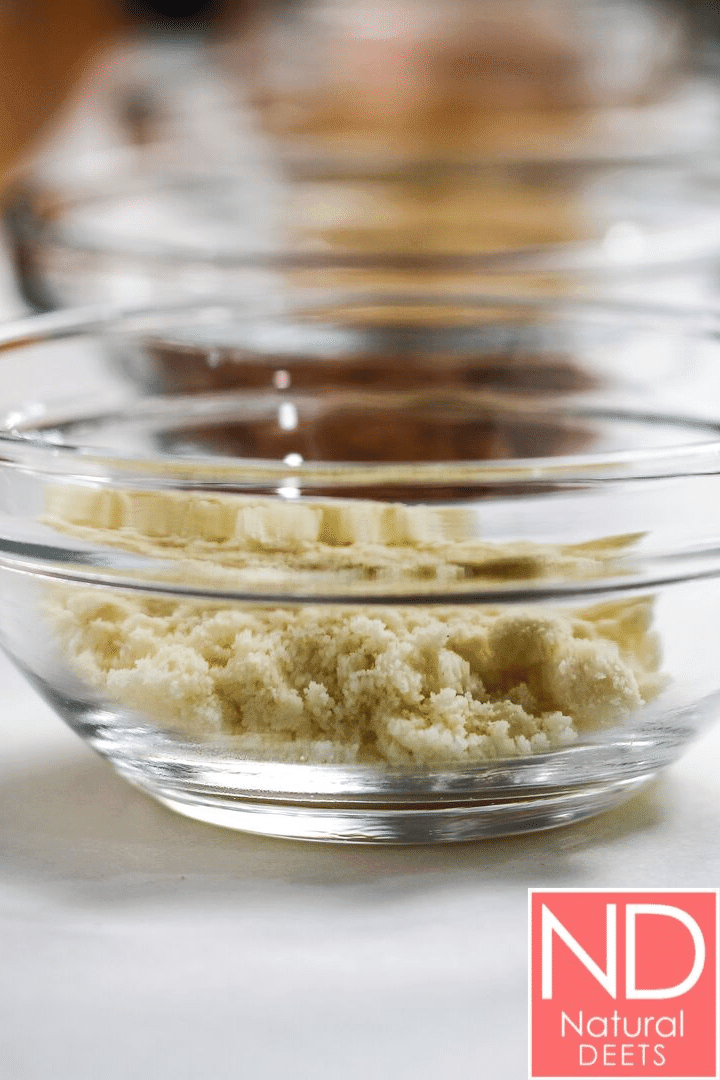 Energy balls are little balls packed with protein, healthy fats and fiber. The combination creates an irresistible combination of sweet and healthy. There is no guilt in this kid-friendly recipe!
Are Protein Balls Good For You?
Well, it all comes down to what ingredients you use. This healthy clean eating recipe has only nutritious ingredients, so yes, you can feel good about eating these! Also check out these 5-Minute No Bake Peanut Butter Balls and brownie protein balls.
This recipe has only 6 ingredients:
Almond Flour
Almond flour is high in protein, vitamin E and monounsaturated fats. It is also gluten free, which is a bonus for those who need gluten free energy balls!
You could also substitute 1 scoop of the vanilla protein powder for the almond flour, if desired.
Cocoa Powder
Many don't know this, but cocoa powder is actually a superfood! It is packed with protein, potassium and zinc…and it is delicious! However, because cocoa powder is made from just the cocoa bean, you will need to add a sweetener or it will be bitter.
Flax Seed
By now, I think we all know that flax seed is good for you! Flax is high in fiber and omega-3. It is great for digestive issues and hiding it in food gives the kids added nutrition without suspicion!
Almond Butter
Almond butter is very dense, nutritious and filling! This makes it the perfect ingredient for energy balls! They will fill you up quickly and keep you full!
Maple Syrup
You may not think there is any nutriton in maple syrup, but it is actually an antioxidant. It is also said to have more nutrients than honey and we already know that it is WAY better for you than processed sugar!
Almond Milk
Almond milk has all the same nutrition as almonds, with high vitamin E and is high in vitamins and minerals. It is a great alternative to cow's milk.
How Do You Realistically Eat Healthy?
Healthy eating starts with a stocked pantry and an idea of what you want to make. I'll just say it…that is easier said than done. Believe me, I write a clean eating blog and I still have days where my car is heading straight for the drive thru!
But that doesn't mean that we can't try. These healthy energy balls are an easy way to make a quick and easy snack. They freeze well too. So triple the recipe and freeze it!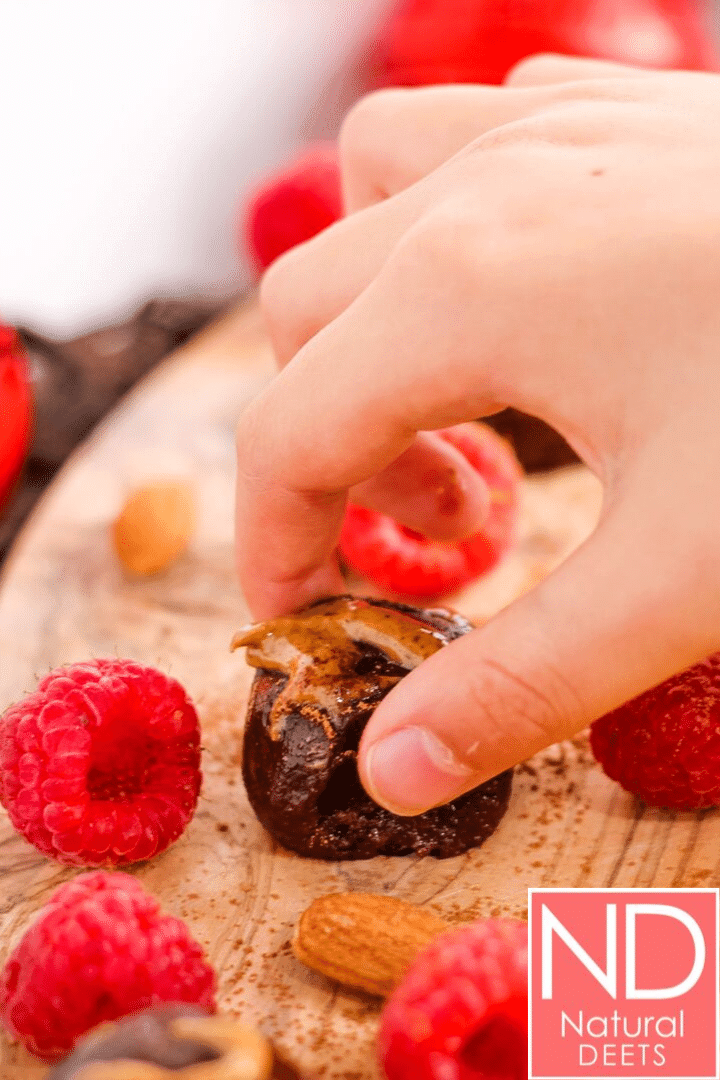 To freeze the energy bites, place them on a plate and put them in the freezer. Once frozen, place them in an air tight container. When you are ready to eat it, just let it sit out for a few minutes first.
How To Make No Bake Energy Balls
Are you ready for this super easy recipe? Other recipes say they are easy, but few will compare to the simplicity of this one!
First, in a small bowl, mix the almond flour, cocoa powder and flax seed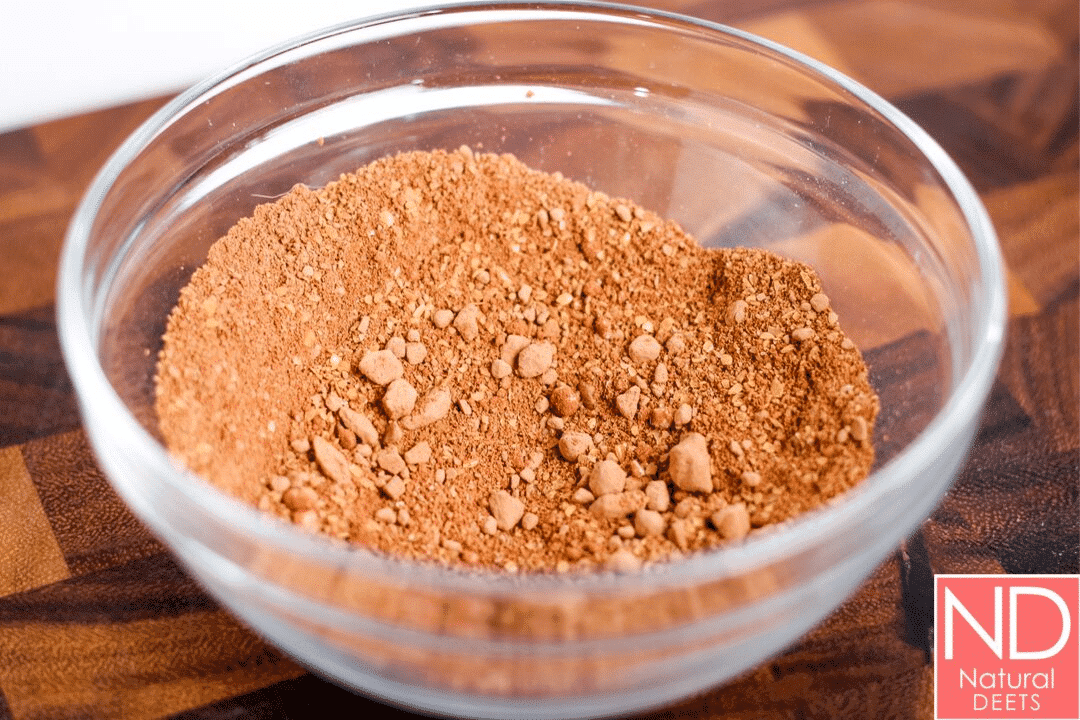 Next, add the almond butter and maple syrup and mix well.
Here is a tip: Do as I say, and not as I do…use a fork instead of a whisk. The batter is so thick that it got stuck in the whisk and was a pain to get out!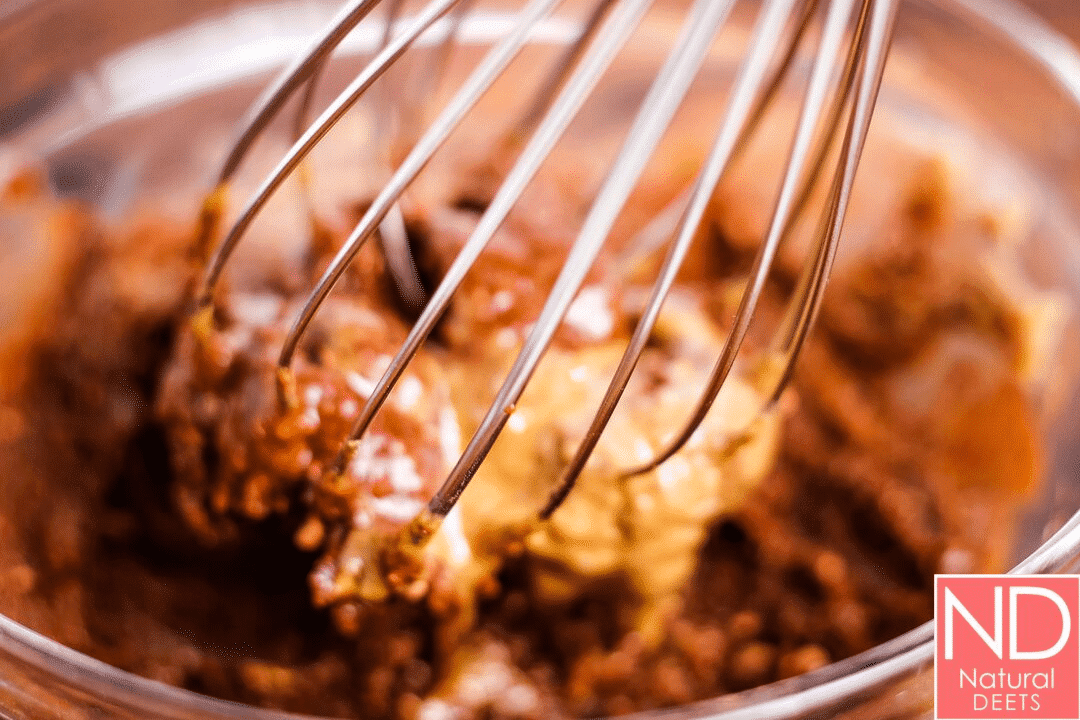 Then add in the almond milk and mix well. It may take a minute or two to mix it in completely.
Once it is mixed well, divide the batter in to 7 equal portions. Roll each portion into a ball.
If the batter is too sticky, put it in the freezer for 3-5 mintues to allow it so solidify. You can also rub your hands with coconut oil before rolling the ball to keep them from sticking to your hands.
The last step is to drizzle the almond butter over the top. Place 1 Tablespoon of almond butter into the corner of a plastic bag. Then carefully snip a small piece off the corner. Gently squeeze the bag over the top of the balls in any pattern your heart desires!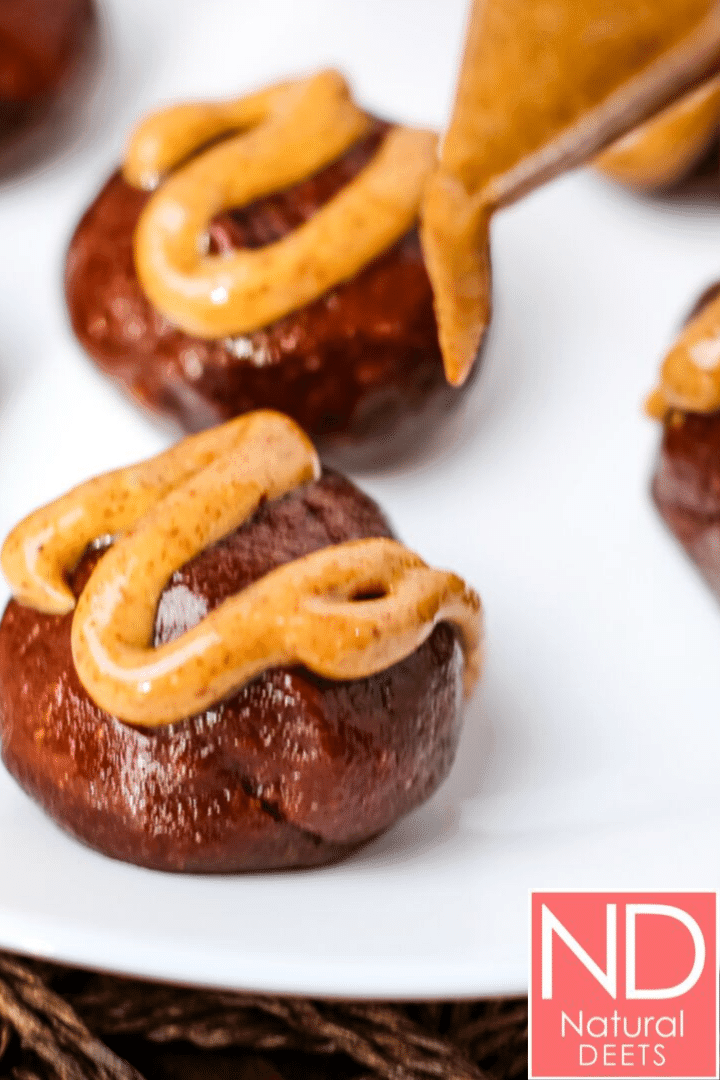 Now tell me what you think? Easy enough?
Once you try it a few times, mix it up for some variety! You can mix in some nuts, seeds or even dried fruits! Try serving these to guests with a mix of berries and champagne!
For the kids, serve it with fruits and more cocoa powder!
Looking for More Kid Friendly & Healthy Clean Eating Treats? Try These:
Homemade Chocolate Peanut Butter Cups
Delicious and Healthy Sugar Cookies
The Best Fudge Recipe – Chocolate Mint Clean Eating
2 Ingredient Cashew Milk Recipe – So Easy, Creamy and Delicious!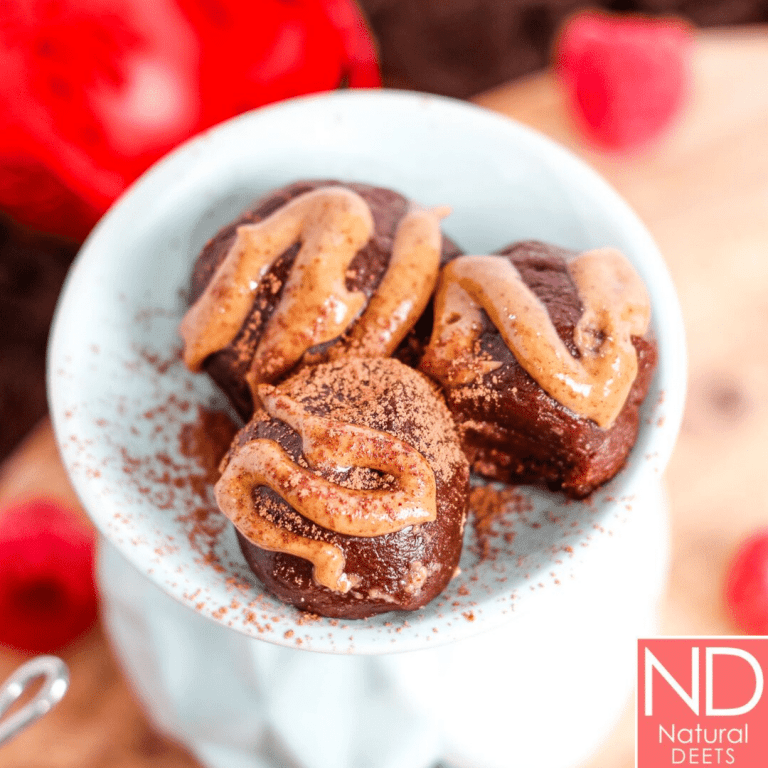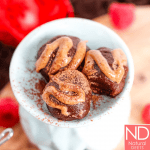 No Bake Energy Balls
These 6 ingredients no-bake energy balls are so simple and delicious! You could also roll them in cocoa powder and call them healthy truffles!
Ingredients
Chocolate Balls
4

Tablespoons

Almond Flour

1

Tablespoon

Flaxseed

ground

1.5

Tablespoons

Cacao Powder

¼

Cup

Almond Butter

2

Tablespoons

Maple Syrup

1

Tablespoons

Almond Milk
Topping
1

Tablespoon

Almond Butter
Instructions
In a large bowl, mix together the almond flour, cacao powder and flaxmeal.

Add in the ¼ cup almond butter and syrup.

Add in the almond milk and mix for a couple of minutes. It might look slightly dry but mix until it holds together slightly.

Divide the batter into 7 equal portions. Gently roll each portion between your hands in to a ball.

Place them on a plate
Topping
Place the remaining 1 Tablespoon almond butter into a ziplock and cut the tip. Drizzle over the balls.

Place in the fridge to set.

Makes 7 balls
Recipe Video
[tcb_post_list query="{'filter':'custom','related':|{||}|,'post_type':'post','orderby':'date','order':'DESC','posts_per_page':'6′,'offset':'1′,'no_posts_text':'There are no posts to display.','exclude_current_post':|{|'1'|}|,'rules':|{||}|}" type="grid" columns-d="3″ columns-t="2″ columns-m="1″ vertical-space-d="0″ horizontal-space-d="0″ ct="post_list-43459″ ct-name="Image & text 10″ tcb-elem-type="post_list" pagination-type="none" pages_near_current="2″ element-name="Post List" css="tve-u-16deb9e00b7″ no_posts_text="" total_post_count="166″ total_sticky_count="0″ posts_per_page="6″ featured-content="0″ class=" article-class='tve_evt_manager_listen tve_ea_thrive_animation tve_et_mouseover tve_anim_bob' article-tcb-events='__TCB_EVENT_|{|{"t":"mouseover","config":{"anim":"bob","loop":1},"a":"thrive_animation"}|}|_TNEVE_BCT__' ][tcb_post_list_dynamic_style]@media (min-width: 300px){[].tcb-post-list #post-[tcb_the_id] []{background-image: url("[tcb_featured_image_url size=full]") !important;}}[/tcb_post_list_dynamic_style][tcb_post_title css='tve-u-16deb9e00be'] [tcb_post_content size='words' read_more=" words='18' css='tve-u-16deb9e00c0′] More[/tcb_post_list]

By