These macadamia chocolate hearts will transport you to the beaches of Hawaii! Close your eyes and imagine the scent of coconut and sunblock in the air as you pop these bite sized chocolates in to your mouth.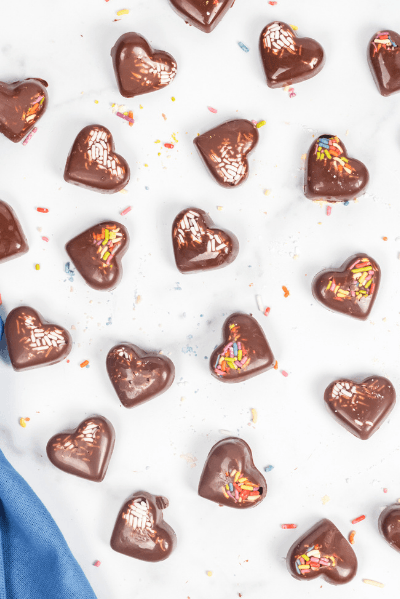 The great thing about this recipe is that you can make a batch and keep them in the fridge for those times when you just want a little something sweet. This homemade chocolate recipe also makes a great gift for teachers, friends or that someone special in your life.
Once they are cooled, pop them out of the mold and put them in mini cupcake liners and place them in a chocolate gift box. Add a beautiful bow and you've got a great homemade gift idea!
What Can I Put In A Chocolate Heart?
We used macadamia nuts in this recipe but any nut or toppings will do. We used naturally colored sprinkles to add a pop of color but they are optional.
Here are some ideas of different mix-ins to try:
Nuts – Macadamia nuts, Almonds, Cashews, Pistachios or Peanuts
Dried Fruits – Blueberries, Apricots, Cherries, Pineapples, Pomegranates or Raspberries
Toppings – Coconut flakes, Candied Ginger or Pretzels
Any of the mix ins above would be delicious. Play around with different combinations and see what you like!
VIDEO TUTORIAL
What You Need For Homemade Chocolate Hearts
Chocolate Heart Mold – We got ours from Hobby Lobby but this one is similar: Chocolate Heart Mold
Dairy Free Chocolate Chips
Roasted Macadamia Nuts
How Do You Make Chocolate Hearts?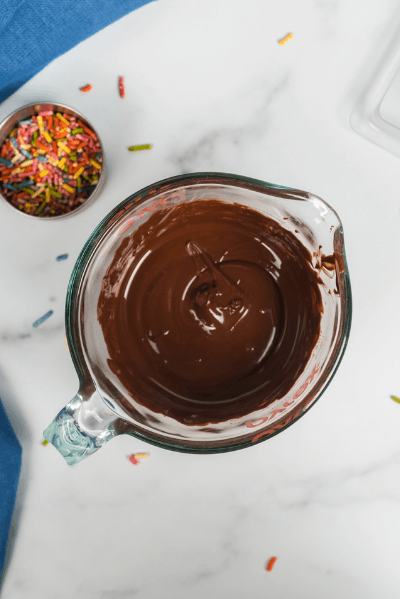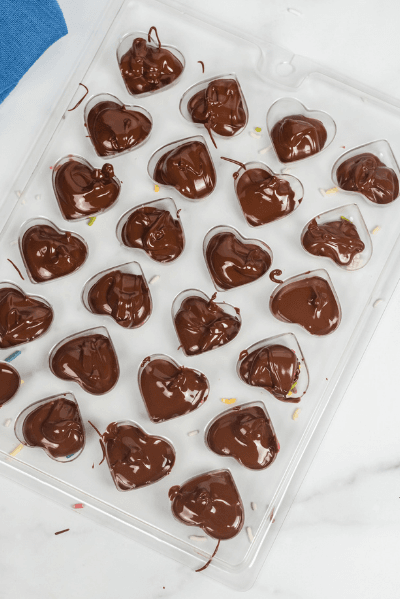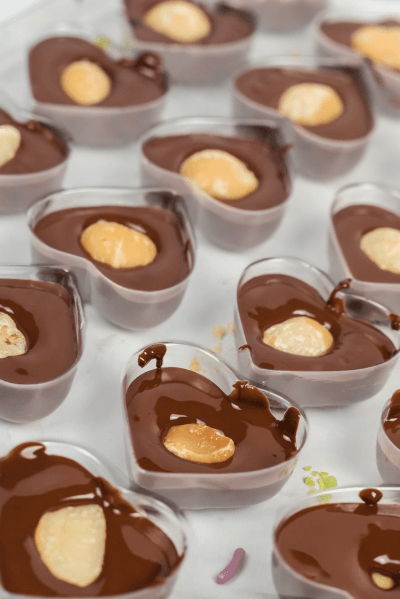 How to make dairy free chocolate hearts (a delicious vegan dessert)
We are a dairy free family so we had to make these dairy free! There are a couple of options when it comes to dairy free chocolate.
We love Enjoy Life chocolate chips and they worked well in this recipe. You can also use any good Paleo chocolate chips. Keto chocolate chips often have artificial sugar, so I wouldn't recommend them – especially for kids.
Dark chocolate. Very dark chocolate is often dairy free, however it is also bitter. If you use dairy free dark chocolate, add a drop of sweetener or use a sweet mix-in like fruits.
Coconut oil and cocoa powder. This one requires some experience but it can be done. Melt equal parts coconut oil and cocoa powder. Then add a little honey and mix until you get the right consistency. You will need to know what melted chocolate looks like, so this one is for advanced bakers.
Tips and Tricks for Chocolate Hearts
Chocolate Molds – There are several different options for molds.

When it comes to chocolate, I prefer a hard plastic mold. The chocolate doesn't stick to plastic molds and they hold their shape well.
If you chose to use a silicone mold, be sure to first place it on a baking sheet. If you try to pick up a full silicone mold, it folds in on itself and the chocolate goes everywhere!
Depending on the weight of the chocolate, silicone molds will also get a flat spot on the bottom since the mold is not rigid. Try to find a nice thick mold to prevent this from happening.

Some of the sprinkles get covered in chocolate when you press the macadamia nut in to the middle. If you really want the sprinkles to show, don't add the sprinkles to the mold. Instead, pop the heart out of the mold and add a drop of melted chocolate to the top. Then add the sprinkles.
Fingerprints – When you pop the hearts out of the mold, your first instinct will be to grab them. Be very careful not to touch the tops of the chocolate. Your fingerprints will smudge the naturally shiny top!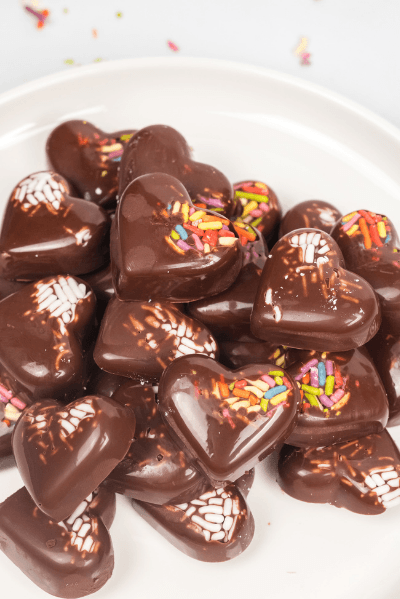 Frequently Asked Questions About Homemade Chocolate Hearts
How Do You Fill A Chocolate Heart Mold?
Since we are making solid chocolate hearts, it is easiest to use two spoons. Use one spoon to scoop about 1 tablespoon of chocolate. Put it over the mold and use the back of the second spoon to push the chocolate off the first spoon and into the mold.
How Do You Make A Shiny Chocolate Heart?
I have found that using a plastic mold is more likely to give you a shiny chocolate top. Just be sure that you don't touch it or your fingers will smudge the shine.
Should I Add Oil To Melted Chocolate?
You can add oil to melted chocolate to make it smooth and creamy. It would be perfect for dipping fruits or pretzels! However, in this recipe we need the chocolate to solidify, so we do not want to add oil.
More Chocolate Recipes You Might Like: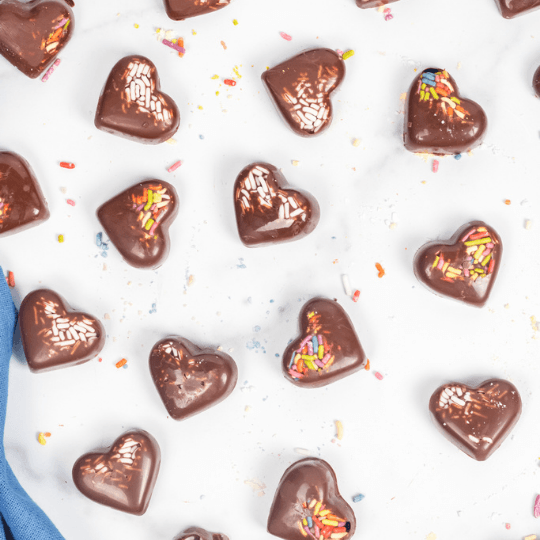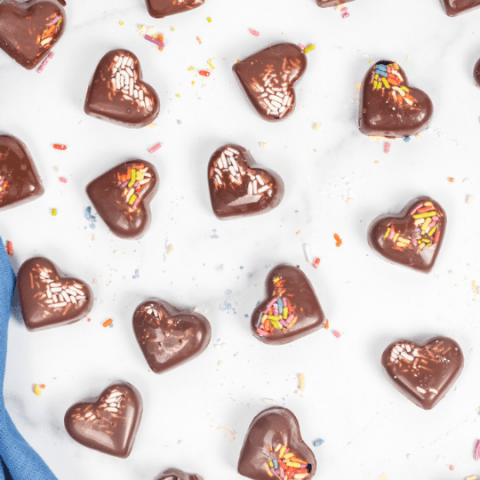 Chocolate Hearts with macadamia nuts
Additional Time:
10 minutes
These chocolate hearts need just 2 ingredients! Melt the chocolate in the microwave and pour into your chocolate molds. We used Enjoy Life
chocolate chips so this no bake dessert is also a dairy free and gluten
free dessert! It's a perfect homemade gift for teachers, homemade
Christmas present or Valentines day gift!
Ingredients
1 Cup Chocolate Chips
24 Macadamia Nuts
Sprinkles, Optional
Instructions
Pour the chocolate chips into a microwave safe container. Place in the microwave for 30 seconds.
Mix the chocolate chips. Then place in the microwave for 15 seconds at a time, mixing each time. Continue this until the chocolate is smooth and melted
Put sprinkles in to each mold.
Pour the melted chocolate into each mold.
Gently press a macadamia nut into the center of each chocolate heart
Place the mold into the refrigerator for 15 minutes or until hard
Pop out the chocolate hears and enjoy!
Notes
1. You can substitue the macadamia nut with any type of nut or dried fruit.

2. If using a silicone mold, first place it on a cookie tray to keep the chocolate from spilling when you pick it up.

3. Be very careful when removing the chocolate from the microwave. Even microwave safe containers will be extremely hot.

By