I adore a crunchy peanut butter cookie as a healthy snack, so good with a steaming cup of coffee! They're great fuel for growing kids, too, as peanut butter is packed full of protein.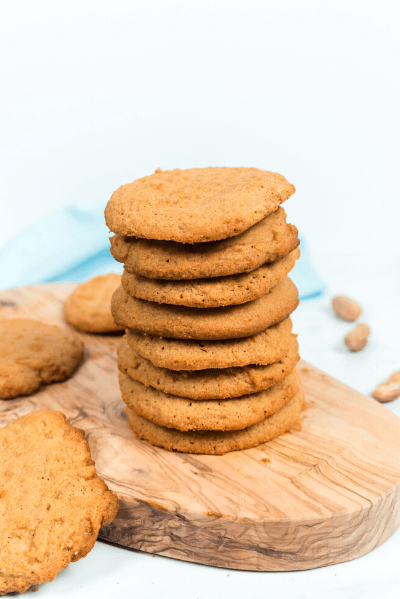 These homemade peanut butter cookies are simple to make, so they're a great option if you want to whip up a quick snack! They're also really fun cookies to make with kids, which I love as a rainy day activity.
Are Peanut Butter Cookies Healthy?
A question I'm often asked is, are peanut butter cookies healthy? The answer is that these peanut butter cookies are healthier than most! I've substituted sugar for maple syrup, which is a healthier choice and creates a lovely flavor. I've also used white whole wheat flour instead of white flour.
If you're looking for other healthy cookies, take a look at these 15 healthy cookie ideas for some inspiration.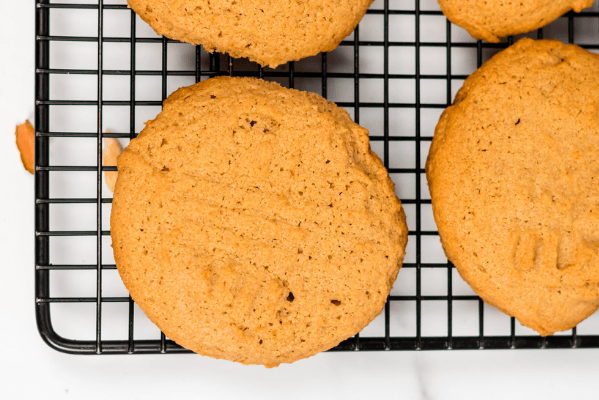 The combination of nutrient-rich whole wheat flour and peanut butter means that these peanut butter cookies will keep you fuller for longer, so they're a perfect snack for those days when lunchtime seems too far away!
VIDEO TUTORIAL – Coming Soon
Ingredients You Need For Peanut Butter Cookies
Butter
Peanut Butter
Maple Syrup
Egg
Baking Powder
Salt
White Whole Wheat Flour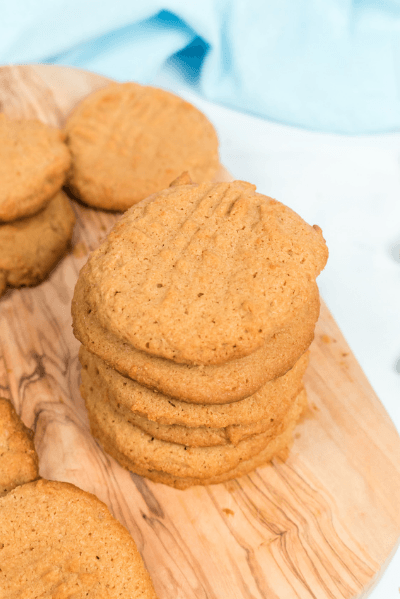 Step by step instructions on how to make peanut butter cookies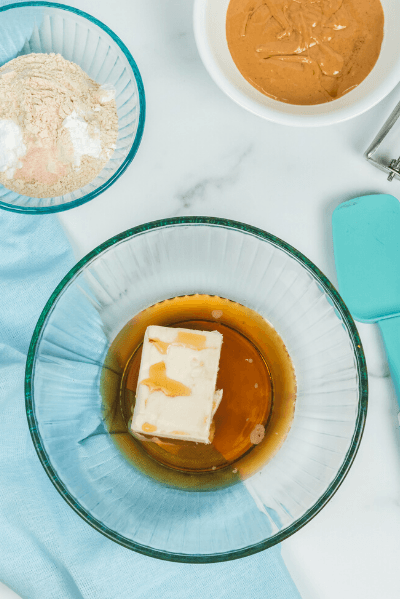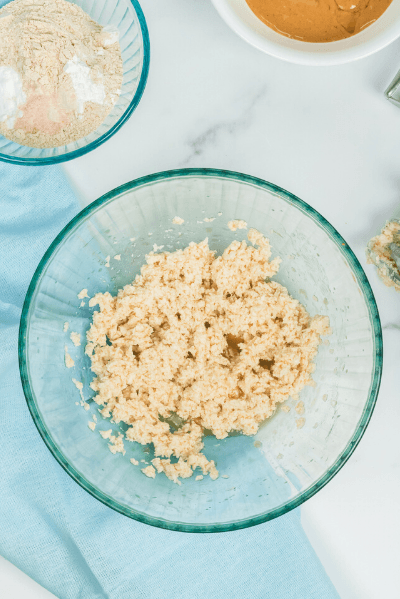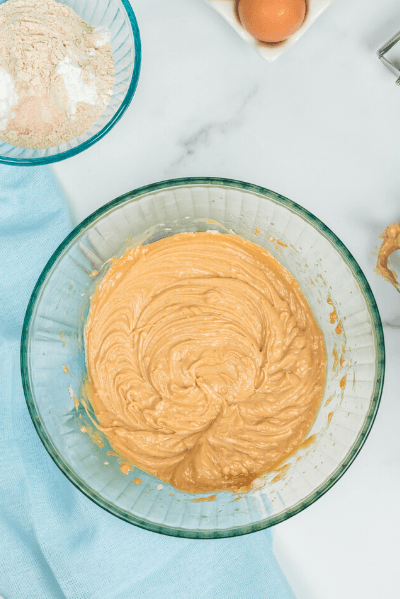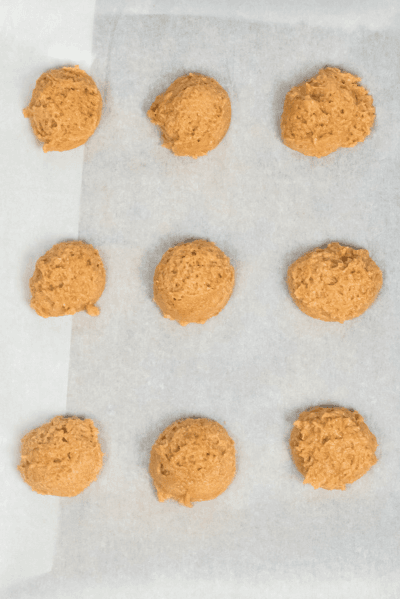 How To Make Peanut Butter Cookies
Use a hand blender to cream together the butter and maple syrup.
Once they are combined, add the peanut butter and egg and mix well.
In a separate bowl, mix all of your dry ingredients.
Add the dry ingredients to the wet ingredients and mix them well.
Using your hands or a cookie scoop, form the mix into balls roughly an inch wide. Place the balls on a lined cookie sheet, ensuring you leave space between them as they will spread.
Use a fork to press a criss-cross pattern onto each one.
Pop your peanut butter cookies into the oven, and bake them for 12-14 minutes at 350°.
Try not to eat them all at once!
Important Teaching Tips
Peanut butter. Choose a natural peanut butter with no added sugar, as this will make a healthier (and tastier) peanut butter cookie.
Bake your cookies in batches. The cookie dough will spread, so I usually limit batches to 9 to prevent them from sticking together.
Store your dough in the fridge. If you're cooking in batches or making your dough ahead of time, it's important to keep it cold while you're waiting to cook it. Keep any dough you're not cooking yet in the fridge. Criss-cross your cookies. Adding the criss-cross pattern does more than making your peanut butter cookie look good! It helps to flatten them, so they bake more evenly. The pattern is also a good way of marking the difference between peanut butter cookies and other cookies, which is essential as peanuts are an allergen for some people.
Frequently Asked Questions About Healthy Peanut Butter Cookies
Should you refrigerate peanut butter cookie dough before baking?
If you have the time, refrigerate your cookie dough before baking it. Refrigerating it will keep the butter cold and keep the cookies from spreading too much!
How long can you leave peanut butter cookie dough in the fridge?
This cookie dough can stay in the fridge for up to 2 days. After that, the dough starts to dry out. If you aren't going to use it right away, you can freeze cookie dough. Roll them in to balls and place on a cookie sheet and place in the freezer. Once frozen, pop them off and store them in an airtight container. When you are ready to cook them, let them defrost in the fridge and bake per the instructions.
Is there a white whole wheat flour substitute?
You can substitute white flour 1:1 for the white whole wheat flour.
Why are peanut butter cookies bad?
Peanut butter cookies are generally considered "bad" because of the ingredients in the peanut butter. There is a lot of hydrogenated oil in peanut butter spread. When making peanut butter cookies, be sure to use natural peanut butter made with only peanuts.
What is best to bake cookies on?
I like to use parchment paper or silicone mats. Parchment paper is great because there is no clean up! In most cases, cookies will not stick to either one, especially given the oil content.
Here Are More Healthy Cookie Recipes You Might Enjoy: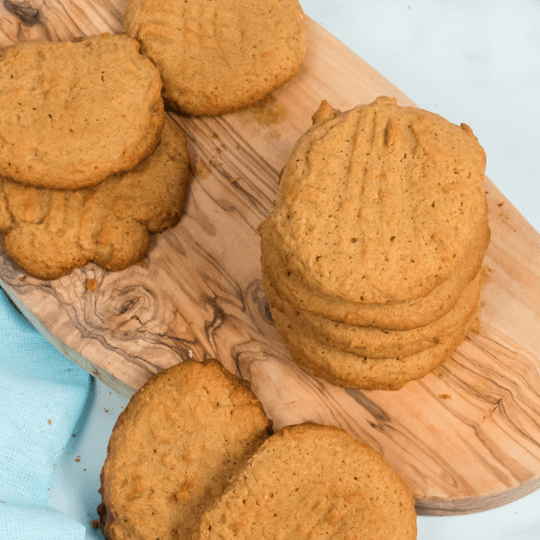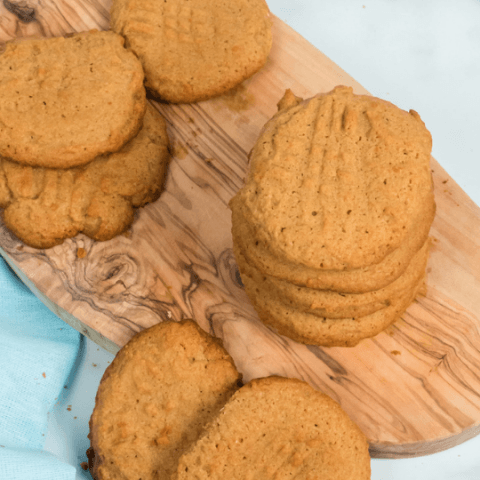 Crunchy Peanut Butter Cookies
I adore a crunchy peanut butter cookie as a healthy snack, so good with a steaming cup of coffee! They're great fuel for growing kids, too, as peanut butter is packed full of protein.
Ingredients
1 Cup White Whole Wheat Flour
1/3 Cup Butter
1/2 Cup Peanut Butter
1/2 Cup Maple Syrup
1 Egg
1 teaspoon Baking Soda
1/2 teaspoon Baking Powder
1/4 teaspoon Salt
Instructions
Preheat the oven to 350 degrees
Add the butter and maple syrup to a medium bowl. Mix with a hand mixer until creamy
Add the peanut butter and egg to the butter mixture and mix well.
In a seprate bowl, mix the flour, baking soda, baking powder and salt and mix well
Add the flour mixture to the peanut butter mixture. Mix until all ingredients are incorproated.
Using your hand or a cookie scooper, place 1 inch balls on a cookie sheet.
Bake the cookies for 12014 minutes or until lightly browned.
Let the cookies cool and enjoy!
Notes
This recipe will make 12-14 cookies
Nutrition Information:

Yield:

14

Serving Size:

1 Amount Per Serving:

Calories:

162

Total Fat:

10g

Saturated Fat:

4g

Trans Fat:

0g

Unsaturated Fat:

5g

Cholesterol:

38mg

Sodium:

235mg

Carbohydrates:

16g

Fiber:

1g

Sugar:

8g

Protein:

4g

Nutritional information was calculated automatically. Please verify accuracy

By